Turkish Airlines and Pegasus to take unprecedented capacity decisions as Turkey air traffic slumps
Analysis
Until 2014 Turkey was one of the most reliably fast-growing air traffic markets in Europe. In 2015 passenger numbers levelled off, and in 2016 traffic is set to decline. The impact of geopolitical events, including a series of terrorist attacks, the civil war in neighbouring Syria and the failed coup attempt in Jul-2016, has weighed heavily on demand for international travel to/from Turkey.
Foreign airlines switched capacity away from Turkey in summer 2016, but the country's two largest operators – Turkish Airlines and Pegasus Airlines – continued to grow. However, following years of double-digit growth by both, Turkish Airlines and Pegasus Airlines are taking unusual steps this winter. According to data from OAG, Turkish looks set to implement year-on-year capacity cuts, while Pegasus appears to be planning flat capacity for the period from Nov-2016 to Mar-2017. It seems likely that both airlines will again cut their growth targets for 2016.
Moreover, Pegasus is seeking wet-lease customers for six of its current fleet of 73 aircraft. Perhaps more significantly, Turkish is to reschedule 165 aircraft deliveries planned for 2018-2022, cutting its planned fleet size in 2021 from 439 to 400.
Pegasus seeks wet-lease customers for six aircraft
The weakness of demand in Turkey gave some apparent credibility to erroneous reports that Pegasus had made its entire fleet of 73 aircraft available to the ACMI/wet-lease market.
In fact, while it is incorrect that Pegasus is seeking to lease out its entire fleet (57 Boeing 737-800 aircraft and 16 A320 family aircraft, according to the CAPA Fleet Database), it has wet-leased two of its 737 fleet to Flynas and is seeking opportunities to wet-lease up to four more of its fleet.
This total of six aircraft that Pegasus views as essentially surplus to its current needs represents 8% of its fleet.
On 7-10-21016 Turkish Airlines (THY) announced that it will reschedule the deliveries of a total of 165 aircraft originally due in the period 2018-2022. The 165 aircraft consist of 92 A321 NEO, 65 B737-8 MAX and 10 B737-9 MAX.
By year, the number of deliveries are be revised as follows: for 2018 from 34 to 10; for 2019 from 40 to 35; for 2020 from 52 to 42; for 2021 no change; for 2022 from 6 to 30; for 2023 to 15.
As a result of delivery deferrals the THY group fleet is planned to grow from 333 aircraft at the end of 2015, to 400 in 2021, and 421 in 2022. Its previous fleet plan envisaged 439 aircraft in 2021 and 436 in 2022.
THY has also trimmed back its planned fleet totals and seat total numbers for each year of the plan.
Turkish Airlines Group: new fleet plan versus old fleet plan*: 2016-2023

Turkey pax were flat in 2015 after years of double-digit growth; set to fall in 2016
Turkey has been one of Europe's leading growth markets for air travel. According to data from the country's airport authority, DHMI, passenger numbers grew at a compound average growth rate of 14% pa from 2003 to 2014, with growth rates typically comfortably double-digit in almost every year.
See related report: Turkey's aviation market: healthy growth to continue at one of the world's oldest cross-roads
Even in the 2009 recession passenger growth remained positive. The CAGR for the domestic market over the period 2003 to 2014 was 22% pa – twice that of the international market.
Total passenger growth slowed in 205 to just under 8%, although domestic growth was a still impressive 14%, while international growth fell to below 5%. Geopolitical concerns over rising tensions in the Middle East were starting to show themselves in weaker international demand.
Turkish Airlines' 2Q2016 results presentation included forecast passenger numbers for the Turkish market from DHMI. This forecast anticipated that total passenger numbers in Turkey would be just below flat in 2016 (falling by 0.1% to 132.5 million). DHMI forecast that domestic passenger numbers would grow by 4.3%, but that international traffic would fall by 2.6% in 2016.
Turkey: air passenger numbers (million), 2003 to 2016e

Traffic decline in 2016 breaks the link with GDP
As in most aviation markets, passenger growth rates in Turkey have risen and fallen broadly in line with the rise and fall of GDP growth rates. However, Turkey's air traffic growth has typically been much stronger relative to GDP growth than is the case for the global aviation market as a whole. In the deep recession of 2009 Turkish GDP growth fell to -4.8%, but total passenger numbers still increased by 5.5%.
In 2016 the IMF forecasts Turkish GDP growth at a still healthy 4.0%, but air passenger numbers are expected by DHMI to fall. The slump in air traffic demand is not directly related to the state of the economy, but has been caused by a series of major geopolitical events affecting Turkey.
Turkey: growth rates in air passenger numbers and in real GDP, 2003 to 2016e

9M2016 pax drops 7% in Turkey; international pax numbers fall 19%
Indeed, the DHMI forecast for 2016 included in THY's 2Q2016 presentation now looks to be optimistic.
Figures for the first nine months of 2016 indicate that total passenger numbers were lower by 7.0% year-on-year, dragged down by an 18.9% plummet in international passenger numbers. Domestic traffic was up by 4.9% in 9M2016, still much weaker than the 14.1% increase achieved in 2015, but not far off the DHMI forecast of 4.3% for the full year.
Passenger numbers in Turkey were growing until Mar-2016, but have been declining year-on-year since Apr-2016.
Total passenger numbers have been below their 2014 levels since May-2016, and international traffic has been below its 2012 level since May-2016.
Total passenger numbers in Turkey fell at double-digit rates in each of Jun-2016, Jul-2016 and Aug-2016.
In Sep-2016 total traffic fell at the lesser rate of 8.9%, but this is still a heavy decline. International traffic fell by 20% to 30% though the period May-2016 to Sep-2016, although the rate of decline has eased from -30.8% in Jun-2016 to -19.7% in Sep-2016.
Turkey: year-on-year growth rates in air passenger numbers for domestic and international markets, Jan-2016 to Sep-2016

Demand slump caused by geopolitical events
The slump in air traffic reflects a weakening demand pattern as a result of geopolitical events and concerns.
There had been a number of terrorist attacks in Turkey in 2015, including two bombs detonated in the capital Ankara in Oct-2015 (killing more than 100 people), an explosion at Istanbul Sabiha Gökçen Airport in Dec-2015 and a bombing in the Istanbul metro – also in Dec-2015.
In 2016 the number of terrorist incidents has increased, and the protracted civil war in neighbouring Syria has increased the level of concern for international passengers travelling to the region. Turkey has been under rocket attack by the so-called Islamic State from bases in Syria in 2016.
Terrorist attacks in Turkey this year have included bombings in Jan-2016 in central Istanbul, close to some of its main tourist attractions, and at Istanbul Ataturk Airport in late Jun-2016. There were also attacks in central Istanbul in Mar-2016 and Jun-2016, and bombings in Ankara in Feb-2016 and Mar-2016.
Other Turkish cities, including Diyarbakir, Dürümlü and Gaziantep, have also been attacked. In addition, there was an attempted coup d'état by sections of the Turkish military in Jul-2016, which quickly collapsed, but which also led to the temporary closure of Turkish air space and significant flight cancellations.
Traffic growth for Turkish Airlines and Pegasus has performed better than the market
The fall-off in demand for air travel in Turkey has affected all operators in the market. However, its two leading participants, Turkish Airlines and Pegasus Airlines, have been relatively less badly affected.
They have both suffered a slump in passenger growth rates, even experiencing a fall in numbers in Jun-2016 (and, for THY, in Jul-2016), but the slump has not been as severe for them as it has been for the market as a whole. In 9M2016 total DHMI passenger numbers were lower by 7.0%, whereas THY's were up by 3.9% and Pegasus' were up 7.5% (for 8M2016).
The brunt of the collapse in demand has been borne by foreign airlines, who have switched significant capacity away from Turkey and into other markets (including Spain).
Nevertheless, by comparison with their historical growth patterns, both THY and Pegasus are undergoing severe slowdowns.
Turkey: year-on-year growth rates in air passenger numbers for total market, Turkish Airlines and Pegasus Airlines, Jan-2016 to Sep-2016

Load factor declines for both THY and Pegasus in 2016
Both of Turkey's two leading airlines have suffered from falling passenger load factors in 2016, particularly Turkish Airlines.
For the first nine months of the year THY's load factor slumped by 4.2ppts to 74.5%, while Pegasus' load factor for the first eight months dipped by 1.5ppts to 78.0%.
Turkish Airlines and Pegasus Airlines: year-on-year change in passenger load factor, Jan-2016 to Sep-2016*

Domestic load factor: Pegasus holds level in 8M2016
THY's load factor has fallen more heavily than that of Pegasus in both the domestic and international markets. In the domestic market THY's load factor fell 0.9ppts to 82.6% in 9M2016, while Pegasus held its load factor steady at 82.5% (up 0.1ppts) in 8M2016.
Both performed better until May-2016, suffering domestic load factor falls from Jun-2016.
Turkish Airlines and Pegasus Airlines: year-on-year change in domestic passenger load factor Jan-2016 to Sep-2016*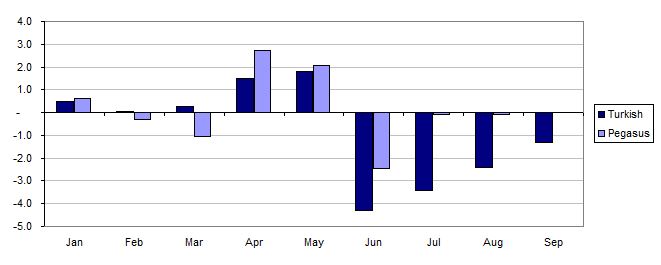 International load factor
In the international market, which has been weaker for both airlines, THY's load factor fell 4.6ppts to 73.4% in 9M2016, while Pegasus experienced a 4.2ppt fall in load factor to 70.7% in 8M2016.
Both have suffered international load factor declines throughout 2016.
Turkish Airlines and Pegasus Airlines: year-on-year change in international passenger load factor, Jan-2016 to Sep-2016*

THY and Pegasus lowered capacity growth plans in Aug-2016; both look set to lower once more
Turkish Airlines revised its guidance for FY2016 in Aug-2016, by which time the slump in demand in Turkey was well established.
This included a target of 63.4 million passengers – an increase of just 3.5% from 2015 and reduced from the target of 72.4 million (+18%) issued at the start of the year. It also revised its ASK growth target downward to 13%, from a 21% target planned in early 2016.
See related report: Turkish Airlines' targets for 2016 display its confidence in spite of unit revenue risks
THY's revised ASK target was still fairly aggressive by comparison with most European airlines, but a significant slowing from its average over the decade to 2015, when THY had increased its ASKs at an average rate of 18% pa, doubling its ASKs every four or five years.
Pegasus also revised its 2016 guidance in Aug-2016. It lowered its passenger growth target range from 13%-15% to 5%-7%, and its ASK growth range from 18%-20% to 9%-11%. Pegasus' average ASK growth rate was 18% pa from 2010 to 2015, so this revised target also represents a significant deceleration in its growth.
Pegasus also said in Aug-2016 that it expected domestic load factor to be stable but international load factor to fall by 4ppts-6ppts – both targets broadly in line with its 8M2016 results.
See related report: Pegasus Airlines: FY operating loss now likely after more red ink in 2Q. Capacity growth slows
For both THY and Pegasus the data from OAG indicate that their capacity growth plans for FY216 will be even lower than the revised targets announced in Aug-2016. Given the poor development of load factor throughout 2016 so far, perhaps this is not surprising.
THY to cut capacity this winter
According to OAG, THY will increase its scheduled ASKs by 10.0% (and seat numbers by 5.7%) in 2016, rather than the 13% announced. It has not announced a change to its 2016 guidance, but this suggests that ongoing demand weakness has forced it to adapt its plans once more.
THY is set to continue with ASK growth in Oct-2016, at a mid-single-digit rate, but will implement a year-on-year ASK reduction of 2%-3% in Nov-2016 and Dec-2016, according to OAG.
THY has not given any targets for 2017, but data filed for the first 11 weeks of 2017 suggest that this 2%-3% rate of capacity cut will continue in the early part of next year, at least during the winter season. This capacity cut is essentially unprecedented for THY – certainly over such an extended period of weeks/months.
Turkish Airlines weekly ASKs 2014 to 2016 and first 11 weeks of 2017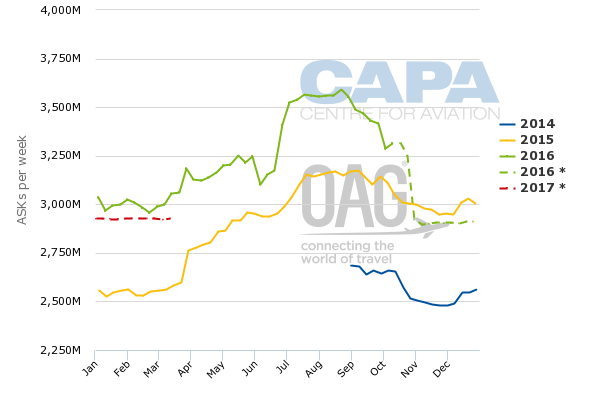 Pegasus to hold capacity flat this winter
For Pegasus, OAG data indicate that growth is set to be 7.2% for ASKs (and 7.0% for seat numbers), compared with its announced target of 9%-11%. As with THY, Pegasus has not publicly changed its guidance but a further downward revision must be expected.
Pegasus is set to continue with approximately 10% ASK growth in Oct-2016, but will implement little or no ASK growth in Nov-2016 and Dec-2016, according to OAG.
As with THY, Pegasus has not given any targets for 2017, but data filed for the first 11 weeks of 2017 suggest that it plans ASK growth of less than 1% throughout the winter 2016/2017 season. This period of flat capacity is unprecedented for Pegasus.
Against this background, the (erroneous) reports of Pegasus' decision to make its entire fleet available to the wet-lease market emerged into an atmosphere of feasibility.
Pegasus Airlines weekly ASKs 2014 to 2016 and first 11 weeks of 2017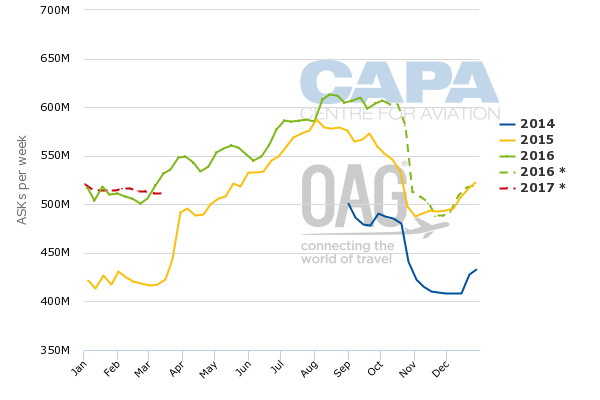 Turkish market capacity to fall
The Turkish market overall enjoyed seat growth of 23% from the peak period of summer 2014 to summer 2015, but seat numbers then fell by 5% to the peak period of summer 2016 (based on mid-August data from OAG for each year). As noted above, THY and Pegasus both continued to grow in summer 2016, while airlines from outside Turkey switched capacity to other markets.
Seat numbers in the seasonal winter low of Jan-2015 were up by 14% year-on-year and the Jan-2016 low period achieved a similar growth rate. However, the low week of Jan-2017 looks set to suffer a 3% cut in total seat capacity in the Turkey market and the available data indicate that capacity will be lower year-on-year through to Mar-2017.
Turkey to all regions: weekly one way seats, 14-Oct-2013 to 13-Mar-2017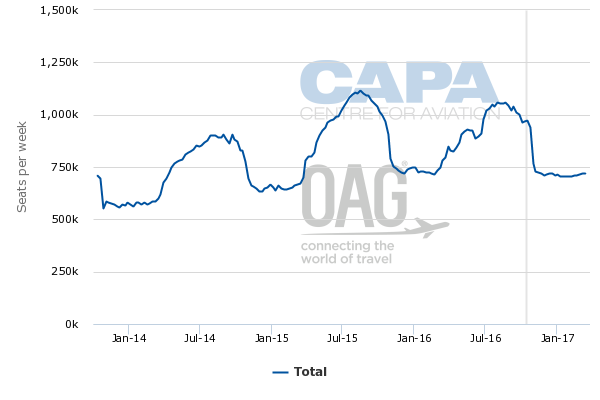 Doubts over Turkey market recovery will linger, as Turkish defers 167 aircraft deliveries
The capacity cuts in the overall Turkish market in summer 2016, in spite of continued growth by THY and Pegasus, were unprecedented in recent years. Even more extraordinarily and in spite of capacity cuts by foreign competitors, THY now appears to be about to cut capacity this winter, and Pegasus looks set to maintain its capacity broadly at last winter's levels.
This vividly highlights the very challenging market environment in Turkey currently.
The underlying fundamentals remain positive in terms of GDP development and the relative under-penetration of air travel in Turkey, coupled with a broadly positive outlook for aviation infrastructure.
Summer 2017 capacity plans, both from Turkey's leading airlines and from foreign airlines operating into the country, are not yet known. Only when these plans are finalised will it be possible to begin to assess the prospects of a full market recovery to the strong growth that it has enjoyed for so many years.
Nevertheless, Pegasus' decision to look for wet-lease customers for 8% of its fleet indicates that there are near-term doubts about market recovery. More significantly, THY's decision to defer 167 aircraft deliveries planned for the period 2018-2022 indicates that there are also some longer-term doubts.