"Too early to call a bottom" to freight market or European recession, Asian traffic outlook "dismal"
Analysis
The global economy may be closer to stabilising, but it is still too early to call the start of a recovery. Latest international air traffic data from IATA for Jan-09 shows a deepening fall in passenger and freight demand.
The industry body stated the "alarming collapse" in cargo markets (FTKs) in Dec-08 (-22.6%) worsened in Jan-09 with a 23.2% year-on-year fall - the eighth consecutive month of contraction for freight traffic.
IATA international freight traffic (FTKs) by region: Feb-08 to Jan-09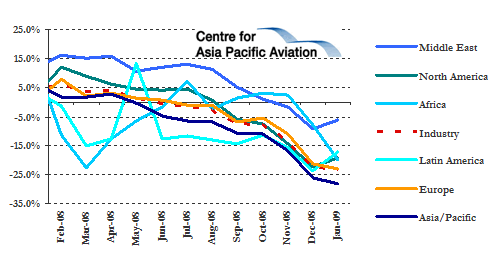 Asia Pacific carriers, representing 43% of the international air cargo market, led the cargo decline with a 28.1% year-on-year reduction in volumes (FTKs). This was followed closely by European carriers (-23.0%) and North American carriers (-19.3%).
IATA noted that while the Jan-09 figures may appear to be "relatively stabilised" compared to the deep December drop, "it is too soon to call a bottom in the air freight market". IATA observed, "manufacturers are still shedding inventory and cutting production which is expected to lead to further falls in freight volumes".
Passenger traffic declines further
The falls in freight volumes do not auger well for passenger markets. International passenger demand fell by 5.6% year-on-year in Jan-09, following a 4.6% reduction in Dec-08. The demand drop outpaced capacity cuts of 2.0%, driving the load factor down 2.8 ppts to 72.8%.
IATA international passenger traffic (RPKs) by region: Feb-08 to Jan-09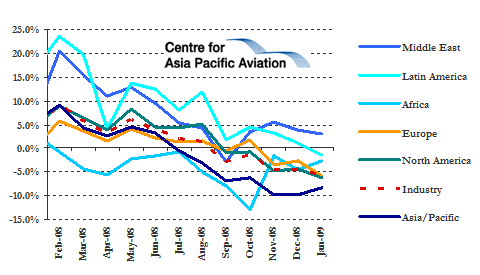 "Dismal" outlook for Asia, Middle East only region to show growth
Asian carriers led the decline in passenger demand, with an 8.4% year-on-year fall in January. This is slightly better than the 9.7% contraction in Dec-08, but was positively skewed by Chinese New Year, which fell at the end of January 2009 (and which was in February the year before). Capacity in the region contracted 4.3%.
IATA stated, "with Japan, the region's largest market for air travel, expected to see its economy contract by an unprecedented 5% in 2009, the prospects for traffic in the region remain dismal".
North American carriers posted the second largest passenger decline at 6.2% led by a decline in Trans-Pacific travel. In response, carriers withdrew 2.6% of their international capacity, "clawing back some of the expansion of 2008", according to the industry body.
The Middle East was the only region with a positive traffic growth of 3.1%, but well below the 10.8% expansion in capacity, resulting in a sharp fall in load factor to 71.9%.
European carriers offset a 5.7% decline in demand with a 3.6% decrease in capacity. Demand decreased "sharply" from the 2.7% fall in Dec-08.
European economy - Still No Trough in Sight
The Conference Board reports (26-Feb-09) the Leading Economic Index for the Euro Area increased 0.5% in Jan-09 to 92.8, following a 1.7% fall in Dec-09.
The Conference Board stated that, if sustained, the 0.5% rise in [the Index] for the Euro Area in January may signal an inflection point in the recession, "but still not a turning point". It added, "the expansionary policy mix currently in place may favor a rebound during the second half of 2009, but history suggests that the combination of traditional recessions and financial crises often lead to subdued recoveries".
The Conference Board LEI for the Euro Area

Worse to come
IATA's Director General and CEO, Giovanni Bisignani, concluded, "alarm bells are ringing everywhere...the industry is in a global crisis and we have not yet seen the bottom".