Tokyo Haneda Airport to become Asia's #1, overtaking Beijing Capital, as international grows
Analysis
Tokyo Haneda is poised to regain the title of Asia's largest airport from Beijing Capital. Beijing Capital overtook Tokyo Haneda in passenger traffic in 2009, but Haneda's growth and future expansion from international services will boost its traffic, whereas at Beijing Capital there will be a reduction as some airlines move from it to the new facility, Beijing Daxing.
But rankings and titles have limited implications. Tokyo Haneda will receive approximately 53 new daily international round trips in 2020 in the lead-up to the 2020 Tokyo Olympics.
As with the previous international Haneda expansion, many of Haneda's new flights will be existing flights transferred from Narita. Allocating the slots will be political, domestically and internationally, as Japan shapes its aviation policy considering ANA versus JAL; full service versus low cost; ANA and JAL JV partners versus independent airlines.
Even before those discussions begin, ANA and its partners have received an advantage with planned expansion works that will mean that ANA's domestic Haneda terminal will also handle international flights, allowing same-terminal domestic-international connections.
Summary
Tokyo Haneda posts its fifth year of growth; still Asia's second largest airport
Tokyo Haneda was Asia's largest airport until 2009, when it was overtaken by Beijing Capital. This was a result of Beijing Capital's organic growth and a traffic downturn at Haneda that started in 2008. Haneda's 2007 traffic record (66.8 million) was not surpassed until 2013 (68.7 million). Haneda has posted growth every year since, making 2017 its fifth year of expansion.
After Beijing Capital overtook Haneda in 2009, the gap between them widened as Beijing Capital grew and Haneda contracted and underwent a traffic plateau.
In 2011 Beijing Capital grew to 26% larger than Tokyo Haneda, and the difference held at broadly 20% until 2017. A sluggish year for Beijing Capital but strong year for Haneda meant that the gap narrowed to 13%, a difference of 10.8 million passengers. Beijing Capital handled 95.8 million passengers in 2017, compared to Haneda's 85.0 million.
Haneda remains Asia's second largest airport. Third largest is Hong Kong, which handled 72.9 million passengers in 2017.
Beijing Capital and Tokyo Haneda annual passenger traffic: 2004-2017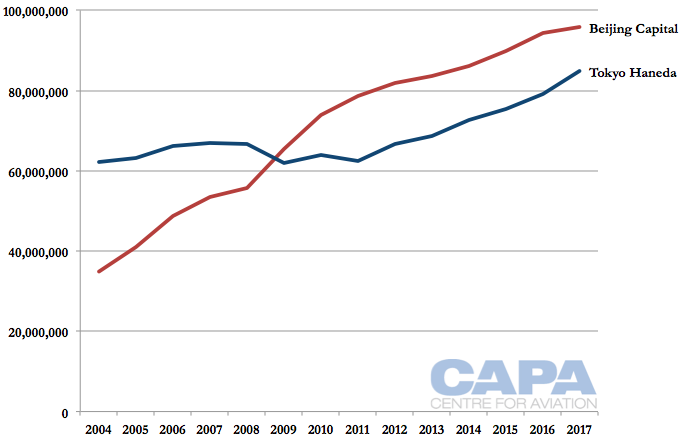 Tokyo Haneda is likely to overtake Beijing Capital in 2020 as Asia's largest airport. Tokyo Haneda could receive approximately 8 million additional passengers in 2020 as a result of an international slot expansion programme (discussed later in the report).
That could place Haneda's traffic at close to 93 million – well below Beijing Capital's 96 million passengers in 2017. But Beijing is preparing to open a new airport, Beijing Daxing, in 2019. Significant capacity will be shifted from Beijing Capital to Beijing Daxing, resulting in Beijing Capital's traffic figures decreasing. The Beijing Capital slots made available from the move will be reallocated only gradually.
See related reports:
Tokyo Haneda's growth fuelled by domestic and international expansion
Haneda's 7.4% passenger growth rate in 2017 was the fastest in a decade and higher than the previous year; it was 6.9% in 2012. International traffic grew faster (11.3%) than domestic (4.8%) but in terms of volume contribution, domestic growth produced a further 3.1 million passengers while international growth produced a further 1.7 million passengers.
Growth has occurred despite no significant slot increases. Domestically, airlines are gaining higher load factors, while during the year international benefitted from a full-year realisation of daytime US services. International passengers make up approximately 20% of Haneda's total throughput, up from 6% in 2010.
Tokyo Haneda traffic composition (left axis) and international share of total traffic (right axis): 2006-2017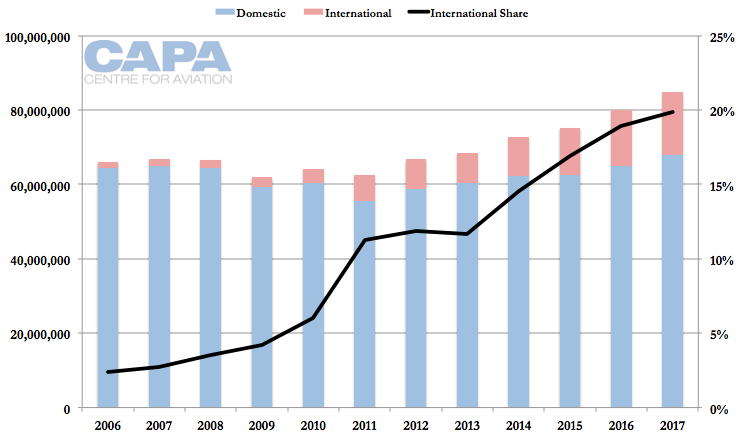 Tokyo Haneda is adding international slots ahead of the 2020 Olympic Games
Slots will be increased at Tokyo Haneda in time for the 2020 Olympic Games, and Japan has a goal of 40 million annual visitors in that year.
In 2017 there were 28.7 million visitors to Japan, up from 2016's 24.0 million. So while the goal is steep to reach, the growth is fast.
The slot increase at Haneda has convenient timing: more flights means more noise, and having to redesign some parts of airspace to accommodate additional traffic. This will expose more residents to noise, but it appears that slot expansion can be more easily passed under the banner of supporting the Olympics.
Japan annual visitors: 2008-1M2018
Haneda's slots (total, not slot pairs) will increase by 39,000 per annum, from 447,000 to 486,000. The additional slots will all be for international flights. There are an existing 90,000 available slots for international services (at daytime and night-time hours), so international will have 129,000 slots. Details of the allocation (day/night, airline, etc.) have yet to be announced, but the additional gate space is scheduled to be available from Mar-2020.
Assuming all new slots are utilised with an average of 200 passengers carried per slot, Haneda will gain 7.8 million passengers. The figure is approximate; some slots will go to narrowbody operators (Japan's LCCs are advocating for more Haneda access), while ANA and JAL fly low-density widebodies.
Slot expansion means international flights at ANA's terminal: a big win for ANA & JV partners
All Haneda international flights operate out of the international terminal, to be renamed terminal three. The facility has limited expansion options, so instead, terminal two will be expanded.
Terminal two is the furthest from the international terminal, so transfers between terminal two and the international terminal (terminal three) typically take the longest.
But terminal two is also home to ANA, which has been in good favour with the government since JAL's post-bankruptcy bailout. At terminal two seven gates (about one-third of total) will be able to handle international flights. Two of the gates will be exclusive international gates. The changes and related works will cost an estimated JPY75 billion (USD702 million).
The development gives a strong advantage to ANA, since it will be able to offer same-terminal domestic-international connections. JAL will be unable to do so.
The reopening of Haneda to long haul international flights and the expansion of regional international flights was a benefit to local travellers because Haneda is closer to Tokyo than Narita, and Haneda has a far larger domestic network, which improves connections.
Separately from the terminal two developments, Haneda aims to improve minimum connection times across the airport, which currently lag Narita's.
MCT (minutes) for Haneda and Narita airports: 2017
| | | |
| --- | --- | --- |
| | Domestic to International | International to Domestic |
| Haneda | 70 | 80 |
| Narita | 45 | 75 |
The provision of international facilities at terminal two has drawbacks however: ANA will have to manage international operations at two terminals, bringing complexity to ANA and its customers, as well as costs for ANA because services will be duplicated. ANA would have preferred for all of its international flights to be handled in terminal two, but given the more realistic options, ANA has a big gain over JAL by having some international flights co-located with domestic.
The benefit will extend both to ANA and its partners. The exact allocation of gates is not yet public, but presumably ANA will try to have as many of its international flights as possible at terminal two, in addition to selected flights of its JV partners.
ANA has 13 international flights departing Haneda from 09:00-12:00 on 23-Feb-2018. This is too many international flights for seven gates, five of which have to be shared with domestic operations.
Departing international flights at Tokyo Haneda by hour for ANA, JV partners (Lufthansa/United) and other Star members: 23-Feb-2018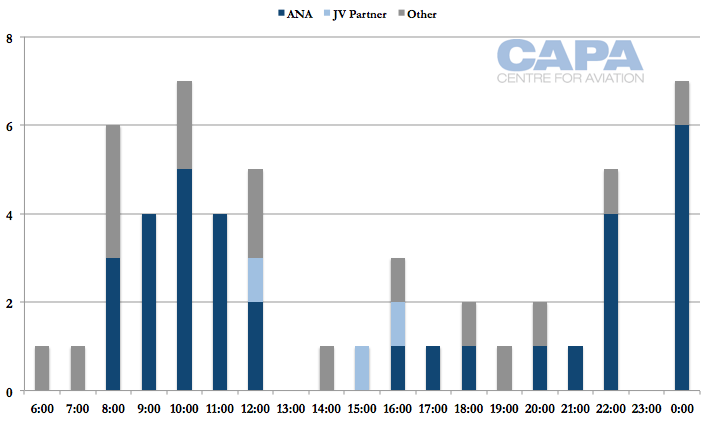 ANA is a member of Star, and flights from Star members who are not in a JV with ANA could be moved to terminal two. ANA's JV partners are Lufthansa Group and United Airlines. Lufthansa is the only member of the Lufthansa Group serving Haneda; Austrian and Swiss use Narita.
This, and much more, could change after allocation of new Haneda slots. The 39,000 additional international slots equates to approximately 53 daily round-trip flights.
A number of airlines are advocating new or expanded Haneda access. Austrian and Swiss could move to Haneda, in addition to Lufthansa and United having more international flights at Haneda. ANA would have its own Haneda international growth, and some airlines could, over time, become important partners to ANA.
Outlook: balancing Haneda's strategic development with politics
Haneda is poised to regain the title of Asia's largest airport, largely because of Beijing Capital splitting its traffic when Beijing Daxing opens.
Yet rankings and titles ultimately have limited implications. Far more of an impact will come from what is meant from the developments.
The opening of Beijing Daxing and redevelopment at Beijing Capital will mean that Air China and its Star partners will improve hub functionality at Beijing Capital, which is still scratching the surface of its opportunity to connect passengers. China Eastern and China Southern, and their respective partners, will establish hubs at Beijing Daxing.
Beijing, Seoul and Tokyo share prime geography in the large Asia-North America and Asia-Europe markets.
But ANA and JAL are obliged to manage split international hubs at Narita and Haneda. Although they would prefer to operate from one airport, this is not feasible.
The availability of international slots is significant, but generates a fierce political battle over which countries/markets they should be allocated to. There will be heavy lobbying among Japanese airlines over the way Japan's share of slots should be allocated among local airlines.
There are many profound and debatable discussions about what is best for Japanese aviation (the interests of ANA/JAL versus other Japanese airlines; ANA/JAL international JV partners versus other airlines; full service versus low cost), and for the Japanese international hub in competition against Beijing and Seoul.
The political horse-trading that is sure to occur is unlikely however to deliver an outcome that does serve the best interests of Japan's aviation, in this always political environment.