Tiger Airways Australia aims for a fresh start in August. No spike in domestic fares – yet
Analysis
Tiger Airways Australia will be grounded until at least the end of this month, following the Civil Aviation Safety Authority's (CASA) application with the Federal Court seeking an order that the airline not fly until 01-Aug-2011. Tiger did not appeal the application. The Federal Court has listed Friday 22-Jul-2011 for a directions hearing.
The extension of the grounding raises questions about Tiger's ability to successfully resume services in Australia. The carrier's brand and reputation have suffered significant damage over the past week.
Financially, the grounding in Australia is costing Tiger SGD2 million per week. But the group's Singapore-based operation, which is larger than the Australian unit and has been highly profitable in recent years, remains unaffected.
A fresh start?
Tiger Australia's chief, Crawford Rix, will step down on 31-Jul-2011, with the position of MD of the Australian unit to be assumed by Tiger's former Group CEO Tony Davis. A management reshuffle has seen former SilkAir chief executive Chin Yau Seng take on the role of acting Group CEO, assuming Mr Davis' former responsibilities. Meanwhile, Joseph Pillay has been appointed Non Executive Chairman of Tiger Airways Holdings.
Mr Pillay served as Non-Executive Chairman of Singapore Exchange Ltd from Nov-1999 to 31-Dec-2010 and served as the Chairman of Council on Corporate Disclosure and Governance from 2002 to 2007. Previously he has served as chairman of Singapore Airlines (SIA) from 1972 to 1996, as Managing Director of the Monetary Authority of Singapore and of the Government of Singapore and of the Government of Singapore Investment Corporation.
Mr Chin has taken a leave of absence from SIA Group for an undetermined amount of time to assume the new role at Tiger. Mr Chin was previously divisional VP for cabin crew operations, a post he assumed after leaving the chief executive post at SIA Group regional subsidiary SilkAir in Oct-2010.
SIA owns 32.9% of Tiger Airways, while Dahlia Investments (owned by Temasek) owns 7.4%. Clearly it would in SIA's financial interest to use SIA Group's expertise to assist Tiger, while maintaining the separation of brand and management. But for legal reasons SIA is unable to help Tiger with the situation it faces in Australia.
The two carriers are treated by authorities as separate entities because they have separate stock listings and compete head to head on some routes. Mr Chin also canot be in communication with SIA while he works for Tiger. The SIA-Tiger relationship remains in effect only at the board level – SIA has three representative on Tiger's board, two whom are current SIA divisional vice presidents.
Mr Davis concedes that Tiger's image had "taken a knock" in the past week and it would have to work hard to regain consumer confidence. But he said the airline is focusing on a "fresh start" and has reiterated his view that the LCC has a long-term future in Australia. "We're committed to a long-term future and I think Australians want us to be here to ensure that there is competition in the air sector," Mr Davis said.
Australian domestic passenger volumes have risen substantially since Qantas subsidiary Jetstar's entry into the Australian market in 2003. But the more recent entry of Tiger Australia in late 2007 has had a greater impact still. Since Tiger's entry, the domestic market has expanded by some 8 million additional passengers p/a to close to 55 million annually, a substantial increase in what is considered a mature market.
See related report: Tiger Airways Australia grounded; potential blow to the low-cost, low-fare market in Australia
Australian domestic passenger traffic (moving annual totals): Apr-2006 to Apr-2011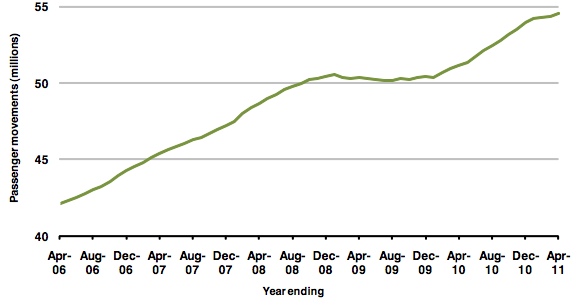 The market has been stimulated by low fares, which have fallen by roughly 40% over the same period. While Tiger has been a relatively small player, its influence on fare levels has been wholly disproportionate in driving fares down across the board.
Australian 'best discount' domestic fares index (July 2003 = 100): Jun-2006 to Jun-2011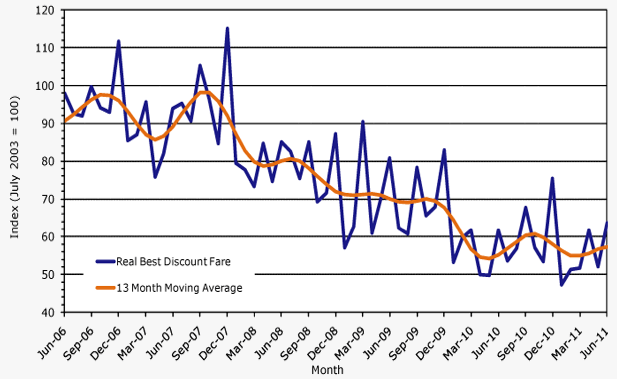 No increase in fares from Tiger's grounding - yet

According to the ITA Software published fares database available on the CAPA website*, the grounding of Tiger's domestic Australian services is yet to show up in the form of lower fares over the next six weeks. Tiger only recently stopped selling fares (for the first few days of the grounding it continued to sell tickets from 10-Jul-2011 onwards).
It is currently the winter low season in Australia and the outlook for discount economy fares on the key Sydney-Melbourne Tullamarine trunk route is attractive for passengers, not airlines. The moving average of the cheapest published fare is at its lowest level since Oct-2010 at approximately USD160 (AUD150) per sector for travel next month.
Return economy fares from Sydney to Melbourne Tullamarine: Oct-2010 to Aug-2011
Sydney-Melbourne_fares.png" alt="" width="661" height="425" />
Fares are slightly higher between Sydney and Brisbane (which was Tiger's second biggest market by seats after Sydney-Melbourne Tullamarine), but there is no evidence of a spike in fares as a result of Tiger's grounding.
Return economy fares from Sydney to Brisbane: Oct-2010 to Aug-2011
Sydney-Brisbane_fares.png" alt="" width="661" height="431" />
It is likely however that domestic fares could rise if Tiger, which represented approximately 5% of total domestic Australian capacity, is grounded beyond 01-Aug-2011, particularly as Australia moves into warmer weather and the end-September/early October school holiday peak period.
Background Information
* Fares data for some 1500 routes is available in the premium area of the CAPA website. Click here for details about CAPA Membership
Tiger Australia plans for its staff to participate in extra training while the fleet is grounded. Meanwhile services operated by Tiger Airways Singapore, including daily Singapore-Perth service, are unaffected by the suspension of Tiger Airways Australia. The company said forward bookings on Tiger Airways Singapore "remain solid and in line with the recent trend".