Three major projects (EUR1 billion) at Keflavik Airport in next 12 years – right choice? Part one
Analysis
Iceland is a physically larger country than some might know; it is the second largest in Europe, but with a population the size of a typical mid-ranking city.
That it has become not only a hub for tourism from all over the world but also an air hub between Europe and North America, with a vast range of sophisticated stopover options, is quite remarkable.
But the natural and financial world explosions of the first decade of the 21st century, which attracted and supported visitors in droves, were nullified by subsequent airline failures and financial squeezes and then the COVID-19 pandemic. Investment in airport infrastructure, which always lagged behind traffic gains, was put on hold.
Now as the country and its tourist offer gets back on its feet, the airports and navigation services operator, Isavia, proposes to rationalise its development plan. To speed it up considerably, and wrap up three separate projects in a short space of time to a total value of EUR1 billion.
That's EUR2666 for every one of Iceland's inhabitants.
The question is, mindful of previous events, potential new ones, and of how route development will or will not proceed as the country's two main airlines slug it out, would a more modest incremental procedure focused on quality over quantity not be a better option?
This is part one of a two-part report.
Summary
The plan will mean local contractors being employed as often as is possible.
Isavia was putting off infrastructure enhancements, even before the COVID pandemic.
A huge increase in tourism arose out of natural and financial eruptions in the late 2000s; but it fell off dramatically after the WOW Air collapse, and then came the pandemic.
High-speed rail lines are frequently discussed and coveted, but against them is the Icelandic terrain, a lack of local technical expertise, inertia brought about by having no history in the domain, and further the cost.
So at least air travel is safe for the future in Iceland.
Isavia to introduce a 'new approach' to its 'Major Development Plan'
Iceland's national airport and air navigation service provider Isavia, which effectively manages Icelandic aviation affairs under the auspices of the regulator, the Icelandic Transport Authority or ICETRA, announced that it was considering a new approach for implementing its 'Major Development Plan' vision for Reykjavik Keflavik International Airport, and was seeking 'market input'.
Isavia says there are "big projects ahead that will completely transform the airport; not only will more passengers be able to go through the airport, but the goal is to make the passenger experience better for everyone, from arrival to departure."
Terminal extensions failed to keep pace with tourism growth, following volcanic eruption and currency collapse
From a small, if modern, light and airy Leif Eriksson Terminal which opened in 1987, extensions were added in 2001 to cater for increasing visitor numbers to the thinly populated island.
But they have not kept pace with a tourist boom which ironically was partially brought about by the dramatic Eyjafjallajökull volcanic eruption in 2010 that focused attention on the country, coupled with a collapse in the currency at the same moment on account of the global (and local) financial crisis, which made Iceland an affordable destination to many more people than had previously been the case.
Huge pandemic-inspired tourist traffic fall reversed
That tourism boom lapsed during the pandemic years, to the relief of many residents who had been overwhelmed by visitors in 2017 and 2018 especially. But it is back on track now, as the below chart demonstrates – for better or for worse.
More flights bringing tourists in does at least increase options for Icelanders to travel abroad too, and they are one of the most prolific 'propensity to travel' nations, with each citizen on average taking six foreign trips a year.
As well as bringing more tourist spend, of course.
The chart below covers the period from 2009, the year before the volcanic eruption that darkened Europe's skies and grounded aviation for three days. It chronicles the rapid gain in tourist numbers from 2011, peaking at +39% in 2016 to the total collapse in 2020, and to 2022 with a close to 150% growth over 2021.
Iceland: annual tourism, visitor numbers/growth, 2009-2023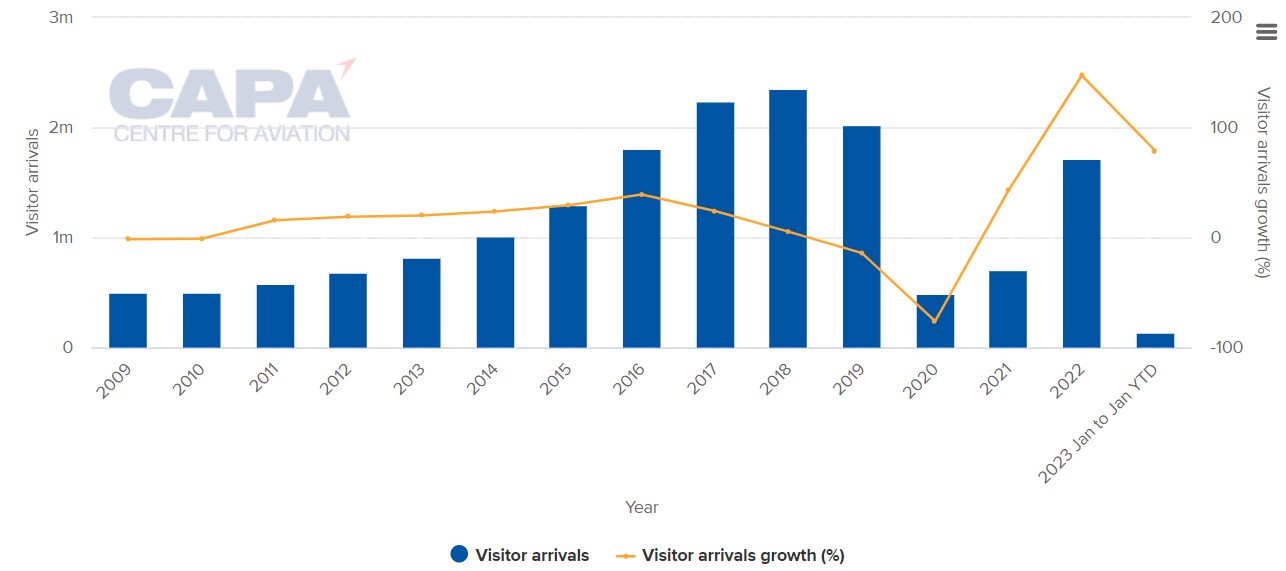 Three separate construction projects will add up to EUR1 billion
In the next 12 years the airport plans to undertake three major projects (some of which have been delayed now for several years, and before the COVID-19 pandemic): a connecting building between the North and South Terminals called SLN21, which is estimated at 22,000sqm; a new 'East Pier' estimated at 70,000sqm; and then a new North Terminal, which is estimated at 30,000sqm.
The estimated aggregate cost of these projects is approximately ISK150 billion (EUR1 billion).
Isavia is seeking to implement the 'Smart Procurement' method for the project. Isavia and construction consultants from UK-based Mace will first procure the supply chain and secure an international supply chain under a series of integrated long term frameworks to work with the current designers at an earlier stage.
Specialists to be employed from the get-go, along with local labour with local knowledge
The goal is to involve the specialist manufacturers in the design process.
The supply chain companies under the frameworks will also be responsible for the installation of the systems and components, teaming up with local Icelandic contractors where appropriate to secure the required labour and specialist local knowledge.
Iceland does like to 'keep it in the national family' where it can, as Akureyri Airport in the far north did in 2022 when a local company took turnkey responsibility for a terminal extension. This was noted in Iceland's second city airport gets terminal expansion; tourism boost needed, a CAPA report from Jan-2022.
And that local knowledge is critical in Iceland, and can include: where lava fields are at their most and least durable, because that effects construction costs enormously; where, and if possible, when, there will likely be another volcanic eruption or earthquake – Keflavik Airport is worryingly close to two recent eruptions; and even where imaginary elves, trolls and other assorted Huldufólk ('hidden people') live.
They will select their own partners, but can also make use of a 'Steering Contractor' who will coordinate the works between suppliers.
Most traffic and capacity at Keflavik and throughout the country is international
Passenger traffic growth at Keflavik has mirrored almost exactly that of tourism in the period 2009-2023 as might be expected.
Capacity is 100% international at Keflavik, and is split 94% international and 6% domestic throughout Iceland as a whole.
A small number of people arrive by sea ferry and cruise ships, and the latter don't stay long.
Reykjavik Keflavik International Airport: annual traffic, passenger numbers/growth, 2009-2023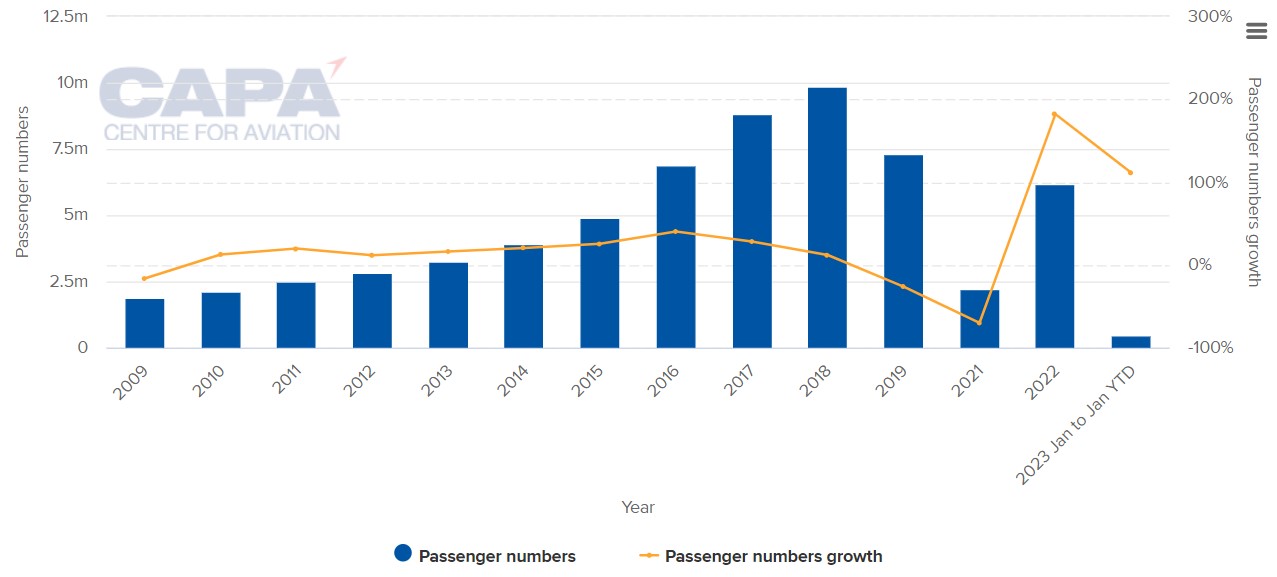 The only other Icelandic airport that usually hosts international services is Akureyri, and in the week commencing 27-Feb-2023 international seat capacity there accounted for 17% of the total, with a single service to Greenland that is probably connected to the fishing industry, and one to Copenhagen, which gives local residents an alternative hub option to using Reykjavik, where they have to transfer between the domestic airport and Keflavik, 50km away.
An Icelandair service connecting Akureyri and Keflavik directly was operated for a short time a few years ago, but it was abandoned for lack of demand.
Airports in Iceland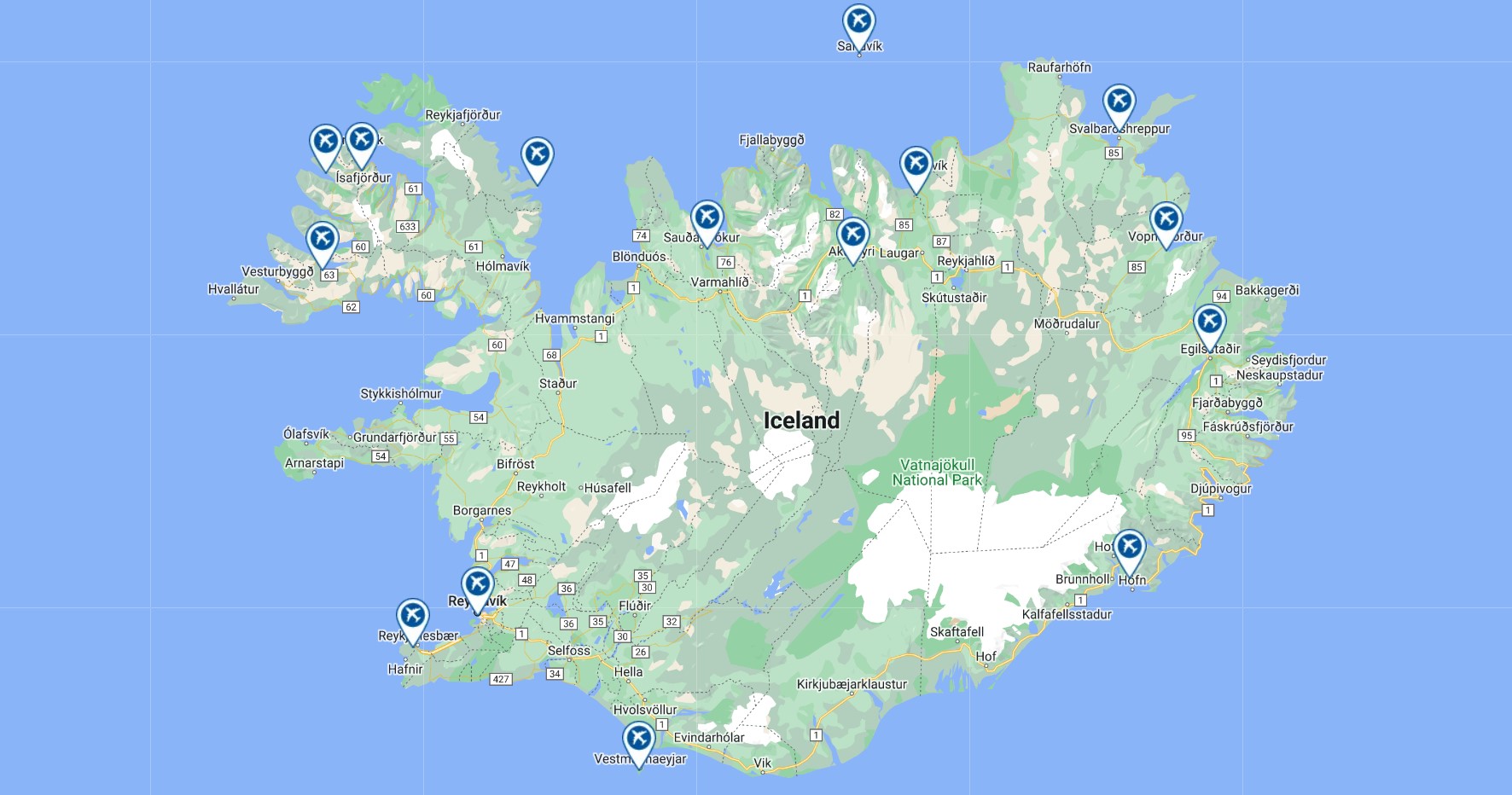 International capacity will rise again during the summer, when charters operate.
And that is about the measure of it where international air capacity is concerned. It is highly focused on Keflavik, and that will continue to be the case far into the future.
A proposed new airport for Reykjavik proper – again to be built in the middle of a lava field – would make no difference.
High-speed rail connection to Keflavik from downtown faces logistical issues
By comparison, another infrastructure proposal – a high-speed rail line between Reykjavik and Keflavik Airport called The Lava Express – would focus air travel options on Keflavik even more.
There would be a need for 50 km of new track, of which 14 km would be underground and the Reykjavik terminus would be the existing BSÍ bus station, about a kilometre from the Central Business (and Tourist) District.
The average speed of the train would be 180kph [112mph], with a maximum speed of 250kph [155mph]. The result would be a travel time of 15-18 minutes, compared with a travel time of 40-50 minutes in a private car, taxi, or one of the many busses that ply the route.
The construction time of the project is estimated at 48-60 months – which seems short, considering the terrain it would be constructed on.
The last estimate was that work on the project could begin in 2022 and that it would take three years to finish, but as funding was problematic even before COVID-19 started, the project will not be starting any time soon.
Even then, there would be logistical problems.
Iceland has no history whatsoever of building commercial railway lines. There has never been a passenger railway in Iceland – just a couple of short industrial lines around the Reykjavik harbour a century ago to shift workers and rocks, and private farm networks.
So there is no local 'expertise', which would have to come from abroad, pushing up costs enormously. And those costs would surely be exacerbated further by the fact that the line would have to be hacked out through solid lava in parts, which has lain there for centuries (while more has been added in the past few years). In Iceland you never know the minute the earth under your feet will turn into boiling magma.
That is perhaps why these high-speed rail proposals, which date back to the early 2000s, have not yet been implemented, and why the Highway 41 (Keflavik airport main access from Reykjavik) was upgraded to dual carriageway status in 2008.
There is at least a development company for the airport train, 'Fluglestin', so it has moved off the drawing board.
Iceland has been considering expanding and improving surface travel options considerably in the past few years, including serious proposals for a light rail system for the Capital Region (Reykjavík, Kópavogur, Hafnafjörður).
Again, how the project would be funded is a major stumbling block, and as of early 2023 it looks as if the poor man's alternative of bus lanes will be implemented instead.
High-speed line from Reykjavik to Akureyri faces the same issues
There is strong support for building a rail line from Reykjavik to Akureyri, but again, the costs would be astronomical.
Further, it would have to be constructed across Iceland's interior wilderness, which is so unwelcoming that it cannot be visited at all without a government permit. If it didn't cross it, it would have to follow the coast, more than doubling the length of the track, just like Iceland's ring road, which is the ring for the entire country, not just a city.
The cost of a single ticket has been estimated at ISK41,000 (EUR270/USD284), just to cover the (low) interest on borrowing to pay for the line.
Whichever way you look at it, air travel will continue to dominate the agenda in Iceland and particularly Keflavik Airport, which is why this 'Major Development Plan' vision needs to be implemented.
In part two of this report CAPA will look at how air travel will continue to be the best way to get from A to B in Iceland, but like everything else – it is threatened by the potential for a natural disaster. CAPA will also investigate airline activity at Keflavik International Airport and study the importance of local airlines in the growth of air connectivity.