The US Big 3 airlines ramp up efforts to improve PRASM. Anxious investors hold back for real results
Analysis
The three large US global network airlines – American, Delta and United – are stressing to investors that they recognise the importance of attaining a flat-to-positive passenger unit revenue performance, while market place anxiety lingers over a continued negative performance by those companies in that metric.

Two of the drivers for contracting passenger unit revenues continue to be an imbalance of supply and demand, and pressure on close-in bookings. Those airlines are working to remedy those pressures, but it will take some time for a pricing reset in an industry that has been through deep discounting throughout the past year. A buzzword for American and Delta is a move away from product commoditisation, but that is a more slow-moving evolutionary process from which the rewards are further off on the horizon.

Perhaps the overriding concern of investors is whether the historical inverse relationship between fares and oil prices will fail to materialise when energy costs inevitably rise. That is what has occurred historically, but that has done little to ease investor concern during the last year as PRASM has suffered. As a result, American, Delta and United are pledging to return to a flat-to-positive PRASM trajectory, with varying timeframes.
American predicts positive PRASM in 2017, but meanwhile....
American's passenger unit revenues (PRASM) fell 7.5% in 1Q2016 as yields dropped 7%.
Similarly to previous quarters, its PRASM decline has been the steepest among the three large global US airlines.
American, Delta and United 1Q2016 PRASM performance and 2Q2016 projections
| | | |
| --- | --- | --- |
| Airline | 1Q2016 PRASM | 2Q2016 PRASM forecast |
| American | 7.5% decrease | 6% to 8% decrease |
| Delta | 4.6% decrease | 2.5% to 4.5% decrease |
| United | 7.4% decrease | 6.5% to 8.5% decrease |
American has cited a rough patch in corporate demand in Feb-2016 and Mar-2016, driven by a 10% to 12% drop in the stock market. A factor affecting close-in demand was an absence of "AAdvantage" fares in the market. Those fares basically entail an airline offering a lower connecting fare than the fare offer of an airline operating nonstop. The American president, Scott Kirby, stated that those fares had been suspended for approximately three months in early 2016, but a competitor had recently reintroduced the practice back into the market and American had done the same. During the last couple of weeks American has seen stronger close-in demand, Mr Kirby stated.

Delta, for at least two quarters, has specifically acknowledged investor concern over negative passenger unit revenue, and has restated the importance it places on returning to a positive PRASM trajectory. American is emphasising this point: "We also recognise that the market is rightly concerned about getting back to positive PRASM, and we're also focused on that as an explicit internal goal", Mr Kirby recently told investors.

However, Mr Kirby stated that the timeframe for a return to positive PRASM would likely be in 2017. He explained that American's advanced booked yields for May-2016, Jun-2016, Jul-2016 and Aug-2016 were up year-on-year, which has been a trend for the last several months. Close-in yields still remain weak, he stated, even as demand remains strong and bookings are growing. American expects PRASM to fall 6% to 8% in 2Q2016.
Delta expects choppy conditions in the US domestic market in the near term
Delta's 1Q2016 PRASM declined 4.6%, and company executives attributed 2ppt of the decline to FX headwinds driven by the appreciation of the USD against most major global currencies. FX pressure is projected to represent 1ppt of the company's guided 2.5% to 4.5% PRASM decline for 2Q2016.

Delta has cited choppiness in the US domestic yield environment in 1Q2016. The incoming president, Glen Hauenstein, has stated that volatility in close-in yields and challenges on trans-Atlantic services to Europe may result in the airline achieving its positive PRASM goal a few months later than previously expected. The airline has previously remarked that it intends to reach a flat-to-positive PRASM performance in 2H2016. Mr Hauenstein stated it was Delta's intent to reach that target in 2016; nevertheless, a positive PRASM performance could be closer to YE2016 for the airline.
United concludes industry capacity is outpacing GDP growth and trims 2016 targets
United has a goal of reaching flat-to-positive PRASM in its domestic, Latin and trans-Atlantic operations by 4Q2016. Reaching a positive performance in the Pacific will take more time, said the company chief revenue officer, Jim Compton, as FX pressure and lower fuel surcharges continue to affect United's performance in that region.

For 2Q2016 United projects a PRASM decline of 6.5% to 8.5% – domestic PRASM is forecast to fall 3.5% to 5.5%, and the company's international PRASM projection is for a drop of 11% to 13%.

Factors driving 3.5ppt of the consolidated revenue decline include FX pressure, lower fuel surcharges, energy market weakness at United's Houston Intercontinental hub and other competitive challenges.

approximately 2.5ppt of the forecast 2Q2016 unit revenue decline stems from the GDP growth in the US and international markets failing to keep pace with capacity increases, said Mr Compton.
United Airlines estimated gaps between capacity and GDP growth, domestic and international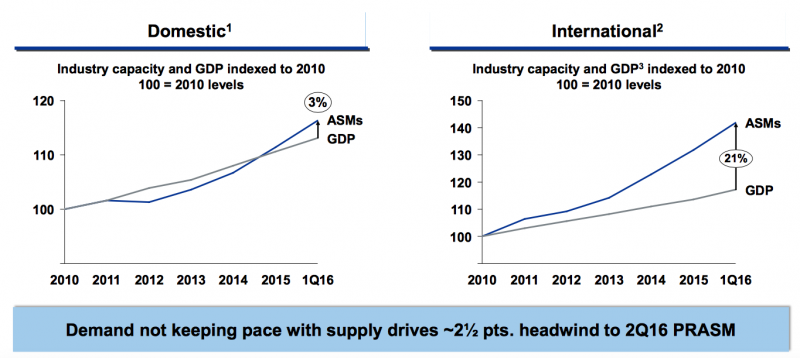 Mr Kirby of American has said that total scheduled capacity for 2Q2016 remains elevated in all regions, "and while capacity growth rates are down slightly from first quarter levels, total capacity is still growing faster than the economies in all regions of the world". Moving into 2H2016, said Mr Kirby, American expects capacity growth rates to moderate from those of 1H2016.

Both American and United have issued slight revisions to their 2016 capacity guidance. United's consolidated 2016 capacity is now projected to grow 1% to 2%, versus previous targets of 1.5% to 2.5%. Its domestic forecast of a 1% to 2% increase remains intact. United's largest capacity revision is in international markets, with capacity increasing 1% to 2% compared with original projections of 2.1% to 3.1%.

American has trimmed its 2016 system capacity guidance by a half point, and now expects growth of 2.5%, with 2.5% domestic growth and a reduction in international capacity growth from 6% to 2.5%. Delta's system capacity projections for 2016 are flat to 2% growth.
US global airlines brace for a trans-Atlantic oversupply during summer 2016
All three US major global network airlines have highlighted oversupply in the trans-Atlantic during the 2016 peak summer travel period. American has stated that excess capacity growth during the summer period will drive pressure in the region. Data from CAPA and OAG for late Jul-2016 show that seats between the US and Western Europe are forecast to increase 5.5% year-on-year.
United States of America to Western Europe (seats per week, one way): 22-Apr-2013 to 10-Oct-2016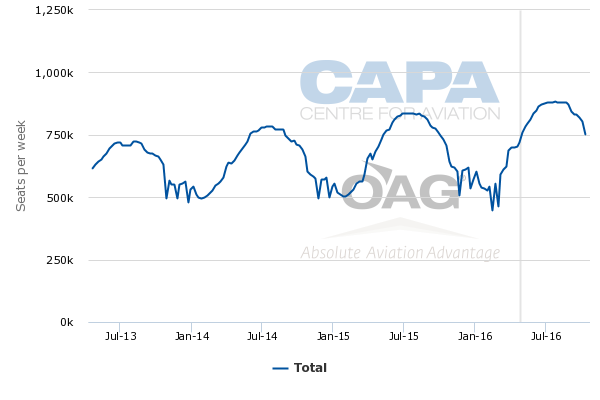 Delta is factoring growth from the three large Gulf Airlines – Emirates, Etihad and Qatar – into its assessment of capacity pressure in the trans-Atlantic. Mr Hauenstein cited Qatar's planned new service between Atlanta and Doha beginning in Jun-2016, and highlighted that there are fewer than five passengers per day in the market. "We don't think they'll [Qatar] be successful", he stated, explaining that the service by Qatar represents some of the capacity pressure that Delta is seeing locally in the trans-Atlantic market.

Mr Hauenstein also explained that some of the capacity growth to and from Europe in summer 2016 is driven by low cost airlines such as Norwegian, and some major airlines like Air Canada. "So when you add all that together, we get a trans-Atlantic capacity increase in the high single digit, low double digit through the peak summer season".
Decommoditisation is in the end-game for most large US global network airlines
One of the biggest opportunities American sees to improve PRASM is decommoditising its product for customers willing to pay for more services. The airline is in the process of creating fare families similar to those that Delta has on the market; these include a basic economy fare designed to price-match low cost and ultra-low cost airlines.

Mr Kirby remarked that one of the greatest changes in the US domestic pricing structure has been the elimination of pricing fences, largely due to the proliferation of low cost and ultra-low cost airlines. Historically, there have been fare features such as a 14-day advance purchase and a minimum Saturday night stay requirement, which were one way that the airlines attempted to segment demand and offer business travellers a favourable product, said Mr Kirby. But those price fences have become less and less marketable (or competitive), and the strategy now is to drive higher fares through pricing structures such as fare families.

American has a lot of customers interested in a commodity product, but for "those customers who are not commoditised, we can sell them a better product and be appropriately compensated for that", Mr Kirby said.

At the recent CAPA Americas Aviation Summit a panel discussion was dedicated to decommoditisation and the challenges airlines face in marketing one-on-one versus one-to-many. Mr Kirby remarked that decommoditisation would not happen overnight, "but we're on a good path to get there and that is big structural change".
The incoming Delta CEO, Ed Bastian, also stressed his goal of enhancing the airline's brand premium. "We have said before that our product is not a commodity", he said; "We need to produce a premium product that drives brand loyalty."

As Delta works to develop brand distinction, the airline's Basic Economy product – no checked baggage, no seat selection, no itinerary changes – produced USD20 million in revenue during 1Q2016. At present Basic Economy is only available in 400 to 500 domestic markets, and Delta has approximately 20,000 domestic markets, said Mr Hauenstein.
American confident that the correlation between revenue and oil price remains intact
Capacity adjustments and working to create more industry-favourable pricing mechanisms are obviously doing little to lift PRASM in 2Q2016, which is where the horizon ends for some short-term investors.

Mr Kirby emphasised that much of the concern among investors about sagging PRASM is anxiety that prices will not rise when oil costs increase. He stated that he understands the focus on near-term PRASM, but oil prices are beginning to climb slowly, and most airlines have discussed reducing capacity. "Those two things, I think, are correlated, and it is rational, so I think we will see that link if oil prices go up, that revenues will go up as well."
The challenge is predicting whether investors are receptive to airline efforts
Each of the three major global US airlines is taking a measured approach to predicting when the clouds of negative PRASM performance will break. Indications are that United and Delta believe they can reach a flat-to-positive milestone by YE2016, and American has a 2017 target.

It is not clear how investors view the efforts by those airlines to improve their respective PRASM performance. Until clear signs emerge that the negative performance is starting to reverse, airline valuations could continue to suffer.