The US airport system is lagging badly, but there is still little appetite for private investment
Analysis
The US has few new-build airports, even fewer low cost airports, but remedial and expansion work is extensive. The US has not constructed a new airport of real economic significance since Denver, two decades ago and, prior to that, Dallas-Fort Worth in 1974.
While efforts are underway to enhance facilities at the existing primary gateway airports new infrastructure will certainly be needed.
Even as air services continue to gravitate globally towards emerging markets, IATA estimates that the number of passengers using US airports, many of which are already capacity constrained on the ground and/or in the air, will increase by 90% between 2014 and 2034. The nation simply could not handle anything like that level of growth within the existing infrastructure.
In the near term alone ACI North America (ACINA) has estimated that US airports need to complete USD71.3 billion worth of essential infrastructure projects before 2017. Just over half of this investment is to keep pace with demand and facilitate an increase in the utilisation of larger aircraft; the remaining funds are required for the rehabilitation, maintenance and repair of existing infrastructure.
ACI NA argues the US is falling progressively behind due to the lack of funds being invested into developing gateways, as Asia and the Middle East invests in state-of-the-art new airports, terminals, and other infrastructure. Vice President Joe Biden has committed to making airport infrastructure a 'top priority' but as he admitted himself, many are at breaking point.
And there is an economic consequence, of course. The US Travel Association says that global competitiveness and economic/job growth are "severely imperilled" by "collapsing transportation infrastructure" in the US.
Not only is there a scarcity of new, primary, hub scale airports, at the secondary level there is also a low level of activity. Indeed, throughout the whole of North America there are only nine new airports under construction, planned or proposed at this time according to CAPA's Airport Construction and CAPEX Database.
In the US they are: Airglades International Airport (Florida); Chicago South Peotone Airport (Illinois); Griffin-Spalding Airport (Georgia); Bowman County (North Dakota); Paulding, Northwest Atlanta (Georgia); and Taos (New Mexico), which is a conversion from a general aviation facility. The other three are in Canada and Greenland.
In contrast there are 162 green field projects planned or under construction in Asia Pacific, 52 in Europe, 47 in Africa, 40 in Latin America and 23 in the Middle East.
Apart from the Chicago development (which is not at all certain to reach fruition and if it does it is likely to be a cargo reliever airport), and Paulding (a proposed passenger reliever airport for Atlanta Hartsfield) none of these new airports will have any real impact on the overall scheme of things.
Paulding, a.k.a. Silver Comet Airport, is perhaps the most interesting of these. The brainchild of a New York private equity firm, Propeller Investments, which has previous form with the now abandoned project to convert Briscoe Field, a general aviation airport also in the Atlanta metropolitan region, into a Hartsfield Atlanta reliever facility. But as with Briscoe Field it has experienced strong opposition from a cabal of airlines, trades unions, the city's Mayor and residents. The latter category is convinced the objective is to build a commercial hub to rival Hartsfield, an improbable outcome at best.
Propeller Investments actually has similar plans for Paine Field Airport in Everett, a northern suburb of Seattle, which serves both general aviation and Boeing's huge Everett assembly plant. A letter of intent was submitted in Jun-2014, and has received the endorsement of Everett's Mayor.
The ultra low-cost carrier (ULCC) Allegiant Air has filed a letter of intent to provide service at Paulding. Add to that the fact that the ratio of LCC domestic seat capacity in the US has risen to 31.2% in 1Q2015 with international LCC capacity reaching 13.1% (a 1.5 ppt increase over the FY2014 figure), one might perceive a desire for more simple and cost-effective airport infrastructure to meet that demand, i.e. low cost airports and terminals (LCATs).
But there is little evidence of that. As the Low Cost Airports & Terminals report published by CAPA several years ago pointed out (see https://centreforaviation.com/reports/), the lack of private investment in US airports (which continues today), together with the dominance of terminals at key airports by major carriers, the low cost of operation at terminals (it can be as low as 5% of airline costs) and the desire of the American travelling public to have access to comprehensive goods and services at airports, mitigates against LCATs in the US.
The rule of thumb is that US LCCs are more likely to be attracted by an increase in airport services rather than by running them down; and that philosophy will not be challenged while the economy continues to improve and is served by an increasingly consolidated airline network.
Examples of the genre are thus few and far between. A privately funded budget terminal at Austin, Texas was opened at the behest of a Mexican carrier in 2008 but closed a year later when that airline suspended service as a result of the swine flu epidemic. It remains vacant to this day almost as a warning to others considering LCATs in the US.
Possibly the most successful example to date, remains the privately funded (bond/private equity) USD140 million Branson Airport in Missouri, which opened just as Austin's South Terminal closed, in order to serve a national vacation centre dedicated to popular music. It is undoubtedly the closest in concept to the European low cost airport model, with a small terminal containing basic facilities, no air bridges and multi-tasking staff.
So, there is little in the way of new-build airports or LCATs but at least some work is being done on the existing infrastructure and much of it cannot be classed as cosmetic either. The CAPA Airport Construction and Cap Ex Database identifies 493 airport related construction projects of significance (i.e. over USD5 million in value) in the North America region as of Mar-2015 (similar to the total for Asia Pacific but considerably behind Europe), with an investment total for those projects of USD88.4 billion.
Of that USD88 billion, the US accounts for USD80.15 billion in 233 known projects at specified airports and a number of unspecified ones in certain states. That is actually in excess of the USD71 billion that ACI NA insists needs to be spent by 2017 and many of these projects, possibly 75%, are scheduled to be completed by the end of 2017.
So on the surface the government is slowly making progress. But, delving a little deeper into the figures it transpires that only USD18.3 billion of that amount is allocated to new runways and runway extensions (in 39 projects, 10 of them 'new') while USD17.6 billion is allocated to new terminals and terminal expansion projects (62), to a grand total of USD35.9 billion in 101 projects for critical infrastructure, some way short of the desired target. The majority of the projects, and associated investment, comprise a variety of measures that either might be considered 'patch and mend' (especially runway refurbishments) or general replacement/expansion, including, inter alia, aprons, pavements and taxiway works, car parks, car rental centres, hangars, ATC towers, shopping centres, FBO/executive terminals, fire stations and, at the other end of the scale, airport cities (which CAPA includes in the database as long as they are on or immediately next to, airport land).
A large amount of investment is allocated to the category 'general refurbishment and rehabilitation,' which is just that, and symptomatic of the ageing process of the infrastructure.
So, overall investment in critical infrastructure does fall short of the mark nationwide but at least there are significant projects at the principal gateway/hub airports.
In New York, for example, there is investment of almost USD3.9 billion at LaGuardia, regarded by government officials as the airport in most need of improvement and, perhaps unkindly, ranked the worst airport in the world in a 2012 survey. Most of it is in the Central Terminal Building which is to be redesigned and rebuilt, in a PPP project that will last until 2021. The procedure is currently at the tender shortlist stage with two consortiums left in the running but the process is suspended while a design competition is completed. The project is in addition to USD1.4 billion expenditure at JFK, through to 2016 and USD350 million at Newark Liberty.
Chicago's O'Hare International Airport was earmarked for a USD7.3 billion infrastructure programme by incoming Mayor Rahm Emanuel in Mar-2012; an amount subsequently topped up by USD4.2 billion over three years to hasten the completion of what was perceived to be a tardy modernisation effort. The plan called for accelerated completion of the new runway 10C-28C, associated taxiways, a new intermodal facility and terminal enhancements to increase capacity. Work will continue through to 2017.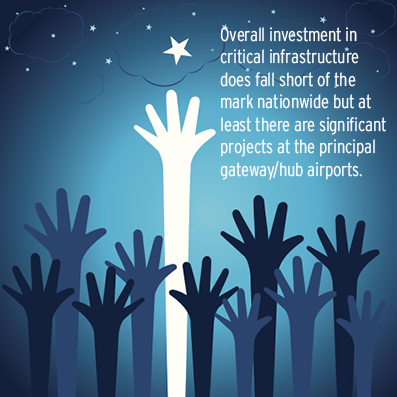 At Los Angeles International Airport much of the construction work was focused on the Tom Bradley International Terminal upgrade, which was completed late in 2013, the first phase of a USD4.1 billion improvement programme with further associated works through 2015. In Jul-2014 airport commissioners approved the construction of the northern half of the planned USD900 million midfield concourse, to be located west of the Bradley Terminal. The concourse will provide gates for widebody aircraft and ultimately eliminate the airport's remote gates that require passengers to deplane onto the airfield.
Atlanta's Hartsfield-Jackson Airport is still the world's busiest with 96.2 million passengers in 2014 although Beijing was closing in fast, at least until last year when the Chinese economy stalled just as the US' started to recover. Exactly how Atlanta can stay ahead of such 'upstarts' is exercising much debate there right now. The end of 2015 also sees the completion of Atlanta's USD9 billion series of projects under the development programme 'Focus on the Future', which began in 1999 with the intention of preparing the airport to handle a projected demand of 121 million passengers in 2015.
With a shortfall on that estimate of 25 million Atlanta is well prepared but the airport has already organised a new 20-year master plan that includes an additional runway at the southern end of the airport. The new runway is expected to cost a little over USD1 billion, slightly less than the nearly USD1.3 billion fifth runway the airport added in 2006. An airport city is additionally planned for between the main domestic terminal and the MARTA (rail) station. The city will feature a new hotel, up to 200,000sqft of office buildings and additional shops and restaurants.
The lack of private investment in US airports was referred to earlier. With public finances still struggling to cope with essentials (education, health, social services etc.,) the private sector might be expected to fill the gap in the airports business, but it isn't achieving that.
There is continuing disappointment in the relatively small and seemingly declining interest in the federal Airport Privatisation Pilot Programme, which has been in existence since 1996 and which has recently been extended to permit ten privatisation 'slots,' of which only one is occupied, having been filled in 2014. And there is currently no applicant for the major hub slot.
The reasons for the lack of interest in privatisation in the US have been aired many times. The one ray of light appears to be the LaGuardia PPP. That is not yet a done deal but if it does proceed to a successful conclusion and delivers on time it may open the way for more PPPs. The FAA does appear to be recognising that opportunity.