The Big 3 US airlines American, Delta and United, increase 3Q2015 profits despite lower unit revenue
Analysis
The large three US global network airlines, American, Delta and United, are maintaining the paradox in their financial reports for 3Q2015 – deepening unit revenue declines coupled with margins that should exceed the prior year's performance. The improving margins are driven in large part by lower fuel prices, which seem on pace to remain far below historical highs for at least the short term.
American, Delta and United have all revised their capacity forecasts over the course of 2015 as demand in global geographies has been affected by general macroeconomic weakness, also a factor in falling unit revenues experienced by most US airlines during the course of 2015. Generally, it seems the big three airlines are attempting to keep their capacity growth in line with GDP estimates.
It is not clear if efforts by the US major airlines to steer investors away from a singular focus on unit revenue have been totally effective. But those airlines will no doubt continue to tout their strong top line performance as unit revenue degradation continues into at least early 2016.
Unit revenues fall while margins grow for American, Delta and United in 3Q2015
American, Delta and United are each forecasting 3Q2015 unit revenue declines from the 4.5% to 8% range, with American forecasting the steepest decline of 6% to 8%. Among those three airlines, American has the largest exposure to significant capacity expansion and pricing pressure in the Dallas market.
American, Delta and United forecast decline in passenger unit revenue: 3Q2015
For roughly a year Southwest has been growing its network from Dallas Love Field after the lifting of the Wright Amendment in Oct-2015 that prohibited certain long-haul flights from the airport. Southwest has been touting the performance of those flights, but American has been citing pricing pressure in the Dallas market throughout 2015.
ULCC Spirit Airlines has also highlighted pricing dilution in the market. DFW is Spirit's fourth largest base measured by both seats and ASMs for the week of 21-Sep-2015 to 27-Sep-2015.
Delta and United have also cited some pricing pressure in Dallas, and United in 2015 has also stated it has seen some pricing dilution at Chicago O'Hare, its first and third largest hub measured by seats and ASMs (21-Sep-2015 to 27-Sep-2015).
Recently United chief revenue officer Jim Compton remarked that many of the elements that have pressured unit revenues throughout 2015 are driving a negative performance in 3Q2015 – lower fuel surcharges, weaker demand, foreign currency pressure due to the appreciation of the USD against most global currencies and for United, sagging demand in the energy sector due to falling oil prices. During 2Q2015 United's corporate revenues within the oil and gas sector fell 30% year-on-year.
At the time United management observed that the decline was deeper than originally anticipated - but also concluded the largest decreases had already occurred, and did not foresee further deterioration for the remainder of 2015. Houston Intercontinental is United's second largest hub measured by seats for the week of 21-Sep-2015 to 27-Sep-2015. The oil and gas sector is a significant contributor Houston's regional economy.
United Airlines global top 10 hubs/bases/stations by seats: 21-Sep-2015 to 27-Sep-2015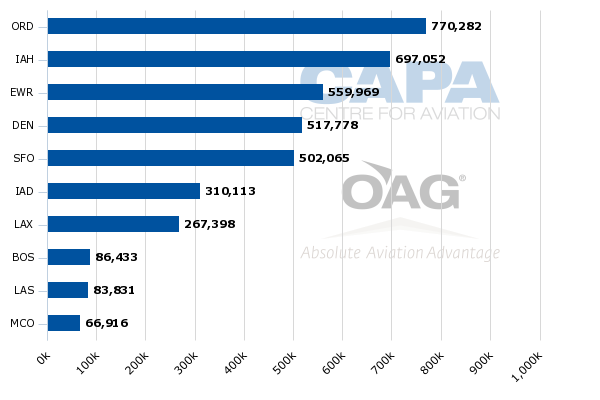 See related report: United Airlines continues to face unit revenue pressure amidst record earnings and margin expansion
At the same time as unit revenues are falling, the three major airlines are forecasting margin expansion year-on-year. Delta Air Lines projects an operating margin of 19% to 21% for 3Q2015 compared to a 15.8% operating margin posted the year prior.
United's estimated pretax margin for 3Q2015 is 13.5% to 15.5% for 3Q2015 versus a 10.2% pretax margin for the year-ago period. American's projected pretax margin for 3Q2015 is 16% to 18% versus an 11% margin recorded a year ago. (American's margin performance excludes special items)
Most of the US airlines are stressing that even while unit revenues are falling, margins and profits are expanding. At the same time those airlines are touting their balance sheet de-levering in an effort to convince investors that their top line performance remains solid even if certain metrics are sagging.
See related report: American Airlines' financial performance is clouded by concerns over unit revenue degradation
Delta feels confident in its planned 3% domestic capacity growth in 3Q2015
Delta Air Lines recently outlined its capacity forecast for 4Q2015. On system-wide basis its capacity will be flat year-on-year, with domestic rising 3% and international supply decreasing by 4.5%. Its estimated declines by international geographical entity include an 0.5% drop in Latin America, a 1.5% decrease on trans-Atlantic routes and a 11% fall in the trans-Pacific.
Delta has been reshaping its Pacific network, cutting back intra-Asia service from Tokyo Narita and shedding Boeing 747-400 widebodies used in its Pacific operations. During 2014 it retired four of the jumbo jets used in Pacific operations, and set a target to retired the 16 remaining jets by 2017.
The airline's 3% domestic capacity growth in 4Q2015 seems a bit high given the pricing pressure that remains in pockets of the US domestic market. However, Delta CFO Paul Jacobson recently assured that "the point of the US domestic growth is really to to take advantage of previous estimates that we've made in New York at LaGuardia or JFK. Los Angeles and Seattle".
Among the three large US global network airlines, Delta has the largest percentage of seats and ASMs dedicated to domestic routes. It does not have a major hub in the domestic areas that have been experiencing pricing dilution, but it remains to be seen if the market will absorb 3% capacity growth in 4Q2015 given that for most US airlines unit revenues and yields remain under pressure.
American, Delta and United % of seats and ASMs allotted to the US domestic market: 21-Sep-2015 to 27-Sep-2015
Airline
% of seats dedicated to
the domestic market
% of ASMs dedicated to
the domestic market
American
78%
55%
Delta
85%
57%
United
80%
53%
United and American's domestic capacity growth is slightly lower than Delta's
United has refined its capacity guidance downwards twice during 2015, and now plans consolidated growth of 1% to 1.5%, with domestic notching up 0.25% to 0.75% and international growing 2% to 2.5%.
The airline's overall strategy with respect to capacity growth is to peg it to GDP (for the US is roughly 2% growth in 2015).
United Airlines capacity revisions undertaken in 2015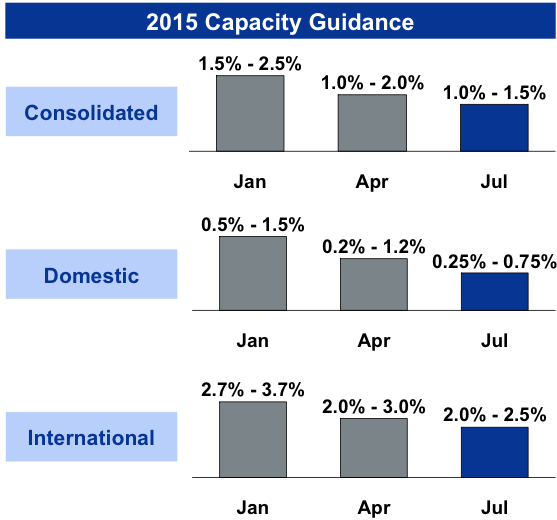 For 4Q2015 United expects a rise in domestic capacity of 1% to 2%, with international supply remaining flat to 1% growth. Its consolidated 4Q2015 capacity is projected at an increase of 0.5% to 1.5%. Similarly to Delta, United has concluded that there are regions in the US where GDP is growing faster than average, and it makes sense to reallocate some assets to those areas. If United reaches the higher range of its 4Q2015 capacity estimates, it will still be 1ppt lower than Delta's growth.
United has also offered some capacity guidance for early 2016, with an estimated 2%-3% rise in 1Q2016 consolidated capacity growth. However, the airline stresses 2016 is a Leap Year, and the extra day in Feb-2016 accounts for 1ppt of the growth. Absent the Leap Year effect, United estimates is 1Q2016 capacity would grow 1% to 2%.
American is planning just 1% system capacity growth for 2015 with domestic ASMs rising 1% to 2% and international capacity growing 1%. Both American and United are keeping their 2015 domestic capacity growth roughly in line with US GDP projections for while Delta's domestic supply is outpacing 2015 economic growth forecasts.
Are investors still nervous about unit revenue weakness as margins and profits grow?
Previously, American has predicted that a return to positive unit revenue growth would not likely occur until 2H2016 as industry capacity in 1H2016 looks similar to 2H2015. Although United trimmed its capacity guidance in Jul-2015, American's prediction is likely to materialise as the deep unit revenue declines experienced by most US airlines will take some time to recoup.
But the solid profitability of those airlines continues, and the lower fuel prices buoying those profits look to be lingering for the foreseeable future. Investors still may not have shaken off jitters about unit revenue weakness that looks to remain in place for the next half year.