Thai Airways sees USD14 million in losses per day from unrest
Thai Airways stated the closure of Bangkok's two main airports would cost the airline over USD14 million per day. This figure would escalate if the airline has to shift some operations from Bangkok to U-Tapao Air base, 190 km from the city, if the closure of Suvarnabhumi and Don Mueang airports is prolonged.
The airline reports some 10,000 passengers have been stranded by the protests.

Thai's shares fell 2.6% yesterday on concerns about the unrest and the impact on future demand. An airline spokesman said, "there would be no high season for Thai".
Asia Pacific selected airlines daily share price movements (% change): 27-Nov-08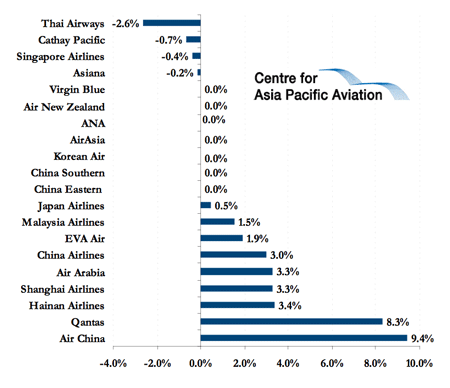 Elsewhere in the region, Air China's shares surged 9.4% on expectations the airline could soon receive a government bailout after China Southern this week said Beijing would provide USD439 million in fresh funding. China Eastern joined China Southern in a trading halt on expectations its request for a government funds injection could be imminent.
It appears the government is moving to support the equity bases of Chinese airlines as they continue to seek large scale financing for new aircraft that are scheduled to join the fleets over the next few years.