Taiwan-Australia: China Airlines, EVA, opposing strategies
Analysis
Taiwan is one of the few markets that are linked to Australia only via foreign airlines. Last year there was (remarkably) 28% growth with China Airlines' expansion as part of a bold bid to pursue Australia-Europe Kangaroo Route transfer traffic via Taipei. Growth is continuing in peak 2018/2019, with a forecast 5% expansion consisting of upgauging in Brisbane and Melbourne offset by frequency reductions in Sydney.
EVA Air has a considerably smaller footprint than China Airlines, with service only to Brisbane. EVA will operate greater capacity in Australia as it replaces A330-200s with its forthcoming 787-9s.
Qantas and Jetstar do not have nonstop services from Australia to Taiwan (Qantas does codeshare with China Airlines). Taipei is on the lower end of route priorities for the group. Recent Asian growth has resulted in new/resumed service to Beijing and Osaka. Seoul was a contender, and likely to receive services before Taipei.
Summary
Taiwan-Australia to grow 5% after last year's rapid 28% expansion
The Taiwan-Australia market will grow again in the Australian summer season. In the four months from Nov-2018 through Feb-2019, overall seat capacity will expand 5.4%, according to OAG Schedules Analyser data. This follows a major 28% expansion in 2017/2018. Both growth spurts are led by China Airlines, which is making a play for Australia-Europe transfer traffic.
Taiwan-Australia nonstop seat capacity by month: Jan-2015 to Mar-2019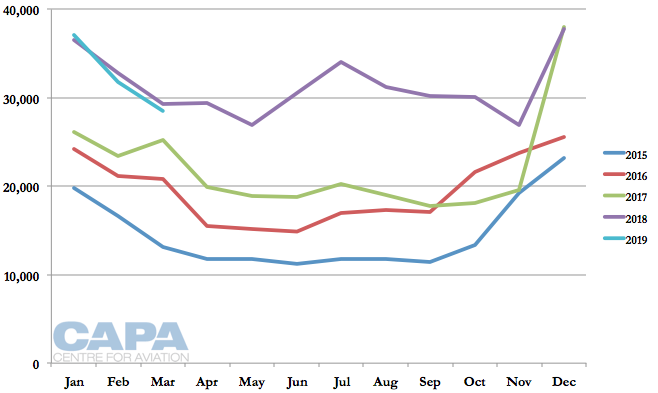 China Airlines is the major airline in the nonstop market and will have an approximately 85% market share over peak 2018/2019 – up from 70-80%. EVA Air has lost market share in the time that it has maintained flat capacity, but EVA Air will be growing as 787s replace A330s.
Australia-Taiwan nonstop seat capacity by airline: weeks from 19-Sep-2011 to 24-Dec-2018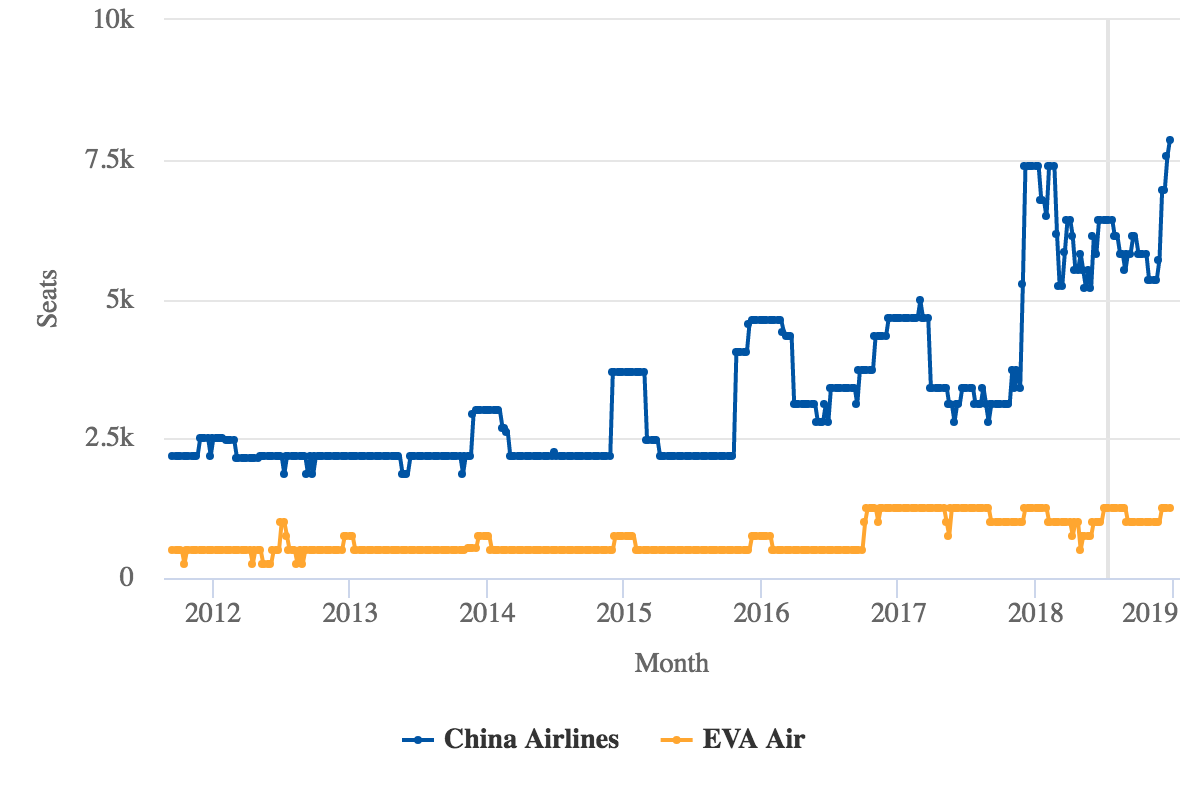 Taiwan is a small visitor market from Australia
Australian visitors to Taiwan have grown steadily, with a compound growth rate of approximately 5% since 2008. Growth has accelerated in recent years, with an 8.2% expansion in 2016 and 10.4% in 2017 (although this followed a 3.2% contraction in 2015).
With 90,892 Australians visiting Taiwan in 2017, this equates to 249 inbound visitors a day. Australians often visit Taiwan as part of a multi-stop Asian trip. Significant one-stop options from Australia to Taiwan are available, notably on Cathay Pacific, which has a large Australian and Taiwanese network. Singapore Airlines has a larger Australian network but smaller Taiwanese network.
Australian visitors to Taiwan: 2008-2017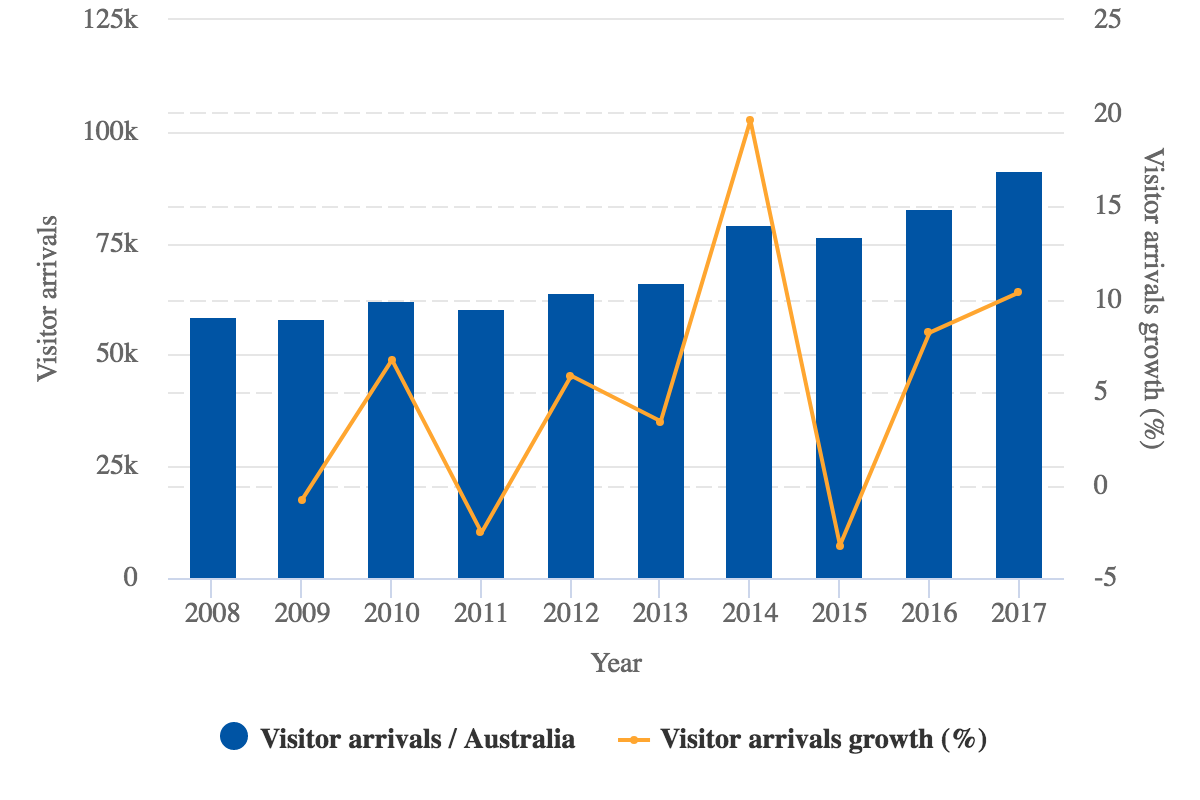 The growth in 2018/2019 is more significant than it may seem, since growth is being offset by some reductions.
China Airlines is upgauging Brisbane and Melbourne services from A330 to 777-300ER. Brisbane is undergoing 16% growth in Dec-2018 compared to the year prior, and Melbourne's growth is at 26%.
At the same time, China Airlines is moderating Sydney by reducing Sydney from twice daily to 11-14 weekly flights. In 2018, as in 2017, services will be operated by the A350-900. Sydney's frequency reductions equate to a 13% decrease, offsetting growth in Brisbane and Melbourne.
China Airlines' expansion was initially perhaps too strong, and the airline even started pulling back on planned off-season increases before they were even launched.
China Airlines monthly seat capacity by Australian city: Oct-2017 to Mar-2019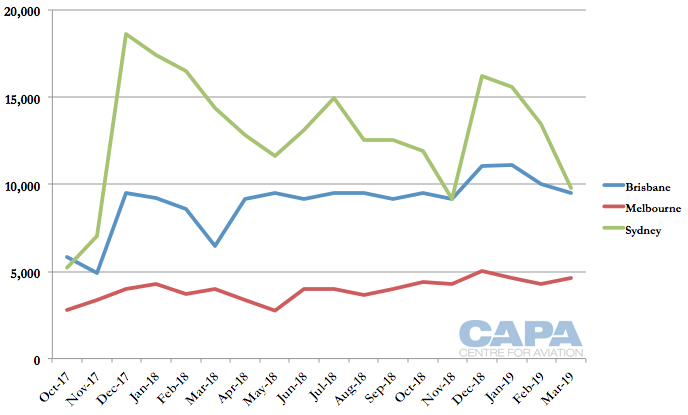 EVA Air is replacing A330-200s with 787-9s, on Australia and other routes
Further growth will be realised in 2019, since EVA Air plans to replace A330-200s with 787-9s. EVA's first 787-9 is due in 2018 and will be used on short sectors for crew training; the 787-9 is EVA's first 787 as the airline is not operating the original -8 variant.
EVA's four 787-9s and later 20 -10s will be used on regional Asia flying, while the 787-9 will also take over medium/long haul routes flown by the A330-200, such as Europe and Australia.
EVA Air fleet summary: as at 09-Jul-2018

EVA has not disclosed the configuration of its 787-9 except to say it will feature a new design, including a new business class cabin. Boeing lis
ts the 787-9 as having a two class configuration of 290 passengers, giving some indication of the growth – in the double digits – that EVA Air will likely experience. A 787-9 cabin of approximately 290 is substantially more than on EVA's A330-200s, which seat 252.
Brisbane is EVA's only Australia/New Zealand port, unlike China Airlines' wider footprint in Australia (with continuing tag service to New Zealand). EVA typically serves Brisbane four or five times weekly, but in some periods and one-off weeks it can dip to three weekly flights. As recently as Sep-2016, EVA Air operated only two weekly flights to Brisbane.
EVA Air is not following China Airlines in pursuing Europe-Australia "Kangaroo Route" transit traffic. The strategy is relatively high risk for China Airlines. For EVA Air, networks do not align: most of EVA's European services are routed through Bangkok. EVA reckons it can attain stronger financial performance going through Bangkok than flying nonstop from Taiwan.
EVA's only European destination served nonstop is Paris, and that is because France will not grant fifth freedom rights; if given the choice, EVA would like to route its Paris service through Bangkok. With the exception of Paris, EVA could only offer a two-stop service to Europe from Brisbane while offering no options in the larger markets of Melbourne and Sydney.
Qantas is growing its Asian footprint, but not to Taipei, Seoul or Kuala Lumpur
In the Taiwan-Australia market the only nonstop capacity is from China Airlines and EVA Air. Virgin Australia has recently entered the Asian market but is only serving Hong Kong, the hub of Hong Kong Airlines – part of the HNA Group, and the strategic and equity partner of Virgin Australia. Virgin Australia has mooted plans to serve mainland Chinese cities (such as Beijing) in partnership with HNA units, but Virgin has been stymied by slot access. Virgin Australia is all but certain not to serve Taipei.
Qantas has been significantly expanding in Asia, adding seat capacity and frequency to existing destinations. Qantas has also launched new cities or resumed service to previously served cities, including Beijing and Osaka.
Notable major Asian destinations that Qantas (or Jetstar) do not serve nonstop from Australia are Seoul, Kuala Lumpur and Taipei. Seoul would have been a contender for new service but instead Qantas has resumed Osaka services. Kuala Lumpur is too saturated with AirAsia X and Malaysia Airlines (and Qantas codeshare operated by Emirates). Qantas codeshares with China Airlines, but Taipei is likely too small a market for now.
Outlook: Taiwanese tourism must drive outbound Australia growth, but premium-heavy cabins are a holdback
China Airlines may be overexposed in Australia as it pursues its risky and low-yielding, highly competitive Kangaroo Route strategy. Recent network developments to swap 777-300ERs from Europe and North America and replace them with A350-900s that had been used to Australia (and elsewhere) may give a stronger overall network performance as China Airlines prioritises optimisation of its longest, and therefore costliest, services. Yet that means Australia, viewed in isolation, has sub-par performance. In Melbourne there is upgauging before frequency additions.
EVA Air is arguably underexposed, but more interested in the North America market, and knows it has ample competition between Australia and Northeast Asia.
There is room for more nonstop offerings between Australia and Taiwan. But this must be led by outbound Australian tourism growth, and in turn, better marketing from Taiwanese partners. Yet this leisure volume will further grow the gap between leisure and premium cabin travel.
Faced with this conundrum, EVA's low risk Australia footprint is safer than China Airlines' bolder bet. But in Asia's fast growing markets, safe options are not always the best preparation for the longer term.