Star reaffirms position as strongest alliance in Africa with Ethiopian and potentially ASKY
Analysis
Star Alliance has further cemented its position as the leading alliance in Africa after Ethiopian Airlines officially became a member on 13-Dec-2011. Ethiopian, which has been working on joining Star since being accepted as a new member in Sep-2010, becomes the third African carrier in Star following South African Airways (SAA) and EgyptAir. Ethiopian's membership significantly boosts Star's presence on the continent, adding 23 African destinations to the Star Alliance network. Four of the top five African carriers are now aligned, and three of these four are in Star.
Overall the African continent remains largely unaligned. But Star is currently not looking to recruit another African carrier. Instead Star is looking forward to Ethiopian subsidiary ASKY later joining the alliance. Togo-based ASKY would improve Star's connections in West Africa, the alliance's weakest region within Africa. Ethiopian gives Star a stronghold in East Africa and Africa overall as Ethiopian has the largest African network among any African carrier, with 40 destinations. Star is already strong in southern Africa, where SAA is based, while EgyptAir is based in North Africa.
With Ethiopian formally joining, Star's share of total capacity in Africa has increased by nearly 5 percentage points, from 22.1% to 26.8%. Star is by far the largest alliance in the region.
SkyTeam now accounts for 9.6% capacity in Africa thanks largely to local member Kenya Airways as well as the African networks of Air France, KLM and Delta Air Lines. oneworld (including oneworld affiliates) has just 6.8% of the total capacity in Africa, making it the least represented of the three global alliances.
oneworld is only represented locally in Africa by Comair, which operates a British Airways franchise in South Africa. Unaligned carriers still account for 56.8% of capacity in Africa, a high figure compared to other regions.
Africa total capacity, seats share by alliance: before and after Ethiopian's Star membership

The impact of Ethiopian's Star membership is biggest in East Africa. Star has now taken over from SkyTeam as the largest alliance in East Africa, increasing its share of capacity from 5.7% to 28.7%. SkyTeam has 22.4% of the capacity in the region followed by oneworld, with only 1.5%.
East Africa total capacity, seats share by alliance: before and after Ethiopian's Star membership

Star Alliance CEO Jaan Albrecht said adding Ethiopian represents "a large step forward in completing our Africa strategy". He said with three big hubs in Africa, Star has succeeded in its task to create an efficient travel system for all of Africa and "bring Africa to the world".
Star Alliance now has three main bases in Africa - Johannesburg OR Tambo International Airport (through SAA), Cairo International Airport (through EgyptAir) and Addis Ababa Bole Airport (the home of Ethiopian Airlines). The addition of Ethiopian and the Addis Ababa hub means Star carriers now serve Africa with over 750 daily flights to over 110 destinations in 48 countries.
Mr Albrecht says offering a wider choice of flights to, from and within Africa than other alliances is particularly important because Africa is "a region of the world in which air travel is enjoying steady growth rates". He called Africa "the continent of the future".
ASKY likely to join Ethiopian in Star
Speaking to CAPA after the 13-Dec-2011 joining ceremony in Addis Abba, Mr Albrecht says Star does not see a need to add a fourth African member. Instead the alliance's recruitment efforts are now focused on Russia, India and China. Star is still not represented in Russia or India, two important growth markets. In China Mr Albrecht believes new members beyond Air China and incoming member Shenzhen Airlines would be beneficial.
Mr Albrecht acknowledges Star is still relatively weak in West Africa but believes Ethiopian can fill this void. Ethiopian already serves several destinations in West Africa and has ambitious plans to grow ASKY, a Togo-based subsidiary which launched services at the beginning of last year. According to Innovata data, ASKY already serves 18 destinations, primarily in West Africa.
Mr Albrecht, whose decade-long tenure as Star CEO ends later this week as he has already started a new job as CEO of Austrian Airlines, says the alliance has not yet considered adding ASKY as a member. But as ASKY grows adding Sky would "make sense".
Otherwise, West Africa lacks suitable candidates that meet Star's standards. Mr Albrecht says Star was impressed with Ethiopian's high standards, including its training and maintenance standards, and expects Ethiopian will bring those standards to West Africa with ASKY.
Star to help Ethiopian pursue rapid and profitable growth
Ethiopian Airlines hopes its Star Alliance membership will significantly boost its hub's role as a prominent African gateway, boosting revenues, reputation and presence.
Speaking at Ethiopian's joining ceremony, Ethiopian CEO Tewolde Gebremariam said joining Star is an important pillar to its 15-year business plan, known as Vision 2025. He says Star specifically will help Ethiopian implement its cost savings initiative and advance its multi-hub strategy in Africa, paving the way for "fast, profitable and sustainable growth".
Ethiopian is already one of the world's fastest growing carriers and plans to pursue further rapid growth, driven partially by its membership in Star, over the next 14 years. Mr Gebremariam says by 2025 Ethiopian plans to generate revenues of USD10 billion, across seven business groups, and carry 18 million passengers. The carrier expects to have 120 aircraft in service by 2025 and a network of 90 international destinations.
Ethiopian currently operates a fleet of 47 aircraft and a passenger network of 62 international destinations, including 40 within Africa. The 47 aircraft include six freighters which are used to operate dedicated freighter service to 24 destinations, including 15 in Africa. Ethiopian plans to continue to pursue rapid growth of its cargo business and is planning an expansion of its cargo terminal in Addis Abba. Ethiopian is also planning to expand its maintenance and training facilities as well as build a new headquarters over the next several years.
Ethiopian needs to order about 60 additional aircraft to meet growth plan
As Ethiopian only has 32 aircraft on firm order (include 12 A350s, 10 787s and eight 737-800s) and plans to replace about 20 of its current aircraft over the next decade, additional orders for approximately 60 aircraft are needed to meet its Vision 2025. As CAPA reported earlier this week, Ethiopian is now looking to exercise several options for 787s. Ethiopian will become Africa's first 787 operator in 2Q2012 and will use the new type partially to expand its Asian network, where it sees huge opportunity for growth.
See related article: Ethiopian eyes 787 service to Hong Kong and new Asian services as Africa-Asia market booms
While Ethiopian plans to add several new destinations, particularly in Africa and Asia, it will use Star partners to help expand its offline network. Ethiopian already codeshares with 17 carriers, 10 of which are also in Star – BMI, Brussels Airlines, Lufthansa, SAS, SAA, Turkish, Air China, Asiana, EgyptAir and SIA. Ethiopian plans to expand its codeshare partnerships with several of these carriers as well as implement new codeshares with some of the nearly 20 Star carriers it currently does not codeshare with.
Star increases presence in Ethiopia by over 19 fold
Addis Ababa is now served by only three other Star members - EgyptAir, Lufthansa and Turkish. By joining Star Alliance, Ethiopian has increased Star's capacity share in Ethiopia by over 19 fold, from 4.5% to 88.5%.
The second largest alliance in Ethiopia is now SkyTeam (2.0%) although unaligned carriers make up the country's second largest capacity share. The SkyTeam alliance is represented by Kenya Airways, who serves Addis Ababa with approximately 2,000 seats per week. oneworld does not have any service to Ethiopia.
Ethiopia total capacity, seats share by alliance: before and after Ethiopian's Star membership


Addis Ababa BoleAirport total capacity, seats share by alliance: before and after Ethiopian's Star membership


Ethiopian Airlines currently operates approximately 115,000 seats per week at Addis Ababa, accounting for 83% of total capacity at the airport. Emirates, the second largest carrier, offers just 7,220 seats per week.
Addis Ababa Bole Airport capacity, seats per week, by carrier: 12-Dec-2011 to 18-Dec-2011
Ethiopia has very low LCC penetration, with just 0.8% of total capacity being held by an LCC (in this case, FlyDubai). Liberalisation has always been a contentious issue across the African continent including in Ethiopia. Ethiopian Airlines, because of its recent financial success and membershiop in Star, is in good position to meet any challenges future liberalisation may bring if the Ethiopian Government is willing to open Ethiopia's sky to more international operators.
Ethiopian Airlines' network is a valuable addition to Star Alliance as it serves many of the mineral-rich African countries such as the Democratic Republic of the Congo (gold and diamonds), Botswana (diamonds), South Africa (iron and oil), Namibia (via codeshare- lead, zinc, diamonds) and Angola (oil). It also serves Rwanda, Uganda, Tanzania and Nigeria – some of Africa's fastest growing economies.
Ethiopian has a dedicated freight network like no other in Africa. Overall Ethiopian's African network is one of the most developed in Africa and is extremely valuable to Star, especially as air traffic on the continent is expected to increase in the years to come.
Its network does however have some limitations. Ethiopian's coverage of Northern Africa is weak, which, luckily for Star, is already well covered by EgyptAir.
Important destinations missing from Ethiopian's African network include Libya, Morocco, Tunisia and Algeria. EgyptAir serves all these destinations but has a weaker East and West African network. Therefore the Ethiopian and EgyptAir networks are highly complimentery. There is only small amount of cross-over between Ethiopian Airlines and EgyptAir's networks, with both carriers serving Dubai, Khartoum, Nairobi, Jeddah, Abu Dhabi and Lagos. Together, Ethiopian Airlines and EgyptAir have Africa covered for Star.
Ethiopian Airlines African route map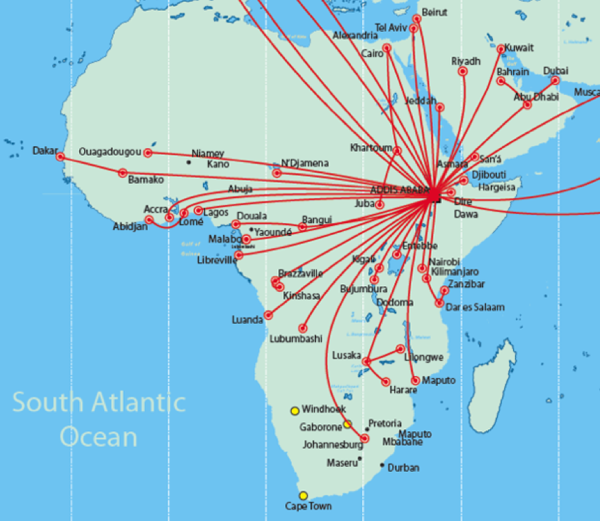 Background information
Star Alliance, the largest of the three major alliances, now has 28 members. This will grow to 30 in 2Q2012, when Copa and Avianca-TACA are added as new members. Shenzhen is slated to become Star's 31st member in late 2012.
Global Alliances members
Oneworld

LAN

Malev Hungarian Airlines

Tarom

ANA

Pending Members