Star Alliance the first global alliance with an LCC platform: SAA's Mango becomes the first partner
Analysis
The spectacular growth of low cost airlines has meant their transition from niche players to carriers with sizeable networks. Networks that can be larger than those of full service rivals, having more frequency, and operating to under-served markets, or to points not flown at all by the full service carriers.
This has made them attractive to global alliances, especially when LCCs are strong in large markets. Some of these locations – Brazil, India – are where Star Alliance has a small presence and a stronger representation with other full service carriers is not possible. Star, in Dec-2015, formally launched its Connecting Partner Model (CPM), becoming the first global alliance to offer a way to work with LCCs. This is two years after Star mooted the programme, and three years since SkyTeam announced its consideration of one.
Star's centralised IT will reduce complexity for prospective LCCs, which may benefit from feed, but face high IT hurdles to facilitate the integration. Under the Star CPM, LCCs will not need to work with every member airline, but will need to work with an initial three carriers. What the LCC offers to Star passengers can vary. The CPM is only for connecting itineraries with a Star carrier, and not point-to-point services on a LCC. South African Airways' low-cost subsidiary Mango is the first planned member under CPM, and Star expects initially to partner with other "friends of the family". The offering is expected to be online by 3Q2016.
Star and SkyTeam proposed LCC connectivity over two years ago
The affiliation of an LCC with a global alliance was first formally proposed in 2012 by SkyTeam, which wanted especially to fill membership white spots in Brazil and India, where there were numerous LCCs. SkyTeam proposed a "SkyTeam Connect" product, where members could optionally work with WestJet in Vancouver. (Star's Air Canada is the only Canadian carrier that is a member of a global alliance.) SkyTeam in Jun-2015 said it is still developing its programme, and that it could be extended to Brazil's Gol as well as smaller airlines in China.
In a statement, Star Alliance CEO Mark Schwab said: "With this innovative concept, we are breaking new ground. We see a definite trend of convergence between the 'traditional full service' and 'low-cost' business models in the airline industry..At the same time, our customers are telling us that they need access to markets where we do not yet provide ideal coverage. In many cases network carriers are not in a position to fill this gap and hence working with future Connecting Partners will allow us to provide an extended network to our travellers."
CAPA noted in Oct-2013 that Star Alliance was considering a similar LCC partnership platform to bring some membership benefits without constituting full membership. Star did not comment on the two year time period between proposal and formal announcement in Dec-2015. However, Star indirectly noted SkyTeam's earlier proposal had yet to materialise. Star's LCC platform had been controversial with some members. As CAPA noted:
some members of Star prefer not to offer an LCC partnership option, believing such a product could water down Star's offering to passengers. These members believe LCCs should only be allowed in if they chose to become members and fully meet Star's membership requirements. They think it is unfair for LCCs to enjoy a lot of the main benefits of membership, including feed, without having to invest in membership and meet the membership requirements. These members believe if an LCC does not want to join they should simply forge bilateral partnerships with Star members and not offer a special alternative platform.
See related reports:
IT will be the biggest hurdle for prospective LCC partners
The suggestion for LCCs to form individual bilateral partnerships with interested carriers, rather than go through the Star platform, is perhaps too simplistic. Few (but not all) LCCs would turn down the prospect of feed, which the Star CPM provides. The challenge is what cost and complexity that feed brings. It is expected the IT infrastructure will be the biggest hurdle for LCC partners. LCCs typically have simpler IT, and use platforms such as Navitaire rather than major GDS such as Amadeus and Sabre, which tend to be used by full service carriers. The more basic IT can also mean that LCCs do not actually ever issue tickets, and are not part of the IATA BSP.
Star is known for being the most centralised and group-led alliance, whereas SkyTeam and oneworld allow for a large degree of individuality. In Star's case, its centralisation includes a common shared IT platform. A LCC partner theoretically would have to patch itself into Star's IT, whereby it would be able to communicate with Star members. There may be additional patches required between the LCC and specific partners, but this is considerably less work than actually constructing entire IT communication with all the carriers.
SAA's Mango is the first carrier to participate in the CPM. Mango CEO Nico Bezuidenhout, speaking to CAPA at the recent Star Alliance CEB meeting in Chicago in Dec-2015, noted Mango had an advantage since most of the difficult – and expensive – work for the partnership had already been carried out: Mango and SAA formed a partnership in 2010, which required Mango to align its IT with SAA. SAA uses Amadeus' Altea platform, as do most Star carriers. To take on additional partners, Mr Bezuidenhout said Mango can build on its existing IT links – far more easily than starting from scratch with each partner airline.
Partnering with carriers outside of the SAA group does mean additional requirements, however. Star requires CPM partners to have IOSA certification, and Mr Bezuidenhout expects Mango to achieve this in Feb-2016. GDS integration will occur in Jan/Feb-2016, and Mango will be on the BSP by 01-Apr-2016.
Only connecting itineraries will have Star benefits for passengers

Star's CPM will only be applicable for passengers connecting from a Star flight to a partner flight, or vice versa. The CPM does not cover a partner's point-to-point network. Passengers on a Star carrier that partners with Mango on Mango's Johannesburg-Cape Town sector will receive Star benefits if the Mango sector is booked as an interline or codeshare to/from the Star carrier. Not so if the sector is booked separately as part of another itinerary, or if the sector is booked as a stand-alone flight – the passenger will not receive Star benefits.
This means the connecting partner benefits from one of the key alliance selling points – feed – but its point-to-point sales are not boosted by any affiliation with Star, since passengers will not receive Star benefits on non-connecting itineraries. This may be a concession to Star airline members that objected to a connecting partner enjoying many benefits of alliance membership without conforming to alliance rules or alliance membership fees. Feed is also what existing Star members need most.
Although this partnership could greatly benefit a carrier that would have Star's large and global network opened to it, thereby having an advantage in its local market, the connecting partner will not have leverage in its home market by being affiliated with Star. Existing Star member airlines would realise limited benefits from the local carrier being affiliated with Star.
By limiting the CPM to connecting itineraries, existing member airlines benefit from improved access and the local carrier benefits from feed, which could be seen as a fair deal, while preserving the value of full Star membership.
There was always going to be a need to find balance in incorporating LCCs, hybrids and other carriers. However, if competitors allow LCCs and hybrids broader access (such as on non-connecting itineraries), Star may need to reconsider its position. Under a hypothetical scenario, if Azul joined Star's CPM, there would be no increase in Azul's value to the local Brazilian market. Azul frequent flyers would be unable to access Star's global network or frequent flyer opportunities. But if in this hypothetical scenario SkyTeam allowed Gol to be a de facto alliance member and Gol frequent flyers could benefit from SkyTeam's network and frequent flyer opportunities, Star may find itself at a disadvantage.
There could already be an imbalance: Gol has frequent flyer agreements with numerous carriers in SkyTeam as well as oneworld and Star Alliance. This gives Gol, the largest carrier in Brazil, greater stickiness. Star's recently-added Brazilian member, Avianca Brazil, is a distant fourth largest. It may not be realistic to ask Brazilian travellers to bank miles with Avianca Brazil when a carrier five times the size, and with more presence on trunk routes, offers a wide frequent flyer programme, despite not being a member of a global alliance. However, extending benefits could upset Avianca Brazil, and indeed Avianca had concerns when the LCC platform was mooted two years ago.
Brazil domestic seat capacity by carrier: 14-Dec-2015 to 20-Dec-2015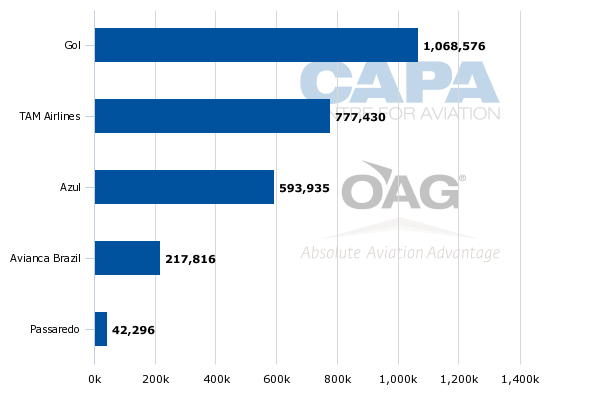 See related report: Star Alliance considers new platform for low-cost airlines, targeting Brazil's Azul & India's IndiGo
LCC partners are not required to work with all Star member airlines
A member carrier of the CPM will not be required to work with all Star members. This could allow the carrier (especially when owned by Star member) to tactically work with members that would bring group benefits, and avoid a scenario of the connecting carrier potentially helping a competitor of its sister carrier.
For example, Turkish Airlines is the only Star carrier serving South Africa that does not codeshare with South African Airways. The reason for this is unknown. If it is because SAA considers Turkish too much of a competitor (to itself or other partners), SAA's Mango unit may not want to codeshare with Turkish either. There could be other reasons, which could yet result in Turkish forming a partnership with Mango.
As part of alliance membership, Star airlines are required to have basic interline agreements and frequent flyer arrangements with all other members, but codeshares are not mandated. The CPM goes further in its flexibility by not even requiring interline and frequent flyer agreements.
The requirement for CPM participation is that the member must have partnerships with three carriers. This can include a CPM carrier's parent, so in the case of Mango its existing partnership with owner South African Airways counts as one of its three partnerships, Mr Bezuidenhout told CAPA. Mango has identified two other carriers (undisclosed for now) that it expects to form a partnerhship with in order to meet the requirement of having three carriers.
The timeframe for a carrier to join the CPM is determined not by Star requirements, but rather by how long integration with the three carries takes, according to Mr Bezuidenhout. With IOSA certification expected shortly, the two additional frequent flyer programme and interline agreements are the biggest outstanding matters for Mango to be active under the CPM.
Under this three carrier rule, Eurowings could theoretically pass the three partnership criteria by working with three Star members wholly owned by the Lufthansa Group: Austrian, Lufthansa German Airlines and SWISS. Eurowings already codeshares with those three Lufthansa Group carriers, and has formed a codeshare agreement with All Nippon Airways. United Airlines codeshares with Eurowings' predecessor, Germanwings, and this codeshare could switch to Eurowings as well.
LCC partners will have variable offerings to Star carriers
The basic offering under CPM between Star members and partners is through check-in of the passenger and baggage. Star Alliance Gold frequent flyers will have additional benefits, such as priority check-in and priority baggage. There may be additional benefits (as well as to non-status passengers) but these will be determined by each relationship. These specific attributes, as well as the general scope of the platform, saw Mr Bezuidenhout remark that "Star has been surprisingly flexible".
Mango in 2010 launched a 'Mango Plus' offering that includes excess luggage allowance and a voucher to use for onboard food and beverages. Mr Bezuidenhout said Mango could consider offering this to partners. Mango offers lounge access to its passengers, but only as an ancillary option. Mango is considering the launch of a premium economy cabin, and seats in this section could be offered to Star carriers' premium class passengers.
LCCs have been able to tailor their product for connecting full-service passengers. For example, Jetstar launched partnerships with Air France-KLM and Jet Airways, under which connecting passengers from those full-service carriers received complimentary amenities onboard. Singapore Airlines passengers who connect onto LCC Scoot receive a package including luggage allowance and on-board food and drinks.
Star seeks initial CPM partners to be 'friends of the family'
Star Alliance wants to build the CPM initially by adding airlines that are "friends of the family", as Star CEO Mark Schwab described the strategy. These would essentially be carriers affiliated with existing Star members, theoretically encompassing airlines such as Azul (partially owned by United, affiliated with TAP), Eurowings (owned by Lufthansa) and Tigerair/Scoot (owned by Singapore Airlines).
Mr Schwab did not comment on whether there are discussions with any of these carriers. However, he did signal that Star was interested in a "second carrier in Brazil" (eg Azul), but that Star has "no active discussions" with any airlines in India.
Star, between mid-2014 and mid-2015, welcomed Air India and Avianca Brazil into the alliance, giving Star its first members in those markets. (Brazil's TAM had been a member of Star but exited during its merger with LAN, part of oneworld.) Avianca Brazil is only a partial solution for Star, giving Star only an 8% presence in Brazil's domestic market, the third-largest domestic market by seats in Dec-2015.
Air India gave Star a 15% share in India, the sixth largest domestic market. This compares with 16% in the US (the largest domestic market), and 18% in China (the second largest domestic market).
Star Alliance share of domestic seat capacity (left axis) in the world's 15 largest domestic markets ranked on seat capacity (right axis): 14-Dec-2015 to 20-Dec-2015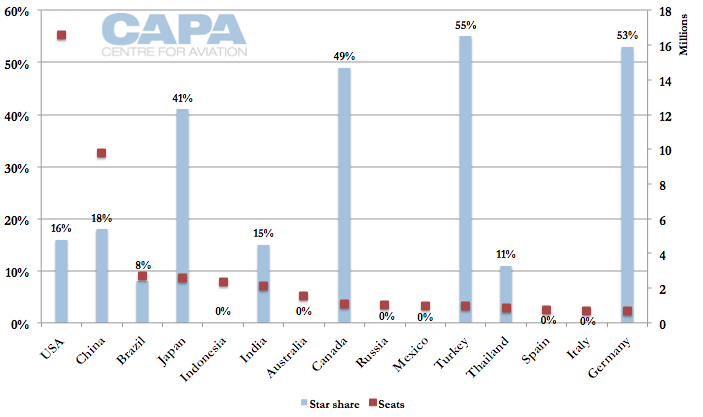 Star has no representation in the domestic markets of Indonesia, Australia, Russia, Mexico, Spain or Italy, although some of the these are considerably smaller markets.
CAPA has previously written on the strategic rationale of targeting Azul, IndiGo and carriers in other markets, including Mexico.
See related report: Star Alliance considers new platform for low-cost airlines, targeting Brazil's Azul & India's IndiGo
It is not just domestic markets that could be of interest. Star may also be interested in broad regions, or a specific market such as Shanghai, where independent Juneyao Airlines is based and codeshares with Air China.
As noted, South African Airways' wholly-owned LCC Mango will be the first carrier in Star's CPM. Mango already partners with SAA (codeshares since 2010) and as noted earlier, has two other Star carriers it expects to work with to qualify for CPM participation. Mango is wholly-owned by SAA and was launched to help the group regain market share from competitors. Together, SAA and Mango account for half of South Africa's domestic market.
Mango receives about 180,000-200,000 segments from SAA per annum under their codeshare agreement. Mango carried 2.3m passengers in 2014 (2.2m of them in the domestic market), meaning SAA accounted for upwards of 9% of Mango's passenger volume. SAA has been Mango's only codeshare partner. Mr Bezuidenhout expects Mango will conservatively operate 50,000-70,000 annual segments under the CPM in the initial phases. This would mean attaining a small double digit share of passengers from partners. Mango's typical annual load factor of 81-83% runs higher than South Africa's average domestic load factor of 75-76%, but Mr Bezuidenhout expects Mango will still be able to accommodate additional passengers from the Star CPM.
There is some additional cost to partnering, but Mango expects this to be relatively low and worthwhile. There will be some change to business planning as Mango currently employs 90% direct distribution, meaning it receives revenue right away. Connecting partner revenue will require Mango to wait on BSP clearances, but Mango believes this is an acceptable trade-off as it will be exposed to new markets and passengers it would not otherwise gain. "I'm not willing to live with that in my home market," Mr Bezuidenhout said of BSP clearing times, but noted partnerships – such as the one Mango is undertaking with Star – is not about increasing visibility in its home market. While the passengers from CPM may be a smaller percentage, Mr Bezuidenhout expects passengers from Star carriers to be higher-yielding.
South Africa is a good initial market for the CPM. It is not controversial (the way Azul in Brazil may be), and both Mango and SAA are eager to have Mango participate. Azul has routinely downplayed Star's interest in itself. South Africa, however, is not the most pressing market for CPM; it is not one of the 15 largest domestic markets and carriers already enjoy SAA's large presence.
The SAA-Mango dual brand strategy is rivalled by Comair (operating as British Airways) and its LCC, Kulula. Comair, which flies under the BA codes, has partnerships with oneworld's Cathay Pacific and KLM. Kulula has additional codeshares with Air France and Kenya Airways, both members of SkyTeam. (Kulula also carries the BA code, just as Mango carries the code of its parent airline, SA).
Mango regards CPM as a way to gain passengers in markets where it does not have visibility. Its combined size with SAA gives partner carriers more capacity to choose from, including potentially lower-cost capacity, depending on the rates set.
Mango and SAA overlap on seven domestic city-pairs. Mango serves nine domestic routes, including four that are on the same two city-pairs: Johannesburg-Cape Town/Durban, but served from O.R. Tambo and Lanseria airports. SAA serves 45 domestic routes, but this includes many thin markets. Mango covers 93% of traffic flow in the domestic market, Mr Bezuidenhout says. In the largest overlapping market (and the largest route in South Africa), Johannesburg-Cape Town, SAA has far more seat capacity than Mango has from its two Johannesburg airports.
But elsewhere, and in smaller markets, the two have similar capacity levels, giving them greater size in capacity and frequency than competitors.
In some markets, Mango is bigger than SAA. This is especially the case in the Cape Town-Durban market. 80% of South African domestic traffic is on the Golden Triangle of Johannesburg-Cape Town-Durban.Mr Bezuidenhout expects Cape Town, Durban and George to be especially popular connecting points between Mango and Star carriers, but a theoretical future route to Windhoek may generate higher connections from Lufthansa than a medium-size domestic route, for example.
Mango and SAA seat capacity on overlapping domestic city-pairs: 07-Dec-2015 to 13-Dec-2015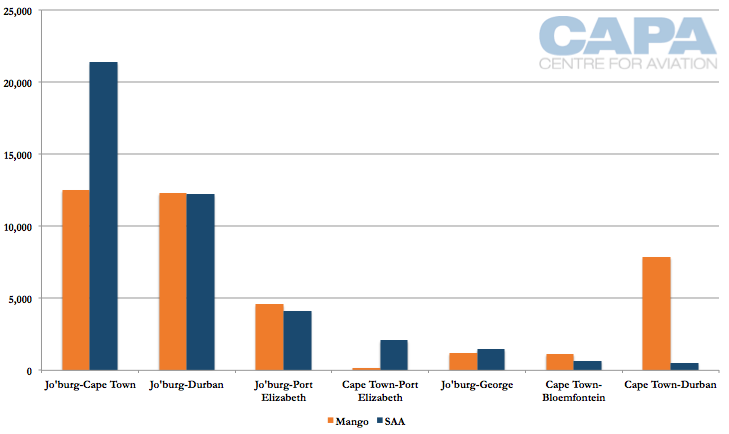 Which airlines might Mango work with? Seven foreign Star carriers serve South Africa, all to Johannesburg, some to Cape Town, and few to Durban. All but one (Turkish Airlines) already partner with SAA.
Star Alliance carriers serving South Africa, and their codeshare status with SAA: 14-Dec-2015 to 20-Dec-2015
Outlook: Star's platform is a model but also a relationship between many parties
Star's CPM brings benefits in a confined environment. As competition changes and other alliances consider responses, Star may need to consider pressuring members for a wider partnership offering. The Connecting Partner Model is as much a tangible model – with guidelines and expectations – as it is a relationship – potentially ambiguous, uncertain and prone to change. As always, managing the relationship between people is what can make or break or partnership. This is not confined to the LCC and external parties; it is relevant internally, too.
For now, Mr Bezuidenhout says SAA has not imposed any restrictions or limitations on Mango's partnership with Star, but cautioned this could change in the future. Cannibalisation is an inherent risk of Mango (or any other Star carrier's LCC) participating in CPM, but Mango and other LCC subsidiaries were born under the inevitability of cannibalisation, tolerated so long as there is traffic stimulation. Ideally even flat passenger figures would be tolerated – and welcomed – if the passengers moved from a low-margin full service carrier to a higher-margin LCC. LCCs can be higher-margin, and this is true with Mango and SAA.
Dual brand strategies are easier to establish than to manage (and succeed with). Mango has been successful in a turbulent South African market, but its growth has been held back by a group preference for the prestige of full service capacity. While Mango may be a small initial partner for Star's CPM, it will be a telling example of how airlines can work with a LCC under a full service umbrella – and also how the full service carrier can tolerate its LCC further extending its reach.
See related report: Airline dual brand strategies: In search of the global panacea for LCC and Gulf airline competition