Stansted: London's expanding airport reduces its Ryanair dependency
Analysis
London Stansted Airport is adding five new airlines to its list of operators this summer: Primera Air, Emirates, Air Corsica, WOW air and Albawings (in order of seat capacity). The list has increased from 14 airlines in Aug-2016 to 22 in Aug-2018, as the airport attempts to reduce its dependency on Ryanair, the facility's dominant airline. After only entering in 2017, Jet2.com is now Stansted's number three operator after Ryanair and easyJet.
Primera Air will add destinations in North America (Boston, New York Newark, Washington Dulles and Toronto) to Stansted's network and Emirates will add Dubai, but the airport remains short/medium haul dominated (181 out of 189 destinations in Aug-2018).
This summer, Stansted's seat growth rate is faster than at any other London airport and it is also adding more seats in absolute numbers than at any other airport. Stansted has had some success in attracting new airlines in recent years, but Ryanair still accounts for 70% of seats at the airport in Aug-2018.
Summary
Stansted is London's fastest growing airport in summer 2018
Data from Airport Coordination Limited for the summer 2018 season confirms that Stansted is the fastest growing London airport, both by slots and seats.
Its year-on-year growth in air transport movements allocated this summer is 12.1%, compared with 5.3% for City, 23.4% for Luton, 2.1% for Gatwick and 1.3% for Heathrow. For seat numbers, Stansted's growth in 12.9%, ahead of City's 8.0%, Gatwick's 4.7%, Luton's 4.6% and Heathrow's 3.0%.
On a two-way basis, Stansted is adding almost 2.5 million seats relative to last summer, compared with 1.8 million at Heathrow, 1.6 million at Gatwick, 0.6 million at Luton and 0.3 million at City.
Stansted is achieving this through the addition of 12,700 more air transport movements this summer – more than three times the 4,000 ATMs being added at both Heathrow and Gatwick.
In all cases, seat growth is outpacing slot growth as the average number of seats per movement grows.
For summer 2018 it can be calculated that Stansted's average number of seats per passenger air transport movement is 184, just ahead of Luton's 182, but below Gatwick's 192 and Heathrow's 216. All are well above City's 89 seats per movement.
Stansted's growth in average seats per movement is only 0.7% this summer, slower than all the others. City's average is growing the fastest, by 8.0%, followed by Gatwick at 2.5%, Heathrow at 1.6% and Luton at 1.3%.
Where else are you likely to meet over a dozen airline CEOs at one event?
Join us in Dublin's Powerscourt, 17/18 May, 2018
CAPA's Airline Leaders Summit
London airports: summer 2018 vs summer 2017 growth in number of seats and air transport movements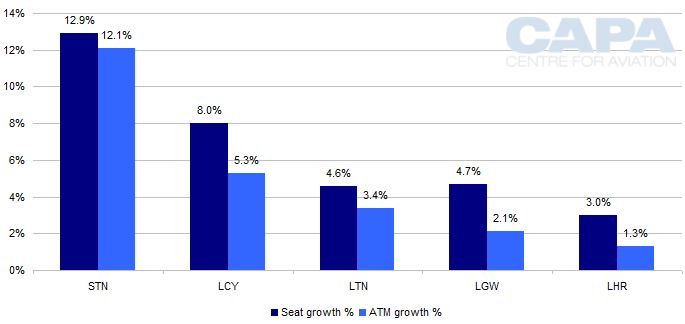 Stansted is number three London airport by capacity
Stansted may be ahead of the others when ranked by capacity growth this summer, but it remains firmly in third place behind Heathrow and Gatwick by total numbers of seats and slots, while it is significantly larger than Luton and City.
London airports: number of seats and air transport movements summer 2018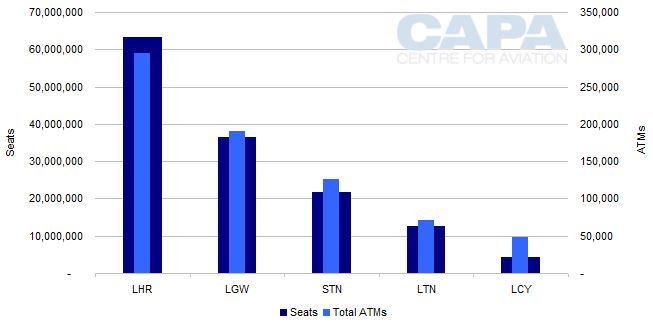 Stansted's annual passenger numbers fell between 2007 and 2012, but have since returned to growth
In 2017 Stansted handled 25.9 million passengers, which was an increase of 6.5% from 2016.
This compares with 78.0 million passengers at Heathrow (growth of 3.1%) and 45.6 million at Gatwick (a 5.2% increase). Luton handled 15.8 million passengers, with the fastest growth (+8.6%), whereas numbers at City fell slightly to 4.5 million (-0.3%).
Stansted's traffic suffered during the global financial crisis, with passenger numbers falling from 23.8 million in 2007 to 17.5 million in 2012.
This not only reflected the crisis, but also (perhaps more so) the reduction in capacity at the airport by its leading airline, Ryanair, due to increased airport charges. Stansted's change of ownership and a new deal for Ryanair have led to a return to traffic growth.
Stansted only surpassed its 2007 passenger total in 2016.
See related reports:
Annual passenger numbers for London Heathrow, London Gatwick, London Stansted, London Luton and London City: 2007 to 2018*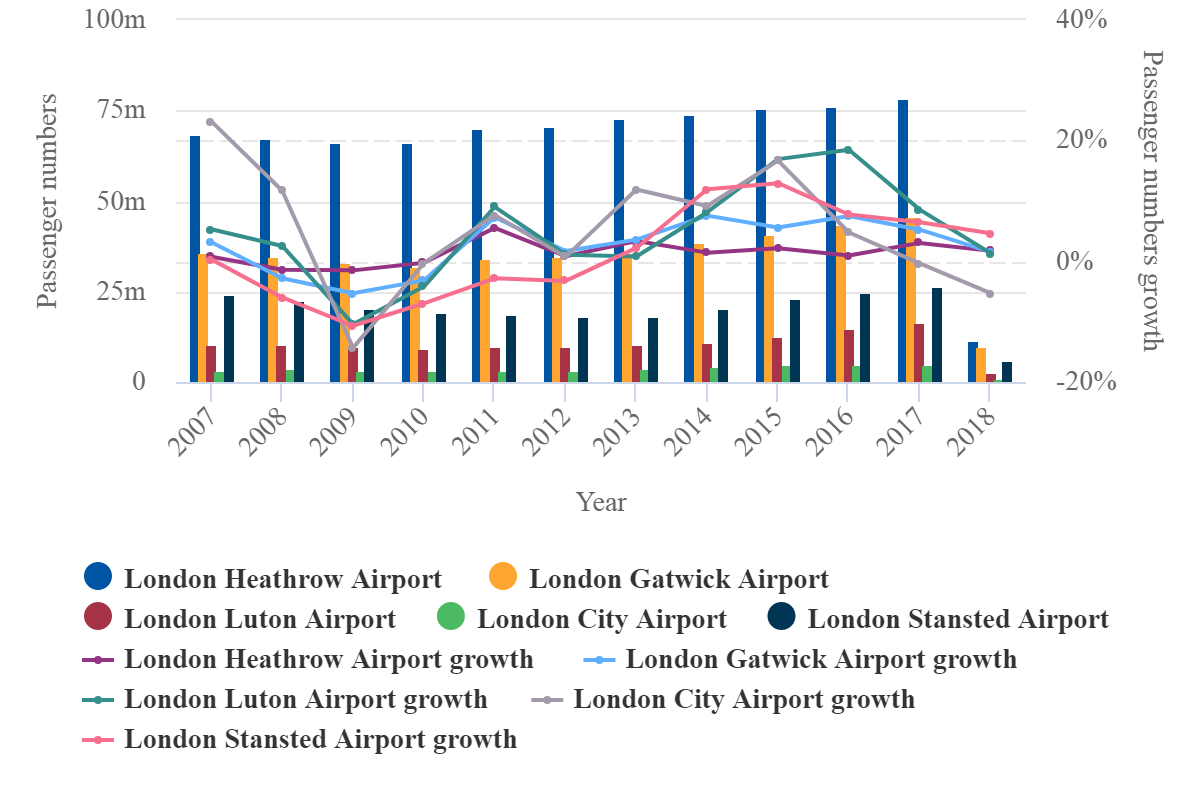 14 new destinations added in summer 2018
Stansted's summer 2018 schedule includes 28 newly offered services, of which 14 are new routes for the airport.
Both Primera Air and Jet2.com are adding eight routes to their networks from Stansted. For Primera Air, a new entrant to Stansted, there are four new long haul routes, to Boston, New York Newark, Washington Dulles and Toronto, which are also new to the airport.
In addition to Primera Air's four new long haul routes, also new to Stansted this summer are Emirates' service to Dubai, Nordwind's service to Moscow Zhukovsky; Widerøe to Kristiansand, Air Corsica to Ajaccio and Figari, Air Corsica and easyJet to Bastia, Montenegro Airlines to Tivat, Albawings to Tirana and Ryanair to Rimini.
Primera's four European routes are already operated by competitors from Stansted. On its service to Málaga Primera competes with Ryanair, easyJet, jet2.com and BA; to Alicante it competes with Ryanair, easyJet, jet2.com and Thomas Cook Airlines; to Palma de Mallorca with Ryanair, easyJet, jet2.com, BA, Thomas Cook Airlines and TUI Airlines; and to Chania it competes with Ryanair.
All of Jet2.com's new services from Stansted are in competition with existing operators. To Nice, it competes with Ryanair, easyJet and BA; to Naples with easyJet and Ryanair; to Kefallinia with Ryanair, Thomas Cook Airlines and TUI Airlines; to Malta, Almeria, Thessaloniki and Verona with Ryanair; and to Bodrum with easyJet.
Other newly operated services that are not new routes to the airport (because another airline already operates to the destination) also include WOW air to Reykjavik (easyJet operates in the winter), Air Mediterranean to Athens (in competition with Ryanair) and Ryanair to Belfast International (competing with easyJet).
Ryanair has cancelled services to Lorient Bretagne Sud and Rijeka this summer.
London Stansted: new destinations for summer 2018
| Airline | Destinations |
| --- | --- |
| | |
| | |
| | |
| | |
| | |
| | |
| | |
| | |
| EasyJet | |
| | |
Jet2.com is Stansted's number three airline, after only entering in 2017
Jet2.com is adding eight destinations to its Stansted operation (Nice, Naples, Malta, Bodrum, Almeria, Thessaloniki, Kefalonia, Verona), bringing its total number of routes from the airport to 33 this summer.
Jet2.com only entered Stansted in the summer of 2017 and is already the airport's number three airline by seat numbers.
See related report: Jet2.com: seats at new Stansted base in summer 2017 exceed the entire network growth in summer 2016
OAG data for the week of 13-Aug-2018 give Jet2.com a seat share of 7.7%, behind Ryanair's 70.3% and easyJet's 9.2%.
In the same week of Aug-2016, before Jet2.com came to Stansted, Ryanair had 78.4% of seats and easyJet had 10.9%. Jet2.com entered at number three in 2017 and its seat capacity in the week of 13-Aug-2018 will be up by 48% year-on-year.
Its seat numbers in that week will be equivalent to almost half of the total additional seats at Stansted relative to the same week of 2016.
London Stansted: leading airlines by seats, Aug-2016, Aug-2017 and Aug-2018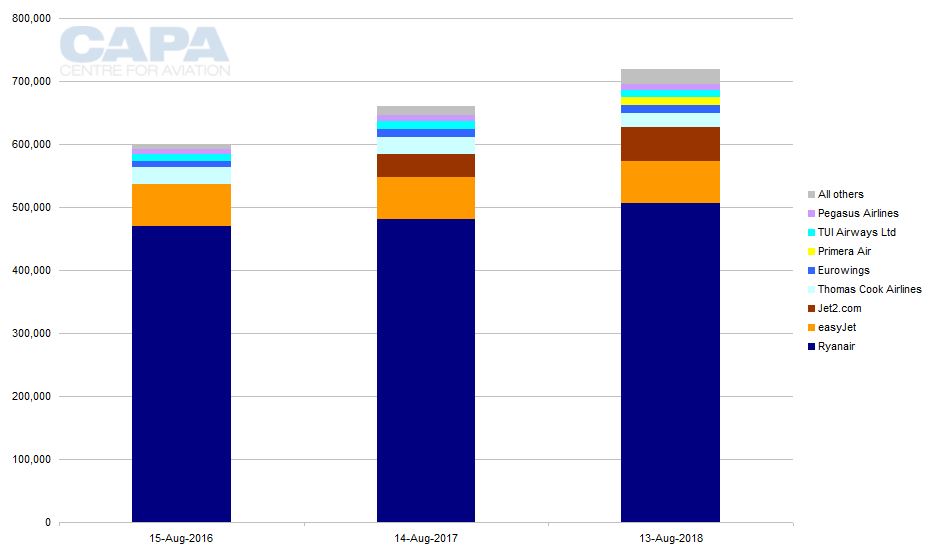 Just as Jet2.com has become significant to Stansted, so is Stansted now significant to Jet2.com.
In the week of 13-Aug-2018, Stansted will be the airline's number three airport, with 13.2% of its departing seats, behind only its long-established bases at Manchester (24.2% of its seats) and Leeds Bradford (16.5%). For an airline traditionally focused on the north of the UK, this represents a significant transformation.
Jet2.com: UK airports by departing seats, Aug-2016, Aug-2017 and Aug-2018
For Stansted, attracting new airlines is vital in reducing its dependence on Ryanair
Jet2.com has been a major addition to Stansted's airline roster and the airport is now building on this.
Primera Air's entry this summer will take it straight to number six at the airport (based on the week of 13-Aug-2018). Primera Air is adding long haul destinations in North America, in addition to short haul/medium haul destinations that could also provide some feed.
Wow air's entry makes Reykjavik a year-round destination and adds destinations in North America via a stopover in Iceland.
Recent airline gains by Stansted have not been limited to low cost operators. British Airways started to fly from Stansted in May-2016, and the addition of Emirates in Jun-2018 adds another globally recognised name.
For Stansted, the ability to attract and grow new airline customers is vital in reducing its dependence on Ryanair.