Spirit and Frontier add new ULCC competition in Atlanta, will Delta or Southwest feel the most heat?
Analysis
Atlanta Hartsfield International airport is becoming a hotbed of ULCC activity in 2015 with both Spirit and Frontier Airlines planning ample expansion from the airport, dominated by full service global airline Delta.

It is an interesting development in the post-consolidated landscape of the US, and Atlanta in particular where Southwest is the second largest airline after acquiring and folding AirTran into its operations. The additions by Spirit and Frontier show those airlines believe that Atlanta is ripe for stimulation, even though historical low fare leader Southwest has a major presence in the market. ULCCs have now assumed that role in the US market place.

Atlanta is also perhaps a test case for the ULCC effect since unlike Cleveland, it is not a hub that has lost service. It is also one of the few markets where both Spirit and Frontier have opted to expand aggressively on some of the airport's largest routes.
Atlanta's relevance in Frontier's network grows during 2015
By the end of Apr-2015, Frontier will offer 16 nonstop flights from Atlanta, announcing an expansion after fellow ULCC Spirit declared its intent to introduce nine new routes from the airport between May-2015 and Sep-2015.

Once all of Frontier's new service begins, Atlanta will rise to become the airline's seventh largest base measured by ASKs as of 29-Jun-2015 to 5-Jul-2015 versus not ranking among its top 10 bases as of 2-Mar-2015 to 8-Mar-2015. Prior to the push, Frontier's markets served from Atlanta included Denver, Trenton, New Jersey, Orlando, Cleveland and Chicago O'Hare.
Frontier Airlines global top 10 hubs/bases/stations by ASMs: 2-Mar-2015 to 8-Mar-2015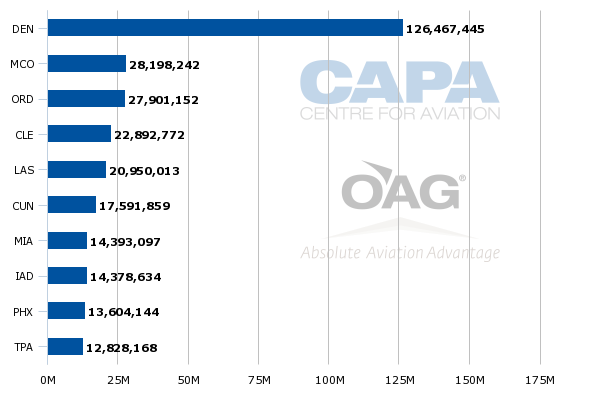 Frontier Airlines global top 10 hubs/bases/stations by ASMs: 29-Jul-2015 to 5-Jul-2015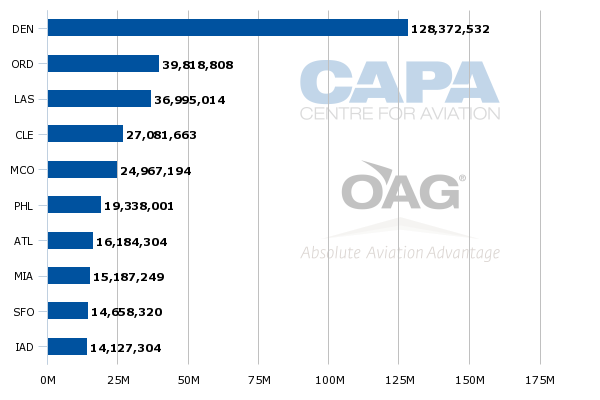 Frontier's new routes from Atlanta include Austin, Cincinnati, Indianapolis, Las Vegas, Los Angeles, Miami, New Orleans, New York LaGuardia, Philadelphia and Minneapolis St Paul. Three of those markets are hubs for Delta – Cincinnati, Minneapolis and LaGuardia, and Los Angeles is a major focus city for the airline, as well as for American. Miami is also a hub for American, serving as its major gateway to Latin America and Philadelphia is a hub for US Airways, which is merging with American.

See related report: Frontier Airlines' rapid network changes continue. A return to Philadelphia, now with a ULCC mindset

Delta serves all of those markets, and both Southwest and Delta serve seven – Indianapolis, Las Vegas, Los Angeles, Austin, New Orleans, LaGuardia and Minneapolis. American operates flights from Atlanta to Los Angeles, Miami and LaGuardia and US Airways serves its Philadelphia hub from Atlanta.
Spirit and Frontier enter large markets in Atlanta dominated by larger airlines
Spirit's new service from Atlanta includes Baltimore/Washington, Boston, Cleveland, Fort Myers, Las Vegas, Los Angeles, Orlando, Philadelphia and Tampa. Those new routes join existing service to Chicago O'Hare, Dallas/Fort Worth, Fort Lauderdale and Detroit.

Delta operates service to all of those markets and both Southwest and Delta serve Baltimore, Boston, Fort Myers, Las Vegas, Los Angeles, Orlando and Tampa.

After Spirit and Frontier each complete their new service roll-outs from Atlanta, the two ULCCs will overlap in six markets – Cleveland, Las Vegas, Los Angeles, Philadelphia, Chicago O'Hare and Orlando. The Philadelphia-Atlanta route will feature five airlines – Delta, US Airways, Southwest, Frontier and Spirit. Frontier and Spirit will join Delta, American and United on service to Chicago O'Hare (Delta and Southwest also serve Chicago Midway from Atlanta). Five airlines will also serve Atlanta-Los Angeles – Delta, American, Southwest, Frontier and Spirit. In the remaining markets – Cleveland, Orlando, and Las Vegas, the number of airlines jumps from two to four with the arrival of Frontier and Spirit.

Although Spirit and Frontier typically only serve markets with one to two daily flights – evidenced by Frontier's planned one-way weekly seats of approximately 1,162 in Austin, 996 in Indianapolis, 1,015 for Las Vegas and 1,162 for Miami – it is debatable if all of the overlapping markets between Frontier and Spirit warrant two ULCCs. (All estimated seat counts are based on data from CAPA and OAG).
Fares in Atlanta are higher than average, perhaps creating inroads for ULCCs
Unlike Cleveland, another market where Frontier and Spirit are squaring off in 2015, Atlanta is not an airport where a major airline has made a significant pull-down. United in early 2014 cut its daily departures in Cleveland by 60%, mostly to small regional markets. Frontier and Spirit have attempted to backfill some of the depleted capacity, but to medium and larger sized markets. United's pull-down is reflected in Cleveland's 16% decline in passenger numbers year-on-year in 2014.

See related reports:

But obviously Atlanta is a bustling hub for Delta, and the second largest worldwide airport ranked by seats for the week of 2-Mar-2015 to 8-Mar-2015 behind Beijing (according to data from CAPA and OAG). Its passenger levels increased 1.9% in 2014 to 96.2 million.
Atlanta Hartsfield-Jackson International Airport annual passenger numbers: 2011 to 2014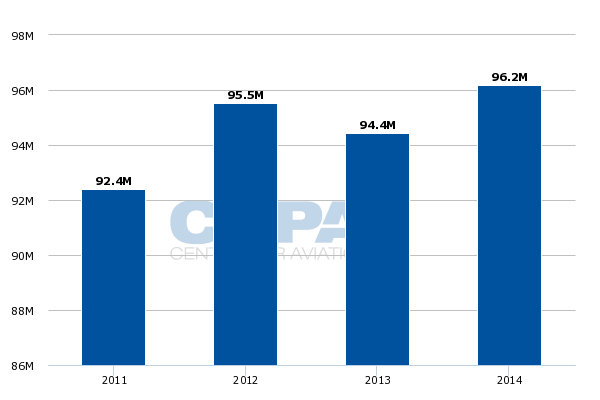 Atlanta Hartsfield-Jackson International Airport annual passenger number growth: 2011 to 2014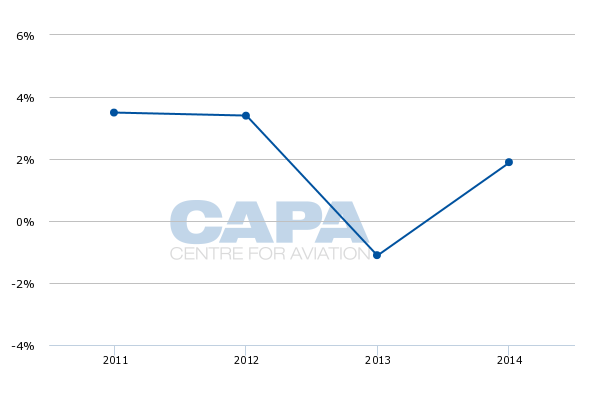 Data from the US Department of Transportation show that during 3Q2014, Atlanta's average domestic fare was USD439, 1.7% higher year-on-year. The average US domestic fare was USD397 versus USD390 the year prior.

Given that data, perhaps Frontier and Spirit believe they can use their ultra low fares to stimulate cost-sensitive passengers that have possibly been priced out of air travel. Delta and Southwest have co-existed relatively peacefully in Atlanta after Southwest opted to transition AirTran's former hub into more of a point-to-point operation.

But the decisions by Spirit and Frontier to expand from Atlanta also show that Southwest is no longer the low fare leader as its cost structure is higher than that of the ULCCs vying for low-yielding traffic. Frontier president Barry Biffle (a former Spirit executive) recently told news outlet the Atlanta Journal Constitution that Southwest was a mid-cost carrier and that fares in Atlanta were relatively high compared to the average.

Those declarations pose an interesting question over which airline the ULCCs are taking aim at in Atlanta. Southwest still holds a loyal following among consumers, but its fares are not the lowest now that the ULCCs have ushered in bare bones prices in their product unbundling strategies. Southwest obviously still has some advantages with its policy of not charging for checked bags; but there is a distinct group of passengers that will adapt to the extreme unbundling practiced by Spirit (Frontier offers a version of bundled fares) in order to expand their number of trips taken on an annual basis.
Spirit opts to expand from Atlanta after Delta introduces its basic economy fare
Spirit and Delta are actually familiar competitors as the ULCC has been competing with Delta on some routes from the major airline's Detroit hub. Detroit is Spirit's second largest base measured by ASMs for the week of 2-Mar-2015 to 8-Mar-2015, and Spirit estimated that its network overlap with Delta during 4Q2014 was roughly 29%. That will obviously grow with Spirit's planned expansion in Atlanta.
Spirit Airlines global top 10 hubs/bases/stations by ASMs: 2-Mar-2015 to 8-Mar-2015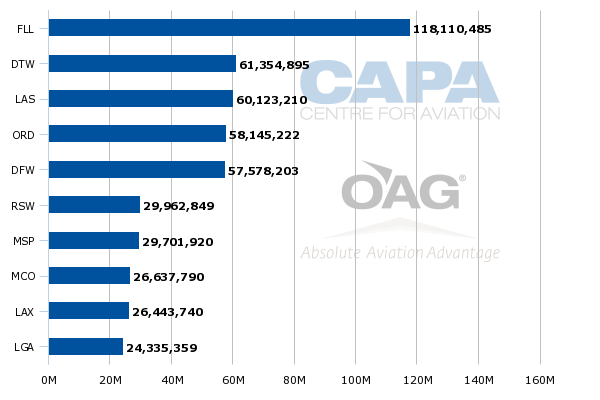 Perhaps Spirit's calculus in expanding from Atlanta was slightly different to Frontier's. Spirit has experience competing with Delta from Detroit and Atlanta. The ULCC also opted to expand from Atlanta after Delta unveiled new fare families with a basic economy option that offers little flexibility – tickets are non-refundable and passengers have no ability to select seats or change itineraries.

During early 2015 Delta remarked that the basic economy fares were available in 75 markets. But the airline has been testing those fares in select markets in 2012, some from Detroit where it competed directly with Spirit.

Spirit's moves show it appears unfazed by Delta's response to the growth of ULCCs. But Delta's creation of a no-frills fare does show that it perhaps is not turning a blind eye to the expansion of ULCCs into its key markets. Spirit's decision to expand in Atlanta is all the more interesting given it has stated that part of the unit revenue pressure it is facing in 1Q2015 is driven by airlines discounting marginal capacity in response to lower fuel prices. Using its heft, Delta will likely offer deep discounts on that capacity in the new markets being added by Frontier and Spirit to maintain its dominance in the market, which does not guarantee success for the ULCCs in their Atlanta expansion.
Are there enough stimulation opportunities for two ULCCs in Atlanta?
A more pertinent question stemming from the ULCC expansion in Atlanta is whether two airlines of that type can achieve success in some already heavily contested markets. Spirit and Frontier are not only competing with each other, but also larger airlines that are starting to generate some level of response to the growth of ULCCs in the market place.

Even as fuel prices have increased recently, Delta's decision to introduce a basic economy fare option shows that it is not completely abandoning the lower yielding traffic segment altogether, and in some respects it is a low risk way to retain a presence among cost-conscious travellers. In the mean time, Southwest will no doubt face challenges in Atlanta during the short term as the ULCCs ratchet up competition.
Background information
Atlanta Hartsfield-Jackson International Airport capacity by airline (% of ASMs): 2-Mar-2015 to 8-Mar-2015