Spirit Airlines: still in the early phases of adapting to new competitive realities in the US
Analysis
During the past year the US ULCC Spirit Airlines has been working to define itself in a new operating environment where it is no longer ignored by its larger rivals. The shifts undertaken by Spirit have included a minor pivot to smaller markets. They have also included its efforts to improve its operational performance to compete more effectively with large airlines that are in the process of using new fare classes to withstand the competitive threat posed by ULCCs.

In many ways Spirit remains in the early phases of crafting a strategy to address new market realities in the US, and progress is difficult to ascertain. Over the course of the past year, when the airline began undertaking changes to adapt to changing competitive realities, pricing in the US market sagged, with collective industry unit revenues plunging.

With the industry likely to return to positive unit revenue during 2017, Spirit's performance and execution of its strategy to sustain itself as the leading ULCC in the US market place will be scrutinised. Comparison of Spirit's historical performance in some financial metrics will reflect the new realities in the US market.
Spirit adopts a new philosophy about competition as revenue pressure peaks
After a CEO change in Jan-2016, Spirit adopted a new philosophy about its perception in the US market. The airline no longer argued that large US airlines, including American, Delta, Southwest and United, had ignored Spirit's attempts to inject low fares in the markets. Now it was abandoning its previous theory that passenger segments targeted to ultra low cost discounters were unimportant to the mega US airlines.

Spirit's mindset change occurred in the middle of a two year down cycle for US airline unit revenue as lower fuel prices spurred capacity expansion, which diluted pricing. Spirit's unit revenue declines were deeper than most US airlines, but improved solidly from 3Q2016 to 4Q32016.
After a projected 2.5% drop in total unit revenue for 1Q2017 – driven by Easter holiday timing, by violence at its Fort Lauderdale base in early Jan-2017, and winter weather challenges – Spirit projects positive unit revenue for 2Q2017 and beyond. The company joins most US airlines in declaring that its unit revenues will turn positive in 1H2017.
Spirit Airlines TRASM and yield performance: 1Q2016 to 4Q2016
| | | |
| --- | --- | --- |
| Quarter | Yield decline | TRASM decline |
| 1Q2016 | 13.8% | 13.6% |
| 2Q2016 | 14.7% | 14.3% |
| 3Q2016 | 7.9% | 7% |
| 4Q2016 | 1.9% | 3.6% |
But as it works to restore positive unit revenue Spirit faces a different operating environment from that of two to three years ago when the company was considered a darling of analysts and investors.
As Spirit expanded into markets such as Dallas and Chicago, its fares went largely unmatched. Now American, Delta and United are in various phases of rolling out a suite of new segmented fares that feature a basic economy component designed to compete more effectively with the ULCCs Spirit and Frontier without compromising their margins.

The result of the new price matching is that Spirit's historical performance in some financial metrics will change. For the four year period ending in Dec-2016, Spirit's GAAP pretax margins peaked at 23.5% in 2015, before dropping to 18.1% in 2016.
Spirit Airlines pretax GAAP margins: 2013 to 2016
| | |
| --- | --- |
| 2013 | 17.1% |
| 2014 | 18.3% |
| 2015 | 23.5% |
| 2016 | 18.1% |
Spirit's revenue growth has also slowed during that time as its capacity increases have averaged 22% for that four year time period.
Spirit Airlines revenue and capacity growth: 2013 to 2016
| | | |
| --- | --- | --- |
| Year | Revenue performance | Capacity growth |
| 2013 | USD1.6 billion, 25.5% increase | 22% |
| 2014 | USD1.9 billion, 16.8% increase | 18% |
| 2015 | USD2.1 billion, 10.9% increase | 30% |
| 2016 | US2.3 billion, 8.4% increase | 20% |
Spirit's tilt towards smaller market has been subtle. Orlando features prominently
Spirit's strategy for dealing with the new competitive realities in the US focuses on adding smaller markets to its route mix, improving its operational reliability and attempting to shore up its customer service.

The airline has not made drastic, sweeping network moves. But it has added some smaller markets – Akron-Canton in 2016 and Hartford in 2017 – and grown in Orlando. During 2016 Spirit expanded its operation at Orlando International from two gates to five, and transported two million passengers to and from the airport. Spirit's new services introduced from Orlando in 2016 included Boston, Philadelphia, Kansas City, Niagara Falls and Plattsburgh.

See related report: Spirit Airlines' network changes have been more subtle than dramatic under new CEO

Orlando is now Spirit's second largest base measured by airports served, and the airline has determined that its expanding presence in the market will contribute a positive 2Q2017 unit revenue result.
Spirit Airlines global top 10 hubs/bases/stations by destinations served: 13-Feb-2017 to 19-Feb-2017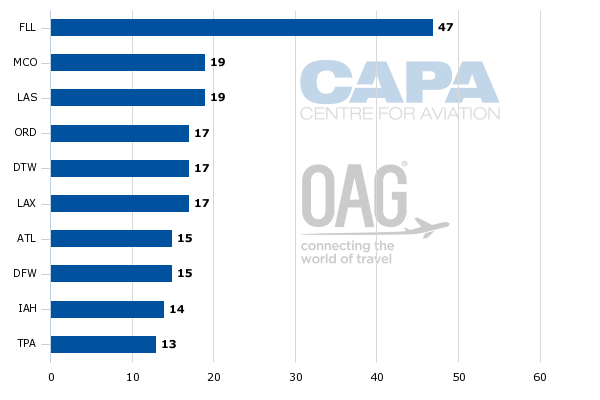 Orlando is not a major hub for any of the large US global network airlines. For the 12M ending Dec-2016, Southwest held a 25% passenger share followed by Delta's 14% share, American's 14% share, and a 13% share held by jetBlue. The passenger mix in Orlando is both business and leisure, with a tilt toward leisure, which offers Spirit a larger base of cost conscious travellers.
In the early stages, Spirit sees no distinct effects of competitive segmented fares
Although Spirit is undertaking some network diversification, it competes with the largest four US airlines on the majority of its routes. Delta is working to roll out its basic economy fare system wide by 2018, and in all domestic markets by YE2017. United is starting to slowly roll out its bare bones fare offering, and American is also in the process of developing its product suite to compete more effectively with ultra low cost airlines.
Spirit believes it is too early to determine how its business will be affected by the new basic economy fares. Company executives hold the view that Spirit competes well with Delta in markets where the major airline's basic economy fare is available, but no definitive conclusions can be drawn.
Delta projects revenue from its branded fares programme should generate USD2.7 billion in revenue in 2019. The airline has not broken out revenue contribution by specific fare type, but much of the revenue benefit is likely driven by customers choosing more expensive fares that offer some level of frills, rather than the bare bones offering.
It will take some time for the new pricing structures introduced by American, Delta and United to produce measurable effects in the market place, but clearly Spirit is working to make itself a more attractive airline as the matching of its fares becomes more prevalent.
Spirit's work to shore up operations continues, but progress is steady
One of the top priorities for Spirit's new CEO after he took the helm in early Jan-2016 was improving the airline's dismal operational performance. The focus on operations was necessary because large rivals with markedly better operational results were matching Spirit's fares.

See related report: Spirit Airlines touts its operational improvement, but its overall performance remains lacklustre

Some of the changes Spirit instituted to bolster its operational performance included: reducing aircraft utilisation during peak periods, and making adjustments to staffing and operational systems. For the full year 2016 Spirit's average aircraft daily utilisation fell 2.4% year-on-year and decreased 6.4% in 4Q20216.

Spirit executives have explained that the airline has been engaged in a mathematical exercise during the past year to strike the right balance between fleet utilisation and re-accommodation expense.
The airline has been testing moving expenses into different areas, allotting costs from resolving problems after a flight, to improving flight conditions. Spirit believes that shift will allow the airline to attain a cost neutral position while improving customer sentiment.

Spirit has stated that its on time performance improved by 5ppt year-on-year in 2016, with the gains concentrated in the last seven months of the year. For 1Q2016 and 2Q2016, Spirit's on time arrival rates were 65% and 74%, respectively, and during those quarters it was ranked last in that metric among the airlines tracked by the US DoT.

The airline also cited progress in its consumer complaints ratios, noting that it began 2016 with a ration of over 11 per 100,000 customers and ended the year with a ratio of less than four per 100,000 customers.
Spirit is also undertaking soft skills training for customer facing employees in order to improve customer-employee interaction as part of its efforts to change its image among customers.
Spirit works to adapt as the business case for the ULCC model in the US is tested
Spirit acknowledges that much work is left undone for it to position itself as a value airline in shifting competitive dynamics in the US marketplace. It has made some gains in operational improvement, and working to improve customer service is paramount as price matching of its fares becomes more widespread.
As pricing in the US market begins to stabilise and the basic economy offerings from American, Delta and United become more widespread, the business case for the ULCC model in the US will come under closer scrutiny. Spirit's ability to adapt will be put to the test.