Spirit Airlines matures: new strategy with WiFi, image change
Analysis
The largest US ULCC, Spirit Airlines, was a forerunner in product unbundling, introducing the first checked bag charges in the country during 2007. Spirit's moves propelled the US industry into offering more à la carte pricing and a focus on generating significant ancillary revenue. In the ensuing years, Spirit pushed the boundaries of product unbundling, reflected in its charge for printed boarding passes at the airport.

But in late 2017, as the basic economy fares introduced by American, Delta and United were rolled out in full force, Spirit opted to create a bundled fare product, which was a major driver of the airline's non-ticket revenue improvement in 1Q2018. Spirit is working to develop an e-commerce strategy to become a retailer, and the bundled fare options are one pillar of Spirit's merchandising evolution.

Spirit has also opted to join the ranks of most US airlines and offer WiFi to its passengers, which will result in the airline becoming the first US ULCC to offer inflight connectivity. This move marks a pivot by Spirit to shore up customer sentiment for the company as the airline works to change its image in the US marketplace.
Summary
Spirit's non-ticket revenue has rebounded after being pressured during the past two years.
The rebound is largely attributable to the introduction of branded fares, which debuted in late 2017.
Branded fares offer Spirit opportunities both to shore up its revenue and to help the airline take advantage of new merchandising opportunities.
Spirit's quest to change passenger perception is continuing, with the planned introduction of WiFi later in 2018.
Spirit has experienced challenges in non-ticket revenue in the recent past
Since Spirit's transition to a ULCC in 2007, product unbundling has been a pillar of the airline's business model, and the airline has been a worldwide leader in its non-ticket revenue generation.

But beginning in late 2015, pricing pressure started to become more widespread in the US industry, and eventually pricing challenges carried over into Spirit's non-ticket performance. At that time, Spirit remarked that it was experiencing most pressure on take-up rates for certain ancillary items such as bag and change fees, which it concluded was correlated with lower fares in its markets.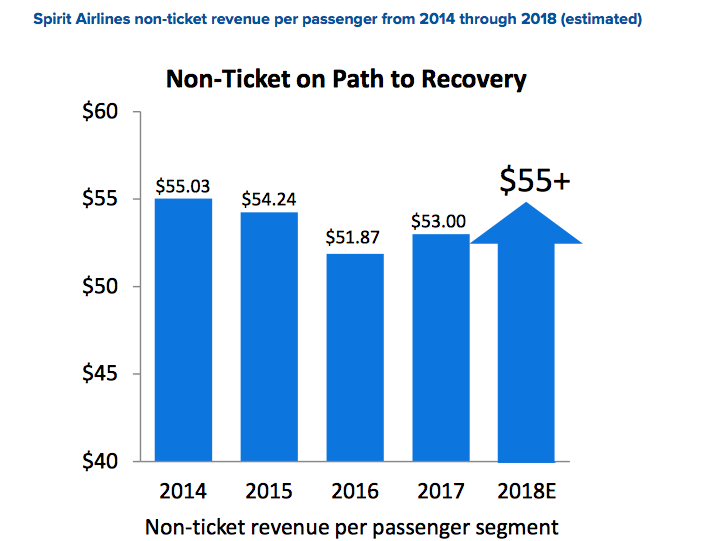 See related report: Pricing pressure now on Spirit's non-ticket revenues. Falling oil prices test the ULCC model

In mid-2016 Spirit stated that it was working to introduce some elements to its ancillary business to drive USD1 to USD2 per passenger in additional revenue.
Spirit introduces fare bundles as it works on spooling up its e-commerce strategy
By 1Q2018, Spirit's non-ticket revenue per passenger segment had grown back up to USD55.29, and the airline attributed most of the performance improvement to a bundled product it had introduced in late 2017.

"The Thrills" combo includes a checked bag, a carry-on bag, seat selection, shortcut boarding, a free flight modification and the accruing of loyalty miles. Pricing for the bundle is USD58.99 one-way on top of a base fare.

Spirit's ULCC rival Frontier has been offering bundled fares since 2015, and Spirit's decision to create a bundled product was likely driven by changing US marketplace dynamics.

As American, Delta and United began to acknowledge that it was important to target Spirit's passenger base – highly cost conscious customers – and worked to roll out their unbundled bare bones fares on a larger scale, Spirit was working to change its negative perception among its customers.

Offering a bundled product is obviously one way to shore up a positive customer sentiment, given that Spirit had historically developed a reputation for nickel-and-diming customers. The bundled product also offers Spirit a way to shore up its ancillary revenue as it incorporates dynamic pricing in its ancillary sales and works to combat the effects of basic economy pricing in the US market. Spirit has always maintained that it would not be affected by segmented fares offered by American, Delta and United, but it recently declared that the US fare environment remained aggressive.

See related report: US domestic aviation: the Big 3 and LCCs fine tune their goals

Spirit is also putting a lot of attention into crafting a retailing strategy. Its executives have concluded that the airline wants to move away from being an order taker to become more of an e-commerce company, and the airline is looking for ways to create merchandising opportunities through its recently revamped website.
Spirit opts to add WiFi to its fleet to garner higher passenger approval
Spirit has also decided to equip its aircraft with inflight connectivity and has selected Thales to supply the systems to support WiFi onboard. The airline expects to complete the roll-out of WiFi across its fleet by mid-2019.
Spirit Airlines fleet summary as of early Jun-2018

It is a significant step for Spirit, and will result in the airline becoming the first US ULCC to offer inflight WiFi.

Spirit plans to price its WiFi offering dynamically. The airline has stated that it is planning to charge an average of USD6.50 per flight for the service, with cost higher or lower based on route and demand.

ULCCs have typically shied away from offering WiFi due to the cost, and also cracking the revenue puzzle associated with inflight connectivity.
But Spirit's president has told the news outlet Forbes that Thales was the "most forward thinking" in structuring its WiFi offering, given the airline's strict focus on costs. The airline expects its unit costs excluding fuel and special items should fall 3% to 4% year-on-year in 2018; in 2017 the airline posted unit costs excluding fuel of USD5.51 cents.
Spirit works to change passenger perception as it matures in the US market
Spirit outlined its plans for WiFi as part of a broader new marketing campaign dubbed "Invest in the Guest". Since a change in CEO in early 2016, Spirit has made several changes to become more appealing to its customers and this has included a focus on improving its operational performance, as well as improving customer service training for its staff.

Although the ULCC model is still young in the US, Spirit has been operating as an ultra-low cost airline for close to a decade, and as it reaches a certain level of maturity, the airline is realising that offering a favourable passenger experience is paramount for any airline business model.