Spirit Airlines and Virgin America treated diametrically in 2015, plan 10%+ growth in 2016
Just a couple of years ago, Spirit Airlines was a Wall Street star. Its ultra low cost business model seemed built to withstand any cyclical disruption to the industry. But markedly lower fuel prices in 2015 have given larger airlines an ability - and the willingness - to price some of their inventory to match Spirit's low baseline fares. As a result, Spirit's unit revenues have fallen sharply and its stock price has compressed more than any other US airline during 2015. Despite the changing dynamics, Spirit delivered a 43% profit increase in the 9M to Sep-2015 and projects delivering operating margins above 20% for the year.

Spirit's fall from grace among investors has coincided with Virgin America gaining some traction in 2015. Virgin's stock price has remained relatively stable, and it has outperformed most US airlines in the passenger unit revenue (PRASM) metric even though it has faced outsized pricing and capacity pressure in two of its largest markets – New York and Dallas.

Both Spirit and Virgin America remain growth companies compared to the larger, consolidated US airlines, arguing their lower costs do allow expansion. The changing currents of their market perception show that no one business model is completely shielded from investor trepidation.
Spirit creates investor concern in 2015 with revisions to its margin forecast
Spirit's unit revenues fell 12% for the 9M ending Sep-2015. It was the fastest drop among US airlines, driven by the ability of its larger rivals to match Spirit's prices in an environment where the oil price per barrel have averaged roughly USD53 in 2015.

The airline has revised its 2015 operating margin guidance down at least twice throughout the year. Its original targets were 24% to 29%. Throughout 2015 Spirit has highlighted the dilutive US domestic pricing environment. Capacity growth of all airlines is driving some of the weak pricing traction, and an ability by larger airlines to lower prices on marginal capacity due to weak fuel prices has challenged Spirit in particular.

Spirit has acknowledged the compression of its stock price – in late Dec-2015 it was trading at roughly USD42 per share versus USD75 the year prior. The airline has also admitted that it hurt itself by pulling back on guidance throughout the year. Recently Spirit CEO Ben Baldanza explained the airline's revisions to its forecast margins created uncertainty as to whether Spirit could remain profitable in a scenario of lower fuel costs and higher levels of competition.
Spirit Airlines share price: mid-Dec-2014 to mid-Dec-2015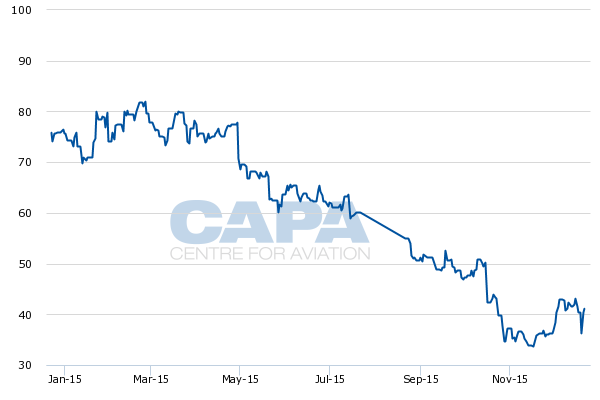 A hotly debated topic in the US market place during 2015 is the effect Spirit has on a market it enters. Based on Spirit's own data its largest network overlap is with Southwest and American Airlines.

American has drawn a competitive line in the sand with Spirit in 2015. It has concluded that 87% of its passengers during the last year were travelling on the airline for the first time, and that passenger pool represents 50% of its revenues. American has also concluded approximately 85% of US domestic pricing is influenced by low cost airline fares. Given the need to protect that 50% of revenues, American has pledged to match ULCC and low cost airline prices in its markets.
See related report: US major airlines recognise the ULCC threat. Marketplace dynamics will change. But beware cost creep
Virgin America believes Spirit affects pricing and demand in markets it enters
As more and more airlines outline the ULCC threat, Spirit has stubbornly reiterated the thesis driving its network development – that it stimulates just enough passengers in a market to cover its capacity on offer.

See related report: Spirit Airlines maintains its long standing business thesis as new competitive dynamics unfold

Mr Baldanza has dismissed the notion that Spirit steals traffic from other airlines as crazy. He recently offered a very simple explanation of Spirit's market effect. If there are 800 passengers on a given monopoly route then the existing airline has a 100% share. When Spirit enters and stimulates an additional 200 passengers on the route, the larger airline's share drops to 80%. But overall there are more customers in the market.

Those assumptions may be a bit too simplistic for some airlines. Virgin America CFO Peter Hunt recently stated Spirit does affect pricing and demand in markets it enters, but that its presence is not all about fully stimulating traffic.

Spirit and Virgin America do not have significant network overlap. They have some overlap in the San Francisco market, but Spirit operates from Oakland and Virgin America's headquarters and its largest base is SFO. Perhaps Spirit poses the biggest threat to Virgin America in Los Angeles, a highly fragmented market, but an area of focus for Virgin America and its second largest base.
Virgin America global top 10 hubs/bases/stations by seats: 21-Dec-2015 to 27-Dec-2015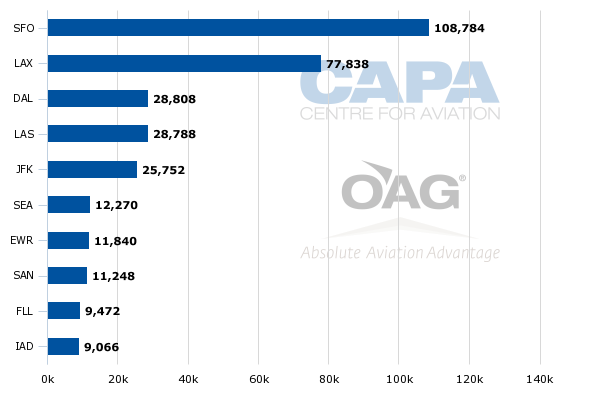 Routes from Los Angeles where Spirit and Virgin America compete include Chicago O'Hare, Fort Lauderdale and Las Vegas. Spirit also serves Dallas/Fort Worth from Los Angeles and Virgin America operates service to Love Field.

Mr Hunt explained Virgin America is capable of competing with Spirit due to market segmentation. Although most airlines compete on some level for the cost conscious traveller Spirit targets, Virgin America caters to a more upscale passenger willing to pay extra for its cabin mood lighting, leather seats and better customer experience.

Virgin America also has a different distribution strategy, offering its fares in GDSs and other indirect channels. It also targets corporate travellers, a segment Spirit has no interest in. Taking all those factors into effect, Mr Hunt stated Virgin America drives a revenue premium on routes where it competes with Spirit, in some cases as high as 150%.
Virgin America concludes it performs better in highly fragmented markets with many rivals
Much of Virgin America's capacity is deployed into highly fragmented markets, which may seem counter-intuitive. In at least three of Virgin America's top 10 markets measured by seats there are four or more other airlines operating directly on the route. Factoring in airlines serving Los Angeles, San Francisco and New York LaGuardia from Dallas/Fort Worth, all of Virgin America's top markets are highly fragmented.
It has a commanding seat share in three – 25% from Los Angeles to San Francisco, 31% from San Francisco to Los Angeles and 76% from Dallas Love Field to San Francisco.
Virgin America's competitors and its seat share on its top 10 routes by seats: 21-Dec-2015 to 27-Dec-2015
Mr Hunt explained Virgin America performs better in markets with four to five competitors than those with one or two rivals where those airlines dominate the market.

Virgin America has spent a lot of time and resources building its brand in California, and on some of the intra-California routes corporate customers likely drive a lot of its revenue. Outlining Virgin America's corporate strategy, Mr Hunt stated Virgin America's pitch to corporates is to "put us on the shelf", meaning the airline does not need to be the preferred airline of a large corporate buyer.
Instead, Virgin America aims to become another option for those corporations. Virgin America's CFO stated that strategy gets a lot of traction within California in particular.
Virgin America assures it can sustain its favourable results as double digit growth resumes
Virgin America has been shielded from forex pressure and lower international fuel surcharges that have beaten down passenger unit revenues for American, Delta and United in 2015. However, it has faced pricing dilution and capacity pressure in New York from JetBlue with its new Mint premium product and Southwest in Dallas. Southwest made a huge push from Dallas Love Field in 2014 and 2015 after the lifting of the Wright Amendment prohibiting certain long haul flights from the airport.

Virgin America posted positive PRASM growth for 1H2015 and only a 2.7% decline in 3Q2015, which was a smaller decrease than most of its US peers, with the exception of JetBlue, whose PRASM remained positive for the 9M ending Sep-2015. Its stock price has been fairly stable year on year in Dec-2015, trading at USD37 in the middle of the month compared with USD36 the year prior. The airline's stock has traded as low as USD28 during 2015.
Virgin America stock price: mid-Dec-2014 to mid-Dec-2015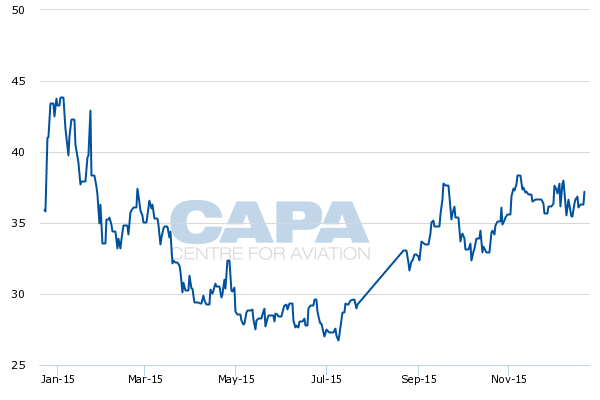 Buoyed by a 29% drop in top-line fuel expense for the 9M ending Sep-2015, Virgin America's profits jumped 166% to USD150 million. The airline is resuming growth in 2016, after posting flat ASM growth year on year in 2014 and a 1.5% increase for the 9M ending Sep-2015.

The airline is drawing questions from investors about its ability to sustain and grow profitability now that it plans capacity growth of 13% to 16% in 2016, and annual average growth of 10% for the medium term. Mr Hunt assured that most of the capacity growth was low risk, consisting of adding back service cut in some markets to support its growth from Dallas Love Field.

Despite the unit revenue pressure, Spirit also delivered a 43% increase in profits year on year for the 9M ending Sep-2015 to USD243 million.
After growing 30% in 2015 Spirit plans 15% to 20% annual growth over the medium term, and believes it can drive operating margins in the mid-teens at that level of supply expansion.
Virgin America and Spirit enter 2016 in a high growth mode. A battle of the models
Both Spirit and Virgin America have encountered challenges in 2015, and each airline has managed to deliver strong top-line results, driven largely by lower fuel prices. In many ways 2015 is the year that Virgin America has made headway among doubters with the proposition that its low cost, high value model is viable for the long term. Another test comes in 2016 when its growth reaches double digits while the US revenue environment remains soft.

Even as investors still seem spooked by Spirit's downward revisions its margins and its weaker unit revenue performance, the airline remains confident of delivering mid-teen margins in the medium term. Spirit and Virgin America seem to have much to prove in 2016, for completely different reasons. Meanwhile however, both are returning healthy profit improvements.