SpiceJet slumps 12.8%, Kingfisher falls heavily - defers A380 again
SpiceJet slumped 12.8% on reports India's Central Bureau of Investigation (CBI) is probing the purchase of a strategic stake in the carrier by Sun TV promoter Kalanithi Maran. The airline's shares have slumped to their lowest level in at least 12 months and have fallen by around 48% since early Nov-2011.
SpiceJet share price (INR): past 12 months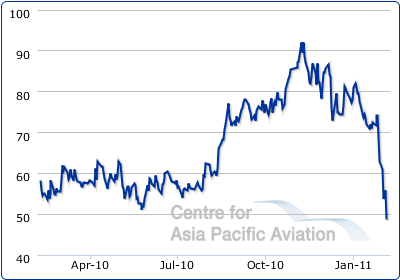 Kingfisher fell 8.8% on Friday. The carrier has reportedly revised its medium-term fleet plan, which will see it double in size from 66 to 137 aircraft by 2015/16, with six A320s, two A330s and one ATR to be delivered next financial year. The airline is reportedly not planning to add A380s (five on order) or A350s during the period to 2015/16.
Previously Kingfisher had deferred the A380s to 2014. It is not clear if the new plan represents another deferral of the A380 aircraft by Kingfisher.
Elsewhere, Jet Airways was lower in a quiet day on Asian stock markets amid Lunar New Year holidays.
Selected Asia Pacific airlines daily share price movements (% change): 04-Feb-2011