Southwest quadruples net profit in 2010 on 'disciplined strategy'
Analysis
Favourable financial results for Southwest is usually not news but a year-end net profit rising from USD99 million in 2009 to USD459 million in 2010 is unlikely to be matched this season.
"Our fourth quarter net income, ex special items improved 55% from 4Q2009," said CEO Gary Kelly. Including special items, fourth quarter net income was up 12.9% to USD131 million on record operating revenues of USD3.1 billion and set an all-time quarterly record on an available-seat-mile basis at USD 12.56 cents. Pre-tax return on invested capital (ROIC) was 10%, doubling its 2009 ROIC.
Fresh from the success of rolling out of its long-awaited Rapid Rewards programme, Southwest executives explained their four-pronged strategy, which have become much more critical given what Southwest expects to be a USD650 million fuel headwind this year.
However, most of its work is still ahead of it, and some may be two- to three-years out. Even so, besides its revenue efforts, Mr Kelly pointed to hedging and fuel savings. Ancillary revenues jumped 40%, described by CFO Laura Wright as "explosive growth" in 2010 as new programmes and 2009 efforts matured.
In addition to a new frequent flyer programme, revenue initiatives, of course, include the acquisition of AirTran, now before the Department of Justice, which is expected to yield net annual synergies of more than USD400 million by 2013. While it is adding 19 737-700s this year, the addition of the 20 737-800s next year will pave the way for several things, including, most likely Hawaii. The longer range, higher seat load will also be used to relieve pressure on slot and gate-constrained airports.
Mr Kelly rejected suggestions that, given the trend toward premium seating among legacies, Southwest may go that route. "Anecdotal evidence says we are winning more customers with the current single-cabin configuration," he told analysts. "Business select made an enormous difference and the boarding process better, being on the A List which automatically checks you in and Early Bird are another good alternatives. The number one request from business customers to improve the frequent flyer programme. With that and inflight connectivity we will get more business travellers. Having a first class or larger seats is not a request we are getting from business travellers."
He also rejected suggestions that he join much of the rest of the industry in imposing reservations change fees.
"Our strategy is to win more customers and, here again, we have this opportunity to differentiate ourselves and we see that as a gift," he said. "We've been able to run our business very effectively with that approach. Not to couple the two together would seriously diminish the value of our bags-fly-free campaign and runs the risk of destroying the goodwill and value created. I'd rather have a customer than a bag fee. We have made a lot more money that way."
But the biggest effort surrounds its new reservations system which will not be completed for another couple of years. It has already replaced several ancillary systems and now faces replacement of its main booking engine which is being done carefully to reduce risk. It is now down to considering two different suppliers, although little work has been done since the AirTran announcement. The company is now ready to return to choosing a vendor.
In the meantime, current technology will give it most of what it needs to capitalise on its codeshare with Volaris. However, transitioning to a new system will give it full codeshare capability and additional revenue opportunities. But going international on its own is the holy grail for the new reservations system.
Mr Kelly emphasised the importance of the reservations system for revenue enhancement and revenue management as well as affording the ability to book international operations. In addition, it will give the airline the ability to re-accommodate passengers during irregular operations. For now, it can only rely on revenue opportunities through Southwest.com in addition to the Rapid Rewards and credit card partnership programme.
That means Southwest will continue focussing on domestic expansion and indeed Mr Kelly has said in the past that international – a growing portion of JetBlue's portfolio and part of AirTran's 38 destinations as well – will come, at the earliest, in 2013 but may not come until 2014. However, Mr Kelly has indicated that is the right way to go, given the fact that it will have to absorb AirTran should the Department of Justice grant approval, domestic will keep it busy enough over the next two years as it also wrestles with transitioning to its new res system.
Capacity will remained disciplined – in the low single digits – this year as it does its fleet replacement and increases utilisation.
Although Southwest handles its own bookings through Southwest.com, saving millions in distribution costs and contributing to the success of the low-cost airline, Mr Kelly did weigh into the distribution controversy between American Airlines and global distributions systems and online travel agents. In response to a question, he said, tongue firmly planted in cheek: "I think it horribly complicated, terrifically expensive and I think they should stick to the way they have done it for years." However, never having played in the GDS world, he could not provide any insight as to what the result will be should American succeed in creating a new distribution paradigm.
Results
Revenue per available seat mile (RASM) rose 8.8% in the quarter to 12.56 cents and for the year it rose 16.5% to 12.30 cents. Passenger revenue per available seat mile (PRASM) rose 8.1% for the quarter to 11.88 cents and 15.7% for the year to 11.67 cents for both periods. Ms Wright cited the introduction of several new products last year for RASM outpacing PRASM.
Yield rose only 3.5% in the quarter but 10.8% for the year to 14.72 cents. Mr Kelly reported that January booking and revenue trends continuing the trend compared to December 2010 and December passenger unit revenues increased 5% year over year. Bookings for the remainder of the quarter are also strong.
Southwest passenger yield: 1Q2008 to 4Q2010
Cost per available seat mile (CASM) rose 7.6% for the quarter and 9.7% for the year to 11.69 and 11.29, respectively. The airline cited a 12.7% increase in economic fuel costs per gallon to USD2.48, which included a USD14 million in unfavourable cash settlement for fuel derivative contracts. Excluding fuel and special items in both periods, fourth quarter unit costs increased 5.8% to 7.88 cents as expected and 6.7% for the year to 7.61 cents. CASM ex fuel for the quarter and the year rose 6% to 7.90 and 7.61 cents, respectively. Based on current cost trends and capacity plans, the company expects its first quarter 2011 non-fuel unit costs to increase at a lower year-over-year rate than experienced in fourth quarter 2010.
Southwest RASM and CASM: 1Q2008 to 4Q2010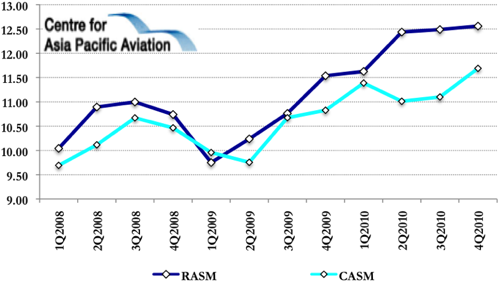 Southwest revenue passenger numbers and passenger load factor: 1Q2008 to 4Q2010
"Given the slow economic recovery and volatile fuel environment in 2010, we continued our disciplined strategy of strengthening our network through optimisation," said Mr Kelly. "This allowed us to bring Southwest's legendary low-fare service to Panama City Beach, Florida in 2010, and grow key markets like Denver, Boston, and St Louis, with virtually no seat mile growth for the year. Absent the acquisition of AirTran, we currently have no plans to grow our fleet significantly until we reach our profit target and achieve a 15% pre-tax return on invested capital."
Total operating revenues for fourth quarter 2010 increased to USD3.1 billion, up 14.8%, while total operating expenses increased 13.9% to USD2.9 billion. Operating income for fourth quarter 2010 was USD216 million, up 29.3%.
Operating revenues for the year, increased 16.9% to USD12.1 billion, while full year 2010 operating expenses increased 10.2% to USD11.1 billion. Operating income for 2010 was USD988 million, compared with USD262 million in 2009.
Southwest operating profit margin: 1Q2008 to 4Q2010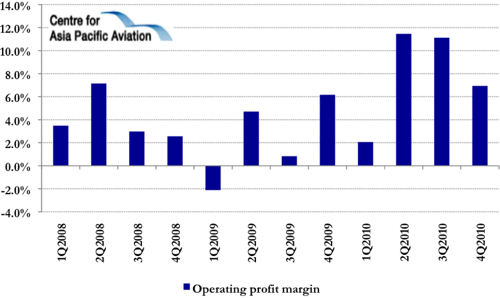 The company repaid USD155 million in debt during 2010, and is scheduled to repay approximately USD500 million in current maturities of long-term debt in 2011. As of January 18th, the company had approximately USD3.8 billion in cash and short-term investments. In addition, the company has a fully available, unsecured, revolving credit facility of USD600 million.