Southwest Airlines posts 37th consecutive annual profit
"Flat is the new up," Southwest Chair & CEO Gary Kelly told analysts yesterday in reporting a USD116 million profit in the fourth quarter of 2009, compared to the USD56 million loss for the previous corresponding period. For the full year, the airline earned USD99 million, a 44.4% drop from 2008, its 37th consecutive year of profitability. "We did better than the Wall Street estimate and certainly better than what we thought 6-8 months ago," Mr Kelly concluded.
Steady as she goes
It was clear that with initiatives to improve efficiency, optimising schedules and new products, Southwest made a great deal of progress last year, but is going to remain quite constrained in its plans as it watches the business bounce back from the recession. Thus, flat is the new up. Capacity discipline still remains the rule for the US airline industry.
Southwest Airlines capacity (ASMs) growth: Dec-2004 to Dec-2009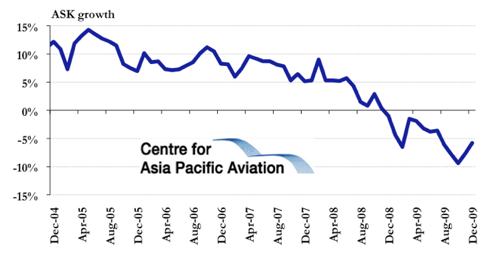 Echoing American and Continental, which reported Wednesday and yesterday, the airline is seeing an uptick in business travelers, but the gains it saw in the fourth quarter were driven more by the leisure market.
Indeed, Kelly indicated that 4Q2009 reversed normal activity for the quarter. "The fourth quarter has never been the best quarter of the year, but this year it was the best unit revenue performance of the year," he said. "We set an all time record in terms of quarterly unit revenue in the fourth quarter of a recession. That is remarkable indeed. While earnings weren't at record levels for the year, we did have a very respectable fourth quarter earnings performance. If you compare it to the last five years it is not our best but it ain't bad. I think more importantly for the year we had near USD1 billion in operating cash flow that was generated and to be able to do that in a recessionary environment we have already managed our capital spending much lower was again just a very, very encouraging sign."
He cited the airline's capacity adjustments, but said it was something more since traffic was up to record levels as was load factor, despite a near 8% drop in capacity. "So we had a number of very strong metrics, if you will, measuring our revenue performance and so we are just delighted all the way around."
NB: This analysis is from Peanuts! Weekly, the only publication dedicated to analysing the world's LCCs.
Bagging market share
Just as he did in previous quarters, Mr Kelly said the airline's bags-fly-free policy has resulted in a significant share shift from competitors. "Our capacity is down, but our traffic is up," he said, also citing fare sales as well as its Early Bird product and new fees for pets and unaccompanied minors. He also said its market launches this year in Minneapolis, LaGuardia, Boston, Minneapolis and increases at Denver (quickly becoming the fifth largest city in the network) and St Louis also contributed.
Although LaGuardia remains quite small with eight daily flights and no availability for more slots or gates, Kelly said it was an overwhelming success, with no cannibalization from its Islip, NY, operation. "The business for us in New York La Guardia has been spectacular," he said. "It has been a huge contributor right off the bat. I don't think any of us are shocked with that because we did have a very conservative schedule. We have far more demand Southwest into New York than what we can satisfy with eight flights and the revenue performance certainly provides evidence of that."
Seeking more flexibility on costs
"We have had a long history of producing what for all practical purposes was a static schedule and the only changes to our static schedule were more airplanes and more flights," said Kelly of the challenges that lie ahead. "Now what we are forced to do is to react to higher energy costs which means higher costs per trip so you can't fly your way into lower unit costs with energy. We basically have the same staff in place in a fixed way… We have not quite cracked that nut on how we make our cost structure a little bit more flexible although we are determined to do that. Our focus right now has been improving the customer experience and transforming Southwest's capabilities and we are performing exceptionally well there. What we will turn our sights on in 2010 is getting our productivity enhanced even further. If you look at our employees per aircraft it improved yet again in 2009. So we are making progress. We just need to make more rapid progress."
Challenges that remain ahead include rising costs, especially fuel, but CFO Laura Wright pointed to airport fees and charges as being a real concern.
"Our landing fees and other rentals on a unit basis increased 18.5% to USD0.77 primarily due to airport rate increases," she reported. "That was partially offset by some favorable airport adjustments. Based on the continued rate inflation at various airports which is really being driven primarily by capacity reductions, we expect our first quarter airport unit costs to exceed fourth quarter's USD0.77 and we are currently estimating that first quarter 2010 airport unit costs to be in the mid USD0.80 range."
Kelly explained: "Our airport costs are going up for two reasons. One is the nominal costs are going up which is painful in and of itself. Secondly, the overall activity in the industry is going down and I know you understand all of that. That is one of our bigger cost issues in 2010 and what I described won't address that. So we are going to have to find offsets to that very significant cost pressure that we are incurring at this point."
Wright reported that the airline will take a bigger hit on costs in the first half, but mostly in the first quarter.
Southwest Airlines CASM v Yield per RPM (US cents): 2Q2004 to 4Q2009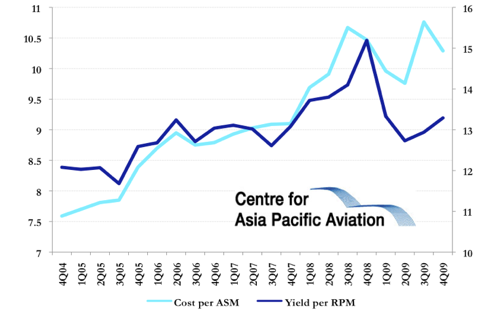 That tempered the airline's strong booking expectations for the quarter. "Strong bookings in year-over-year revenue trends are continuing into 2010 and month to date our January passenger RASM is estimated to increase between 14-15% year-over-year. Keep in mind that our January capacity is estimated to be down almost 7% compared to a 4-5% reduction in February and March which will make our comparisons a little more difficult in the February and March time period.
Southwest Airlines passenger yield per RPM: 4Q2004 to 4Q2009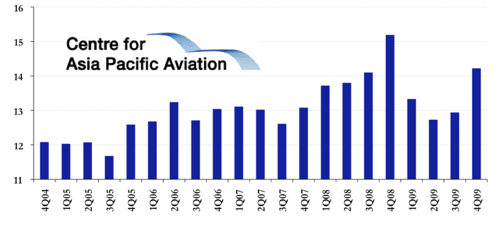 "We are seeing higher book-to-look rates and higher average fares from our shoppers," Wright continued. "With respect to freight and other revenues our freight revenues were down about 16% year-over-year due to the weak economy. We expect our freight revenues for the first quarter 2010 to be in line our fourth quarter 2009 freight revenues."
Southwest Airlines operating profit (loss) margin: 1999 to 2009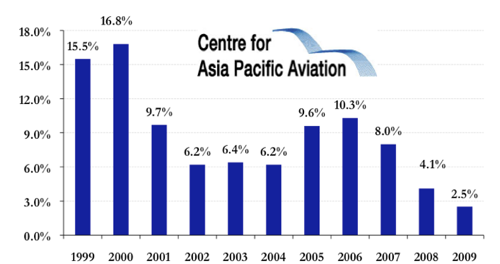 She reported that operating unit revenues were up 7.4% year-over-year in the fourth quarter with a gain in market share resulting in a 5% traffic jump in the quarter despite almost 8% capacity declines. For the two months combined, unit revenues were up almost 8% compared to November and December of 2008. "We posted monthly record load factors beginning with July and ended the year strong in the fourth quarter record performance of 77.3% which was up almost 10 points from a year ago," she said, adding, "this surpassed our record performance of 70.3% from the fourth quarter of 2006".
Full fare passengers were down to 18% of all passengers although the carrier would like to see it in the mid 20s. It was 24% in the year-ago period. "It's down 6 points but that is on a 9.5 point load factor increase which distorts the numbers," Wright explained.
"We are certainly not seeing a large return of business traffic nor are we predicting that for 2010," said Kelly, adding the strengthening is in medium- to long-haul markets. "The domestic market isn't growing in the US, but Southwest is growing even without adding capacity so that is the share shift we are talking about. With a low fare brand in a recessionary environment where people are trying to spend their money more wisely I think we are hitting a real nice crease here and when business travel does pick up I think you are going to see a very nice boost in our revenues yet again. We are doing very well on the revenue front"
Its revenue initiatives brought in substantial sums, said Wright. Other revenues rose 29.3% in the fourth quarter to USD97 million, and, for the year, rose 3.3% to USD340 million.
"Our other revenues were up significantly year-over-year in the fourth quarter," she said. "The ancillary revenues from pets, unaccompanied minors, Early Birds and bags combined for almost USD25 million during the quarter. We expect the strong year-over-year improvement in our other revenues to continue into the first quarter of 2010. Our Early Bird revenues were approximately USD13 million in the fourth quarter, she reported. Our business select revenue in the fourth quarter held steady at about USD18 million and for the full year was $72 million. In addition to that we generated over USD10 million in other revenues for our new pet fare, unaccompanied minor charges and excess heavy bag fees. Our schedule optimization efforts have been a huge success and we are significantly benefiting from our capacity cuts and the realignment of our network. Our own capacity cuts, the successful schedule optimization represented the majority of our 7.4% year-over-year RASM increase. The fourth quarter revenue impact was greater than expected and produced tens of millions in incremental revenue for the quarter."
Higher fuel costs ahead
While revenues were up, costs dropped 2.7% in the fourth quarter on lower fuel costs. However, the carrier is anticipating higher fuel costs judging from its hedging portfolio. Economic fuel costs were down 3.1% to USD2.20 per gallon for the quarter, slightly better than expected. But the airline recently restructured its 2010 fuel hedge portfolio at about 50% hedged in 2010 at prices up to about USD100 per barrel. Wright indicated that Southwest was actually expecting oil to be between USD70 and USD80 per barrel. However, its hedging also provides "catastrophic protection at levels above USD120 which increases our protection to approximately 40% hedged if the market prices exceed USD120."
Excluding fuel and special items, unit costs were up 8.6% year-over-year to USD0.0745, she said, adding it beat expectations and under guidance. She cited capacity cuts of 7.7% as well as wages and airport costs and said unit costs are expected to rise in the first quarter on an ASM decline of between 5-6%. Full-year ASMs are expected to be flat. For the full year 2010, ex fuel unit costs to be up in the 5% range as a result of flat capacity and inflationary pressures in many cost categories.
Also expected to rise are salaries, wages and benefits which increased in the fourth quarter on a unit basis to USD0.0366 over the year-ago period, also on the capacity reductions. Based on our current cost and capacity trends, Southwest expects our first quarter 2010 salaries, wages and benefits to be up in the 8-9% range. The Q4 increase in wages was offset by an 11.5% drop in maintenance expenses and the company anticipates first quarter 2010 maintenance unit costs to be in the high USD0.70 range.
USD2.4 billion in cash on the balance sheet
The company finished the year in a strong cash position. "As of [Wednesday] we had core unrestricted cash and short-term investments of USD2.4 billion," Wright reported. "Our USD600 million credit facility remains fully undrawn and available. Our leverage including aircraft leases is in the 45% range and we have very manageable scheduled debt maturities in 2010. For 2009 our cash flow from operations was USD985 million. For the full year 2010 we expect that our capital spending will be in the USD600-700 million range."
In conclusion and in response to an analyst question, Kelly said the goal raising USD1.5 billion in additional revenue – first pegged in 2007, has moved to the right with the rising costs of doing business.
"With new things that have been added, Business Select, Early Bird, pets, just a long list of things we are probably close to USD1 billion in incremental revenue with just that stuff," he explained. "What we have keyed up for 2010 and 2011 will easily fill out the 1.5 [billion]. But again, I think the things that are in front of us are international codeshare, which should provide a very meaningful contribution. It is a no brainer it will add revenue. We know we have a very powerful domestic network. We have a very strong brand. We will definitely add customers and revenues once we get those up and running".
"Then secondly as our next generation Rapid Reward program it is very straight forward," he continued. "In addition to the ambitious goal of desiring more loyalty we are just looking at getting our current members to be a little stickier with them so they will fly us more and encourage more of them to use the Southwest credit card. So it is not a pie in the sky thing here that we are contemplating because we have a very meaningful revenue opportunity certainly relative to our peer group that we have not realized yet and and we intend to close that gap."
For analysis of every LCC financial report globally in 2010, subscribe to Peanuts! Weekly. No other publication can help you benchmark airline performance at the cutting edge of the industry.