Southwest Airlines layers back short haul flying as it contemplates its long term network strategy
Analysis
Southwest Airlines has drawn much attention during 2015 for the disruption that its massive expansion from Dallas Love Field has created in the overall Dallas market. The capacity additions and overall lower fares have resulted in Dallas emerging as the largest US market, with deterioration of pricing traction being a major feature.

The reality is that Southwest is capping off a few years of changes, including the full integration of AirTran, a de-hubbing of Atlanta, and the launch of Southwest-branded international flights from a new terminal at Houston Hobby.

As Southwest's domestic network continues to reach higher levels of penetration, questions are arising over the airline's network strategy going forward. Recently it has hinted the timing could be favourable to shore up short haul markets, after focussing on longer haul flying for the last decade and a half. Some of its planned new routes for 2016 reflect Southwest's willingness to test the waters on short haul flights.
With the lifting of the Wright Amendment prohibiting certain long haul flights from Dallas Love Field, in late 2014 Southwest began to make a massive push from the airport, adding more than 30 new markets. Its average stage length for the 9M ending Sep-2015 increased 4% to 1,207km, and previously Southwest has stated that stage length would represent 6% of its planned 2015 capacity growth.

See related report: Southwest Airlines projects 6% capacity growth in CY2015 as long-haul from Dallas ramps up
Most of the push from Dallas is now complete, although pricing in the market remains weaker than other regions in the domestic US. Southwest's average fare in 3Q2015 fell 4% year-on-year to USD154 and 2.4% to USD157 for the 9M ending.
Even as other airlines, including Dallas/Fort Worth's largest and second largest carriers American and Spirit, have cited pricing dilution in the Dallas market, Southwest has maintained that its growth in Dallas is producing favourable returns. At the end of 3Q2015 airline executives stated that Dallas Love Field continues to outperform the system, based on margin performance.
Southwest sees some opportunity to add some short haul flying back into its network
At the end of 3Q2015, Southwest estimated that roughly 18% of routes in its system were under development, and that should drop to 5% by YE2016 as the expansion from Love Field reaches maturity and the new routes fully ramp up.
With the push from Love Field near completion, the merger with AirTran solidified and the launch of new international routes to the Caribbean and Central America, attention is turning to the next phase of Southwest's evolution, and the composition of its route network during the next three to four years.
Southwest has maintained that its international expansion would be measured, and that international fights would represent about 1% of its ASM growth going forward. Currently (2-Nov-2015 to 8-Nov-2015), roughly 4% of its ASMs are deployed to international markets.
Southwest Airlines international vs domestic capacity (% of ASMs): 2-Nov-2015 to 8-Nov-2015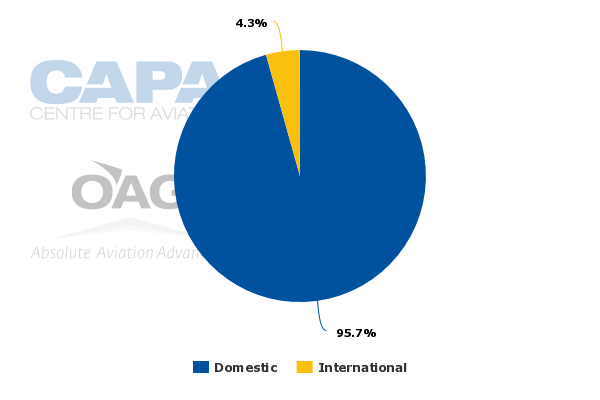 The airline's 2016 capacity projections are for 5% to 6% growth, which results in the bulk of its supply deployed to the domestic market. Recently Southwest CEO Gary Kelly, observing that the airline served 85 domestic mainland destinations in the lower 48 states, suggested that Southwest has many opportunities among those 85 cities to add non-stop segments. "Especially in short haul markets, if those markets begin to return to pre-2000 traffic levels, we'll have a lot of opportunities to add frequencies in those markets..." Mr Kelly stated.
For decades short haul routes were the backbone of Southwest's network. But in late 2012 the airline concluded, based on traffic and trends from 2000 to 2012, that fewer passengers were flying on short haul trips. During that time period Southwest estimated that domestic short haul passengers, excluding Southwest, fell 87 million to 58 million. Southwest's short haul passengers during that timeframe shrank from 38 million to 31 million.
However, Mr Kelly has concluded that short haul traffic could be starting to rebound, based on early signs seen during 2015. With fuel costs still at markedly lower levels, adding back some short haul service at lower fares could be a viable proposition. Based on some of its planned new route additions for 2016, Southwest is working on that conclusion. Between Mar-2016 and Apr-2016 it is introducing 10 new routes, five of those being of less than 500km operational length. There are three with sector lengths over 1,000km, including Wichita-Phoenix, Newark-Orlando and Newark-Las Vegas.
Sector length and competitors in Southwest's new routes introduced in 1H2016
Southwest's new markets produce a mix of uncontested routes and flights with familiar foes
Those new routes reflect a push by Southwest from markets where it has positions of strength. Chicago Midway is Southwest's largest base, measured by seats, and the airline is the largest operator at St Louis Lambert International airport, representing a 53% seat share for the week of 2-Nov-2015 to 8-Nov-2015.
Southwest Airlines global top 10 hub/bases/stations by seats: 2-Nov-2015 to 8-Nov-2015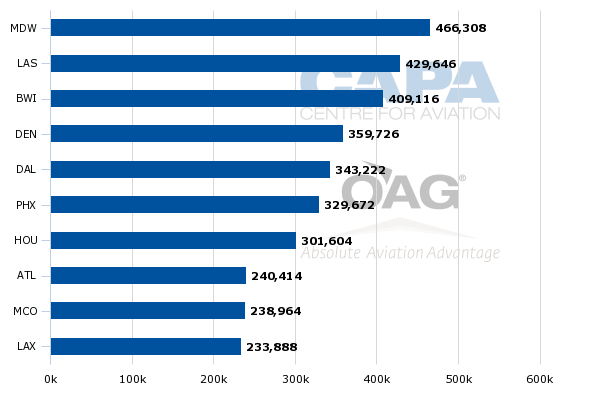 Southwest is uncontested between St Louis and Des Moines and Wichita. It will also be the sole operator between St Louis and Pittsburgh. American is ending service on that route in late 2015.
Southwest is competing with Delta on services from Atlanta to Greenville and although no other airline offers direct service on the new routes from Chicago Midway, Chicago O'Hare's largest airlines American and Delta both offer flights from that airport to Southwest's new markets from Midway.
Southwest gained slots at Newark in 2010 as part of the requirements from the US Department of Justice for United and Continental to complete their merger. The access helped Southwest round out its presence in the New York metro market, complementing its presence at New York LaGuardia. Presently Southwest offers service from Newark to Austin, Chicago Midway, Denver, Houston Hobby, St Louis, Nashville and Phoenix. Southwest is upping competition with United in the new Newark markets, operating to two airports where it holds positions of strength. It is Orlando's largest airline, with a 28% seat share, and also the largest airline at Las Vegas measured by seats, with a 42% share (2-Nov-2015 to 8-Nov-2015).
Southwest tries to avoid fare increases, but pushing the load factor envelope gets tougher
As capacity in the Dallas market starts to lap the large year-on-year comparisons in 2016, some of Southwest's competitors are hopeful that some level of pricing traction can be restored in the market.

See related report: JetBlue and Virgin America create interesting dynamics for the hybrid business model in the US
Commenting on Southwest's network as a whole, Mr Kelly stated that the airline during the last five to 10 years has aimed to keep its customers per departure at high levels in order to grow revenue without raising fares. However, he did admit that the airline was reaching a point where that may no longer be achievable.
There are opportunities for Southwest to improve its revenue management through technological investments, but the airline has drawn a line in the sand in opting not to charge for checked baggage or seat assignments. This is a feature of its recent "Transfarency" advertising campaign. Improvement in revenue management may need to centre on managing close-in bookings, and refining the structure of advance ticket sales.
Southwest believes conditions are favourable to dust off its short haul playbook
After adding markets from Love Field that were previously off limits, Southwest in 2016 appears willing to layer in short haul flying within the US domestic market.
Perhaps lower fuel prices and a relatively stable US economy make those flights viable in the short term, as Southwest plans how it intends to position itself in the domestic market, and on near international routes, over the long term.
Even if its long term strategy for network composition remains still an unknown, Southwest for now believes conditions are ripe to take a page from its old playbook and resuscitate flights with shorter stage lengths. That strategy will be borne out in the results from the network of short hauls Southwest opts to pursue in 2016.