South Korea expands MRO and component manufacturing. Can they attract third party airlines?
Analysis
MRO has become a buzzword in Korean aviation. New MRO providers are seeking to establish themselves, often at underutilised tertiary airports. Besides pursuing traditional MRO, companies are seeking to emulate Korea's automobile industry producing car components; some recognise an ability for Korea to have a greater share producing aircraft components for original assembly and maintenance replacements.
Korea's largest airline by far, Korean Air, has an MRO division, whereas the second largest operator Asiana Airlines sends some aircraft abroad for heavy maintenance.
Korea's booming LCC sector – with over 100 aircraft, mostly narrowbodies – uses local line maintenance but is also a large customer for overseas heavy maintenance.
The LCCs typically use older leased aircraft, and may return them before heavy checks. New MRO companies seek to be cheaper than they are in Japan yet easier to do business with than in China, but there is concern Korea itself has limited growth for the MRO sector.
Summary
Growing Korean MRO sector can be lower cost than in Japan, and easier to do business with than in China
Development concerns MRO, as well as part manufacturing for initial assembly (Korean Air manufactures winglet devices) and maintenance replacement; 3D printing an opportunity
Two of the three major MRO developments are at underutilised airports; a third is at Seoul Incheon
South Korea seeks to position itself as MRO alternative to China and Japan
Geographically, South Korea is between China and Japan, but the middle position is also a business opportunity, Korea reckons. A number of Korean companies are identifying an opportunity to expand the country's MRO capabilities. The niche for an expanded Korean MRO sector is to be lower cost than Japan's, but provide more certainty and ease of business than in China. China features higher than average regulations and paperwork for aircraft and personnel coming in for MRO purposes. It is also more difficult and expensive to import spare parts and tools in China.
Korea's MRO vision – cheaper than in Japan but easier than in China – is in many ways a mirror of Korea's positioning in other sectors, from chip manufacturing, to ship construction, and to the car industry.
However, a flurry of activity risks market saturation in Korea. There is also concern that there are even cheaper and effective MRO solutions elsewhere in Asia: the Philippines is a long-standing cost-effective option, while China Airlines in Taiwan is looking to expand third-party MRO, and HAECO in Hong Kong is considered reliable for on-time job completion. Southeast Asia presents even more options.
Korean aviation takes a lead from its automobile industry and plans component manufacturing
Korea's heavy metal interest is not confined to MRO. Korea also foresees an opportunity to have a growing role in manufacturing components for MRO, or even initial aircraft assembly.
Korean Air's wholly owned component unit, Korean Air Aerospace Division, most recently started the exclusive supply of Sharklet wing extenders to Airbus for the A330neo. Korean Air also makes the Sharklets for the A320 family, fuselage skin panels and floor assemblies for the A330 family, and the composite cargo doors for the A350 XWB, as well as components for Boeing's 737 and 787.
The MRO sector believes there is an ability to tap into Korea's high-tech development to lead 3D printing of aircraft components that can be used in MRO. This initiative has parallels in Korea's automobile sector, where companies produce automobile components in Korea for Korean assembly lines but also for export.
Ask for a demonstration of CAPA's new industry leading MRO Database - contact our friendly CAPA sales team
Korean is taking MRO initiatives at underutilised airports
There are three major MRO development locations in Korea. Two are at the small airports of Cheongu and Jinju Sacheon. Cheongu is the sixth largest airport in Korea based on available seat capacity, and Jinju Sacheon is Korea's 10th largest, according to OAG Schedules Analyser Data.
However, with Korea being geographically small and having little of a domestic market besides flights to/from Jeju, Cheongu and Jinju Sacheon are very small: Cheongu accounts for only 1% of Korea's available seats, while at Jinju Sacheon it is less than one fifth of a percent.
Airports in South Korea ranked on available system seat capacity: week commencing 18-Dec-2017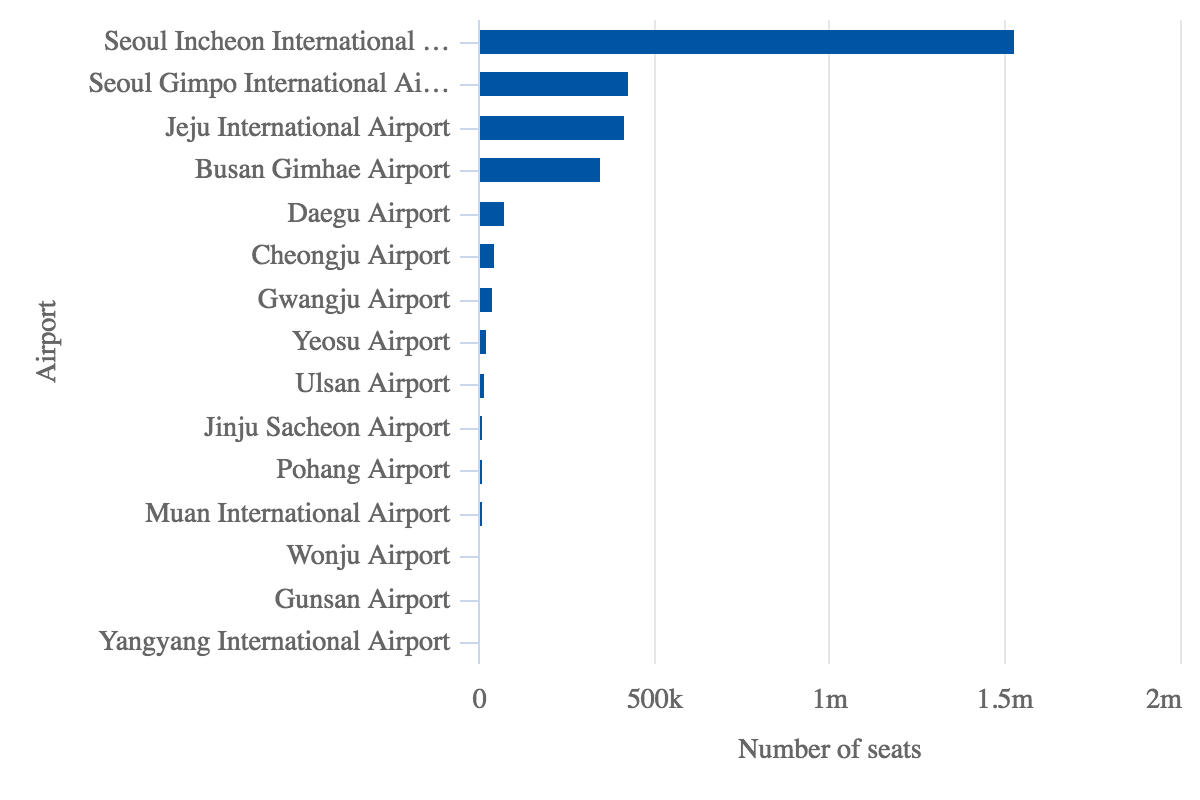 The small seat capacity amounts to a handful of flights a day, making the airports underutilised. As a result, the airports and local partners are seeking to develop activity by creating MRO industries.
The third major MRO project in Korea is to be based at Seoul Incheon International Airport, which is no small facility, accounting for 53% of Korea's seat capacity. (Seoul Gimpo accounts for a further 15%.) The project has support from companies based in Incheon, the area where the airport is located, but the project is not directly related to IIAC, the company that owns and manages Seoul Incheon airport.
Korean Air's MRO unit dominates the country, but some opportunity for greater scope
Korea's largest MRO provider is Korean Air's MRO and engineering unit, but the company mostly performs work for Korean Air. CAPA's MRO Database lists Korean Air's MRO unit as providing work for the A330 and 777 families, in addition to the 747-400, 747-8, 787-9, A380 and 737-800/900 types.
Even Asiana Airlines, Korea's second largest airline by far, conducts some of its overhauls abroad. Korea's in-country fleet has grown, thanks to a boom from LCCs, which now operate over 100 aircraft on the Korean register, almost all of them narrowbodies.
See related report: Korean LCCs: fleet surpasses 100 aircraft but market faces growth constraints
Three of Korea's six LCCs are affiliated with Korean Air or Asiana Airlines and can piggyback on existing maintenance arrangements. Other LCCs send aircraft out of Korea for heavy maintenance, but may also prudently return aircraft to a lessor before heavy maintenance (most of the Korean LCC fleet is leased, with older aircraft).
CAPA's MRO Database shows Korea's largest LCC, Jeju Air, contracting airframe work to Indonesia's GMF AeroAsia, engine overhauls to AF Industries KLM E&M, and D checks to Boeing Shanghai Aviation Services.
Although the LCCs have many aircraft, a new provider in Korea would effectively have to work with all of the LCCs, thereby reducing some levels of competition if Korean LCCs feel obliged to support local MRO facilities.
A challenge for new MRO providers in Korea will be attracting outside work. Local Korean operators have already pursued other lower-cost MRO options elsewhere in a competitive Asian field.