Seoul Incheon airport: terminal was maxed but terminal two open; an LCC terminal is needed
Analysis
Seoul Incheon is rare in Asia for being a major airport that has built infrastructure ahead of demand. Incheon's terminal space was reaching its maximum, but the Jan-2018 opening of terminal two allows growth for existing runway capacity.
Incheon should perhaps consider a terminal dedicated for low cost airlines. LCCs account for 31% of Incheon's movements – an achievement more by circumstance than by design. Unlike neighbouring Japan, Korea's LCC sector flourished without explicit government policy or encouragement. While LCCs may want a terminal suitable to their needs, Incheon would need to consider diminished duty free revenue – a significant earner for the airports.
CAPA's LCCs in Northeast Asia Summit in Jun-2018 in Seoul, Korea, will explore this and other topics.
Summary
Seoul Incheon handled 62.1 million passengers in 2017, putting a 100 million target in 2028/29 ahead of schedule.
Runway capacity is available, but terminal space was constrained until the Jan-2018 opening of terminal 2.
LCCs account for nearly one third of movements and could be better served from a dedicated LCC terminal.
Seoul Incheon Airport handled 62 million passengers in 2017, ahead of target
Seoul Incheon celebrated its 15th anniversary in 2016 and set a target of doubling annual passenger volumes to 100 million by 2030. At the time, the forecast would have resulted in 55.9 million passengers handled in 2017, but Incheon actually handled 62.1 million, putting the airport well ahead of its target.
See related report: Seoul Incheon airport: 49 million passengers in 15 years. Well on the way to 100 million in 2030
Perhaps in the target there was some leeway towards marketing and the easy-to-understand "100 million by 2030" figure. Nonetheless, if Incheon continues with its previous growth rate – and not the new, faster growth – the airport will reach 100 million passengers earlier, in 2028 or 2029.
Seoul Incheon International Airport annual passenger traffic and forecast: 2003-2030F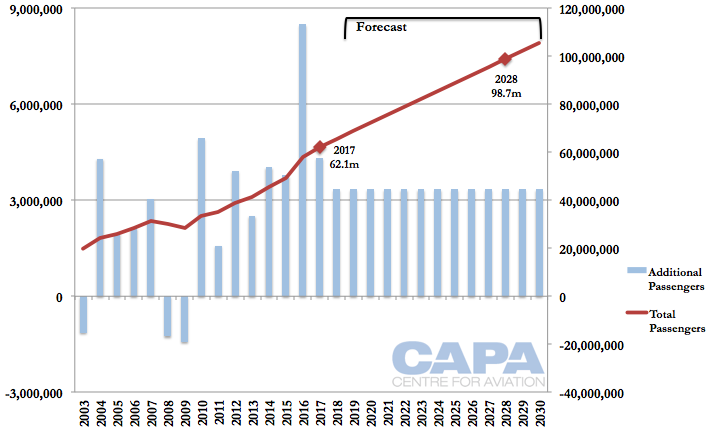 Terminal 2 opened in Jan-2018, providing growth for all
In Jan-2018 Seoul Incheon opened its second terminal, terminal two, slightly behind schedule. Korean Air moved from terminal one to terminal two as the anchor airline, and Korean's SkyTeam partners Delta, Air France and KLM also moved. Other SkyTeam members, such as China Southern, remain at terminal one, as does Korea's second largest airline, Asiana.
Yet the move creates growth for all as terminal one was previously nearly at its maximum during peak hours. Airlines had struggled to add flights at peak times due to lack of terminal space, even though runway slots were available.
For further information on, and to register for, CAPA's North Asia LCC Summit to be held in Seoul on June, please see Register Now
Last year's event, in Osaka, was attended by 350 delegates, including 110 airline representatives
LCCs represent 31% of Incheon's movements
In Feb-2018 LCCs account for 31% of Incheon's aircraft movements, according to CAPA and OAG data. Incheon's third, fourth, fifth and sixth largest airlines by movements are all LCCs (local Korean LCCs). Its ninth largest operator, Air Seoul, is also an LCC.
This is a significant and rapid gain, as Korea's first LCC, Jeju Air, is only 12 years old.
Seoul Incheon aircraft movements by largest airlines: week commencing 19-Feb-2018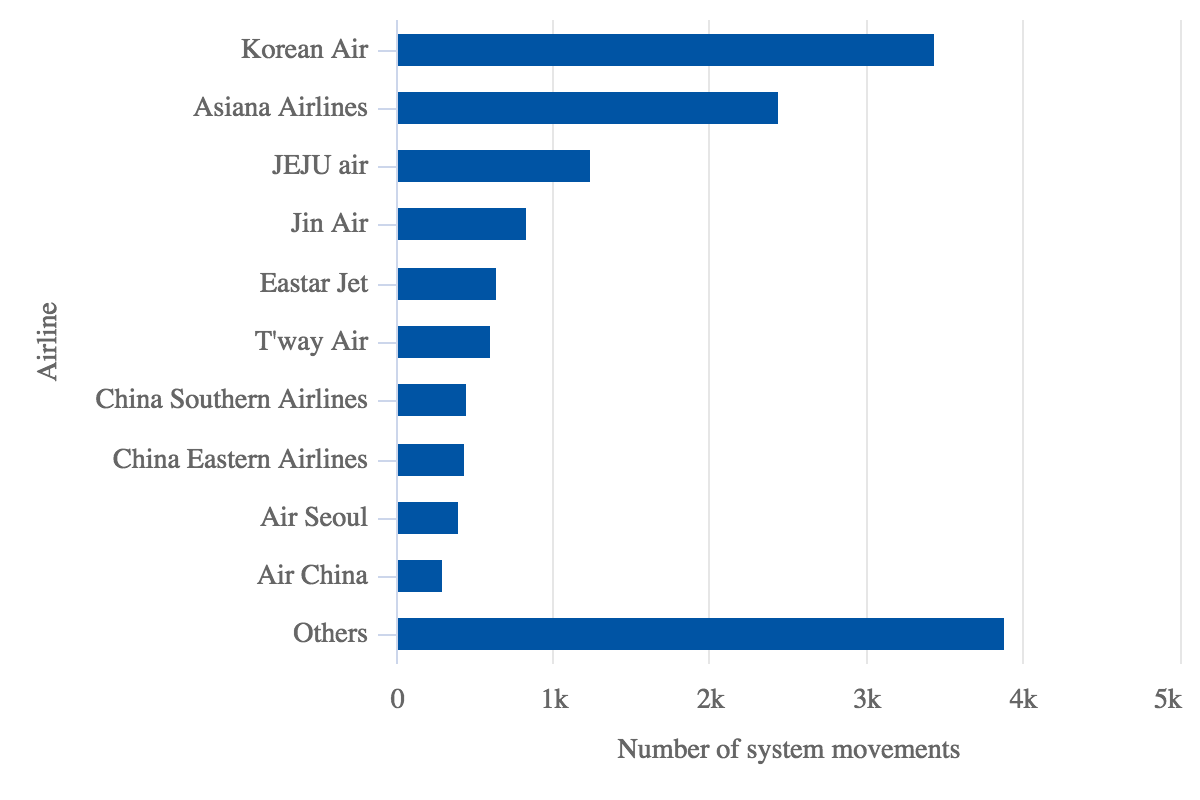 The great LCC terminal debate: costs
Korea's LCCs, and the presence of foreign LCCs, are growing in size but also in sophistication. They are maturing and feeling more comfortable challenging the status quo, where Korean Air and Asiana are "the establishment".
Korea's LCC sector grew more by circumstances than by explicit design. It is impressive that Korea attained so many LCCs and with prolific size (over half of the domestic market), despite the fact Korea had no policies to support LCCs. In contrast, Japan's LCC sector emerged quickly due to government encouragement and policy changes.
The discussion now turns to what direct policy can be done to support LCCs and encourage the next phase of growth. LCCs would ideally like an LCC terminal at Incheon to help reduce their costs. LCCs are willing to have more simple facilities provided the cost reflects the offering. Incheon's various executives over the years have mooted an LCC terminal for the masterplan but nothing more concrete has come about.
IATA urges caution on LCC terminals
IATA DG Alexandre de Juniac, in a Mar-2017 speech in Japan, cautioned about airports building low cost terminals. In his speech he said:
So our thinking of the future should not just be about new construction—we also need to look carefully at maximizing current capacity. I have some concerns.

First is the trend to build dedicated "low cost" terminals. Kansai and Narita have one each. And I understand that Chubu is considering building one as well. I think that it is fair to say that all airlines want the lowest costs possible for their operations—of course while keeping up quality standards. So before building dedicated infrastructure for low cost airlines, it is prudent to make sure that the existing terminal infrastructure is used to its fullest. And to make sure there is a long term commitment from the users of these terminals before you spend money to build them!
What is unusual in his remarks is that most would say Kansai and Narita did not have the space – let alone cost environment – to accommodate the size of low cost operations that they have today. Narita's LCCT was saturated ahead of schedule, and some airlines could not operate out of the LCCT. Some LCCs, such as HK Express and Peach, actively chose not to operate out of the LCCT.
Some airlines give little weight to IATA's view on LCCTs, believing IATA – as an association that mostly, but not exclusively, represents full service airlines – is biased towards the needs of full service airlines and is holding back developments that would benefit LCCs.
LCC passengers' expectations, compared with full service passengers
There is no shortage of examples to hold up as the success stories of LCC terminals. Yet most are in Europe. While some airports and developers in Asia believe that eventually there will be a need for LCCTs under certain circumstances, they are concerned that in the current environment LCC passengers have largely the same expectations as full service airlines, and thus would not respond well to an LCC terminal.
The counterargument is that passengers need conditioning, and to have their expectations managed.
Partnerships with Korea's LCCS are small in number, but growing. These partnerships are among other LCCs (such as in Value and U-FLY alliances) and also between LCCs and full service airlines, either as independent relations (Jeju Air interlines with United) or because of common shareholding (Jin Air/Korean Air, Air Seoul/Asiana). A benefit of the LCCTs is that they can facilitate connections.
Duty free shopping is a significant consideration, but IT can narrow the gap
An LCC terminal cannot have the full offering of a full service terminal. In the context of Incheon, this is a significant matter due to the popularity of duty free shopping.
Incheon reported KRW2 trillion (USD1.8 billion) of duty free sales in 2014. For Incheon's airlines this is not a concern, since they do not manage duty free shops or receive a share of the sales. But for Incheon this is a significant matter, since a large proportion of passengers could be passing through a facility with reduced duty free offerings. This brings lower revenue opportunity.
Pre-ordering is becoming more popular as passengers become aware of it, and accustomed to it, and as airport IT becomes more sophisticated.
Outlook: Seoul Incheon should strongly consider a low cost terminal
The outlook for Korea's LCC sector is bright, as demand is strong and new aircraft variants offer new options for short and long haul growth. Although it seems the number of local LCCs could be consolidated, overall opportunities for expansion are strong. Regulatory liberalisation, especially with China, will also unlock significant opportunities.
Catering specifically for this market brings advantages that otherwise might not be available, with flow-on benefits for the economy. Lowering the LCCs costs through reduced airport charges from simpler terminals would lend greater support to Korea's now vibrant LCC sector.