SAS shares up 14.5%, Air France-KLM, British Airways, Aer Lingus stronger. Europe airline shares
Completion of the sale of 80.1% of subsidiary Spanair is clearly a great relief for SAS. Helped by a generally friendlier share market, the Scandinavian carrier's shares rose 14.5% on the day yesterday. By cleaning up the untidy structure of SAS, the completion of this sale also makes the airline more attractive for a potential buyout - perhaps by Lufthansa.
It is a rare day these days when no European airline sheds value, but yesterday was one. This may signal a turning point, with G20 hopes high and better news from some European banks. Alternatively, the mood shift may be merely temporary. This time there certainly seems to be more enthusiasm for the upside - although the road is unarguably long before passenger sentiment improves significantly, whatever the other external developments.
Air France-KLM (+4.6%), British Airways (+4.4%) and Aer Lingus (+4.4%) also all managed price rises higher than the broader market tide. And SkyEurope (+6.7%) continued its hopeful march upwards.
For daily updates on American aviation stock prices and a complete wrap of the day's breaking news, sign up now for a complimentary subscription to America Airline Daily.
European selected airlines daily share price movements (% change): 01-Apr-09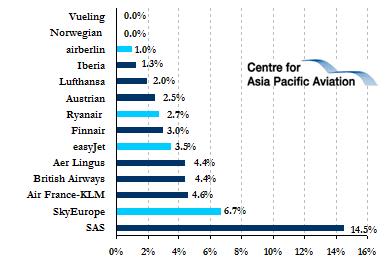 SAS' 31-Mar-09 press release follows:
"Sale of Spanair completed
On January 30, the SAS Group ("SAS") reached an agreement with Initiatives Empresarials Aeronàutiques, S.A. ("IEASA"), a company comprising , Consorci de Turisme de Barcelona, Catalana d'Inciatives, Volcat 2009 and Fira de Barcelona, whereby IEASA would acquire a majority stake of 80.1% in SAS' subsidiary Spanair S.A. ("Spanair") for a cash consideration of 1 EUR.
Following the transaction, SAS remains a 19.9% minority shareholder in Spanair and acts as its industrial partner to assist in the implementation of its strategic plan, which aims at further strengthening Spanair's position in Spain and as the leading carrier in Barcelona.
The transaction was completed today, following receipt of all necessary regulatory clearances by SAS and Spanair, including approval from Spain's competition commission (CNC).
The capital increase in Spanair of 100 MEUR is to be completed before the end of April 2009. In the interim period SAS has undertaken to provide a bridge loan to Spanair S.A., if needed, of up to 15 MEUR to be repaid not later than April 30, 2009, and by the structure of the bridge loan the total funding commitments of SAS in Spanair and visavi IEASA following today's closing of the sale will remain unchanged from what SAS has previously disclosed."