SAS & Norwegian Air set to take market share in Scandinavia-US market as United and Delta pull out
Analysis
In late Aug-2015, Norwegian signed an agreement for two additional Boeing 787-9 orders. This brings its total on order for the variant to 11, to add to the eight 787-8 aircraft already in its wide body fleet. Its long haul network is strongly skewed towards the US, with five destinations and eight routes, versus one destination (Bangkok) and three routes in the rest of the world. In spite of the delay in receiving a US foreign carrier permit for its Ireland-based subsidiary Norwegian Air International, its long haul focus looks set to remain in the US. Indeed, this may now be because of the delay.
Meanwhile, SAS remains the largest carrier between Scandinavia and the US and has actually grown its North Atlantic network since Norwegian's entry in 2013. The losers on Scandinavia-US have been United and Delta, a situation highlighted by United's recent decision to join Delta in serving this market on a seasonal summer basis only. Both SAS and Norwegian plan new US routes from Scandinavia in what has become a near duopoly with clearly differentiated participants.
SAS operates eight transatlantic routes
SAS currently (week of 14-Sep-2015) operates eight routes between Scandinavia and the United States, involving four Scandinavian cities (Copenhagen, Stockholm, Oslo and Stavanger) and five US cities (New York, Washington, Chicago, San Francisco and Houston).
SAS has a frequency of daily or more on all but one of these routes. The exception is the oil route Stavanger-Houston, which is a six times weekly operation. SAS will exit from this route at the end of the current summer schedule due to weak demand in the oil sector.
SAS North Atlantic routes week of 14-Sep-2015
| From | To | SAS Weekly frequency* | SAS rank by seats on city pair | Competitors in order of seat numbers on city pair | Notes/comments |
| --- | --- | --- | --- | --- | --- |
| | | 12 | 1 | | From winter 2015/2016, daily widebody service to be supplemented by a modified configuration 737 operated by PrivatAir |
| Stockholm | | 7 | 1 | | |
| Oslo | | 7 | 1 | | |
| | | 7 | 1 | | |
| | Chicago O'Hare | 7 | 1 | | |
| | | 7 | 1 | | Norwegian operates from Stockholm (3x weekly) and Oslo (2x) to Oakland |
| Stockholm | Chicago O'Hare | 7 | 1 | | |
| | Houston Bush | 6 | 1 | | To cease end summer 2015 |
SAS is sole operator on five routes; competes with Norwegian, United, Delta on New York routes
SAS is the biggest airline by weekly seats on all eight of its routes and the sole operator on five (on a city pair basis). On its New York services from the three Scandinavian capital cities, it faces year-round competition from Norwegian and peak summer competition from United (on the Stockholm and Oslo routes to New York) and Delta (on Copenhagen and Stockholm).
Delta and Norwegian operate to JFK, while SAS and United fly to Newark. Until the end of this summer schedule, United's services from Stockholm and Oslo routes to New York have been year-round, but it will now suspend them for the winter (in line with Delta's Scandinavian routes).
In addition to the competition posed by Norwegian on the three New York routes, SAS' daily Copenhagen-San Francisco service competes indirectly with Norwegian's three times weekly Stockholm-Oakland and twice weekly Oslo-Oakland operations
Copenhagen-New York is SAS' biggest trans-Atlantic route
SAS' biggest individual North Atlantic route by seats and frequencies is Copenhagen to New York Newark, which it operates with a weekly frequency of 12 times during the summer schedule using a mix of A330-300 and A340-300 equipment. In the winter schedule, its wide body service on the route will drop to a daily A330-300 flight, but, from this coming winter, it will be joined by a second almost daily narrow body flight (every day apart from Tuesday).
This will be operated for SAS by PrivatAir with a Boeing 737 in a 44 seat all business class configuration to the end of the year and then reconfigured with 20 business class seats and 66 economy seats. SAS plans to continue a double daily Copenhagen-New York service into 2016, saying it will offer more than 60,000 extra seats on the route next year, roughly a 25% increase.
Three new SAS routes will launch in 2016
SAS plans three new US routes in 2016 and these appear to be designed to take SAS on the offensive against its LCC rival Norwegian. Stockholm-Los Angeles is due to launch in Mar-2016, followed by Miami services from Oslo and Copenhagen in the autumn. Norwegian already operates Stockholm-Los Angeles and SAS' planned daily summer service and five or six times winter operation will significantly outgun its rival's three times weekly service.
SAS' two new Miami routes will compete to some extent with Norwegian's existing services to Fort Lauderdale, which is less than 30 miles away. SAS' higher weekly frequencies and its choice of Miami should increase its appeal to business travellers compared with Norwegian's Fort Lauderdale flights. Nevertheless, although SAS should attract more premium traffic on these new routes, Norwegian will likely retain a price advantage and SAS will still need a lot of economy passengers to fill its aircraft and keep the services viable.
SAS planned future North Atlantic routes
SAS' average weekly frequency is three times Norwegian's
SAS' 60 weekly frequencies on eight routes compares with Norwegian's 32 on 13 routes between Scandinavia and the US (week of 14-Sep-2015, not including Norwegian's once a week service from Bergen Flesland to New York, which is peak summer only).
This means that SAS has an average frequency of 7.5 times weekly, compared with Norwegian at 2.5 times weekly. This gives a clear differentiation between the two airlines, reinforced by on-board product and services.
Norwegian has 13 routes between Scandinavia and the US; four more planned
Norwegian is the sole operator on ten of its 13 routes and number two to SAS on the New York routes from the three Scandinavian capitals. Norwegian also has three transatlantic routes from London Gatwick (New York, Fort Lauderdale and Orlando), but we are only considering its Scandinavian operations in this report.
Norwegian Air Shuttle North Atlantic routes from Scandinavia week of 21-Sep-2015
| From | To | Norwegian weekly frequency | Norwegian rank by seats on city pair | Competitors in order of seat numbers on city pair |
| --- | --- | --- | --- | --- |
| | | 4 | 2 | |
| | | 4 | 2 | |
| | | 4 | 2 | |
| | | 3 | 1 | |
| | | 3 | 1 | |
| | | 3 | 1 | |
| | | 2 | 1 | |
| | | 2 | 1 | |
| | | 2 | 1 | |
| | | 2 | 1 | |
| | | 1 | 1 | |
| | | 1 | 1 | |
| | | 1 | 1 | |
In addition to its existing routes, Norwegian will launch Las Vegas flights from Copenhagen and Stockholm in the coming winter season and Boston services from Copenhagen and Oslo in May-2016 (it will also launch London-Boston). Norwegian CEO Bjørn Kjos is reportedly considering services to Baltimore/Washington, which is only served from Europe by British Airways, Condor and WOW air. This could provide competition to SAS' Washington Dulles flights from Copenhagen.
It has also been reported to be considering services from the Danish cities of Aalborg and Billund to New York (but probably not to JFK), using 737 MAX 8 aircraft, from 2017. There are no other airlines currently operating any of these routes.
Norwegian Air Shuttle planned future North Atlantic routes from Scandinavia
| From | To | Planned launch | SAS Weekly frequency | Notes/comments |
| --- | --- | --- | --- | --- |
| Stockholm | | Nov-2015 | 1 | Saturday service (both ways) |
| | | Oct-2015 | 1 | Tuesday service (both ways) |
| | | May-2016 | 1 | |
| Oslo | | May-2016 | 1 | |
Scandinavia-US capacity has grown sharply since Norwegian's entry; SAS has also grown in this market
Norwegian's entry into Scandinavia-US from May-2013 has had a stimulating impact on the market in seat terms. From the rolling 12 months to Dec-2012 to the 12 months to Jul-2015, the overall market grew by 86%, or more than 1.1 million seats, according to data from OAG Schedules Analyser. The bulk of this growth is due to Norwegian, with 866,000 seats added, but SAS has also grown by 310,000 seats (an increase of 30%).
By contrast, United's capacity has been stable (+1%) and Delta has shed 23,000 seats (a cut of 30%) in the same period. United's decision to operate its Stockholm and Oslo routes as winter only from the end of Oct-2015 will mean that its capacity in the 12 months to the end of Dec-2015 will also be significantly down compared with the pre-Norwegian era.
Scandinavia to United States: rolling 12 month two way seat capacity by airline Dec-2012 to Oct-2016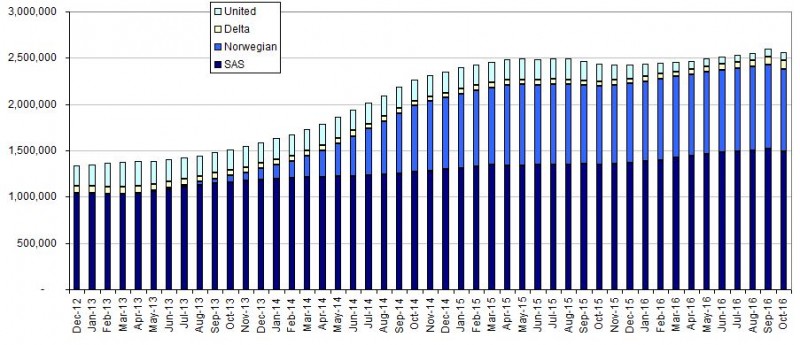 SAS has gained more bookings than seats on Scandinavia-US; Delta and United have lost out
The impact on bookings of Norwegian's entry is even more pronounced. In the 12 month period to the end of Jul-2015, the overall Scandinavia-US market more than doubled the number of bookings that were achieved in the 12 month period to Dec-2012, a gain of more than 1.2 million bookings (source: OAG Traffic Analyser).
These incremental bookings more than filled the added seat numbers, to the benefit of SAS. Scandinavia's leading airline gained 540,00 bookings over this time frame (an increase of 85%), compared with 310,00 additional seats. Not only has SAS filled its added seats, but it has also managed to improve the load factor on seats previously offered.
Previous CAPA analysis noted that SAS had suffered some loss of traffic on its services to New York from the three Scandinavian capitals (more so from Copenhagen than from Oslo and Stockholm), but this has been more than offset by growth on other routes, including new routes (Copenhagen-San Francisco, launched Apr-2013, and Stavanger-Houston, launched Aug-2014).
See related report: Norwegian Air Shuttle's attempt to obtain US rights for NAI. Part 2: Traffic impact on competitors
Norwegian has achieved more incremental bookings than SAS in the year to Jul-2015, 755,000 (all new versus the year to Dec-2012), but, not surprisingly, this did not match its seat numbers. Delta lost 19,000 bookings (a 36% fall, more than its 30% capacity cut) and United's bookings dropped by 69,000 (a 26% reduction), in spite of stable capacity over the same period.
Scandinavia to United States: rolling 12 month two way bookings by airline Dec-2012 to Jul-2015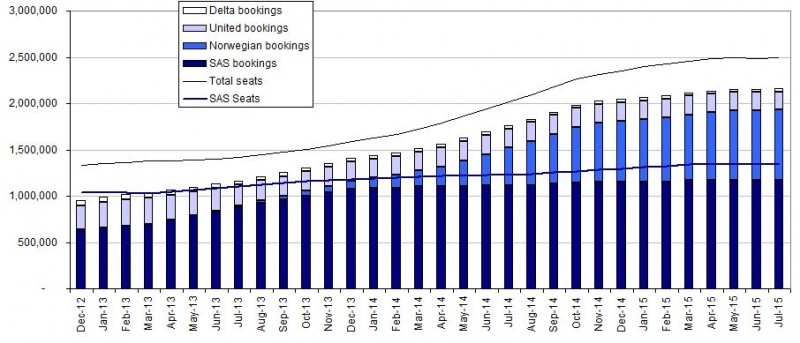 Market shares have now stabilised
The story looks a little different when viewed from the point of view of the share of bookings for the different players. In the 12 months to Dec-2012, SAS had two thirds (67%) of the bookings between Scandinavia and the US. This actually increased to 69% in the 12 months to Apr-2013 (the last month prior to Norwegian's entry) and continued to rise in the first six months after Norwegian entered, reaching a peak of 77% in the 12 months to Nov-2013.
This initial market share gain for SAS was mainly due to load factor improvements, since its capacity growth was relatively small in that period, mainly driven by the ramp up of its then nascent Copenhagen-San Francisco service. Indeed, SAS' share of bookings across the Atlantic merely grew to match its share of seats.
The losers in terms of share of bookings in these first months after Norwegian's entry were the two US competitors, whose combined share has continued to decline from 33% in the 12 months to Dec-2012 to less than 11% in the 12 months to Jul-2015.
Although SAS' absolute number of bookings continued to grow, it also lost share after peaking in Nov-2013, falling from 77% to 54% in the 12 months to Jul-2015, in line with its share of seats. Over the same period, Norwegian's share of bookings grew to almost 35%, also in line with its share of capacity. These figures appear to have stabilised in the last three months for which data is available for the share of bookings (May to Jul-2015).
Scandinavia to United States: rolling 12 month share of bookings by airline Dec-2012 to Jul-2015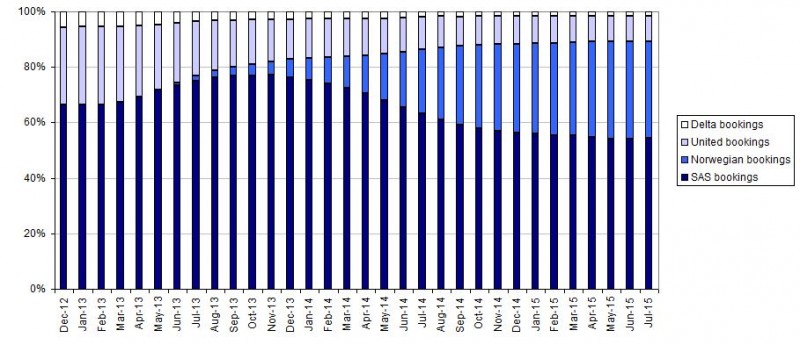 Both SAS and Norwegian are set to increase market share in 2016
Making the assumption that bookings will now continue to trend in line with capacity, SAS now looks set to increase its market share once more, with Norwegian also seeing share increases, while Delta and United will continue to lose both bookings and market share.
Current OAG data indicate that SAS will have almost 58% of seats, Norwegian 36% and the two US airlines a combined 6% for the 12 months to the end of Mar-2016 (the end of the winter season).
Norwegian's US expansion continues without a foreign carrier permit for NAI
Norwegian's trans-Atlantic expansion appears to be continuing in spite of the ongoing delay in receiving approval from the US Department of Transportation for a foreign carrier permit for its Irish-registered subsidiary Norwegian Air International (NAI). However, with its initial ramp up phase now over, the growth currently scheduled is relatively modest and all of the four new routes planned are only once weekly services.
The gaining of a foreign carrier permit for NAI would give it greater flexibility in the deployment of the same aircraft and crew on all parts of its long haul network (US, Far East and anywhere else that it might seek to enter). Without such approval for NAI, Norwegian's long haul operations flights to the US and to Asia must effectively be kept separate.
See related report: Norwegian Air Shuttle renews its attempt to obtain US rights for NAI. Part 1: the arguments
The exquisite paradox: Norwegian may grow more in the US if NAI is not approved
Norwegian's plans to increase its Boeing 787 fleet are predicated on using the additional aircraft to add new long haul destinations in other parts of the world. Ironically for those US airlines that oppose NAI's application in an attempt to stave off competition, Mr Kjos has said that Norwegian will use all of its 787 fleet to fly to US destinations if it does not receive approval for NAI.
Norwegian currently operates a fleet of eight 787-8 aircraft and now has 11 of the larger 787-9s on order, scheduled for delivery between 2016 and 2018, having recently signed an agreement to extend its previous order by two aircraft (the additional two are for 2017 delivery). The airline has previously hinted that further Dreamliner orders might be conditional upon the approval from DoT for NAI's foreign carrier permit.
It is not clear whether its recent decision to add two units to its orders is a sign that it believes approval is imminent, or whether it sees sufficient opportunities to add capacity in the US under its existing traffic rights arrangements (or both of these things).
Norwegian's planned services from Boston, Baltimore/Washington and New York to the French Caribbean territories of Guadeloupe and Martinique, deploying 737-800s, show an imaginative use of the rights granted under the EU-US Open Skies Agreement, which also covers Norway.
This kind of opportunism seems to be another example of why attempts to invoke regulators in order to limit competition are always likely to be fruitless in the long run.
See related report: European Parliament on aviation: build a single sky, promote liberalisation - and protectionism
Mr Kjos said that at the time of Norwegian's 2Q2015 results in Jul-2015 that 2016 would not see further significant changes in the long haul destinations in the network, but he expected to add long haul services to other cities in Europe in addition to those in Scandinavia and London Gatwick that already have intercontinental operations. The 787-9 aircraft to be delivered in 2016 would be deployed at bases where there was greatest demand, mainly Gatwick.
See related report: Norwegian Air Shuttle 2Q2015 back to operating profit. Long haul load factor 91%; leasing draws near
Mr Kjos has indicated recently his belief that it is "just a matter of time" before the DoT approves NAI's application (TravelWeekly.co.uk, 03-Sep-2015). Mr Kjos said: "Our competitors tried to block it. Norway is part of open-skies, so we can develop long-haul operations, but we have to fly everything to the US or Bangkok. We need an EU operating licence." Mr Kjos added: "It's ridiculous. If we fly aircraft registered in Norway or Ireland, what is the difference? They will have to give a licence. It's just a matter of time."
A clearer path for both Norwegian and SAS to grow on the Atlantic
Certainly, it seems that Mr Kjos plans to increase the level of competition with US airlines regardless of the approval. Indeed, his threat to put even more capacity into the US if he does not receive a foreign carrier permit for NAI suggests a typically bizarre outcome of distorting regulatory processes: it is in the competitive interests of US airlines opposing the application to acquiesce.
For its part, SAS has weathered the onslaught of Norwegian competition on routes to the US and managed to grow its North Atlantic network throughout, helped by the retreat of American carriers.
Its planned further growth to the US (and, indeed, to Asian long haul destinations) is not without risks, particularly in a weak unit revenue environment.
See related report: SAS capacity cuts help return to 9M operating profit as Hong Kong launch signals expansion for 2016
Nevertheless, one positive consequence of Norwegian's trans-Atlantic entry and growth appears to have been the virtual demise of US competition. With a clearer differentiation in market positioning between itself and Norwegian compared with the US legacy airlines, SAS may owe a debt of gratitude to its LCC rival.