S7 Airlines Part 2: history of growth in fleet, pax, revenue & profit shows benign market structure
Analysis
Part 1 of CAPA's analysis of the S7 Airlines Group examined its network and competitive positioning, particularly with respect to the Russian market leader Aeroflot Group. Away from its Moscow Domodedovo hub, S7 has pockets of strength serving cities in Asia from regional Russian airports.
This second part of the report on S7 highlights its respectable track record of growth in its operations and profitability since the establishment of its subsidiary Globus in 2008. In 8M2016 its passenger growth rate accelerated to 25%, after a 6% increase in 2015. Although demand for international air travel to/from Russia has slumped due to geopolitical developments, S7 has benefited from growth in the domestic market and from capacity cuts by foreign competitors on international routes. It has also benefited from the 2015 collapse of Transaero (although Aeroflot has gained more from this).
In spite of some of the demand shocks affecting Russia, S7 appears to benefit from a relatively benign market structure. The S7 Group has more than doubled its passenger numbers since 2008 and remained in profit since at least 2009. 1H2016 net profit jumped by 62%. With 66 aircraft in the group fleet and an order book of 47 aircraft – including A320neos, 737 MAXs and Embraer regional jets – the S7 Group appears to be confident in its future.
S7 pax growth accelerates to 25% in 8M2016 – up from 6% in FY2015
In the first eight months of 2016 the S7 Airlines Group, which includes S7 Airlines itself and its subsidiary Globus, increased its passenger numbers by 25% to 8.8 million. This was a significant acceleration in its growth rate compared with 2015 full-year traffic, which grew by 6% to reach 10.6 million passengers.
S7's growth in 2015 was driven by the domestic market, where the group's traffic jumped by 12%, while its international traffic fell by 7%. Domestic passengers accounted for 71% of the group total in 2015 – up from 67% in 2014.
Growth in 8M2016 was again mainly driven by the domestic market, where S7 Group increased its passenger numbers by 30% to 1.1 million. However, in the international market it also achieved strong growth of 12% to 433k passengers, reversing its decline in international traffic in 2015.
S7 Airlines Group: passenger numbers (million), 2009 to 2015 and 8M2015 & 8M2016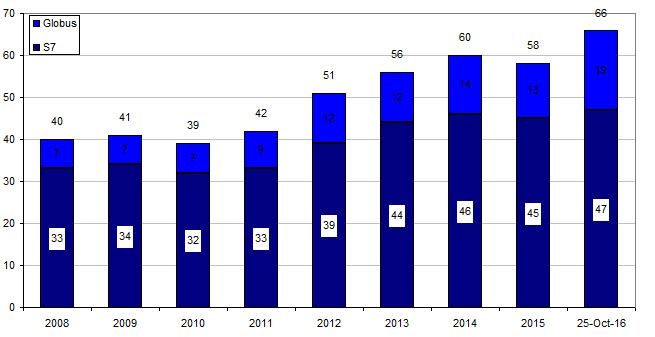 S7 group traffic more than doubled from 2008 to 2015
The 2015 total of 10.6 million passengers was more than twice the group's 2008 total. In Mar-2008 S7 established its subsidiary airline Globus, with an initial focus on charter flights to foreign leisure destinations.
Globus now also operates S7-coded scheduled flights under the S7 brand. With 2.4 million passengers in 2015, Globus remains smaller than S7 itself but has grown more rapidly since its launch.
If the S7 Group maintains a rate of growth for the full year similar to that achieved in 8M2016, it will end 2016 with its fastest passenger growth rate since its 26% increase in 2012. From 2008 to 2015 its compound average growth in passenger numbers was 11% pa.
S7 has outpaced the Russian market
S7's passenger growth in 2015, and in 2016, so far contrasts with declining air passenger traffic for Russia as a whole.
In 2015 total passenger numbers in the market fell by 4% as a result of a 16% drop in international traffic – more than offsetting a 14% increase in domestic passengers.
In the first six months of 2016 total passenger numbers in Russia fell by 8%, driven by a 23% fall in international numbers partly mitigated by an 8% increase in domestic passengers.
Russia: airline passenger numbers (million) 2009 to 2015 and 6M2015 & 6M2016

S7 Group's share of pax has grown
S7's above-market passenger growth rate, together with the collapse of Transaero in Nov-2015, have led to an increase in its market share. In 6M2015 the S7 Group had 10% of total passenger numbers in/to/from Russia, placing in third behind Aeroflot Group and Transaero.
In 6M2016 S7's share increased to 13%, although Aeroflot's share increased more significantly from 37% to 45% after assuming a large number of Transaero routes. Foreign airlines' share of passengers declined from 15% to 14% as they collectively withdrew capacity.
As demonstrated by the fall in international traffic in 2015 and in 6M2016, demand for travel to/from Russia has been adversely affected by sanctions related to Russia's annexation of Crimea.
Russia: airline groups by share of passenger numbers, 6M2015 & 6M2016

737" height="234" />
S7 Group fleet is 66 aircraft, almost all narrowbody
According to the CAPA Fleet Database, S7 Airlines has 47 aircraft and Globus has 19 aircraft in service as at 25-Oct-2016. This gives the group a total of 66, of which all but two are narrowbodies. This reflects its network's bias towards domestic and medium haul markets.
See related report: S7 Airlines Part 1: Russia's #2 airline's main focus is domestic, with pockets of strength in Asia
The S7 Airlines fleet is almost all Airbus narrowbodies, with 45 Airbus A320 aircraft (20 A319s, 19 A320s and six A321s). It also has two ageing Boeing 767-300ERs (average age 20.6 years) – although these are expected to be replaced by A321neo aircraft in 2017.
S7's A320 family fleet has an average age of 10.2 years. All of S7 Airlines' aircraft are leased.
The Globus fleet comprises 19 Boeing 737-800s, all but two of which are leased, with an average age of 7.3 years.
S7 Airlines Group fleet: aircraft in service at 25-Oct-2016
| | | | | Group |
| --- | --- | --- | --- | --- |
| | A319-100 | 19 | 0 | 19 |
| | A319-100LR | 1 | 0 | 1 |
| | A320-200 | 19 | 0 | 19 |
| | A321-200 | 6 | 0 | 6 |
| | 767-300ER | 2 | 0 | 2 |
| | 737-800 | 0 | 19 | 19 |
| Total: | | 47 | 19 | 66 |
44 aircraft on order, including A320neo, 737 MAX and Embraer
The S7 Group has 44 aircraft on order as at 25-Oct-2016, with 35 for S7 Airlines and nine for Globus. The S7 orders include 18 Airbus A320 family aircraft (13 A320s, two A320neos and three A321neos). S7 will be the first Russian operator of A320neo and A321neo equipment.
S7 also has 17 Embraer regional jets on order. The precise variant is not known, but the airline is thought to be interested in E170 and E175 aircraft. According to some reports it plans to deploy its Embraers on services from its main hub at Moscow Domodedovo to Nizhny Novgorod and Voronezh, and on services from Novosibirsk to Almaty, Bishkek, Chita and Ulan-Ude from late Mar-2017 (Routes Online, 21-Sep-2016).
According to OAG, S7 currently deploys A319s on these Domodedovo services and A320s on the Novosibirsk services, expected to be replaced with Embraer aircraft. The Embraer deliveries will add an additional aircraft type, and some complexity, to the group's operations, but may be better suited to demand levels on these routes.
Globus has an agreement with Air Lease Corporation for the operating lease of nine Boeing 737 MAX8 aircraft from 2018. It is expected to be the first Russian operator of 737 MAX aircraft.
According to the CAPA Fleet Database the group's delivery schedule is as follows: in 2017, S7 will take six A320s, two A321neos and two A320neos; and in 2018, S7 will receive seven A320s and one A321neo. For Globus, two 737 MAX8s are due in 2018 and seven in 2019.
It is expected that the first of S7's new A321neos in Apr-2017 will feature the group's new livery, which will mark a new corporate branding. The rest of the fleet will be repainted during 2017 and 2018.
S7 Airlines Group fleet: aircraft on order at 25-Oct-2016
| | | | | Group |
| --- | --- | --- | --- | --- |
| | A320-200 | 13 | 0 | 13 |
| | A320-200neo | 2 | 0 | 2 |
| | A321-200neo | 3 | 0 | 3 |
| | Unspecified | 17 | 0 | 17 |
| | 737-MAX8 | 0 | 9 | 9 |
| Total: | | 35 | 9 | 44 |
S7 Group fleet has grown from 40 aircraft in 2008 to 66 at year end 2015
The S7 Group's current fleet of 66 aircraft is eight more than at the end of Dec-2015 and compares with a fleet of 40 at the end of 2008 – the first year in which it also included Globus.
Initially Globus operated aircraft taken from the S7 fleet, but leased its first Boeing 737s in 2010. The net increase of 26 aircraft from the end of 2008 to now comprises 12 at Globus and 14 at S7 Airlines.
From 2008 to 2015 the group's year-end fleet increased by a factor of 1.5 times, but passenger numbers more than doubled over this period, indicating that there was more efficient use of fleet capacity. The group's fleet has consisted exclusively of Western-built aircraft since 2008.
S7 Airlines Group: fleet numbers, 2009 to 2015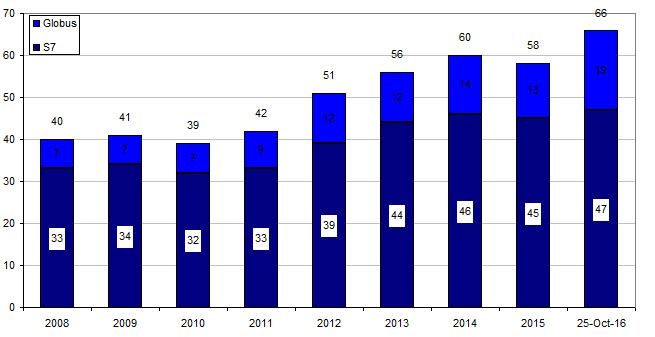 Revenue and pre-tax profit have grown faster than passenger numbers
Not only has S7 increased its passenger numbers faster than its fleet, but it has also increased its revenue and pre-tax profit faster than both fleet and passenger numbers.
From 2009 to 2015 the year-end fleet grew 1.4 times, revenue increased 2.3 times and profit before tax rose by a factor of 2.4. Moreover, S7 maintained positive pre-tax and net profit results every year during this period. S7 has also grown its revenue every year since 2009 and increased its pre-tax profit in every year apart from 2010 and 2012.
However, with the exception of 2013, its pre-tax and net profit margins have been in the low single digits (in 2013, its net margin was 11.2%, but its RUB7,020 million profit that year was so much higher than in any other year that it seems very likely to be due to one-off gains).
In 2015 S7's revenue increased by 16% to RUB82,215 million (EUR1,223 million) and its profit before tax increased by 8% to RUB 1,333 million (EUR20 million). Net profit rose by 6% to RUB923 million (EUR14 million).
Revenue and profit growth have continued into 2016. For 1H2016 S7 reported a 35% increase in revenue to RUB 44,451 million (EUR571 million) and a 62% increase in net profit to RUB492 million (EUR6 million).
S7 Airlines Group: profit before tax, net profit and revenue (RUB million), 2009 to 2015 and 6M2015 & 6M2016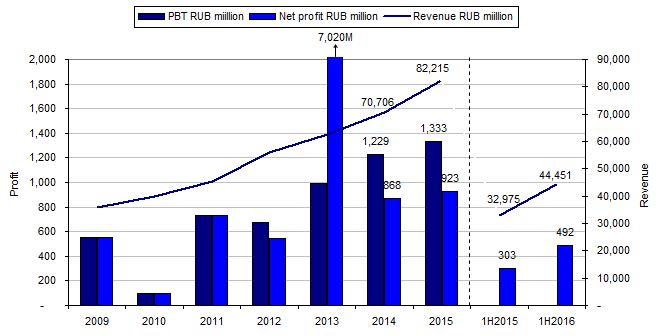 S7's record of growth and profitability indicate positive market characteristics
As noted in Part 1 of CAPA's analysis of S7, it is a fairly distant second to Aeroflot in the Russian market and faces competition on a city pair basis from the market leader on many of its biggest routes from Moscow. However, it has achieved a solid track record of growth in its fleet, traffic, revenue and profit. Although its profit margins are not high, it has avoided losses for a number of years.
S7's creditable history of growth and profitability are signs of the relative under-penetration of air travel and of the relatively comfortable competitive environment in Russia. S7's good market on its network to SE and NE Asia is further enhanced by codeshares, including with Aeroflot.
At least for now, it seems that there is enough room in such a market for S7 to achieve some success in spite of the presence of a bigger, more powerful competitor in the shape of Aeroflot.