Ryanair slips into loss in 3Q FY2014 on average fare weakness, but hints at a more stable outlook
Analysis
Ryanair's 3QFY2014 saw it slip into loss, dragging its 9MFY2014 net profit down by almost 8%, mainly because of a 9% drop in its 3Q average fares. However, this yield decline was in line with Ryanair's guidance and the carrier says that market pricing is no longer declining. Moreover, it reiterated FY2014 guidance for net profit between EUR500 million and EUR520 million. While this is below the EUR569 million net profit recorded in the previous year, the re-confirmed target allayed the fears of some that Ryanair would once again lower its guidance.
As the start of deliveries in Sep-2014 under Ryanair's new Boeing order approaches, the airline remains committed to its passenger growth targets. In addition to its core attraction of offering the lowest average fares in the European short haul market, Ryanair is aiming to enhance its appeal through a series of customer service and distribution initiatives. In spite of a likely dip in profits this year, if it can achieve its passenger targets without further heavy yield declines, it should retain its position as Europe's most profitable airline.
Net loss in 3QFY2014 due to falling average fares
Ryanair reported a net loss of EUR35 million for 3QFY2014 (three months to Dec-2013), reversing a profit of EUR18 million for the same period a year earlier. Revenues were just below flat year on year (EUR969 million versus EUR964 million) in spite of a 6% increase in passenger numbers, reflecting weak average fares, which fell 9% year on year. For the nine month period to Dec-2013, revenues were up 3.5% to EUR4,219 million, but net profit fell by 7.7% to EUR567 million as operating costs grew by 6%.
The low average fares in 3Q were in line with the company's guidance in Nov-2013 and came as a result of weaker demand conditions in Ryanair's markets and its own discounting. Having observed softer pricing in late summer 2013, Ryanair embarked on a fare discounting campaign, further lowering yields. It took the view that its superior margins positioned it better than its competitors to absorb lower revenues.
Ryanair 3Q highlights FY2014 versus FY2013 (three months to Dec)
| | 3Q FY2013 | 3Q FY2014 | Change | 9M FY2013 | 9M FY2014 | Change |
| --- | --- | --- | --- | --- | --- | --- |
| Passengers million | 17.3 | 18.3 | 6% | 65 | 67 | 3% |
| Load Factor | 81% | 82% | 1.0 | 83% | 84% | 1.0 |
| Avg. Fare (incl. bag) EUR | 43 | 39 | -10% | 50 | 48 | -3% |
| Rev. Per Pax. EUR | 56 | 53 | -6% | 62 | 63 | 0% |
| Revenues EUR million | 969 | 964 | 0% | 4,075 | 4,219 | 4% |
| Operating profit EUR million | 35 | -23 | -166% | | 694 | -7% |
| Operating margin % | 3.6 | -2.4 | -6.0 | 26.5 | 19.7 | -6.9 |
| Profit after Tax EUR million | 18 | -35 | -294% | 614 | 567 | -8% |
Revenue weakness was mitigated by ancillary revenue growth
The performance of 3Q revenues, which was weakened by low average fares as noted above, was helped by the strong growth of ancillary revenues, which grew by 13% (comfortably ahead of passenger growth). This was the result of reserved seating, priority boarding and higher credit card fees. Nevertheless, total revenue per passenger fell by 6%, while costs per passenger were flat year on year.
Ryanair 3Q revenues FY2014 versus FY2013 (three months to Dec)
3Q FY2013

3Q FY2014

Change

9M FY2013

9M FY2014

Change

% of total in
9M FY2014

Scheduled revenues

749

715

-4%

3,271

3,257

0%

77%

Ancillary revenues

220

249

13%

804

962

20%

23%

Total

969

964

0%

4,075

4,219

4%

100%
Cost per passenger was down 3%
Total operating costs grew by 3% in the quarter, slower than the growth in passenger numbers, but faster than revenues. Excluding fuel, costs per passenger were down by 3%, although Ryanair says that, adjusted for longer sector length, this fell by 9%. The total increase in the fuel bill was 10%, ahead of the growth in traffic due to higher euro fuel prices. All other cost categories grew more slowly than passenger numbers, in spite of increased sector length. Labour costs were up by 5%, below traffic growth in spite of a 2% pay increase granted in Apr-2013.
Ryanair 3Q revenues FY2014 versus FY2013 (three months to Dec)
3Q FY
2013

3Q FY
2014

Change

9M FY
2013

9M FY
2014

Change

% of total
in 9M FY2014

Fuel and oil

415

455

10%

1,540

1,656

8%

47%

Airport & handling charges

137

135

-2%

490

502

2%

14%

Route charges

105

109

4%

390

428

10%

12%

Staff costs

100

105

5%

340

364

7%

10%

Depreciation

79

85

8%

249

268

8%

8%

Marketing, distribution & other

46

44

-3%

161

147

-8%

4%

Maintenance, material and repairs

29

29

1%

86

83

-4%

2%

Aircraft rentals

25

25

1%

72

77

7%

2%

Total

934

987

6%

3,328

3,525

6%

100%

Costs ex fuel

519

532

3%

1,788

1,869

5%

53%
Ryanair has one of the strongest balance sheets in the industry
Ryanair's balance sheet remains one of the strongest in the industry. Although it moved to a small net debt position of EUR365 million at Dec-2013, compared with a net cash position of EUR61 million at Mar-2013, this was due to EUR414 million of share buy backs. The company expects to return to a net cash balance by the end of its financial year in Mar-2014.
Ryanair balance sheet summary: Dec-2013 and Mar-2013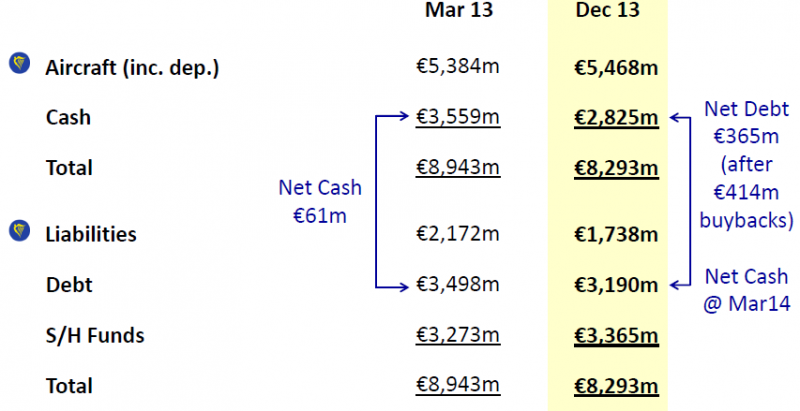 Customer service initiatives make progress
In an update on the customer service initiatives announced in the latter part of 2013, Ryanair highlighted a number of recent changes, including its redesigned website, the introduction of a free small carry-on bag allowance, quiet flights in early morning and late evening, a 24 hour period to correct minor booking errors, lower fees for printing boarding cards and checking in bags at the airport and a new group and business travel service.
Ryanair has also reintroduced allocated seating and says that the uptake of reserved and allocated seating suggests that revenues derived from this will exceed revenues lost from lower boarding card and bag fees. Ryanair is confident that this will help to drive strong ancillary revenue growth in FY 2015.
Ryanair customer service and digital rollout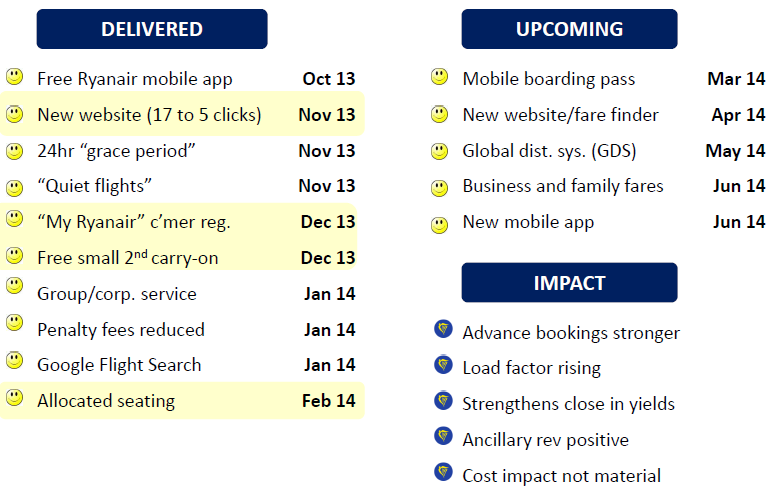 Although the website has been redesigned and the booking process simplified (reduced from 17 to five clicks), Ryanair plans a new website by the end of Apr-2014. Other initiatives in its new digital and distribution strategy include the 'My Ryanair' customer registration scheme, allowing passengers to store personal and payment details, thereby saving time when booking or checking on line; the roll out of mobile boarding passes from Apr-2014; a new business travel product and a new mobile app.
See related report: Ryanair's new customer-friendly approach. Really?
Linked to these changes, Ryanair will increase its annual budget for advertising and marketing three-fold from around EUR12 million to around EUR36 million in FY2015. Ryanair CEO Michael O'Leary told analysts on a conference call to discuss the 3Q results that, while historically advertisements had focused on cheap pricing, it would now be giving out a wider message on product and service features. "We've won the argument on pricing", he said.
Changes to distribution channels are radical
Perhaps the most radical developments undertaken by Ryanair are moves to broaden its distribution channels. It now has an agreement with Google's 'Flight Search', currently available in the UK, France, Germany, Italy, the Netherlands and Spain, with more countries expected. This is a price comparison site and Ryanair says that it is the first low fares airline to be included on it.
The more radical move, though, is that Ryanair is in negotiations with more than one GDS and hopes to appear on at least one GDS channel by mid-year, "subject to the successful conclusion of these discussions and IT integration issues". Ryanair abandoned the GDS channel, and travel agents, early in its transformation to the LCC business model in the 1990s and has resolutely remained outside this channel while other European LCCs have embraced it. Its new focus on attracting business travellers now makes it important to consider the GDS.
It is unlikely that the terms of Ryanair's re-engagement with the GDS will lead to significant additional cost, but should be of benefit to both sides. Mr O'Leary told analysts that, if Ryanair does go ahead with one or more GDS platform, it would be "cheap distribution".
The combination of additional product features and wider distribution are part of Ryanair's strategy to segment the market between "people who want the cheapest seat" and those looking for something more, according to Mr O'Leary.
Growth opportunities exist in established bases…
Ryanair sees growth opportunities both at established bases and at new bases as it pursues its target to grow passenger numbers from 79 million in FY2013 to 110 million in FY2019.
At its largest base, London Stansted, Ryanair concluded a 10 year agreement with the airport in 2013 to secure lower airport charges in return for a commitment to grow its traffic from 13 million to 20 million passengers over seven years. It aims to achieve this through opening 13 new routes and increasing frequencies on 25 routes.
See related report: Ryanair's new growth deal with London Stansted Airport: mutual love-in?
At its home base of Dublin, following the removal in Apr-2014 of the Irish government's EUR3 per passenger tax, Ryanair expects an additional 700,000 passengers. It anticipates an incremental one million passengers across three Irish airports, with 21 new routes and 18 increased frequencies.
… and in new bases
On Dec-2013, Ryanair established four new bases in Italy (Rome Fiumicino, Catania, Lamezia and Palermo). It expects 1.5 million annual passengers at Fiumicino and 3.9 million at the other three Italian bases. The new base at Fiumicino will bring it into direct competition, in particular on domestic Italian routes, with LCC rival Vueling, giving customers the opportunity to compare Ryanair's lower average fares and much trumpeted customer service improvements with Vueling's better established product and service advantages.
See related report: Vueling, Ryanair, easyJet square up and all surround Alitalia in Rome: the gladiators are back!
It now has a total of 14 bases and nine other airport destinations in Italy, operating 64 domestic routes and 294 international routes. It expects to grow its passenger numbers in Italy to 25 million, with a 25% market share.
Ryanair's new bases in Italy, established Dec-2013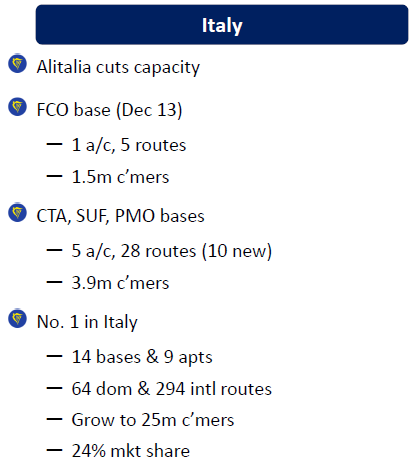 Primary airports are now a firmly established part of Ryanair's network
In addition to the new base at Rome Fiumicino, Ryanair is establishing bases at other primary airports this spring (Brussels, Lisbon, Athens and Thessaloniki). This marks a further push into territory that Ryanair used to avoid in the past.
As the carrier said in its 3Q results statement: "Over the next 5 years, as Ryanair grows from 80m to over 110m customers p.a., we expect a substantial portion of this growth will be at primary airports, where high fare incumbents are financially weak and restructuring, and the remainder arising at secondary airports driven by attractive low cost growth incentives."
Ryanair's new bases for spring 2014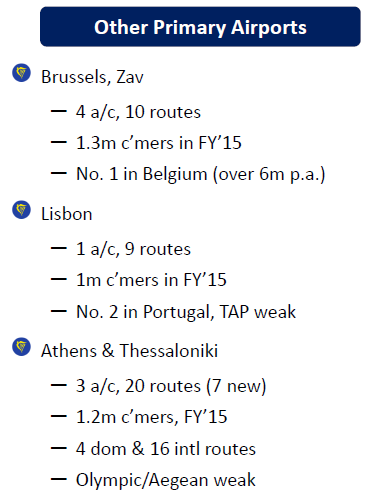 The new base in Brussels Zaventem is particularly notable, since Ryanair will now operate from both Brussels-designated airports. Its first base in continental Europe was at Charleroi, known as Brussels South, and its entry into Brussels' principal airport highlights a strategic shift towards including a growing number of primary airports in its network.
When Ryanair first entered Charleroi, operating from Zaventem would have been unthinkable. The addition of a new base in the Greek capital, Athens, is also significant as Ryanair previously only operated to regional airports with a mainly leisure focus. While its Athens base may also focus primarily on the leisure market, it positions Ryanair to target the business traveller too.
See related report: Ryanair's growth in Greece threatens Aegean's turnaround only months after Olympic acquisition
The shift to embrace primary airports reflects a change in the stance of many primary airports, which are now prepared to offer much more attractive airport charges, as much as it points to any change in Ryanair's approach.
Certainly, Ryanair's traffic growth plans require that it operates to/from airports where there is good demand. Moreover, it needs airports with better yields after recent declines in average fares and the smaller secondary and tertiary airports cannot fulfil all of its needs. Nevertheless, Ryanair is Europe's largest airline, and one of a relatively small number that delivers reliable traffic growth. This gives it a strong bargaining position with Europe's airports, primary as well as others, many of whom are now keen to attract Ryanair.
Ryanair's 65 bases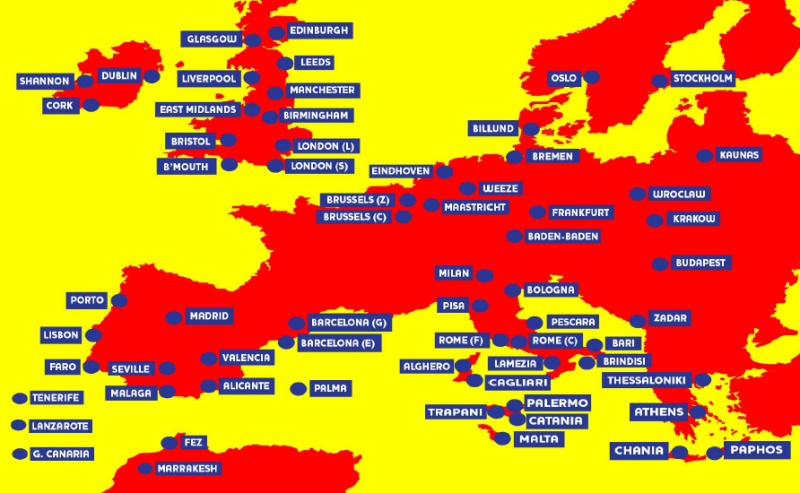 Given a strong track record of focusing on costs, and of withdrawing or reducing at airports that do not offer a suitable cost base, it seems likely that Ryanair's move into more primary airports is more the result of the airports offering lower charges than of Ryanair becoming comfortable with paying higher charges.
On the 3Q conference call, Mr O'Leary said that he expected a small increase in airport and handling costs per passenger in FY2015, but "not significant or material".
Ryanair's FY2014 net profit guidance remains unchanged
For FY2014 (year to Mar-2014), Ryanair has reiterated its guidance for net profit of between EUR500 million and EUR520 million. The weak pricing that led it to issue two profit warnings in the autumn of 2013 appears to have stabilised, even though it is not yet turning up. Ryanair says "market pricing remains soft, but is no longer declining". It now expects average fares in its 4Q to be down by approximately 8%, compared with the 10% decline previously expected.
See related report: Ryanair: what's going on? Profit warnings, low growth and customer service are not what we expect
Ryanair says that forward bookings for 4Q (and 1Q of FY2015) are head of last year and this position has been stimulated by low average fares. Indeed, it now expects 81.5 million passengers for FY2014, a modest increase on previous guidance of 81 million (but back to the figure expected before the lower target was adopted in Nov-2013). It expects 4Q costs per passenger, excluding fuel, to be down by 4%.
Although the FY2014 net profit target range is unchanged, Ryanair now has better visibility into 4Q than previously, increasing the possibility that it will be at the top end of, or even slightly above, this range.