Ryanair reports a rare fall in annual profit, but aims for rapid rebound and goes in search of yield
Analysis
In FY2014, Ryanair reported its first dip in profit since FY2009's oil price spike. Fares fell for the first time in four years, but total revenue per passenger held stable thanks to ancillaries, which were helped by the introduction of allocated seating. However, higher euro-denominated fuel prices contributed to higher total cost per passenger, leading to the fall in profit.
Ryanair expects the balance of these trends to be more favourable in FY2015, when it anticipates a return to profit growth. This year will see some cost increases in connection with its move into more primary airports, such as Rome Fiumicino and Brussels Zaventem, and higher marketing costs related to its new customer service and distribution initiatives. These include family discounts and a new business traveller product, website improvements and GDS distribution.
Ryanair has the lowest unit costs and unit revenues in Europe and, although both may increase as a result of its revised strategic emphasis on higher yielding airports and market segments, it should be able to retain both of these advantages.
Net profit falls in FY2014 for the first time since FY2009
In FY2014 (year to Mar-2014), Ryanair's net profit fell by 8% to EUR523 million, slightly above its most recent guidance range of EUR500 million to EUR520 million. The operating result also fell by 8%, to EUR659 million, and its operating margin dropped by 1.6 ppts to 13.1%. Nevertheless, Ryanair is still the most profitable airline in Europe by operating margin. Revenues grew 3.1% to EUR5,037 million.
Ryanair financial and operating highlights: FY2014
| | | | |
| --- | --- | --- | --- |
| EUR million except where stated | FY2013 | FY2014 | Change |
| Revenue | 4,884 | 5,037 | 3.1% |
| Operating profit | 718 | 659 | -8.3% |
| Operating margin | 14.7 | 13.1 | -1.6 ppts |
| Net profit | 569 | 523 | -8.2% |
| Gross cash | 3,559 | 3,242 | -8.9% |
| Gross debt | 3,498 | 3,084 | -11.8% |
| Net debt/(cash) | (61) | (158) | +103 million |
| Passengers million | 79.3 | 81.7 | 3.0% |
| Load factor % | 82.2 | 82.5 | +0.3 ppts |
| Average fare EUR | 48.20 | 46.40 | -3.7% |
| Total rev/pax EUR | 61.62 | 61.67 | 0.1% |
| Cost per pax EUR | 52.56 | 53.61 | 2.0% |
| Cost ex fuel per pax EUR | 28.77 | 28.96 | 0.7% |
FY2014 was the first time that Ryanair suffered a fall in both net profit and operating profit since FY2009, when a sharp rise in oil prices hit its results. The dip in earnings this time was due to pricing weakness in 2H, which first flagged in late summer and gave rise to two profit warnings from Ryanair.
See related reports:
Ryanair operating profit* and net profit*(EUR millions): FY2004 to FY2014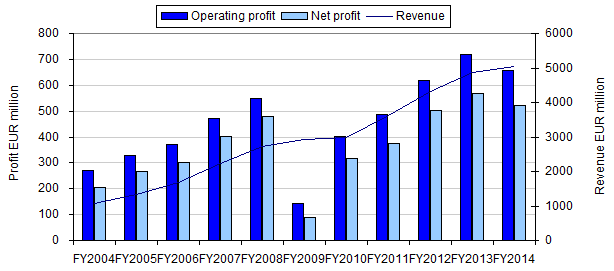 Ryanair's balance sheet is strong
Ryanair remains strongly cash generative, increasing its net cash balance over the year by EUR103 million to stand at EUR158 million at 31-Mar-2014, even after EUR482 million of share buybacks. The gross cash balance of EUR3,242 million was down 9% year on year, but was still equivalent to almost eight months of revenues, a huge reserve of liquidity.
Ryanair sought, and achieved, a rating from credit rating agencies for the sits time during the year. Both Standard and Poors and Fitch gave it BBB+ ratings, making it the highest rated airline in the world, one of only five airlines with an investment grade rating. Although it has never paid regular dividends to shareholders, it plans a EUR500 million special dividend in 4QFY2015 (subject to approval at its AGM).
Ryanair gross debt, gross cash and net debt at year end (EUR millions): FY2004 to FY2014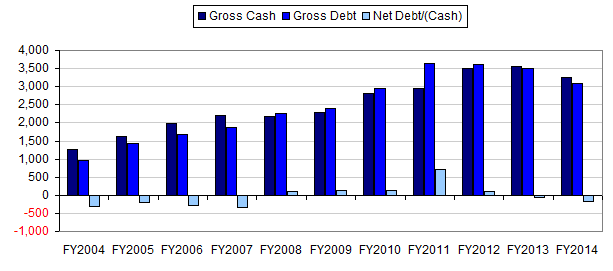 Passenger growth slows to the lowest rate in around two decades
Ryanair's passenger numbers increased by 3.0% to 81.7 million in FY2014, with load factor edging up by 0.3 ppts to 82.2%. This was the lowest passenger growth rate since it adopted the low-cost model in the 1990s, coming as aircraft deliveries under the previous Boeing order came to an end and before they commence under the new order. Ryanair plans for this growth rate to pick up in the coming years (see below).
On a conference call with analysts to discuss the results, CEO Michael O'Leary pointed out that easyJet's load factor is close to 90% and said that Ryanair would achieve further gains in the coming years. He anticipated around 2ppts a year of load factor improvements until it approaches a similar level to easyJet's.
In Mr O'Leary's view, Ryanair's low fares would be a major driver, particularly in the primary airports that Ryanair is adding to its network and where the fare differential to competitors is greater.
Ryanair %age growth in passenger numbers: FY2004 to FY2014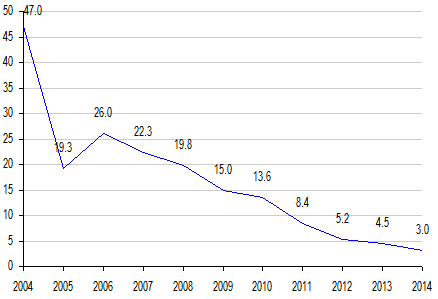 Revenue growth was thanks to ancillaries
Revenues grew by 3.1%, in line with passenger numbers, but this was entirely due to the 17.2% growth in ancillary revenues, while scheduled revenues fell by 0.8%. Ancillary revenue per passenger grew by almost 14% to more than EUR15 and their share of total revenues increased from 22% to 25%, the highest ever. This was mainly the result of Ryanair's introduction of allocated seating and increases in administration and credit card fees.
Mr O'Leary told analysts that he expected ancillary revenues per passenger to be broadly flat in FY2015, as further growth from allocated seating would likely be offset by a lower contribution from fees related to checked bags and boarding pass printing at airports. In addition, the planned launch this autumn of a bundled fare for business travellers will have the effect of moving some revenues from ancillary into scheduled revenues.
Perhaps the time is approaching for Ryanair to move towards a unified measure total revenue per passenger, rather than the customary divide between average fares (scheduled revenue per passenger) and ancillary revenue per passenger. In spite of the much publicised weakness in average fares in FY2014, total revenue per passenger held up at FY2013's level of almost EUR62, marking four straight years without a decline.
Ryanair revenues: FY2013 and FY2014
| EUR million | FY2013 | FY2014 | Change | % of 2013 total |
| --- | --- | --- | --- | --- |
| Scheduled revenues | 3,820 | 3,789 | -0.8% | 75% |
| Ancillary revenues | 1,064 | 1,247 | 17.2% | 25% |
| Total revenues | 4,884 | 5,037 | 3.1% | 100% |
Costs grew faster than revenues
Operating costs increased by 5.1%, faster than the increase in passenger numbers and revenues. Fuel costs grew by 6.8% and accounted for 46% of total costs. Ex fuel costs increased by 3.7%, with the fastest growth being recorded by route charges (up 7.3%), reflecting higher pricing. Employee costs increased by 6.4%, reflecting traffic growth and a 2% pay increase.
Cost per passenger increased by 2.0%, while ex fuel cost per passenger was up 0.7%. Given that the average sector length increased by 4%, this showed a creditable control over costs.
Ryanair operating costs: FY2013 and FY2014
| | 2013 | 2014 | Change | % of 2014 total |
| --- | --- | --- | --- | --- |
| Fuel | 1,886 | 2,013 | 6.8% | 46% |
| Airport & Handling Charges | 612 | 617 | 0.9% | 14% |
| Route Charges | 487 | 522 | 7.3% | 12% |
| Employee | 436 | 463 | 6.4% | 11% |
| Depreciation | 330 | 352 | 6.7% | 8% |
| Materials, repairs | 121 | 116 | -3.8% | 3% |
| Aircraft Rentals | 98 | 102 | 3.4% | 2% |
| Other | 198 | 193 | -2.6% | 4% |
| Total expenses | 4,166 | 4378 | 5.1% | 100% |
Strong market position and low fares provide a platform for growth with new aircraft order
According to data presented by Ryanair about its major markets, it is the number one airline by seats in Spain, Italy, Portugal, Belgium, Ireland and Poland. It is number two in Morocco and number three in UK, Germany and France. In these countries, its market share is double digit in all but France and Germany. It is by some distance the biggest LCC in Europe, with almost 20 million more passengers than easyJet in FY2014, and its average fares are the lowest.
Ryanair seat share and market rank in selected countries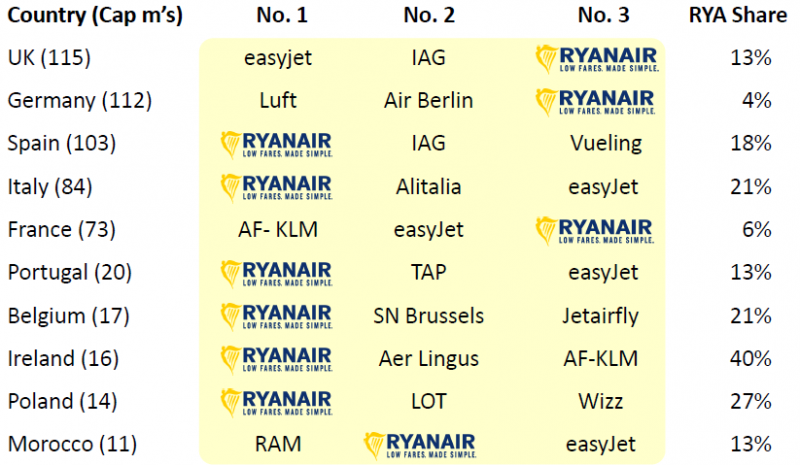 Ryanair and selected competitors average fare: FY2014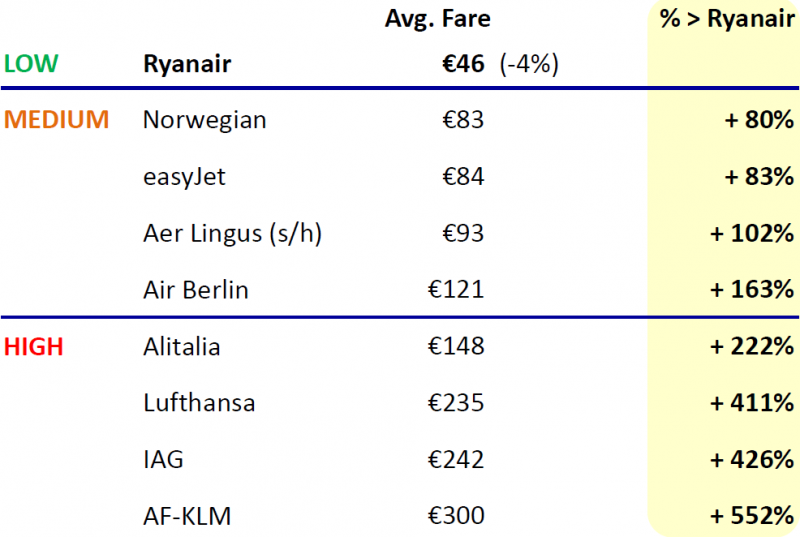 Ryanair and major European competitor FY2014 passenger numbers and Ryanair planned growth to FY2019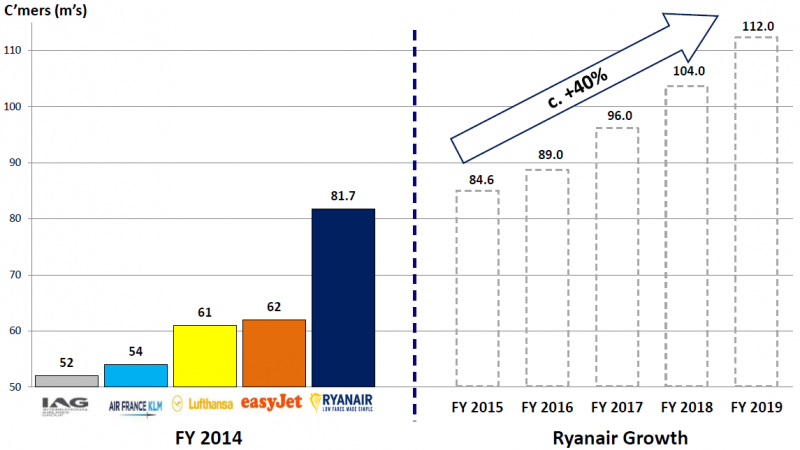 Building on its strong market position and low fares, Ryanair announced an order in Mar-2013 for 175 new Boeing 737-800 aircraft, increasing this to 180 in Apr-2014. It will take its first delivery under the new Boeing contract in Sep-2014 and receive 21 aircraft by Jul-2015.
With the additional five aircraft on order, Ryanair has increased its FY2019 passenger target from 110 million to 112 million. It plans 4% growth in passengers in the current year (FY2015), 5% in FY2016 followed by 8% for each of FY2017 to FY2019. This compares with 7% previously planned in the outer years.
Ryanair planned fleet and passenger numbers to FY2019*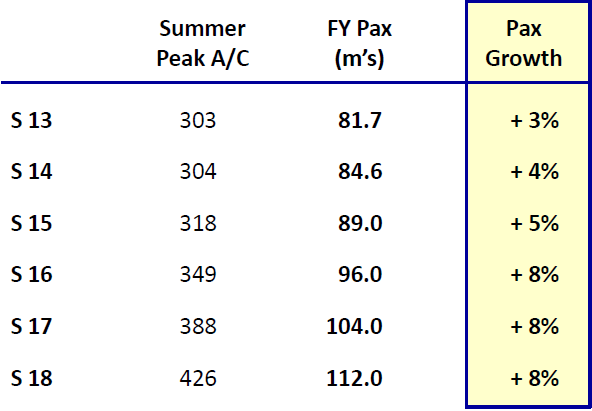 FY2014 outlook: Ryanair expects a return to profit growth
Regarding the outlook for FY2015, Ryanair expects passenger numbers to grow to 84.6 million (+3.6%), with a 2 ppt increase in load factor to around 85%. The growth will be skewed towards 2H as the number of aircraft grounded in the winter is reduced from 70 last winter to around 50 in 2014/15. At the moment, average fares are expected to rise by 2% in FY2014, with 1H fares up 6% (boosted by the move in Easter). This positive 1H outlook is reinforced by bookings for Apr-2014 to Sep-2014, which are currently between 3% and 7% ahead of last year.
The visibility into 2H is limited and Ryanair says it is "very cautious" about average fares in the winter half, saying it expects them to fall by between 6% and 8%. It expects cost per passenger to be flat, thanks to a forecast cut in fuel costs of EUR70 million versus last year. Ex fuel cost per passenger is expected to rise by 5%, as a result of pay increases, higher airport charges at primary airports, increased advertising spend, the lease in of summer capacity and aircraft ownership costs following new deliveries from Sep-2014.
The combination of higher revenue per passenger and flat cost per passenger, if realised, will lead to an increase in profit. Ryanair is targeting net profit of EUR580 million to EUR620 million, but says this is "heavily qualified" by the lack of visibility on 2H yields.
Ryanair manages its financial performance on the basis of revenue and cost per passenger, while the more standard approach is to calculate performance per ASK. The FY2015 outlook for a 2% increase in revenue per passenger and flat cost per passenger, with a 2 ppt increase in load factor, is equivalent to a 4% increase in RASK and a 2% increase in CASK.
Either way, Ryanair is banking on better pricing power in FY2015 (albeit with some qualification regarding uncertainty in 2H). This looks feasible, partly in response to the fall in RASK in FY2014, but also given the significant average fare discount that Ryanair's low costs enable.
It believes that increasing its presence in primary airports, improving its schedule to offer greater frequencies on business routes and measure to improve customer service will make its low fare even more appealing relative to competitors and allow some increase in yields.
See related report: Ryanair's new customer-friendly approach. Really?
Primary airports also mean higher costs and, as Ryanair has said, there are other factors pushing up non-fuel costs in FY2015. The prospect of a return to profit growth this year owes much to lower fuel costs, which are locked in thanks to the hedging of 90% of its fuel need for the year, without which the anticipated increase in average fares would not be enough to offset higher unit costs.
Can Ryanair make a RASK-led strategy work?
Even without the factors that will push up ex fuel unit costs in FY2015, Ryanair's very low cost base means that is has become harder to lower unit costs and this has motivated its search for better yields.
Unit revenue growth, both in FY2015 and (to a greater extent) beyond will depend on the series of initiatives taken to improve the customer experience and to enhance Ryanair's digital and distribution strategy.
Ryanair index of revenue per ASK and cost per ASK FY2001 to FY2014* (indexed to 2009 = 100)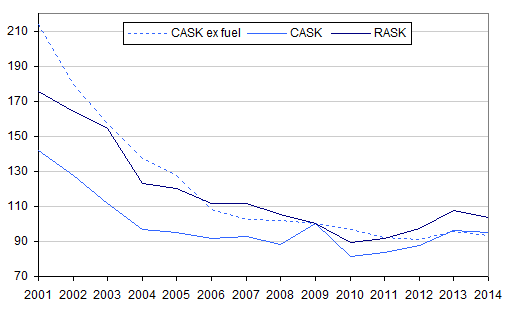 Ryanair's great advantage has always been its low costs, which allow it to charge much lower fares than its competitors. This will remain the case, even with some additional costs flowing from the increased presence at primary airports and the customer service and distribution initiatives. Moreover, its low-cost long term deal with London Stansted will provide some offset to higher costs at other primary airports.
See related reports:
Although primary airports may mean higher airport costs, Ryanair's new strategic developments should also take it into markets where yields are higher and where there is even more headroom between its fares and its competitors', allowing it to raise them over time.
A RASK-led strategy is risky for most airlines, since RASK is susceptible to changes in market demand and other external factors. Nevertheless, if you are going to follow a strategy based on growing RASK, it is better to start with a much lower RASK than the competition (as is the case for Ryanair).
Of course, to some extent, all this means a shift in the culture and revisions to the brand.
Such changes cannot be expected to proceed without a single hitch, but Ryanair's flexible and opportunistic approach to doing business give it a good chance of success.
See related reports: