03-Jun-2009 4:45 PM
Ryanair loses on report, Air France-KLM up, Aegean Airlines continues strength
Ryanair (-3.0% - see below) shed value despite a solid 2008/09 profit result. Air France-KLM (2.8%) gained, largely through its solid handling of the AF447 "catastrophe" and Aegean Airlines again made an above average gain. Norwegian Air (+3.6%), Eurofly (+4.3%) and Austrian Airlines (+3.8%) also made good gains. SkyEurope (-4.6%) meanwhile was the deepest loser.
For daily updates on American aviation stock prices and a complete wrap of the day's breaking news, sign up now for a complimentary subscription to America Airline Daily.
Europe selected airlines daily share price movements (% change): 02-Jun-09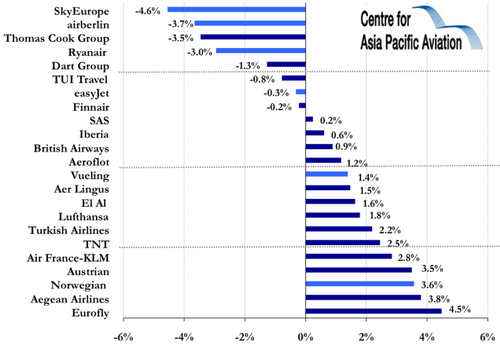 Ryanair 2008/09 results: still expansionist
Despite putting in one of the region's few positive financial results, Ryanair shares lost ground, apparently due mainly to the writedown of Aer Lingus' valuation on Ryanair's books. Aer Lingus' share price-related writedowns have now cost Ryanair well over EUR300 million, raising the question of whether the nuisance value of owning the equity in the flag carrier really justifies that kind of loss, even on paper.
As Michael O'Leary observed, only part jokingly, Lufthansa is Ryanair's next purchase target.
Now the largest airline in Europe by market capitalisation at EUR5.3 billion - in front of Lufthansa at EUR4.5 billion, Air France-KLM at EUR3.4 billion and British Airways, EUR2.0 billion - and market conditions tailored for its success, Ryanair seemingly has the world at its feet.
That is always a time for contemplation and maybe even a little concern. But those are not words that are normally found in the same sentence as Mr O'Leary.
(But on this occasion, there was no mention of a long haul operation in the near future.)
Main points from the results were:
After-tax profit was EUR105, down 78% on the 2008 level, largely due to a EUR writedown of the carrier's 29.5% share in Aer Lingus,
Operating revenue from continuing operations rose 8.5% to EUR2.94 billion;
Passenger numbers rose 15% to 58.5 million;
Load factors slipped 1ppt;
Average fares fell 8%, to EUR40, while revenue per pax was down 6% to EUR50
18 net new aircraft (year-end fleet of 181 B737-800 aircraft);
Six new bases at Alghero, Birmingham, Bologna, Bournemouth, Cagliari, and Edinburgh;
223 new routes, for a total of "800+" routes with "1,200+ daily departures" (the airline has apparently lost count).
And the outlook:
Yields are expected to fall a challenging (for the competition) 15-20% in 2009/10;
Strong load factors and traffic growth should occur, while competitors "decline";
Unit costs are to be reduced by 5%;
And there should be EUR450 million in fuel savings.
All this for a net profit expectation in the range of EUR200-300 million (but these were subject to the very big provisos of fuel and yields). If fuel prices do behave, the Ryanair projections could in fact be modestly understated.