Ryanair: Europe's most profitable airline "not cheap and nasty". FY target raised after strong 2Q
Analysis
Ryanair has again achieved double digit growth in net profits in 2QFY2015. This was the result of revenue per seat growth outpacing cost per seat growth. After Ryanair's dip in profits in FY2014, it has now reported two quarters of earnings growth and reconfirmed its position as Europe's most profitable airline. It has again raised its FY2015 net profit guidance and expects a result that is around 45% higher than last year.
With a slight fall in average sector length in 2Q, the increased revenue per seat was the result of network and product/service improvements and greater overlap with higher fare competitors. It seems that Ryanair has made good progress with its 'Always Getting Better' programme and this is feeding through to the numbers.
Remarkably for Ryanair, it is even starting to make positive progress in brand rating surveys. As CEO Michael O'Leary said to analysts at the 2Q results presentation, "It's not cheap and nasty any more," he said, "it's cheap and very good."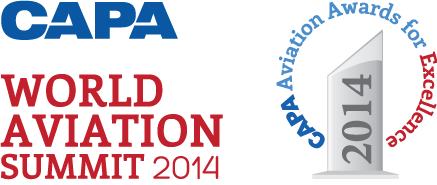 CAPA's World Aviation Summit will he held at the Hilton Antwerp Hotel on 20/21 November 2014, preceded by a Corporate Travel Innovation Day on 19 November.
Register now to hear:
- Director General João Aguiar Machado of DG MOVE
- 20+ airline CEOs
- the highest level debates on EU objectives,
- global liberalisation and the Gulf carriers,
- the role of unions and many other critical issues,
involving over 20 airline CEOs and numerous other industry and government decision makers. Please click here: CAPA World Aviation Summit and Corporate Travel Innovation Day
Ryanair's 2Q profit was up 14%
In 2QFY2015 (Jul to Sep), Ryanair's net profit increased by 14% to EUR598 million, its highest ever 2Q result in what is the seasonally strongest quarter. The operating profit figure also increased by 14% to reach EUR702 million on revenues that were up 7% to EUR2,042 million. The operating margin of 34.4%, up 2.3ppts year on year, was Ryanair's highest 2Q operating margin since FY2008.
For 1HFY2015, Ryanair's revenues increased by 9%, its net profit was up 32% and its operating profit grew by 30% (see table below).
Ryanair 2Q and 1H highlights FY2015 versus FY2014
| | 2Q FY2014 | 2Q FY2015 | Change 2Q FY2015 vs 2Q FY2014 | 1H FY2014 | 1HFY2015 | Change 1H FY2015 vs 1H FY2014 |
| --- | --- | --- | --- | --- | --- | --- |
| Passengers million | 26 | 27 | 4% | 49 | 51 | 4% |
| Load Factor | 88% | 91% | +3ppts | 85% | 89% | +4ppts |
| Avg. Fare (incl. bag) EUR | 60 | 62 | 3% | 52 | 54 | 5% |
| Rev. Per Pax. EUR | 74 | 75 | 2% | 66 | 69 | 4% |
| Revenues EUR million | 1,913 | 2,042 | 7% | 3,255 | 3,537 | 9% |
| Operating profit EUR million | 614 | 702 | 14% | | 933 | 30% |
| Operating margin % | 32.1 | 34.4 | 2.3 | 22.0 | 26.4 | 4.4 |
| Profit after Tax EUR million | 524 | 598 | 14% | 602 | 795 | 32% |
Passenger growth of 4% all driven by load factor gains
Ryanair's passenger numbers increased by 4% year on year to reach 27 million in 2QFY2015. This matched the growth rate of 1Q, so that 1H growth was also 4% and 1H passenger numbers reached 51 million.
This traffic growth was entirely due to higher load factor, which increased by 3ppts to 91% in 2Q and by 4ppts to 89% in 1H. Ryanair does not explicitly report seat numbers, but its data on passenger numbers and load factors imply that seat capacity was flat year on year both for 2Q and for 1H.
Load factor gains continued into Oct-2014 (up 6ppts to 89%) and Ryanair's forward bookings indicate that this trend should also remain for the whole of 2HFY2015 in spite of much stronger capacity growth in 2H than in 1H. After more than a decade of load factor in the low 80s, Ryanair should take it from 83% in FY2014 to 87% in FY2015 and aims to achieve 90% by FY2017.
CEO Michael O'Leary told analysts at the 1H results presentation that, after reaching 90%, there would not be much scope for further gains, but that Ryanair would "err on the side of growing load factor, rather than increasing yield". He argued that demand growth and load factor gains were the result of Ryanair's well-established low fares and also the recent improvements to its product and service.
This latter factor has received much media coverage and this has helped promote Ryanair. Mr O'Leary noted that the good thing about having a "Damascene conversion" and "seeing the light" about service improvements was that this created "enormous appetite for the Damascene conversion".
Average fares up 3% in 2Q
Load factor gains were not at the expense of falling fares in 1HFY2015. On the contrary, average fares increased by 3% in 2Q and 5% in 1H. This outturn for 1H average fares was slightly lower than the 6% increase expected at the time of Ryanair's 1Q results announcement in late Jul-2014, but this was offset by 1H passenger growth of 4% exceeding its 3% guidance figure.
Ancillary revenues grew more or less in line with passenger growth as reduced charges for bag check and airport check in were offset by increased revenue from allocated seating. Total revenue per passenger was up by 2% in 2Q and 4% in 1H. Total revenue per seat was up 6% in 2Q and 9% in 1H.
Revenues rose 7%
Total revenue increased by 7% year on year in 2Q, with scheduled passenger revenue up 7% and ancillary revenue up 4%.
Ryanair 2Q and 1H revenues FY2015 versus FY2014
| | 2Q FY2014 | 2Q FY2015 | Change 2Q FY2015 vs 2Q FY2014 | 1H FY2014 | 1HFY2015 | Change 1H FY2015 vs 1H FY2014 | % of total in 1H FY2015 |
| --- | --- | --- | --- | --- | --- | --- | --- |
| Scheduled revenues | 1,556 | 1671 | 7% | 2,542 | 2,796 | 10% | 79% |
| Ancillary revenues | 356 | 371 | 4% | 713 | 741 | 4% | 21% |
| Total | 1,913 | 2,042 | 7% | 3,255 | 3,537 | 9% | 100% |
Operating costs up 3% in 2Q
Operating costs increased by 3% in 2QFY2015, less than the growth in passenger numbers and in revenues. Cost per passenger was down by 1%, but up 4% if fuel costs are excluded. Total cost per seat was up 6% in 2Q and 2% in 1H, on both cases less than the increase in revenue per seat.
Fuel spend fell by 3% due to lower fuel prices in EUR, while ex-fuel costs increased by 9%. Airport and handling charges increased by 11%, faster than passenger growth due to an increased proportion of primary airports and the weakening of the EUR against GBP.
Route charges fell by 1%, reflecting flat capacity and a 1% reduction in average sector length. Labour costs grew by 3% as a result of a pay increase and foreign exchange movements. Marketing, distribution and other costs grew rapidly, at 29%, due to higher spend in support of Ryanair's 'Always Getting Better' customer service improvements and new routes.
Ryanair 2Q and 1H costs FY2015 versus FY2014
| | 2Q FY2014 | 2Q FY2015 | Change 2Q FY2015 vs 2Q FY2014 | 1H FY2014 | 1HFY2015 | Change 1H FY2015 vs 1H FY2014 | % of total in 1H FY2015 |
| --- | --- | --- | --- | --- | --- | --- | --- |
| Fuel and oil | 625 | 608 | -3% | 1,201 | 1,172 | -2% | 45% |
| Airport & handling charges | 191 | 213 | 11% | 367 | 408 | 11% | 16% |
| Route charges | 163 | 161 | -1% | 319 | 315 | -1% | 12% |
| Staff costs | 128 | 132 | 3% | 259 | 265 | 2% | 10% |
| Depreciation | 92 | 98 | 7% | 182 | 195 | 7% | 7% |
| Marketing, distribution & other | 50 | 64 | 29% | 103 | 124 | 20% | 5% |
| Maintenance, material and repairs | 24 | 30 | 23% | 54 | 65 | 20% | 2% |
| Aircraft rentals | 26 | 34 | 31% | 53 | 61 | 15% | 2% |
| Total | 1,299 | 1,340 | 3% | 2,538 | 2,604 | 3% | 100% |
| Costs ex fuel | 674 | 732 | 9% | 1,336 | 1,433 | 7% | 55% |
FY2015 targets are raised again
As a result of the strong 1H results and healthy demand, Ryanair has increased its FY2015 target for passenger numbers from 87 million to 89 million, an increase of 9% over FY2014. This is its third increase in its FY2015 passenger target since May-2014, when it was expecting 84.6 million. The growth rate now anticipated by Ryanair in 2H is 16%, representing 5.3 million additional passengers, with growth of 12% in 3Q and 20% in 4Q.
Ryanair continues to apply some caution to the outlook for average fares in 2HFY2015 and expects these to fall year in year. However, it now expects an average fare decline of between 3% and 5% in 3Q, which is a narrower decline than the fall of 6% to 8% previously guided for 2H. For 4Q, it now expects a decline of between 6% and 10% in 4Q. This allows for a heavier fall than previously expected, reflecting the higher traffic growth and relatively low visibility into 4Q. For FY2015 as a whole, Ryanair expects average fares to fall by 1%, a very fair price to pay for 9% traffic growth with load factor up 4ppts.
Higher passenger growth has led Ryanair to lower its guidance on ex fuel costs per passenger for FY2015 from growth of 4% to flat year on year. It expects total costs per passenger (including fuel) to fall by 4%.
The higher passenger target and lower costs per passenger result in Ryanair's raised FY2015 net profit guidance of between EUR750 million and EUR770 million, versus previous guidance that net profit would be at the upper end of the range EUR620 million to EUR650 million. The new range represents growth of 43% to 47% over FY2014.
Winter growth will come from increased frequencies and new routes
As a result of the growth opportunities that Ryanair sees, it plans to ground only around 50 aircraft this winter, compared to 70 aircraft in winter 2013/2014 and 80 the winter before that. As has long been the case, Ryanair cites capacity cuts by full service carriers as providing it with opportunities. In particular, it sees Italy and Germany as markets where the incumbents are reducing capacity.
Slightly more than half of its traffic growth this winter will come from increased frequencies, particularly at London Stansted and Dublin, but also at other primary airports as Ryanair fills out its schedule to increase its appeal to business travellers. Frequencies will be increased on both domestic and international routes. It now offers double daily schedules on business routes in other domestic markets in Europe, such as Porto-Lisbon, Gdansk-Wroclaw and Wroclaw-Warsaw.
The balance of the winter growth will come from 41 new routes and four new bases. It says that forward bookings are building quickly on its new bases, Cologne-Bonn, Gdansk, Glasgow and Warsaw Modlin. It is also re-entering two important UK domestic routes, London to Glasgow and Edinburgh with a three times daily frequency and fares that Ryanair says are 50% lower than those of BA or easyJet.
Beyond the coming winter season, Ryanair will open its 70th base at Copenhagen, beginning what it calls its "expansion in the high fare Scandinavian market after a number of years without capacity growth in that market".
Mr O'Leary said at the 1H results presentation that other airports in Scandinavia were also keen to attract Ryanair. He said that airports in the region were nervous about both Norwegian Air Shuttle, which is at a "make or break" stage of its development, and SAS, which "needs a government bail out". Certainly, Ryanair's low fares and strong balance sheet position it to compete strongly with Scandinavia's two largest airlines.
FY2024 passenger target of 150 million, up 84% on FY2014
Ryanair looks to be on course to achieve its 9% passenger growth target in FY2015. It plans passenger growth rates of between 5% and 8% pa for the following decade until FY2024. This will take its planned annual passenger numbers to 150 million in FY2024, compared with just under 82 million carried in FY2014.
Its fleet plan over this period will take it to 520 aircraft in FY2024 from 299 at the end of FY2014. This fleet plan encompasses both its follow-on Boeing 737-800 order (the first delivery of 180 took place in Sep-2014) and its Boeing 737MAX order (deliveries from 2019 to 2024).
This plan represents average passenger growth of just over 6% pa, based on average fleet growth of just under 6% pa. The planned traffic growth rate is higher than likely market growth, but is less than half of the 13% pa that Ryanair achieved over the past 10 years. Its advantages in low costs and fares, supported by product and service improvements and its new aircraft, should allow it to make the necessary further market share gains.
Ryanair passenger numbers versus competitor airlines traffic in Europe FY2014 and Ryanair passenger forecasts to FY2019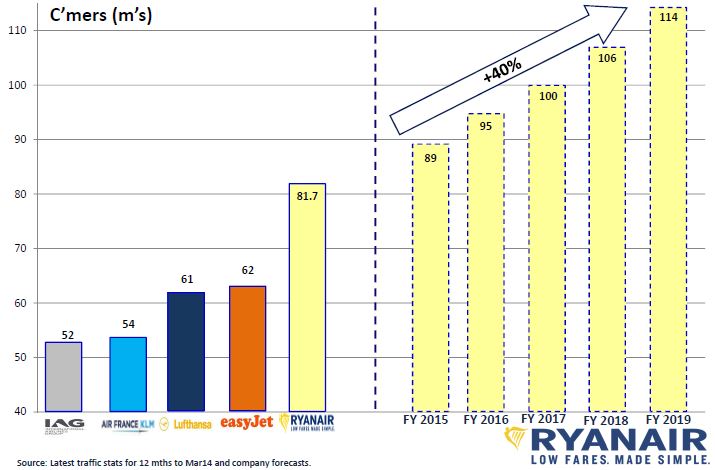 Ryanair fleet and passenger targets to FY2024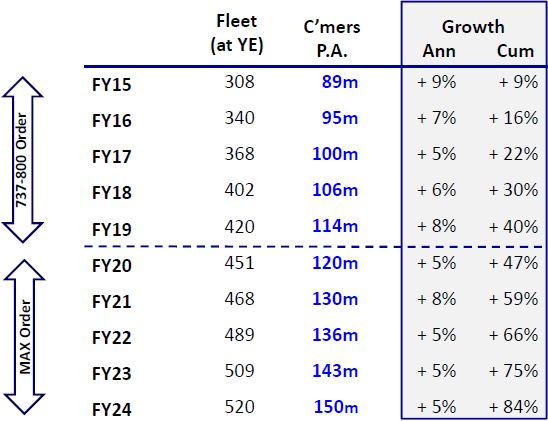 Some evidence to suggest that Ryanair is indeed 'Always Getting Better'
Ryanair's 'Always Getting Better' programme certainly appears to be having a positive impact. The step change in load factor, without a heavy fall in average fares, is evidence of this. With regard to new products aimed at specific passenger groups, Ryanair is starting to see some signs of progress. Mr O'Leary said that its new Family product "took off like a rocket over the summer". Although it is "not enormous in percentage terms", this initiative is "part of showing that Ryanair cares".
Mr O'Leary hopes to convert around half of the 25% of passengers that are currently flying on Ryanair for business purposes to Business Plus, its new business fares product, over the next two to three years, leading to a penetration of around 12% of all passengers. The initial take-up has been slow, but he hopes to see it rise to a mid single digit percentage in the coming winter. Network and schedule improvements should support sales of this product, which bundles a number of service features into one fare.
Ryanair's recently established 'Ryanair Labs' team has been formed to devise and launch new developments providing improvements to its digital interfaces. Further changes in Ryanair's distribution strategy, in particular targeting corporate accounts, and enhancements to its website and mobile App should support its network management initiatives and brand campaigns to build on the strong 12 months since it firs signalled its new customer focused approach.
Ryanair's 'Always Getting Better' programme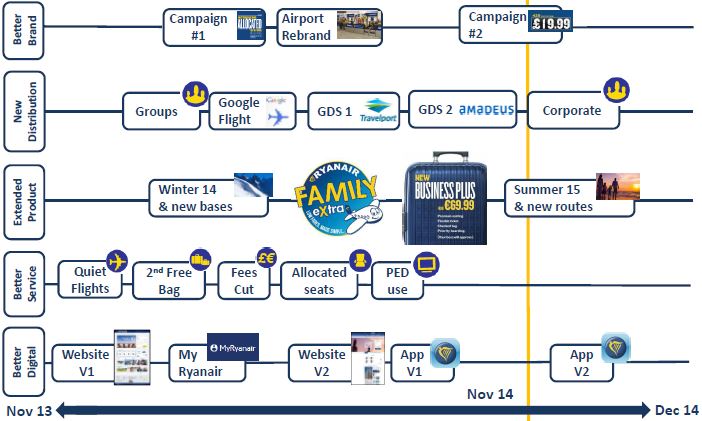 In addition to hard data such as traffic and load factor gains, Ryanair has also seen its brand rating improve, as defined by the YouGov BrandIndex Buzz index. It still has a low and negative rating, but Ryanair's brand was the top improver among airlines in the UK in the first six months of 2014.
In addition, according to data sourced to Hitwise UK and presented by Ryanair, its website has moved from number three to number one most searched UK airline website between Dec-2013 and Sep-2014. Moreover, it has been number one six months running.
While measures such as theses are subjective and can vary depending on the source, this is the first time that Ryanair has ever been in a position to enlist such third party ratings to demonstrate that its brand is improving. Mr O'Leary acknowledged to analysts that Ryanair was "not there yet", but still had a couple of years to go. Nevertheless, perceptions are changing.
Top YouGov BrandIndex Buzz improvers among airlines in UK Jan-2014-Jun-2014 versus Jan-2013-Jun-2013

Ryanair, easyJet, British Airways share of UK airline website visits (left hand axis) and Ryanair's YouGov brand index (right hand axis)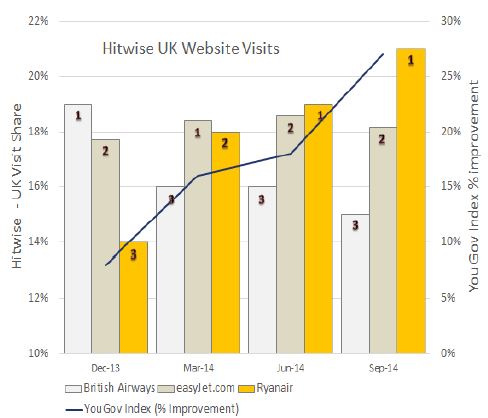 See related reports:
Ryanair is Europe's most profitable airline
Ryanair's 2QFY2015 results confirm that it has resumed a profit growth path after a FY2014's rare fall in profits. CAPA suggested that the raised FY2015 net profit guidance issued with its 1Q results in Jul-2014, looked comfortably achievable and so it is no surprise that Ryanair has increased its target once more.
See related reports:
We recently identified IAG as the confirmed leader among Europe's Big Three legacy airline groups, based on its superior (and growing) margins relative to Lufthansa and Air France-KLM and its raising of its targets in contrast to the cutting of targets by the other two. Ryanair's operating margin of 34.4% for the Jul-Sep quarter is more than twice IAG's 15.3% for the same period and its 20.6% margin for the first nine months of calendar 2014 is almost three times IAG's 7.5%.
Ryanair's rolling 12 month operating margin to the end of Sep-2014 is 16.5%, up 2ppts from a year earlier. easyJet is yet to report results for the period (its year end is September and results are due on 18-Nov-2014), but analysts' consensus forecasts imply an operating margin of 11.7%, up 1ppt from a year earlier.
These latest results from Ryanair show its leadership position among all European airlines on financial performance.
The success that it already appears to be enjoying with its product and service enhancements, combined with the further cost efficiencies to come when its 737MAX deliveries commence, should allow it to maintain this position for a long time to come.