Ryanair: Europe's lowest cost producer wins again, reporting record profit of EUR569 million
Analysis
Ryanair reported a record net profit of EUR569 million for FY2013, 13% up on last year, and its operating margin of 14.7% is comfortably the highest among European airlines. Even after returning EUR1.5 billion in cash to shareholders over the past five years, the LCC had EUR3.6 billion in cash at the end of Mar-2013, equivalent to almost nine months of sales.
Results like these, achieved in the teeth of the weakest economic backdrop in Europe for decades, underline the strength of Ryanair's low-cost model. Already Europe's lowest cost producer, and with relatively little scope to cut unit costs, earnings growth in recent years has been driven by the pricing power resulting from tighter capacity expansion than in the past, aided by restructuring and capacity cuts by many competitors.
These conditions should help Ryanair make progress towards its target of a 20% market share over the next five years, after which a possible order for the Boeing 737MAX may be the key to longer term earnings growth.
Ryanair's best ever result, in the face of Euro-recession
Ryanair increased its pre-exceptional net profit by 13% for the year ended Mar-2013 to reach EUR569 million, its best ever result. Management's guidance at the time of its 3Q results in Feb-2013 was EUR540 million and analysts' consensus was EUR560 million (source: Bloomberg). Revenues grew by 13% to EUR 4,884 million, driven by passenger growth of 5% and an average fare increase of 6%.
Its operating margin of 14.7%, the highest in Europe, puts Ryanair more than 6ppt ahead of second-ranked easyJet on 8.6%.
See related report: European airlines' financial results in 2012; Net profit of biggest 13 down 72% for the year
Ryanair financial highlights FY2013
Year to Mar
EUR million
except where stated

FY2012

FY2013

Change

Revenue

4,325

4,884

12.9%

Operating profit*

618

718

16.2%

Operating margin*

14.3

14.7

+0.4 ppts

Net profit*

503

569

13.3%

Gross cash

3,516

3,559

1.2%

Gross debt

3,625

3,498

-3.5%

Net debt/(cash)

110

(61)

-171 million

Passengers million

75.8

79.3

4.5%

Load factor %

82

82

0 ppts

Average fare EUR

45.36

48.20

6.3%

Total rev/pax EUR

57.05

61.82

8.0%

Cost per pax EUR

48.90

52.56

7.5%

Cost ex fuel per pax EUR

27.88

28.77

3.2%
Long track record of profit and cash generation
Ryanair has been profitable every year since its IPO in 1997, apart from FY2010, when an exceptional charge related to the fall in value of its stake in Aer Lingus pushed it into a reported loss.
Pre-exceptional profits have always been positive throughout this period.
Ryanair operating profit* and net profit* (EUR millions): FY2004 to FY2013
Ryanair has also been strongly cash generative for many years. At the end of Mar-2013, its gross cash balance was EUR3.6 billion, equivalent to just under nine months of sales and more than its gross debt. It is one of a very small number of airlines anywhere with a net cash position and comes even after giving more than EUR450 million in cash back to shareholders during FY2013 in special dividends and share buy-backs.
Ryanair has returned more than EUR1.5 billion in cash to shareholders since FY2008.
Ryanair gross debt, gross cash and net debt at year end (EUR millions): FY2004 to FY2013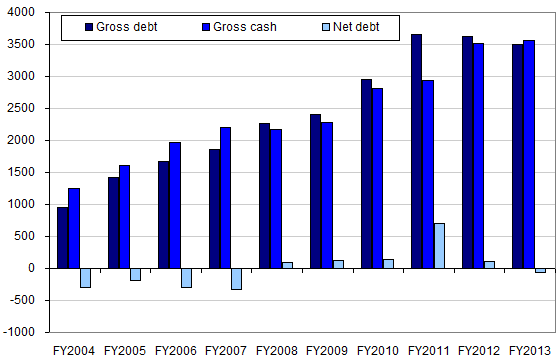 Passenger growth is slowing
At 4.5%, Ryanair's passenger growth in FY2013 was the slowest in its history (at least since its 1997 IPO) and marks a continuation of a slowing growth trend that has characterised recent years.
Load factors have remained fairly stable in the low 80s over the past decade and, at 82% in FY2013, were unchanged from FY2012.
Ryanair development of passenger numbers (million) and load factor (%): FY2004 to FY2013
Ryanair growth in passenger numbers: FY2004 to FY2013
Ancillaries 22% of total revenue in FY2013
Revenues grew by 13% in FY2013, with scheduled ticket revenues (including check-in bag fees) up 11% and ancillary revenues up 20%. Ancillaries were up to 22% of revenues from 20% in FY2012, benefiting from the roll out of reserved seating across the network and higher internet related revenues.
Despite the success of reserved seating, Ryanair says it is very unlikely to expand it to the entire cabin as this could compromise the airline's turn around times by removing passengers' incentive to arrive early at the departure gate. Average fares (scheduled revenue per passenger) grew by 6%, partially assisted by the strength of GBP versus the EUR. Ryanair's average fares have grown for each of the past three years and are now 38% higher than in FY2010.
Fuel is 45% of costs, illustrating Ryanair's low cost base
Ryanair revenues: FY2012 and FY2013
EUR million

2012

2013

Change

% of
2013 total

Scheduled revenues

3,439

3,820

11.1%

78%

Ancillary revenues

886

1,064

20.1%

22%

Total revenues

4,325

4,884

12.9%

100%
Ryanair's operating costs grew by 12% in FY2013, less than the growth in revenues. Fuel, which accounted for 45% of total costs, grew by 18%. Airport and handling charges, the second largest cost item (15% of costs), grew by 5%, faster than passenger growth as a result of price increases at Spanish airports and Italian ATC, changed route mix and the stronger GBP relative to the EUR.
Maintenance costs increased by 16%, also faster than traffic growth, due to line maintenance costs arising from new base launches and handback provisions for leased aircraft.
Ryanair operating costs: FY2012 and FY2013
EUR million

2012

2013

Change

% of
2013 total

Fuel

1,594

1,886

18.3%

45%

Airport & Handling Charges

554

612

10.4%

15%

Route Charges

461

487

5.7%

12%

Employee

415

436

5.0%

10%

Depreciation

309

330

6.6%

8%

Materials, repairs

104

121

16.1%

3%

Aircraft Rentals

91

98

8.3%

2%

Other

180

198

9.9%

5%

Total expenses

3,707

4,166

12.4%

100%
Employee costs as a share of revenues are one of the lowest in Europe
Ryanair's employee costs as a share of revenues are one of the lowest in Europe and this ratio fell further to 8.9% in FY2013, from 9.6% in FY2012. Employee cost per ATK was just above flat (+0.4%) at EUR3.63 cent, the second lowest in Europe (Wizz Air is the lowest on this measure).
See related report European airline labour productivity: CAPA rankings
Ryanair now operates more than 1,600 routes
Ryanair has 180 destinations and 57 bases (where aircraft and crew are based) across 29 countries in Europe and North Africa this summer. It flies more than 1,600 routes between these destinations.
Although it has opened seven bases and more than 200 routes in the summer 2013 schedule, it is planning passenger growth of only 2% for the summer. In the winter, the LCC plans to ground fewer aircraft than last year (around 60 compared with 80 last winter) so that traffic growth should be higher than in the summer to give around 3% passenger growth for FY2014.
It expects average sector length to increase by around 3% this year, reflecting cuts to domestic Spanish routes and the introduction of longer routes between Scandinavia and the Canary Islands. Ryanair will provide new competition to Norwegian Air Shuttle on the latter routes, which, at around six hours, will be significantly longer than most flights in Ryanair's network.
Nevertheless, CEO Michael O'Leary is still not tempted to take Ryanair onto trans-Atlantic routes. He has mulled over the idea of setting up a separate company for long-haul operations, but only if aircraft could be acquired for the right price. "It will never be done with Ryanair," he said on the results conference call, adding that Ryanair still has, "extraordinary growth opportunities across Europe".
Ryanair destinations summer 2013
Europe's number three airline group
Ryanair is the largest individual airline in Europe and the third largest airline group by seats. It is the number two group, behind Lufthansa, on routes within Europe.
Top 20 airline groups ranked by seat capacity in Europe: 13-May-2013 to 19-May-2013
| Airline Group | Total Seats | Rank |
| --- | --- | --- |
| | 3,044,510 | 1 |
| | 2,202,657 | 2 |
| | 2,171,988 | 3 |
| | 1,965,486 | 4 |
| | 1,438,740 | 5 |
| | 1,182,242 | 6 |
| | 837,327 | 7 |
| | 835,850 | 8 |
| | 693,100 | 9 |
| | 624,848 | 10 |
| | 568,310 | 11 |
| | 369,873 | 12 |
| | 306,694 | 13 |
| | 304,669 | 14 |
| | 293,760 | 15 |
| | 276,866 | 16 |
| | 269,146 | 17 |
| | 249,916 | 18 |
| | 241,509 | 19 |
| | 226,018 | 20 |
Ryanair's most important country, measured by weekly seats, is the UK, followed by Spain and Italy. Its next biggest countries are Germany, Ireland and France.
However, whereas its share of seats in Ireland is higher than the average across its markets, it has a low share in Germany and France, which are two of Europe's largest markets.
Number of Ryanair seats by country: 29-Apr-2013 to 5-May-2013
Ryanair share of seats by country: 29-Apr-2013 to 5-May-2013
CEO Michael O'Leary spells out growth opportunities - low cost airports
Speaking on the FY2013 results conference call, Ryanair CEO Michael O'Leary underlined Ryanair's approach to expansion as being firmly based on choosing airports where costs are low. Over time, the pool of potential destinations has grown from the smaller secondary and tertiary airports to include much larger airports as they look to LCCs to fill the gaps resulting from the restructuring programmes of flag carrier and other competitor groups on their short-haul operations.
"Taking away the big, congested airports with absolute pricing power, we are into all others," says Mr O'Leary, adding that Ryanair has had the discipline to wait for these larger airports and has a list of forty potential airports to ensure some competitive bids from them. Ryanair sees particular opportunity currently in Germany, Scandinavia and central Europe, thanks to capacity cuts by airberlin, SAS and LOT.
Ryanair is growing significantly in Germany this year.
See related reports:
Ryanair says that it is talking to MAG, the new owners of London Stansted Airport, and the new management at Dublin Airport about airport charges. While no agreements have yet been reached, it is considering returning to growth at these airports as early as Sept-2013. Mr O'Leary described MAG as, "something of a breath of fresh air. We are talking to people who know how to run an airport and who want to grow the airport".
While he sees Stansted as the principal focus for growth in London, Ryanair has also made a bid for London Gatwick slots that have been put up for sale by Flybe as the main competitors there, easyJet and British Airways, have significantly higher fares than Ryanair's.
Ryanair has also made offers to Spanish airports operator AENA that could see the carrier returning to growth in that market, if AENA is prepared to change its recent policy of increasing fees. Moreover, Mr O'Leary talks enthusiastically of growth opportunities in Central/Eastern Europe. He sums up by saying that Ryanair has, "more growth opportunities than we can handle".
Ryanair targets 20% market share in five years
Data presented by Ryanair show it to be the number one passenger airline in Ireland, Spain, Italy and Poland. Its average share of seats in the country markets where it is present is almost 14% (source: Innovata, week of 29-Apr-2013) and this is very similar to its share of passengers carried by AEA member airlines on short/medium-haul together with ELFAA member airlines in 2012.
Ryanair aims to achieve a 20% share of the European short-haul market over the next five years.
Ryanair market share and market rank in selected countries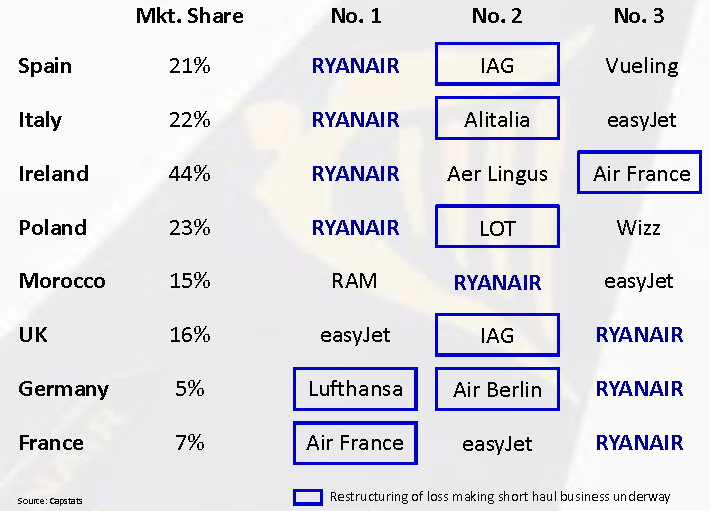 In order to reach a 20% share over five years, Ryanair's passenger numbers would need to grow at an average annual rate of 7% p.a. if there was no growth in the market, or 9% p.a. if the market grew at 2% p.a. Either way, this is faster than the 3% to 5% p.a. growth indicated by Ryanair over the next six years as its new Boeing deliveries are phased into the fleet.
Ryanair's five year market share target and its stated annual passenger growth targets can only be reconciled if the market were to contract by around 3% p.a. over the next five years. This seems unlikely and suggests that the planned 3% to 5% p.a. rates may be a minimum.
Ryanair has scope to increase passenger growth rates by reducing the number of aircraft disposals and/or by extending leases.
Ryanair aircraft delivery schedule under new Boeing order and planned passenger growth to FY2019
Year
to Mar

Deliveries
under
new order

Lease Returns
/Disposals

YE Fleet

Pax (m)

Growth

FY 13

303

79

FY 14

0

-15

290

82

3%

FY 15

11

-3

298

83

3%

FY 16

35

-10

323

86

3%

FY 17

50

-30

343

90

5%

FY 18

50

-26

367

95

5%

FY 19

29

-21

375

100

5%

Total

175

-105

375

-

-
FY2014 profit guidance: EUR570 million to EUR600 million
For FY2014, Ryanair is targeting passenger growth of around 3% to 81.5 million, with higher growth in 2H than in 1H. It expects higher oil prices, an increase of 3% in sector length and higher charges from Eurocontrol and AENA to lead to higher costs per passenger. It warns that 1Q net profit will be down on last year due to the timing of Easter, which was in 1Q last financial year, but not this year. Mr O'Leary estimated the P&L impact of the shift in Easter at roughly EUR20 million.
Ryanair says yields are currently soft, but it expects them to grow modestly for the full year. Ryanair's net profit guidance for FY2014 is that it will increase to a range of EUR570 million to EUR600 million (growth of 0% to 5%).
Pricing power has driven profit growth since FY2010
Over a period of many years, Ryanair has done a good job of managing ex fuel costs per ASK downwards (see chart below). Like other airlines, however, its total costs per ASK have been a little more volatile due to fluctuations in fuel prices.
In the year to Mar-2009, CASK jumped by 13%, in spite of a small reduction in ex fuel CASK as a result of higher oil prices (compounded by Ryanair's decision to stop its regular fuel hedging programme, thinking that prices would not rise further). At the same time, RASK fell by 5% and profits collapsed in an unprecedented manner.
In the following year, FY2010, RASK fell more heavily, by 11%, but CASK fell by almost 19% thanks to lower fuel prices and another fall in ex fuel CASK and profits recovered.
Since FY2010, CASK ex fuel has stabilised, but CASK has grown due to higher fuel costs. The continued growth in profits since then has been driven by RASK growth outpacing CASK growth. Put another way, profit growth has been driven by Ryanair's ability to pass on to its passengers increases in fuel prices and a little bit more on top. This pricing power has been helped by tighter capacity growth from Ryanair than in the past and capacity cuts by a number of flag carrier competitors.
Ryanair index of revenue per ASK and cost per ASK (indexed to 2009 = 100): FY2001 to FY2013*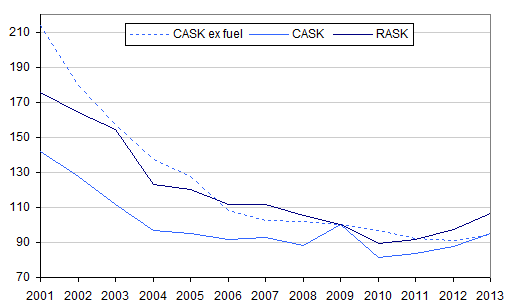 Further reductions in ex fuel CASK look difficult to achieve for Ryanair
The decline in Ryanair's ex fuel CASK over many years owes much to an accompanying trend of increasing average sector length (although both trends reversed modestly in FY2013). However, the chart below suggests that further reductions in ex fuel CASK have been harder to achieve in recent years as stage length increases beyond around 1,100km have not had much impact.
Ryanair revenue per ASK and cost per ASK (EUR cent, vertical axis) versus average sector length (km, horizontal axis): FY2001 to FY2013*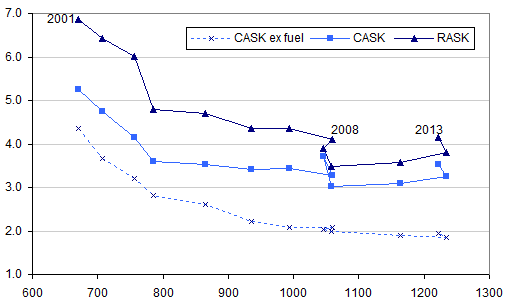 Ryanair is already the most cost efficient operator in Europe and it seems likely that further profit growth in the medium term will continue to depend upon pricing power allowing RASK increases to outpace any CASK growth (or RASK falling more slowly than CASK if the latter should fall as a result of fuel prices falling).
Ryanair has a significant low price advantage compared with most competitors and this gives it scope to raise prices while still maintaining a significant price gap. Moreover, planned capacity growth in the region of 3% to 5% p.a. until FY2018 (low by comparison with Ryanair's past growth), coupled with likely ongoing restructuring by flag carriers and other non-LCC competitors should also help its pricing power.
Beyond this, Ryanair will look to a follow-on order with Boeing for 737MAX aircraft to help it to generate longer term profit growth through lower operating costs and, importantly, lower unit ownership costs.
Such an order could be announced before the end of calendar 2013.
See related reports: