Ryanair bids for Aer Lingus: Irish carriers in Dutch auction
Analysis
"The world has changed", says Michael O'Leary. If it has changed enough, the EU will permit Ryanair's bid for Aer Lingus this time. And, if shareholders feel sufficiently nervous about the share market, they too will find the offer more convincing.
The new bid - at half the price offered in 2007 - is at EUR1.40 per share, which is 25% above the previous day's market price (Aer Lingus shares rose 13.6% on Tuesday, following the news, while Ryanair's fell).
The prospects do indeed look a lot brighter for Ryanair this time. The accumulating history of the LCC's unwelcome advances to the long established flag carrier offers a logically attractive argument why this bid should succeed, where that of 2007 failed.
Ryanair's operating costs - even allowing for the greater complexity of Aer Lingus' international long haul operations - are light years ahead of the network airline, by every measure.
Operating cost per pax: Aer Lingus vs Ryanair (EUR cents)
Alternatively, the contrast in total unit cost is obvious from the following graph. Even with Aer Lingus' recently announced EUR50 million cost cuts, its operating cost reduces by just another 5 cents.
Operating cost per pax: Aer Lingus vs Ryanair (EUR cents)
Aer Lingus has fought to reduce its cost base over the past decade, and not without success. But it appears clear that having Ryanair sitting in its backyard, eating its strawberries, does not offer the smaller airline much of a future.
Aer Lingus has certainly managed to grow its market over the past seven years, increasing from 6.3 million passengers to 10.4 million - and, in the process, reduced its staff numbers by over a half at the same time. Paradoxically, its rugged co-existence with Ryanair has undoubtedly positioned it well to compete with other European airlines.
Aer Lingus vs Ryanair: Passenger and employee numbers 2001-08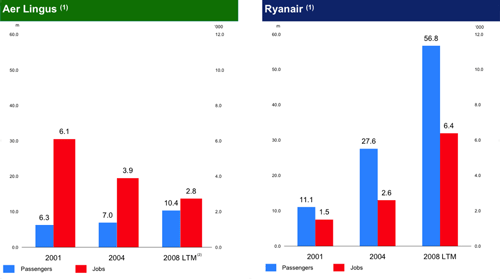 But over the same period, Ryanair has grown its market (albeit not all Irish based, by any means) fivefold and increased its workforce by nearly 450%.
Ryanair's message is clear: One company is growing, the other is contracting. And on present flightpaths, one has a starkly brighter future. The other's looks, well, a little challenged.
And the market appears to share this sentiment. Ryanair offered twice as much per share 18 months ago, at which time its own share price was around EUR5, against Aer Lingus' EUR3. Today the price ratio is around 3:1, in the LCC's favour.
Share price: Aer Lingus vs Ryanair (04-Jun-08 to 28-Nov-08)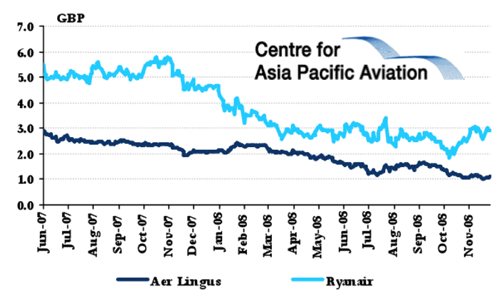 Some questions about becoming a fourth "force - but who cares?
The underlying argument of Ryanair's - that Ireland would benefit from having a fourth airline "force" in Europe - is less compelling. Ryanair certainly appears to want to have a soft buy-in to a long-haul operation.
It is not clear how that acquisition would position it to compete on comparable terms with Europe's three major network airlines. As a committed point-to-point continental European LCC, Ryanair is looking for a limited "hub" that would perhaps complement the classic Ryanair services by "connecting" to one or two major long-haul markets, notably the US.
To preserve the integrity of the LCC's model, these connections would be self-service, relying on high frequency links to onward points. They would also require a refocusing of the home airport, to facilitate large numbers of new-style interfaces between LCC and network operations.
This is not by any means an insurmountable task, but it does not deliver the same product as the three other major forces in the European market.
Sweetening the pill

Ryanair has learned from its earlier experience. The new bid contains all the elements of a political election campaign.
There is something for the EU Commission: Aer Lingus' short-haul fares will be reduced by 5% for a committed term of 3 years;
There is something for employees: Ryanair will double Aer Lingus' short haul fleet and create 1,000 new jobs, a highly attractive offer at this time (but nothing is said about salary levels!);
And, for consumers: Aer Lingus' fuel surcharges will be removed immediately.
Coupled with a fairly attractive price, and the "changed" world, there is a vibe about this bid that suggests that this time Ryanair might get what it is seeking. Whether getting what it wants is necessarily what it needs righ now is an issue for another day.
Aer Lingus shareholders now have the challenging task of deciding whether it is worth the risk of waiting another couple of years - and being offered half the price again.