Russian LCC market expanding with increased international attention as easyJet and Ryanair circle
Analysis
Russia is seeing increasing low-cost airline activity with a number of recent developments pointing to the opening of the eastern nation's LCC market. Since the collapse of the country's only LCCs Avianova and Sky Express in Oct-2011, there has been no domestic low-cost traffic but there has been growth in international low-cost traffic from foreign carriers.
The domestic market would also receive a boost if Russia authorises foreign LCCs to compete domestically, which is currently being considered. Such a change in policy could lead to domestic services being introduced by leading European LCC groups such as easyJet and Ryanair as well as lead to the launch of new LCC subsidiaries from Russian full service airline groups such as Aeroflot and Transaero.
easyJet has unveiled plans to enter the Russian market in early 2013, initially with flights from London Gatwick to Moscow but the carrier is also interested in several other international routes from the UK and Switzerland to Russsia. Ryanair is also interested in entering the Russian market and has applied for traffic rights in the UK-Russia market.
In an effort to boost internal competition and to reduce domestic fares, the Russian Federal Anti-Monopoly Service (FAS) said in Oct-2012 that the Russian Government may allow foreign LCCs to operate domestically in Russia for the first time. FAS head Igor Artemyev said: "The issue of inviting foreign low-cost airlines here and developing infrastructure for the creation of Russian low-cost air carriage is now being discussed very actively."
Opening of domestic market may see established Russian airlines launch LCCs
The opening of Russia's domestic market to foreign LCCs may prompt established Russian airlines such as Transaero and Aeroflot to launch their own LCCs in an attempt to protect their market shares against foreign budget carriers. Other major Russian carriers including UTair and S7 Airlines may also join in and launch LCCs.
Russia's two largest carriers, Transaero and Aeroflot, have previously voiced the potential of launching low-cost operations, filling some of the void left by Avianova and Sky Express. But neither carrier has yet announced any firm plans.
In Jun-2012 Transaero director general Olga Pleshakova said the airline was looking into the potential launch of a LCC to operate services from Moscow to Saint Petersburg as well as destinations in central and southern Russia. Meanwhile under Aeroflot's development strategy there is the provision for the establishment of a budget carrier by 2025. This carrier would be created from one of the Aeroflot Group's regional subsidiaries.
airBaltic currently leading LCC operating into Russia
Currently, the only LCC activity in Russia is on international services to Europe and the Middle East. Latvia-based airBaltic is currently the leading LCC operating into Russia, followed by Spain's Vueling, the UAE's Flydubai and Air Arabia, Germany's Germanwings, Turkey's Pegasus, Austria's NIKI, Norway's Norwegian Air Shuttle and Italy's Air One Smart Carrier and Blu-Express.
LCCs operating to Russia ranked by capacity (seats): 22-Oct-2012 to 28-Oct-2012
Rank

Airline

Total seats

1

BT

8,552

2

VY

5,580

3

FZ

4,914

4

G9

3,984

5

4U

3,456

6

PC

3,024

7

HG

2,506

8

DY

592

9

AP

540

10

BV

322
The 10 foreign LCCs now serving Russia combined provide about 33,000 weekly seats to and from the country, according to Innovata data. That equates to a LCC international penetration rate in Russia's international market of just over 3% (the total number of international seats in Russian's international market is now a little over one million).
There are currently approximately 22 international routes to/from Russia operated by low-cost carriers. Of these, only eight are operated in competition with other (full service) carriers.
Current international routes from Russia operated by LCCs: 22-Oct-2012 to 28-Oct-2012
| Route | Airline | Aircraft | Frequency | Other operators |
| --- | --- | --- | --- | --- |
| DME-SHJ | | | Five times weekly | N/A |
| DME-RIX | | 737-500/Q400 | Daily | |
| DME-VIE | | | Daily | |
| DME-BCN | | | Twice daily | |
| KGD-RIX | | | Daily | N/A |
| KRR-SAW | | 737-800 | Five times weekly | Kuban Airlines (IST) |
| KZN-SHJ | | | Twice weekly | N/A |
| KZN-DXB | | 737-800 | Four times weekly | N/A |
| LED-VCE | | | Twice weekly | N/A |
| LED-OSL | | 737-300 | Twice weekly | N/A |
| LED-RIX | | | 12 times weekly | N/A |
| LED-BCN | | | Three times weekly | |
| OMS-SAW | | 737-800 | Three times weekly | N/A |
| SVO-RIX | | 737-300 | Twice daily | |
| SVO-PMO | | | Weekly | N/A |
| SVX-SHJ | | | Three times weekly | N/A |
| SVX-DXB | | 737-800 | Four times weekly | |
| UFA-SHJ | | | Twice weekly | N/A |
| UFA-DXB | | 737-800 | Three times weekly | N/A |
| VKO-CGN | | A319 | Four times weekly | N/A |
| | | A319 | Four times weekly | UTair |
| VKO-STR | | A319 | Four times weekly | N/A |
Air Arabia significantly increases presence in Russian market
There has been increasing interest in Russia from foreign LCCs in recent months, including from Air Arabia, easyJet and Ryanair.
In early Oct-2012 Air Arabia launched twice weekly Sharjah-Ufa service and twice weekly Sharjah-Kazan service. Ufa and Kazan are the airline's third and fourth Russian destinations after Moscow Domodedovo and Yekaterinburg. Air Arabia became the second low-cost carrier at Ufa and Kazan after Pegasus.
Air Arabia now offers about 4,000 weekly round-trip seats in the UAE-Russia market, up from only about 800 seats one month ago. Air Arabia is now the fourth largest carrier in the UAE-Russia market, accounting for about 12% of the total market. FlyDubai is the second largest carrier in the market (after Emirates and just ahead of Aeroflot), with nearly 5,000 weekly round-trip seats, giving it a 14% share of the overall market.
UAE to Russia capacity by carrier (one-way seats per week): 19-Sep-2011 to 14-Apr-2013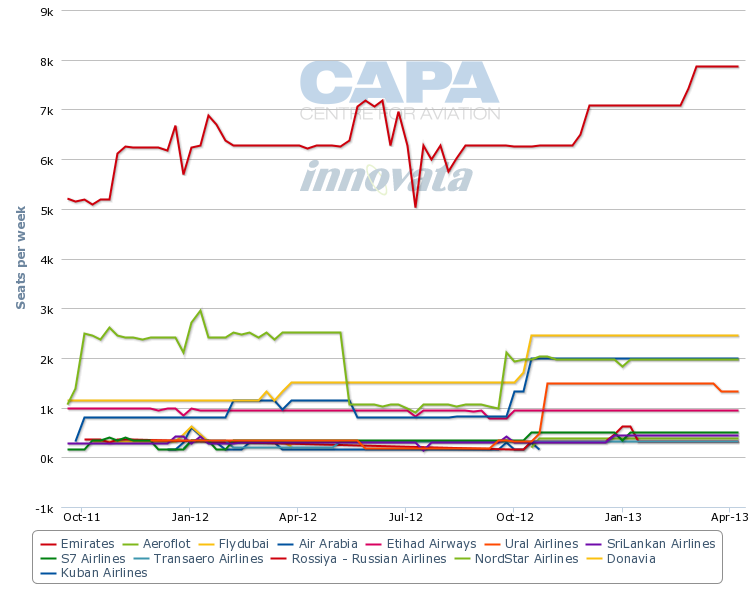 The 26% penetration rate LCCs have achieved in the UAE-Russia market shows the potential LCCs can have in stimulating demand on routes to and from Russia. If given the opportunity LCCs should be able to achieve similar penetration rates in other international markets from Russia including Spain, Turkey, Germany and the UK. LCCs now account for 19% of total capacity between Russia and Spain; 8% between Russia and Turkey; between Russia and Germany;and 0% between Russia and the UK.
Russia-Germany is by far the biggest of these markets with over 110,000 weekly round-trip seats. Germany is the largest international destination from Russia but currently only one LCC carrier, Germanwings, now operates between the two countries.
easyJet recently received permission from the UK Civil Aviation Authority (CAA) to launch double daily London Gatwick-Moscow Domodedovo service in early 2013. easyJet will be the first LCC in the UK-Russia market. The carrier plans to fly over 230,000 passengers on the route in its first year of operation.
The potential for LCCs in the UK-Russia market, which currently consists of about 24,000 weekly roundtrip seats but could potentially grow significantly through low fare stimulation, is huge. British Airways is currently by far the largest carrier in the market, accounting for about 52% of seats between the two countries. BA's acquisition earlier this year of bmi has left BA as the only British carrier serving Russia, creating an opportunity for easyJet.
UK to Russia capacity by carrier (one-way seats per week): 19-Sep-2011 to 14-Apr-2013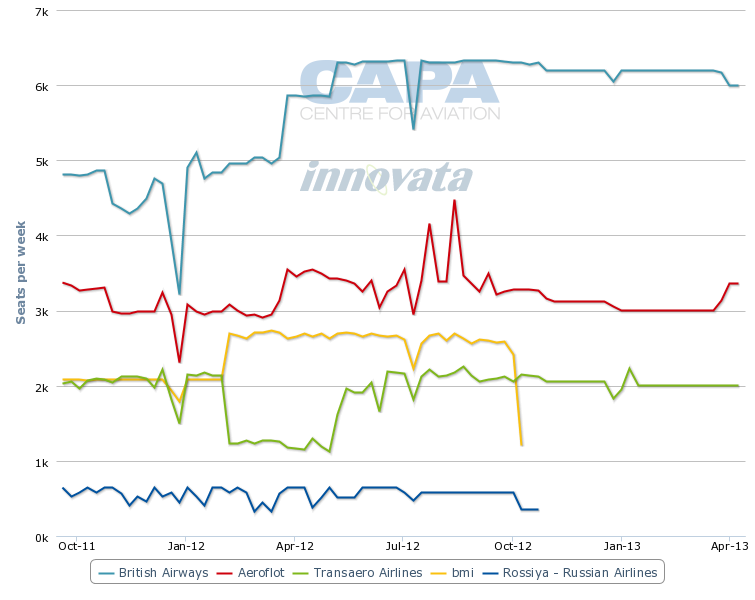 Three Russian carriers serve the UK – Aeroflot, Transaero and Rossiya. BA, Aeroflot and Transaero now serve the London-Moscow market with BA linking Heathrow with Domodedovo; Transaero linking Heathrow with Domodedovo and Moscow Vnukovo; and Aeroflot linking both Heathrow and Gatwick with Moscow Sheremeytavo. (Rossiya serves Gatwick from Saint Petersburg Pulkovo.)
easyJet is reportedly looking at eventually operating to five Russian cities from London, Edinburgh and Manchester. It is also looking at serving Russia from Switzerland. easyJet CEO Carolyn McCall said the airline is "delighted to have been awarded the rights to fly between Gatwick and Moscow. We believe this is the right decision for consumers both in the UK and Russia."
There is currently no non-stop service from Edinburgh or Manchester to any destination in Russia, according to Innovata data. In Switzerland, Aeroflot and SWISS operate to Moscow from both Geneva and Zurich.
Meanwhile, Ryanair is seeking permission to launch Ireland-Russia services with details on specific routes to be announced after Ireland and Russia hold talks on air services. The airline is also reportedly interested in domestic services in Russia and has held "exploratory" talks with Russian airports.
Russia is currently a big white spot in Ryanair's network, which includes three countries bordering Russia. The world's biggest LCC, if provided the opportunity, could potentially serve several points in Russia from Ireland as well as some of its other bases throughout eastern and western Europe.
Major developments potentially ahead
There are major developments ahead in Russia's low-cost market if its domestic market is opened to outsiders and if Ryanair is allowed to launch international services to Russia. Traditionally, Ryanair has expanded very quickly in new markets, and the same could happen with Russia.
easyJet's upcoming entry into Russia will also result in a spike in UK-Russia traffic and lead to an increase in Russia's very low LCC penetration rate. Time will tell if 2013 becomes a turning point in Russia's fledgling low-cost aviation market.