Republic works to restructure loss-making 50-seat operations at its subsidiary Chautauqua
Analysis
Republic Airways Holdings has undertaken a restructuring of its Chautauqua Airlines subsidiary that operates 50-seat regional jets with a targeted USD40-60 million improvement by 2013. The company is hoping to overcome the daunting challenge facing all US regional airlines of finding a price point that makes the operation of smaller jets consistently profitable.
During the late 1990s and early 2000s the introduction of the 50-seat regional jet ushered in heady times for US regional carriers as they negotiated high margin capacity purchase agreements with their US legacy partners that allowed for strong profits that often times bested the financial performance of the network carriers they were partners with.
The 50-seat jet was largely a byproduct of scope clauses in US mainline carrier pilot contracts that prohibited the operation of aircraft larger than 50-seats by regional carriers working for the network airlines. But during the numerous bankruptcy proceedings among US network carriers in the mid-2000s, scope clauses were eased as labour contracts were re-negotiated and 70-seat jets, better optimised for the spoke routes from hubs, were gradually introduced by regional carriers.
Average seat density of regional jets in the US: 2000-2015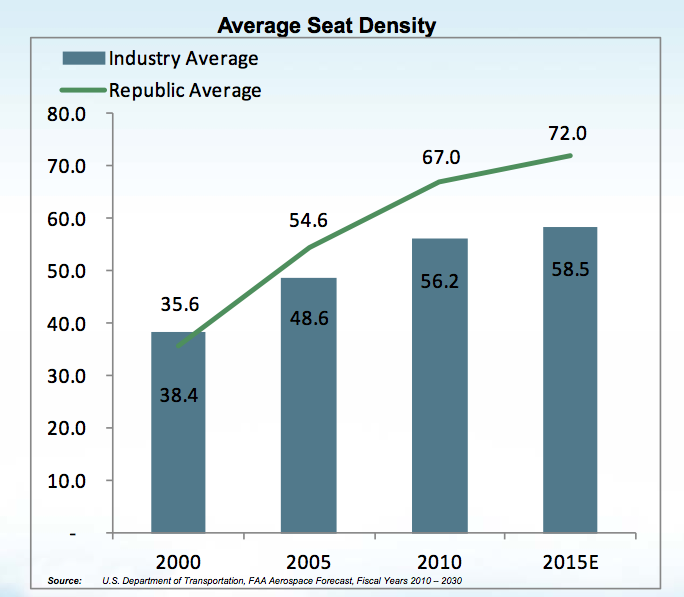 A combination of consistently high fuel prices and re-worked regional contracts through the bankruptcies of US majors essentially led the 50-seat jet bubble to burst in the late 2000s, and distaste of the aircraft began to grow among the US network carriers.
During a recent discussion with analysts Republic CEO Bryan Bedford admitted the company's 50-seat operations were loss-making. "It is no secret to those of you who follow us closely that every one of our Chautauqua CPA [capacity purchase agreement] contracts is actually loss making," Mr Bedford stated. But he stressed the 50-seat economic challenge is an industry-wide problem for US regional operators, as many are experiencing.
See related article: Viable business models continue to evade US regional airlines
Legacy bankruptcies helped to create 50-seat jet challenges
Mr Bedford explained that bankruptcy negotiations with US majors during the last decade led to reduced reimbursement rates from those partners and caps on cost escalation rates in the agreements. Another byproduct of the revamped deals was safety nets on aircraft utilisation being eliminated. The result is that rate increases in the CPA agreements have not kept pace with costs, said Mr Bedford, as crew seniority costs and maintenance expenses have steadily increased. All those things have conspired to create unsustainable 50-seat economics, he noted.
Every legacy carrier that restructured through Chapter 11 during the last decade used the leverage of the court to take away bits and pieces of contracts that regional carriers used as the baseline to make capital investments with an assumed return of 12-15 years, Mr Bedford explained. But the bankruptcy proceedings that changed the durations of those contracts and altered reimbursement rates, "created the problems we have today", he stated. Some of the problems triggered by the altered regional contracts during the Chapter 11 proceedings by US legacy airlines were a mismatch between the the lease terms for 50-seat aircraft and the duration of the capacity purchase agreements between US regionals and their network partners. The result was a phenomenon faced by many regional carriers dubbed "tail risk", which resulted in those airlines being left with the possibility of having unassigned 50-seat jets once contracts expired.
Phoenix, Arizona-based Mesa Air Group used a Chapter 11 restructuring in 2010 to shed 100 excess aircraft, a number of which were 50-seat aircraft. When the company emerged from bankruptcy, CEO Jonathan Ornstein was among the first of the US regional airlines to address risks associated with 50-seat jets.
Currently Chautauqua operates a total of 56 50-seat Embraer ERJ-145s for American, Delta, US Airways and United. Three 50-seaters are operated under pro-rate deals. The agreement for the 15 aircraft covered under Chautauqua's deal with American is scheduled to run through Feb-2013, but American could opt to toss out the arrangement in its Chapter 11 restructuring. The term on the 25 ERJs Chautauqua operates for Delta ends in May-2016, while the deal with US Airways covering 9 ERJs runs through Jul-2014.
By the fourth quarter of this year the eight aircraft Chautauqua operates for United will exit CPA operations, which will increase the number of 50-seat aircraft listed under charter and excess aircraft operations to 20 by the end of the year. Two of the 50-seat aircraft were returned to lessors in Apr-2012.
Despite the formidable challenges Republic faces in reversing the fortunes of its loss-making 50-seat jet operations, Bedford still believes there is a market for 50-seat aircraft. While there is clearly an oversupply of small jets in the US, he concludes there is a fundamental role for those aircraft in the marketplace.
Republic's partners have told the company that if it can succeed in achieving economics on the 50-seat jets that are cost efficient, then those carriers will continue to have demand for those aircraft, Mr Bedford said. "So our challenge is to find that right price point that makes the aircraft economic for both us and our network carriers to fly," he concludes. Republic's quest to achieve favourable economics on the aircraft will likely include discussions with lessors to lower lease rates on the aircraft from the higher payments that were negotiated during more profitable times for regional carriers. Some carrier executives have commented that the lowering of lease rates could make the operation of 50-seat regional jets more viable for both regional and network airlines.
Chautauqua restructuring follows cost overhaul at Frontier
This is the second restructuring Republic has assumed at one of its subsidiaries during the last two years. In 2011 the company initiated a USD120 million cost improvement scheme at its branded Frontier subsidiary, which improved its pre-tax 1Q2012 loss from USD39 million to USD21.6 million year-on-year. Republic, which posted an USD7.1 million loss during the quarter, is engaging with advisors to monetise Frontier in order to return to its core business of providing feed for US legacy carriers.
For Mr Bedford the path forward is relatively simple. Through the restructuring of Chautauqua, Republic needs to lower its ownership and maintenance costs so it can return its subsidiary to profitability and work to extend its CPA contracts. Its fellow regional carrier Pinnacle recently extended its contract with Delta for the operation of more than 100 50-seat jets by 4.5 years to 2022 as part of an agreement by Delta to provide debtor-in-possession financing to Pinnacle when it exits from Chapter 11. But Pinnacle is winding down its contracts with other carriers and once that process is complete will be beholden to Delta for its survival. Republic has always been one of the more diversified regional carriers, and during the last decade has partnered with four-to-five carriers at one time.
Breakdown of Republic's regional operations: 2011

See related article: Pinnacle's bankruptcy underlies growing weakness of US regional carriers
Similar to legacy carriers, Republic also needs to work with labour groups to reduce its costs. The Republic pilot contract became amendable in 2007 and management and the pilots union, the International Brotherhood of Teamsters, have been under mediated negotiations since early 2011. Pilots at Republic's Frontier subsidiary operate under a separate contract.
Mr Bedford stresses that with peers including Pinnacle and American Eagle re-working pilot deals, a new pilot agreement "may well be one of the more important elements of our restructuring programme". Management at Pinnacle and Eagle will likely get concessions through the bankruptcy process even as both carriers struck new pilot deals prior to commencing Chapter 11 restructuring. American Eagle's deal was designed to make the carrier's feed attractive to prospective partners as parent AMR sought to divest its wholly-owned regional subsidiary prior to entering Chapter 11. American recently estimated it needs USD75 million in annual savings from the employees of American Eagle.
Republic meanwhile, is not making any definitive predictions regarding the outcome of Chautauqua's restructuring as Mr Bedford concludes the company is making the effort to restore its subsidiary to profitability and "we'll see where it takes us".