Republic and SkyWest move aggressively to avert the fate of their fellow US regional carriers
Analysis
The two remaining largest US regional airline groups Republic Airways Holdings and SkyWest are working furiously to maintain a reversal of fortunes in order to avoid the fate of their peers American Eagle, Comair and Pinnacle. Eagle and Pinnacle are attempting to formally restructure through Chapter 11 while Comair parent Delta has opted to shutter the carrier in Sep-2012. As both Republic and SkyWest work to whittle down their cost structures to remain competitive, the companies are also looking for ways to make the remaining undesirable 50-seat jets in their fleets viable platforms for their partners – an unenviable but essential undertaking each carrier must complete successfully in order to remain relevant in the changing US regional paradigm.
Both Republic and SkyWest faced significant challenges in 2011. Republic began cost overhaul at its branded subsidiary while SkyWest recorded some of the most disappointing financial results in the company's history, posting a loss of USD27.3 million - its first annual loss in 23 years. The US regional industry did not adapt quickly enough to the changing business landscape ushered in by the major consolidation of US legacy carriers during the last decade.
Republic CEO Bryan Bedford recently concluded that it seems to be a challenging time for the regional space. Those challenges were created by the hub rationalisation stemming from consolidation, which "led to lower demand for smaller aircraft...demand for 50-seaters is the melting ice cube," he concluded.
See related article: Viable business model continues to evade US regionals
Attempting to reverse Chautauqua's weak performance
After spending the bulk of 2011 undertaking a cost and network overhaul at its Frontier subsidiary that has produced early favourable results, Republic in 2012 has turned its attention to restructuring its 50-seat jet outlet Chautauqua.
See related article: Frontier's ongoing network overhaul shows promise through solid revenue improvement
In discussing the group's 2Q2012 results with analysts, Mr Bedford stated Republic has roughly 70 small regional jets in its consolidated fleet, "and we need to keep them gainfully employed...the ongoing restructuring of our Chautauqua platform is going to be a key for whether or not we can achieve our goal to restore that segment of our business to economic viability".
See related article: Republic works to restore loss-making 50-seat operations at its subsidiary Chautauqua
Republic has decreased the number of 50-seat aircraft it expects to be idle at year-end 2012 to 10-11 shells from an original projection of 27-28 jets. The carrier has brokered an amended deal with United Airlines to extend the operation of some Embraer ERJ-145s whose tenure was due to expire in Sep-2012 by two years while adding four 50-seat aircraft to the agreement.
Republic fixed fee fleet plan: 2012
| Delta | Q1 | Q2 | Q3 | Q4 |
| --- | --- | --- | --- | --- |
| ERJ-145 | 24 | 24 | 24 | 23 |
| Embraer 170/175 | 30 | 30 | 30 | 30 |
| American | Q1 | Q2 | Q3 | Q4 |
| --- | --- | --- | --- | --- |
| ERJ-140 | 15 | 15 | 15 | 15 |
But achieving the profitable operation of those aircraft remains elusive. Mr Bedford remarked that an unrestructured Chautauqua is currently losing money in each of the capacity purchase agreements the carrier currently has in place with American, Delta, US Airways and United.
Republic is either going to have to retool the economics of competing in the 50-seat space, or move away from that operating segment, Mr Bedford said. He did remark that Republic is making positive progress in restructuring Chautauqua, explaining that the company was crafting a responsible plan to benefit all stakeholders, including its network partners. Mr Bedford indicated he was hopeful that Republic should share more regarding a potential positive outcome in Chautauqua's restructuring in 3Q2012.
SkyWest brokers deal to return 50-seaters to Delta
As Republic works to find an optimal economic operating point for its 50-seat jets, its fellow large US regional operator SkyWest has an even greater exposure to the uneconomical type. As of Aug-2012 SkyWest had a total of 517 50-seat jets, which represents approximately 71% of its total fleet. United owns the 249 ERJ-145s that SkyWest inherited through its 2010 acquisition of ExpressJet and subleases those aircraft from its major partner, which reduces SkyWest's risk on abut 34% of its fleet. As of 31-Dec-2011 SkyWest directly owned 87 50-seat CRJ200s.
SkyWest fleet: Aug-2012
SkyWest owned and leased aircraft: 31-Dec-2011
SkyWest recently reached a deal with partner Delta entailing the early termination of 66 50-seat Bombardier CRJ200s and the addition of 34 dual class, larger-gauge CRJ700/900 aircraft. During a recent earnings discussion SkyWest president Brad Rich declined to confirm if a portion of the 34 aircraft were being sourced from Comair.
In Jul-2012 when Delta announced the closure of Comair, the carrier said it planned to lease 28 of Comair's larger gauge, 70-plus seat CRJs to other operators. Mr Rich would only state that the CRJ700s/900s being assigned to SkyWest are used aircraft, explaining SkyWest was not in a position to disclose any additional details about the jets.
Of the 66 50-seat CRJ200s being cut from SkyWest operations, 41 of the aircraft are owned by Delta, and SkyWest has no obligations on those aircraft. The remaining 25 are owned by SkyWest, and Mr Rich stated it was SkyWest's intention to redeploy those aircraft.
Overall, SkyWest has a number of 50-seat aircraft that Mr Rich described as low-risk, meaning the aircraft have both short-term leases and were sourced from the secondary market, which makes the jets inexpensive. He believes those conditions lend SkyWest a good deal of flexibility to shed the smaller jets if the need arises.
But he remains confident that SkyWest can redeploy the 25 aircraft that are exiting Delta's operations, noting the company was making "productive progress" in finding alternative operations for the aircraft.
A willingness to forge productive solutions
Mr Rich declared that SkyWest's recent deal with Delta "demonstrates our ability to be creative and work through productive solutions with partners", and if its major partner wanted to craft another similar transaction, SkyWest would be willing to strike a deal that "benefits both of us".
Delta appears willing to attempt to craft mutually beneficial solutions with its partners to shrink its 50-seat jet fleet. Part of a landmark contract it recently concluded with its pilots allows the carrier to substantially reduce the number of small aircraft in its fleet. Recently Delta CEO Richard Anderson stated that Delta's 50-seat jet fleet will fall from more than 500 in 2008 to less than 125 during the next two years.
See related article: Delta's cost pressures mount as revenue growth remains solid
More mutually beneficial deals between SkyWest and Delta might be necessary as Delta in Apr-2012 agreed to extend Pinnacle's contract covering 145 50-seat CRJ200s until 2022 as part of its deal to supply debtor-in-possession funding to Pinnacle during its Chapter 11 reorganisation. Delta owns all of Pinnacle's 50-seat jets, and it appears the carrier could be saddled with those aircraft for another decade.
See related article: Pinnacle's bankruptcy underlies growing weakness of US regional carriers
Regaining financial footing
Both Republic and SkyWest produced favourable financial results during 2Q2012, which reflected some cost cutting schemes initiated by the companies.
Republic during 2Q2012 recorded a net profit of USD20 million, rebounding from a USD15 million loss posted in the year prior. Much of the improvement is attributable to USD136 million in cost improvements achieved through the restructuring of Frontier, which swung from a pre-tax loss of USD70 million during 2Q2011 to pre-tax profits of USD23 million in 2Q2012. Republic also improved its 2Q2012 operating income year-over-year by 434% to USD65 million.
Republic Airways Holdings consolidated financial results: 2Q2012 vs 2Q2011 and 1H2012 vs 1H2011
After underperforming financially throughout much of 2011 SkyWest during 2Q2012 recorded a significant rise year-over-year in net income from USD1.6 million during 2Q2011 to USD17 million during 2Q2012. The company reversed a USD9.5 million loss recorded during 1H2011 to a USD16 million profit in 1H2012.
SkyWest has undertaken its own cost cutting scheme to reverse its negative fortunes and during 2Q2012 reduced crew and crew training costs by USD10 million and cut engine and airframe by nearly USD4 million. The company also recorded USD7 million in additional revenue stemming from improved on-time performance and higher completion factors.
SkyWest consolidated financial results: 2Q2012 vs 2Q2011 and 1H2012 vs 1H2011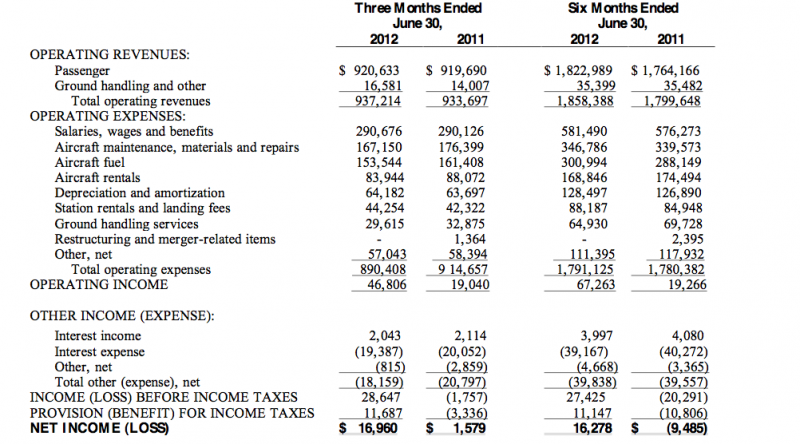 Republic and SkyWest in the short term seem to have coined deals and internal overhauls that have helped each company return to profitability. But those companies also admit much needs to be done to ensure they remain the strongest regional providers in the US, or what emerges as the regional landscape in the country during the next decade.