Qatar Airways Middle East landing & airspace restrictions; wider ramifications for global aviation
Analysis
For much of this decade, Middle East aviation has been besieged by external events throwing markets in disarray. Now there is a dispute of internal making. Four countries – Bahrain, Egypt, Saudi Arabia and the UAE – are cutting ties with Qatar for political reasons. Local flights are being cancelled while Saudi Arabia has shut its airspace to overflights from Qatar Airways.
Saudi is not a signatory to the "Transit Agreement" which followed the Chicago Convention. Bahrain and the UAE are signatories and have airspace far more relevant to Qatar. For the open skies-seeking UAE to abandon its Transit Agreement obligation is a big call, but with this incident highly charged, uncertainty pervades. The ban on flights has a greater impact on Qatar Airways, which operates more flights than all other airlines combined. Local traffic is impacted and so too is Qatar's global network, which relies on Saudi and the UAE as large source markets supporting its superconnector network.
More significantly, public confidence in aviation has been dealt a blow and for aviation there are no long term winners from this. A speedy resolution is needed. It stems from a much broader issue than aviation alone, but hopefully, in this tight knit global industry, airline operations will not be disrupted for long.
The Transit Agreement gives Qatar access to Bahrain and UAE airspace, but not Saudi airspace
In the immediate hours after the various bans were announced, there was confusion regarding the exact meaning and implementation of airspace closure. The difference is critical.
Four Middle East countries – Bahrain, Egypt, Saudi Arabia and UAE – have closed airspace for flights landing and taking off between their respective countries and the State of Qatar. This is significant and will be explored in further detail in the next section, but potentially a larger impact is the closure of airspace to Qatar-operated flights merely overflying the four countries and not landing or taking off in one of the four countries.
Bilateral air services agreements, whether constrained or permitting open skies, govern landing and take off rights. Yet overflight rights are encompassed primarily in the multilateral Transit Agreement. The Transit Agreement (of 30-Jan-1945) is separate from the Chicago Convention (07-Dec-1944), which merely confirmed the exclusive sovereignty of all states in the airspace above their territory. It therefore became desirable to have a multilateral agreement to allow overflights (and landing for technical reasons, the "first" and "second" freedoms). Not all states that have ratified the Chicago Convention have adhered to the Transit Agreement, but most have.
Three of the four countries banning Qatari flights from landing are party to the Transit Agreement: Bahrain (12-Oct-1971), Egypt (13-Mar-1947) and the UAE (25-Apr-1972).
Crucially, Saudi Arabia in 1962 ratified the Chicago Convention but has not ratified the Transit Agreement. With no obligation to allow Qatar access to its airspace, Saudi Arabia has withdrawn the privilege.
Bahrain, Egypt and the UAE have committed under the agreement to permit scheduled flights from the State of Qatar to overfly their airspace. If the theory is clear, the practice is grey: the sensitivity of the dispute and urgency to force action does not necessarily mean the Transit Agreement will be complied with or will be seen as valid. There is no police force to enforce commercial international compacts and, while ICAO nominally has dispute resolution powers, they have scarcely been resorted to in 70 years and are largely ineffective. So it often falls to recourse to retaliation to bring antagonists to the table; but here Qatar appears to have little to fight back with - in aviation terms at least.
This outcome is most delicate for the UAE, which has upheld itself as a champion of liberalisation and open skies (the latter even the name of Emirates' in-flight magazine). In responding to US airline allegations about subsidies, Emirates Airline has warned of the grave danger of violating open skies agreements. Violating the Transit Agreement in this modern era also adds an unwelcome precedent.
Qatar has very little airspace; it is largely surrounded by Bahrain airspace (the Bahrain FIR). A slither on the south is managed by Saudi Arabia while the UAE is on the eastern border.
Losing Saudi airspace is significant, but even worse would be losing Bahrain airspace since it practically encircles Qatar. Most Qatar Airways flights to Europe can (and prior to the airspace ban, did) track north of Saudi Arabia. Closing of Saudi airspace requires timely and costly diversions to other Middle East destinations as well as to most of Africa. Losing Saudi, Bahrain and UAE airspace would effectively ground Qatar Airways save for any fifth freedom services.
(It is with some irony that Gulf airspace has not consolidated to a single party-neutral bloc, which would theoretically be unable to rescind access for political reasons.)
Map of Gulf airspace blocs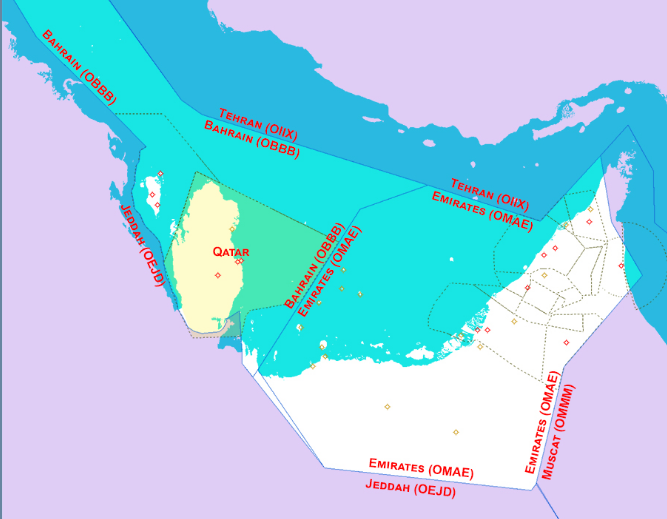 Qatar Airways has more flights to the four countries than its peers
Qatar Airways has a larger presence in Bahrain, Egypt, Saudi Arabia and the UAE than airlines from those countries have in Qatar. This reflects partially Qatar's larger size compared to some airlines (but not Emirates) but also its need to build source markets to feed its sixth freedom transit operation.
Average daily flights between Qatar and Bahrain, Egypt, Saudi Arabia and the UAE: week commencing 29-May-2017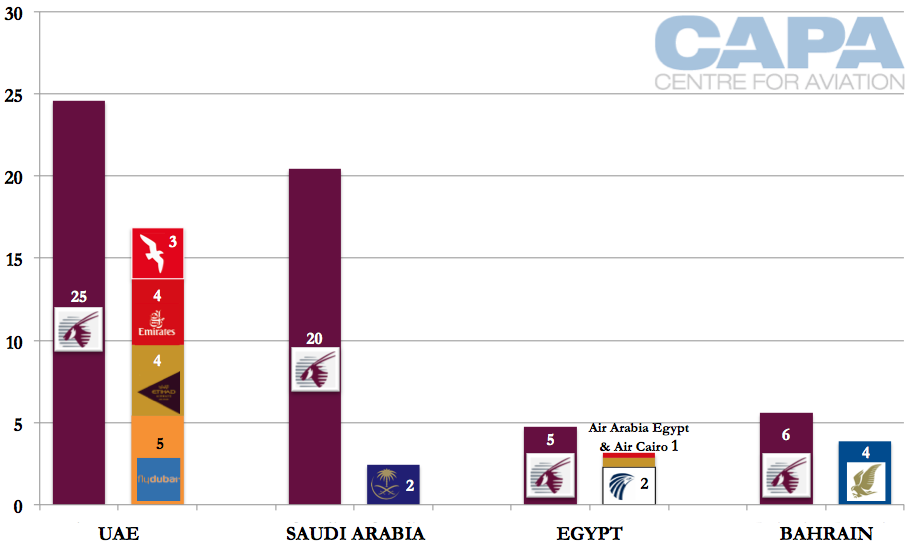 Qatar Airways' larger presence is most notable in Saudi Arabia and the UAE. (Qatar Airways is the only scheduled airline in the State of Qatar.)
Average daily flights between Qatar and Bahrain, Egypt, Saudi Arabia and the UAE: week commencing 29-May-2017
The daily flight figure oversimplifies capacity but is illustrative. Looking at seat capacity, Qatar Airways has 29% more seats to/from Dubai (lower than what frequency may suggest since Qatar operates many flights with narrowbody aircraft while Emirates is all-widebody and even deploys the A380 on Dubai-Doha). Qatar Airways has multiple more seats to Saudi Arabia than Saudia has to Qatar.
Average daily seat capacity between Qatar and Bahrain, Egypt, Saudi Arabia and the UAE: week commencing 29-May-2017
Saudi and UAE are the largest source markets for Qatar Airways
The loss of access to the local Saudi and UAE markets is significant, irrespective of transit/overflying access. Saudi and the UAE are Qatar Airways' two single largest markets – bigger than even India.
Qatar Airways system seat capacity by country: week commencing 05-Jun-2017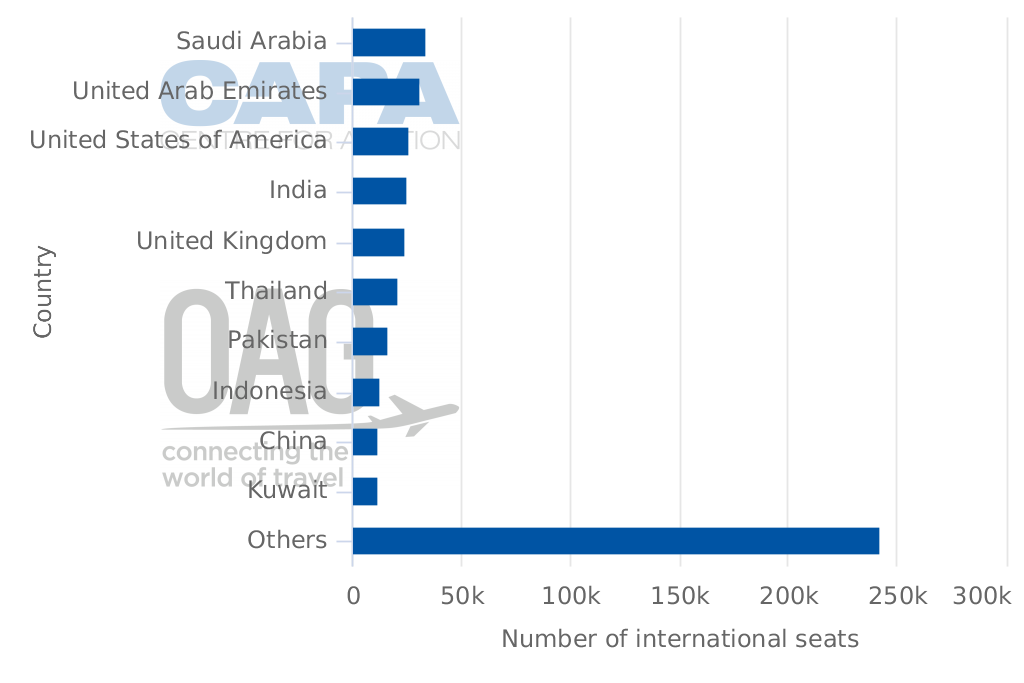 All three Gulf superconnector airlines rely on transit traffic but to varying levels. Emirates, with its local Dubai presence, has the most local traffic and least connecting traffic of the superconnectors (the majority of traffic is still connecting). Qatar Airways, however, by some estimates has only around 10% local Doha traffic (Emirates can be around 30% depending on the time of the year).
The local Dubai market may not be big in global terms but it can be high yielding since there is lower end-to-end competition. Local Dubai-Europe/Asia/Australia tickets can be significantly more expensive than transiting Dubai between two of those regions – a much longer journey.
To access the UAE market, for local traffic and to feed its connecting hub, Qatar Airways has a significant presence in the UAE. Qatar Airways is the largest foreign airline in the UAE and fifth overall (after Emirates, Etihad, flydubai and Air Arabia).
UAE seat capacity by airline: week commencing 05-Jun-2017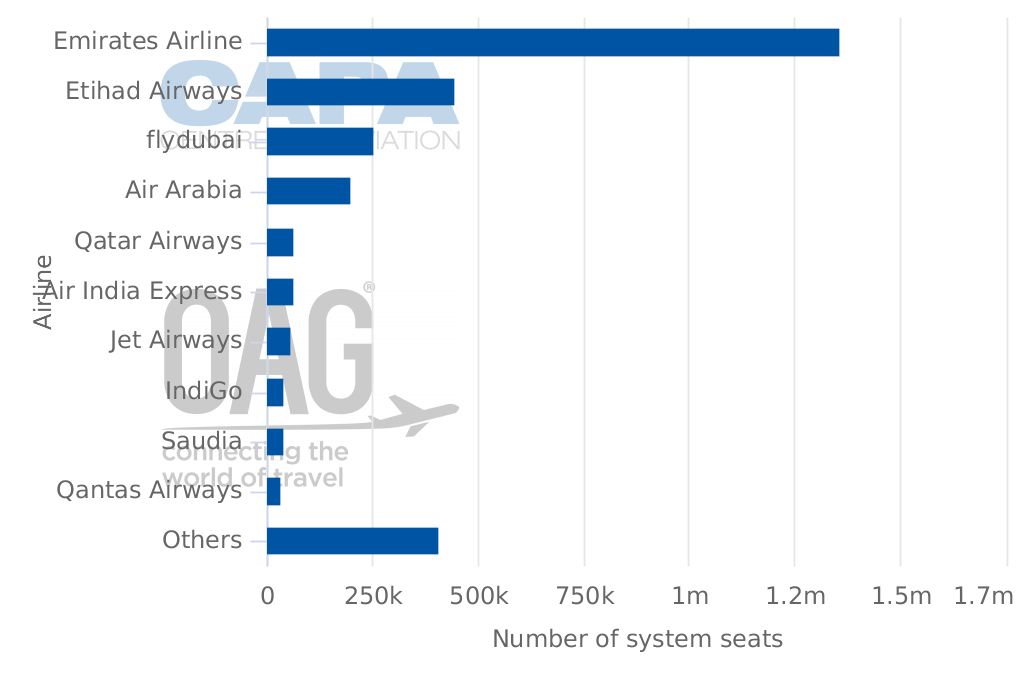 2017 was to be a year of growth for Qatar Airways in Saudi Arabia as it expanded destinations. Some of this growth was to compensate for the failure to secure a regulatory licence for Al Maha Airways.
Al Maha was to be a local Saudi airline wholly owned by Qatar and permitted under Saudi's liberalisation and quest to grow the local market. Al Maha's setbacks were often attributed to political reasons between Saudi and Qatar that have now materialised to an even greater extent.
See related report: Qatar Airways grows in Saudi Arabia as it catches up to flydubai and appears to end Al Maha ambition
Loss of local markets impacts Qatar Airways' global network
It is unclear how long the ban will persist but, from an aviation perspective, it is in the interest of all to resolve the matter quickly. An impact to Qatar Airways (and also Emirates and Etihad) is that, besides losing point-to-point passengers, by being cut off from markets the connecting flights around the world are also impacted.
A Saudi passenger can no longer transit through Doha en route to Bangkok, while an Australian passenger cannot transit through Doha en route to Dubai.
The affected markets have a small but significant impact on airlines
What does the loss of, at most, a handful of flights a day mean to foreign airlines? For most of the airlines impacted from the ban so far, flights to and from Qatar generally account for under 1% of system ASK capacity. Egyptair is higher at 2.5% while for Air Arabia Egypt – which has only one aircraft – Qatar comprises 15.7% of capacity.
The impact is higher to Qatar Airways, which has 3% of system ASKs to Bahrain, Egypt, the UAE and Saudi Arabia. The true impact is certainly higher, but harder to quantify. Since much traffic is connecting beyond Doha and to much longer flights, a double digit impact is feasible at the least. Revenue is difficult to estimate but could broadly follow capacity allocation.
ASKs of Qatar-four Middle Eastern countries as share of airlines' total system ASKs: week commencing 29-May-2017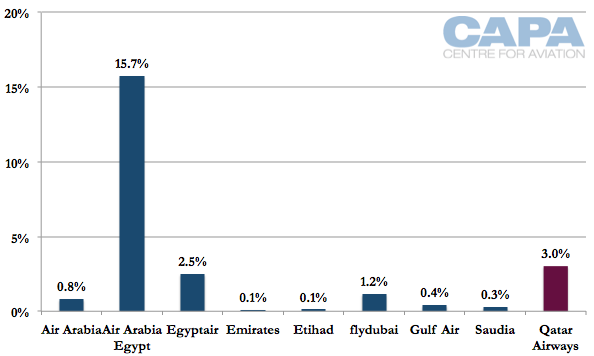 Moving forwards: there could be quick restoration but there will be residual impacts
It is difficult to see the ban persisting for long. There can be few winners from it. It has already created wider uncertainty for Gulf aviation and passengers whose bookings are months away. The nuances of the ban are too particular for the public to understand, but the broader shadow it creates spreads widely.
Amidst growing security concerns and the existing laptop ban, passengers are unlikely to dig in to the reason for this ban. Gulf aviation becomes less attractive for all.
Assuming a quick resolution – which cannot be a given – short term beneficiaries of the need to divert traffic flows are few. But for Gulf aviation a medium term negative impact is almost certain to result.
This whole incident could be forgotten by the end of 2017. Alternatively, if Saudi Arabia – which initiated the ban and appears to be leading it – is intent on delivering change at the State of Qatar, the implications could be more extensive. If Saudi Arabia wants to have political and leadership change in Qatar and then achieves it, there could be wide implications across state-owned companies, of which Qatar Airways and Doha Airport are some of the most visible.
Uncertainty continues to pervade the industry in 2017. Qatar Airways may find it has few friends among its neighbours during the turmoil, but competitors would be unwise to assume Qatar's growth story faces a slowdown.
Addendum: more countries are joining the ban
Since the initial research of this report, the Maldives, Libya and Yemen have joined the Qatar flight ban. The Maldives is the first country outside the Middle East to join the ban. Some of the other countries had noted their intent to encourage allies to join them against Qatar. Qatar Airways does not serve Libya or Yemen but does serve the Maldives.
In the Maldives, Qatar Airways is the third largest airline, with 9.1% of international seats, according to OAG data. Qatar was due to operate three daily A330 flights to Male. No Maldivian airline operates to Qatar. The Maldives is Qatar's 35th largest market based on available seat capacity. As with many political actions of this kind, the immediate losers will be the local tourist industry
Male airport international seat capacity by airline: week commencing 29-May-2017