Qatar Airways all-business London service. An attempt more likely to succeed than others were
Analysis
Gulf network carriers have re-written global aviation with profound implications. They ushered in long-haul to long-haul connections with cost and convenience efficiency while offering new aircraft and premium services. Qatar Airways, by joining the oneworld alliance, has gone further by changing assumptions that a global alliance would not accept a Gulf carrier as a member.
For its next trick, Qatar Airways is attempting to make work what most – but not all – have failed at: all premium services. Qatar on 14-May-2014 commenced a daily A319 link between Doha and London Heathrow with only 40 business class seats. This is focused on local traffic given limited connecting options – a change from its usual focus.
The smaller size of London-Doha compared to Dubai, which more carriers serve, is a tick in Qatar's favour, as is its reputation and premium positioning. But unknowns remain. Is success based solely on profits? And where does Qatar's dear friend British Airways sit with the service?
Doha-London – a modest distance – with small A319 is low risk, unlike past all-premium attempts
Qatar's Doha-London Heathrow return service carries much lower risk than many past all-premium attempts. Doha-London at 5,246km is slightly shorter than the 5,586km between New York JFK and London Stansted, which saw some attempts at all-premium services last decade. Doha-London is also significantly shorter than Hong Kong Airlines' short-lived Hong Kong-London Gatwick flight. That reduces costs but also specifically fuel burn. Fuel comprises a greater share of costs on long-haul flights, and in an all-premium configuration this can be prohibitively expensive.
Unlike Hong Kong Airlines or most of the failed trans-Atlantic all-premium attempts, Qatar Airways is already an established airline on the route and will be using a smaller aircraft with only 40 seats, not 100-plus. Qatar's configuration is slightly less than the 48 seats that Eos used on a substantially larger aircraft, the 757-200. Qatar's long-range A319s can serve the relatively short distance between Doha and London. Hong Kong-London for example is a larger premium market than Doha-London, but only a widebody can operate Hong Kong-London route non-stop. It is no coincidence (but not the sole reason) British Airways' London City-New York JFK flight uses 32-seat A318s.
Distance, aircraft type, seats and operator(s) of select previous all-premium services: 2008-2014
Qatar's all-premium London flight is an evolution but not revolution for the carrier. Qatar has used A319s to operate some new long-haul routes, such as Yangon in Myanmar (later upgraded to an A330). While the aircraft had economy class seats, the premium offering was closer to what would be expected on a widebody aircraft and not narrowbody. Through this usage Qatar gained experience and results that makes it more comforting to launch the Doha-London A319 service.
Qatar Airways is a known and premium entity
In the past, the failed all-premium routes were offered by opportunistic start-up carriers that lacked awareness, challenging their ability to market a new type of service. Being a new entrant can also mean uncertain service, limited partnerships and loyalty programme. Qatar in contrast is a known entity with a premium positioning, partnerships (it joined oneworld in Oct-2013), frequent flyer programme and corporate base.

Qatar has a dedicated business class terminal in Doha and an exclusive lounge at Heathrow's Terminal 4. This, and without any economy class passengers, ensures a premium experience. Some passengers like the feeling of small, intimate cabins (as Qatar's A319 will be) while others prefer widebody aircraft. For those with a preference, Qatar's other Heathrow services (operated by widebodies) can provide other options – and importantly, frequency flexibility in London. This gives Qatar the advantage of scale that past all-premium attempts largely did not have.
While London City Airport may be convenient for those travelling from London's financial heart (as is the argument for BA's London City-New York service), the short runway at City means limited fuel can be carried on take off and a technical stop is needed if Qatar were to use that airport. BA conveniently can use Shannon, which is largely en route and offers the opportunity to pre-clear US immigration. Such a convenient stopover between London and Doha would likely be less forthcoming.
After City, Heathrow is the preferred international airport, giving Qatar's all-premium service an advantage, whereas past attempts had to use other airports such as Luton and Stansted.
All-premium services have unique operating nuances; routes benefit from a large parent
Qatar's all-premium Doha-London route also benefits from having a large airline to help manage cash flow. The all-premium trans-Atlantic carriers were often in tight cash situations as premium bookings are made exceptionally close to departure, giving little room for seasonal changes in demand. Most other carriers can strive for some consistency by relying on economy class bookings, which are made more in advance.
The impact on cash flow is evident from limited evidence IAG gave at its Capital Markets Day in 2011 showing the revenue and load factor (base figures not given) of its London City-New York JFK service. It can be observed that revenue (and often load factor) falls sharply in the same months (Apr and Aug) that demand is low due to holidays. For a small carrier, these quieter months make it challenging to generate enough cash to get through the following few weeks.
British Airways London City-New York JFK monthly revenue and load factor: 2011 (TY), 2010 (LY)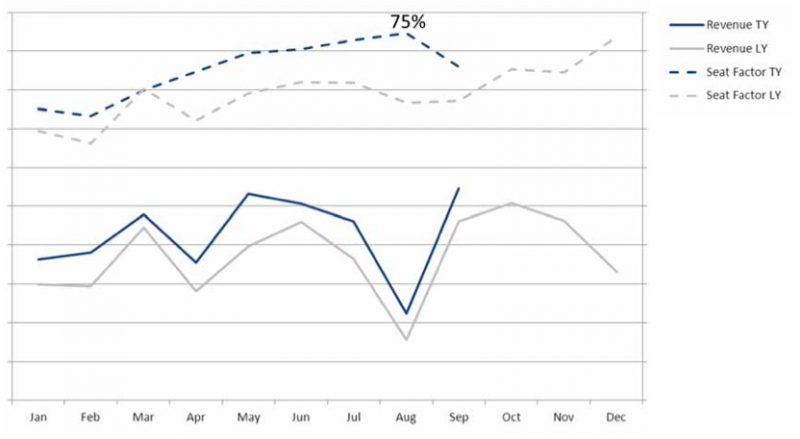 There are further benefits a large airline, unlike a small and independent one, can exploit when offering an all-premium service. As premium traffic is difficult to stimulate, unlike economy class travel, the off-season can necessitate reduced capacity, as BA has done in the traditional northern hemisphere summer holiday month of August.
BA's service is coordinated with the market and for example it does not offer the all-premium flights on Saturday. Having other services (Heathrow-New York) offers a back up and allows it to offer a premium option between New York and London. In contrast, a small and independent carrier would either risk running very unprofitable flights or would be challenged to have other travel options, potentially weakening its position as a consistent provider.
British Airways New York JFK-London City monthly seat capacity: 2011-2013*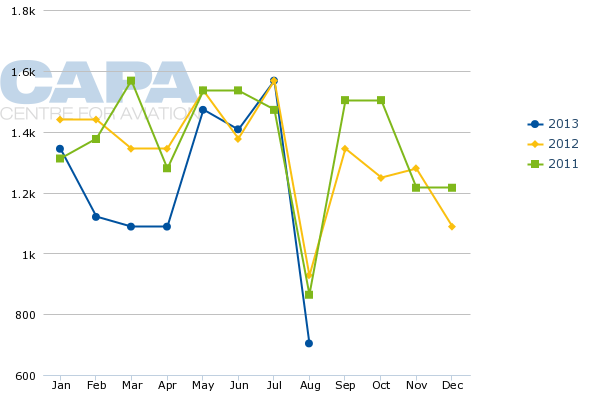 British Airways New York JFK-London City monthly flight departures: 2011-2013*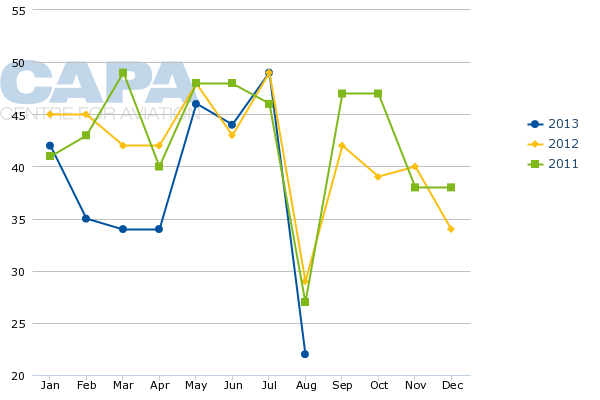 British Airways London City-New York JFK monthly load factor: 2011-2013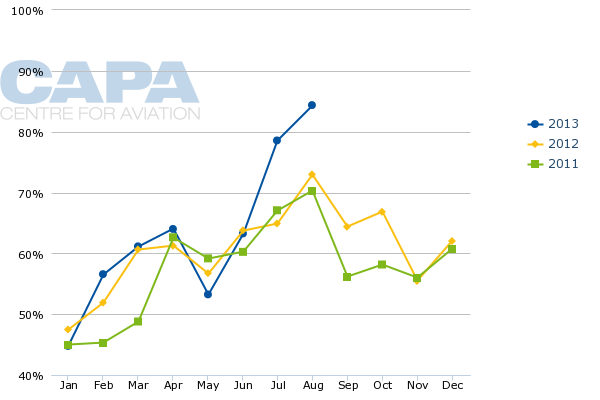 British Airways New York JFK-London City monthly load factor: 2011-2013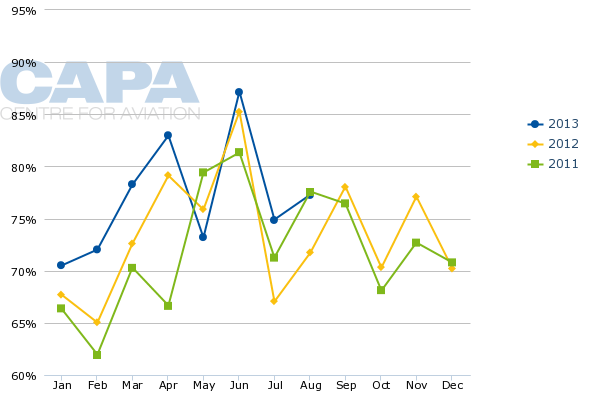 Qatar's shift of 777s from London to long-haul routes has reduced business class capacity
The all-premium service can help Qatar backfill business class capacity. Qatar's London Heathrow business class capacity has decreased as the carrier has shifted 777s from London to more long-haul routes, where the aircraft are better suited. The introduction of the 787-8 (and soon the A380) means London can have Qatar's newest business class product, a considerable improvement over its previous offering.
Qatar's 777-200LRs and 777-300ERs typically have 42 business class seats, and in their place on the London route have been more A330 flights and new services with the 787-8 that have only around 24 business class seats. In 2012 777s operated about two of Qatar's five daily flights but in 2014 this has been reduced to about one daily flight.
The new all-premium service will allow Qatar to focus on its business class position without worrying about filling economy class – perhaps an indication of over-capacity between Heathrow and the Middle East, where capacity has grown from about 75,000 weekly seats in 2013 to 84,000 in 2014, about a 12% increase. Economy class is typically more of a transfer market, for which competition is greater.
London Heathrow Airport to Middle East (seats per week, one way): 19-Sep-2011 to 24-Aug-2014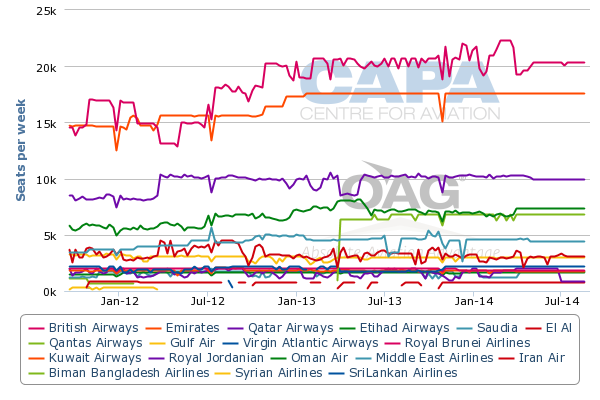 Qatar's all-premium flight is more about local, not connecting traffic
The all-premium flight between Doha and London is sandwiched by about two hours between two other services, while the return London-Doha sector departs 25 minutes after Qatar's previous last service of the day.
Qatar Airways Doha-London Heathrow typical services (local times): Jun-2014
| | | |
| --- | --- | --- |
| Sector | Time | Aircraft Type |
| Doha-London Heathrow | 01:50-07:15 | A330-300 |
| | 03:40-9:05 | A330-300 |
| | 06:45-12:00 | 787-8 |
| | 07:55-13:15 | 777-300ER |
| | 12:30-17:55 | A330-200 |
| | 14:50-20:25 | A319 all-premium |
| | 16:35-22:00 | A340-600 |
| London Heathrow-Doha | | |
| | 08:00-16:45 | A340-600 |
| | 10:50-19:35 | A330-200 |
| | 13:00-21:45 | A330-300 |
| | 15:05-23:50 | 777-300ER |
| | 16:00-00:45+1 | 787-8 |
| | 21:30-06:15+1 | A330-300 |
| | 21:55-06:40+1 | A319 all-premium |
The outbound service departs Doha (14:50) when there are mostly arriving flights. This limits the number of potential connections; a service geared towards the connecting market would depart later in the day or earlier, such as between 12:00-14:00, which coincides with a large arrival period between 10:00-11:00. The service does, however, let local traffic have a morning's work in Doha while arriving in London for a later dinner or to go home.
The inbound service arrives in Doha (06:40) just as the hub begins to send out 40 departing flights, most of which will not connect with the all-premium service. The service that departs London 25 minutes before the all-premium flight provides better connections. This flight allows a full day's work in London plus dinner and arrives in time to have a full day's work in Doha.
Qatar Airways movements at Doha Airport: 20-Feb-2014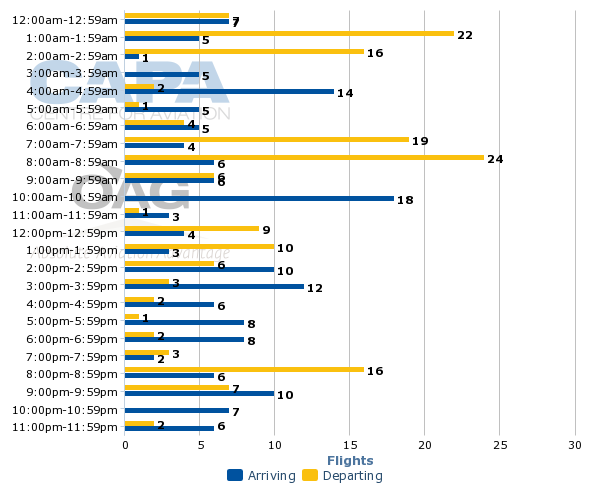 The first thought of an all-premium route from the Middle East to Europe could bring to mind Dubai-London, but the market is more competitive as it sees service from BA, Emirates and Virgin Atlantic. In contrast, only BA and Qatar link London and Doha, and a partnership between the two on the route should not be ruled out (Qatar says it expects to have a JV with BA). Silverjet briefly served the London-Dubai market but with a 100-seat 767-200ER, creating over-capacity for a niche carrier without scale.
Additionally, most premium traffic would opt for a non-stop service, but for those connecting there are more Western European carriers (16) serving Abu Dhabi/Dubai non-stop than Doha non-stop (four), and Dubai typically sees higher capacity and frequency than Doha from European carriers.
European airlines have experimented with all-premium narrowbody flights, often sustained by corporate ties
All-premium flights to and from Europe have been tried before. BA's London City-New York service still stands and connects the world's two most premium markets. Doha-London is much smaller, but Qatar's capacity is less than BA's (one 40-seat flight to BA's up to two 32-seat flights), although arguably not proportionally less relative to market size.
BA subsidiary OpenSkies flies from Paris Orly to Newark and New York JFK using larger 757-200s. The operation has been through several remakes and today is sold as business, premium economy and economy with 114 total seats. A past attempt at a truly all-premium configuration of business bed and business seat was well-received by the market but GDS limitations made it too difficult for the carrier to differentiate and sell the two business products.
Lufthansa contracts PrivatAir for a service to Pune, near Mumbai in India. Lufthansa sells the route to the public but has close relations and undertakings with German industries, which use the service as Pune is home to automobile and pharmaceutical centres. The service avoids the alternative of a nearly four hour drive from Mumbai. PrivatAir has also operated for KLM and SWISS. All Nippon Airways has used an all-premium (or mostly premium) 737 to serve thin routes that see business but little leisure demand; Yangon was an example (now served with 767s).
All-business service differentiates Qatar from Emirates and Etihad
The Gulf network carriers are often portrayed as being in competition with the rest of the world's airlines, creating an us-and-them competitive outlook. This is largely the case, but the Gulf carriers are also deeply competitive with each other, where the relationship is as much about national rivalries and pride as it is commercial realities.
Qatar's all-premium service will give it a differentiating factor. Emirates has an all-A380 service to slot-constrained Heathrow with five daily flights (and a considerable three daily flights to Gatwick, including some A380s). Qatar has five daily flights to Heathrow while Etihad has a smaller presence with three daily Heathrow flights; neither serves Gatwick.
While there are strong commercial arguments for Qatar's all-business service, there is also the benefit the flight will bring to Qatar's brand. This cannot be easily calculated – but it is undoubtedly a marketing opportunity when used tactically, although some pizzazz will be lost due to Etihad's newest products.
This should not be a radical thought. Many – most – carriers sustain first class on dozens of aircraft as the branding and prestige outweigh the typical losses. In contrast, a single daily Doha-Heathrow service is small change to elevate a brand – should the service not be sustainable on its own, that is.
The Middle East has already tried all-premium operations, but under different circumstances
There have been past all-premium attempts in the Middle East too. Saudi Arabia's Kayala Airline operated 44-seat A319s within Saudi Arabia's high value domestic market and to some regional destinations. It went out of business around the time Eos, MaxJet and Silverjet did. Kuwait's Wataniya Airways launched – and ended – a few years later with an all-premium business and premium economy configuration mainly serving the Middle East region but also Istanbul, Rome and Vienna.
Both carriers struggled with the economics of low density and limited scale on short sectors while competing with the region's Big Three, especially once good quality low-cost operators entered the market. Kayala in the domestic Saudi market would also have been impacted by fuel subsidies being given to Saudia and the nationally imposed fare cap.
Outlook: A plausible service that could be replicated? Where does British Airways sit with this service?
While there are many elements of Qatar's all-business service that are known, there are still some important unknowns. For example the service may be a slot holding exercise for the slot Qatar acquired a few months ago – but retrofitting aircraft for this purpose seems farfetched.
Also, where does British Airways sit with the service? IAG CEO Willie Walsh has been close to Qatar CEO Akbar Al Baker and Mr Walsh was instrumental in bringing Qatar into the oneworld alliance.
Relationships between the two carriers are very close, with Qatar expecting to finalise a JV with BA. Having as best friend the dominant carrier in London, along with its corporate accounts, is a very strong position for a low-risk 40-seat flight.
Even if not already plotted into the picture, both British Airways and other oneworld partners may have new chances to feed the premium route, although the timings limit opportunities. BA has a large North American network, but the inbound service from Doha will not connect to BA's North American flights as it arrives too late.
There are a number of unique factors that could make Qatar's service workable. One question is whether this is a one-off service or possible foundation for more – from Qatar or others. The cost economics favour widebody aircraft, but if the revenue and volume is not there, there is no point in operating an efficient aircraft that is too large. If demand exists (or in markets where capacity and frequency are bilaterally limited), it can be strategic to take the cream off the market and not worry about low-yielding passengers.
It is true the all-premium model has seen more failures than successes, but many of the previous attempts lacked the advantages and existing market presence that Qatar Airways possesses.
The Gulf carriers have already wrought much change, and with their model still relatively young, there are opportunities for experimentation and permutations. Qatar is continuing along a path which is now expected of the Gulf carriers as they change the world's airline models.