Qantas takes first A380 as competition takes off
Qantas has added its first A380, described by outgoing CEO, Geoff Dixon, as the "perfect fit" for Qantas' long-haul operations, providing improved yields, reduced emissions, lower costs, and better range. The aircraft gives Qantas a competitive response to Singapore Airlines, which already operates A380 services from Sydney to London and Tokyo via Singapore, and Emirates, which will offer A380 services from Sydney to Auckland, London and New York by Mar-09.
But Qantas is also facing an intensification of short-haul competition from the likes of Virgin Blue and its low-cost international offshoot, Pacific Blue, as well as the expanding Tiger Airways. Qantas' answer is Jetstar, which has unveiled a significant expansion of its domestic network for the upcoming (southern) Summer schedule. From late-Oct-08, Jetstar will add capacity from its key Sydney and Melbourne hubs with additional A320 and A321 equipment.
Jetstar continues to expand its capacity by over 30% year-on-year this year.
Qantas Group capacity (ASKs, billions, domestic & international): Feb-04 to Jun-08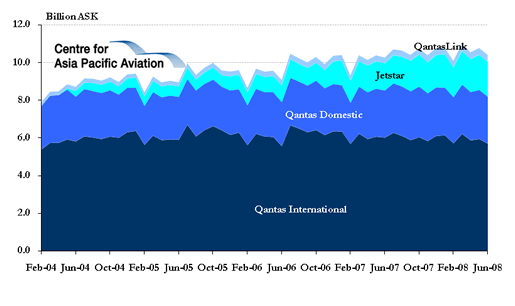 The low cost unit now provides 18% of total Qantas Group capacity (ASKs, domestic and international).
Qantas Group capacity share by airline (domestic & international): Feb-04 to Jun-08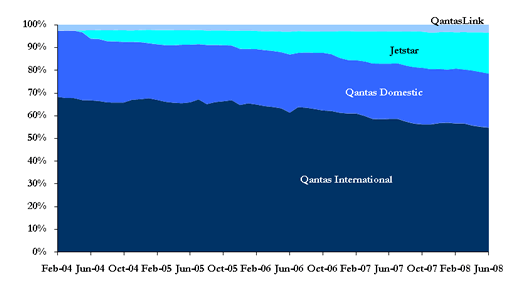 Since Jetstar's launch in May-04, Qantas has reduced its international mainline capacity by 2%. In that period, Qantas grown its mainline domestic capacity by 5%, although in the past 12 months (to Jun-08 year-on-year) Qantas reduced its mainline domestic capacity by 0.5%. Qantas has probably now peaked in terms of mainline domestic operations in Australia as Jetstar continues to grow and competition intensifies, not least because Jetstar CEO, Alan Joyce, will soon take up the leadership of Qantas.
The next stop for Jetstar is more trans-Tasman flying and a potential foray into the New Zealand domestic market, where Pacific Blue's entry has stirred up incumbents Qantas and Air New Zealand. A decision on this could be imminent.