Qantas raises AUD500 million, shares slump
Qantas has successfully completed an institutional placement of new shares, raising AUD500 million (USD322 million) to bolster its balance sheet amid the global economic recession. The shares were placed at AUD1.85 per share - a 17% discount to the closing price of AUD2.29 per share. The discount was steep - but probably not as savage had Qantas waited longer to tap the market for funds, given the expected stampede for fresh capital as the economy deteriorates.
Qantas shares opened after a two-day trading halt today slightly below the placement price, at AUD1.84, but have climbed off the lows to be AUD1.90 at 11.00 AEST.
Qantas share price: 04-Feb-08 to 05-Feb-09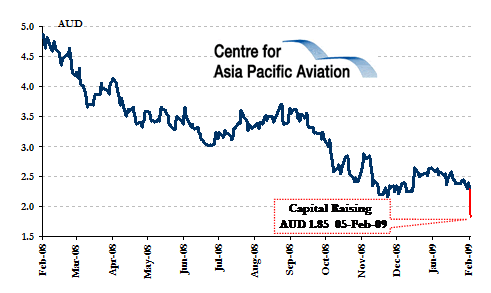 Qantas stated the fresh capital will be used to enhance financial flexibility and: support the fleet renewal programme; increase diversity of funding; reduce net debt; and support Qantas' investment grade credit rating. The latter is crucial, as the airline continues to invest heavily in its fleet, and follows the announcement yesterday of a 68% fall in first half operating profit.