13-Nov-2008 11:11 AM
Qantas may sell FFP unit - airline share sell-off continues
Qantas shares dipped 3% yesterday and plunged a further 5% in early morning trade today on the weaker economic outlook and reports the carrier may be planning further cuts to its network. Rumours the airline is negotiating to sell its frequent flyer unit to private equity buyers for up to AUD1.2 billion (USD765 million) appear to have failed to impress investors. The unit had previously been valued at up to AUD3 billion.
Virgin Blue's shares have also been caught in the down draft of concern over the outlook for the Australian economy. House price data at its Brisbane hub show further falls in values, while the Australian mining boom is showing signs of running out of steam as China's economy slows.
Asia Pacific selected airlines daily share price movements (% change): 12-Nov-08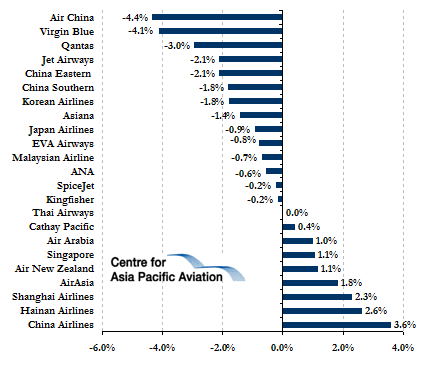 The big three Chinese airlines had poor performances on the stock market yesterday. The CAAC stated Chinese airlines (with their strained balance sheets) could look increasingly to lease aircraft in the future, while regulators could move to lower fuel prices later in the year. Chinese airline losses reached USD615 million in the first ten months of 2008.