Qantas-Jetstar and SIA-Scoot dual-brand strategies challenged by SE Asia-Australia over-capacity
Analysis
A rapid 17% increase of capacity in the Southeast Asia-Australia market has created over-capacity, pressuring down fares. This poses a unique challenge to market leaders Qantas and Singapore Airlines, which must contend with their mainline operation and their low-cost subsidiaries, Jetstar and Scoot.
Full-service carriers with lower fares narrow the gap with LCCs, eroding the value of differentiating factors in such dual-brand strategies. Lower full-service fares can also force down LCC fares. Load factors are weakening at SIA and Qantas especially, while Scoot is carrying fewer Australian passengers than in its first year and has reduced its schedules. Qantas' re-timing of Asian flights sees it overlap more with Jetstar, which has also reduced flights.
There is almost always an element of overlap in dual-brand strategies, but more recently at SIA-Scoot and Qantas-Jetstar it seems gains at one brand are coming at the sharp expense of the other. Adjustment is needed. Qantas, facing an unprofitable domestic market, is most pressured to make changes.
Jetstar and Scoot's overlapping Australia-Southeast Asia business is small compared to each airline group's larger position. But given conditions, the exposure and size of potential losses is large. The topic is also worth examining as the market is strategically important to all four airline brands in the two groups, Qantas and SIA. Additionally, a solution – especially at Qantas-Jetstar – may not be simple capacity cutting. There is scope for integration, further evolving the concept of dual-brand strategies as well as LCC hybridisation.
Southeast Asia-Australia market has grown 17%; Australian outbound travel pressured by dollar
The Southeast Asia-Australia market has been impacted by two events. First has been a rapid increase of capacity that largely started during 2013. 1H2014 Southeast Asia-Australia capacity is up 16.5% year-over-year, according to OAG. The true figure is likely higher as Qantas has reduced overall seats to Singapore but has significantly grown the number of seats for Australia-Asia sale while reducing Australia-Europe via Asia seats.
Growth has been led by AirAsia X, Malaysia Airlines and SIA. While SIA can be conservative with sales, there is pressure from MAS, which appears to be aggressively targeting load factor over yield, as well as AirAsia X, which has a lower cost base, giving it a structural advantage.
The market has also been impacted by the depreciation of the Australian dollar. Many Asian countries' currencies are pegged, actually or effectively, to the US dollar, reducing Australians' spending power. Asian carriers have a minority of their costs in Australian dollars, meaning they do not substantially benefit from lower costs in Australia.
The depreciation means Australia becomes more affordable for inbound visitors, a significant opportunity given Australia's high cost of living (and visiting). However, the trade-off will not necessarily be balanced: Australian outbound fares are generally sold at a significant premium to inbound fares, meaning an inbound visitor could replace an outbound visitor, but likely at a notably lower yield.
This report looks at load factors, as reported by Australia's BITRE, in the period from Apr-2013, when Qantas re-structured its Asian network, to Nov-2013, the latest month for which data is available. There are historical comparisons to the same periods in 2011 and 2012.
Jetstar, Qantas, Scoot and SIA all serve the Singapore-Australia market, making it the centre of a dual-brand strategy comparison. Singapore has the widest network, followed by Qantas. Scoot in Jun-2012 launched two Australian routes, Sydney (typically served daily) and Gold Coast (five weekly). Sydney is already served by SIA with four daily flights while SIA does not serve Gold Coast but does serve Brisbane, about an hour away. Gold Coast is more of a leisure destination.
Jetstar serves Singapore from Melbourne (launched with daily services, but since Apr-2013 about five weekly) while Singapore-based Jetstar Asia serves the Singapore-Perth market about 11 times weekly. Qantas flies to Singapore once a day from both Melbourne and Perth. Qantas also serves Singapore from Brisbane and Sydney, from which there are no non-stop Jetstar flights.
Qantas, Scoot and SIA Singapore-Australia load factor year-over-year change: Apr through Nov, 2012-2013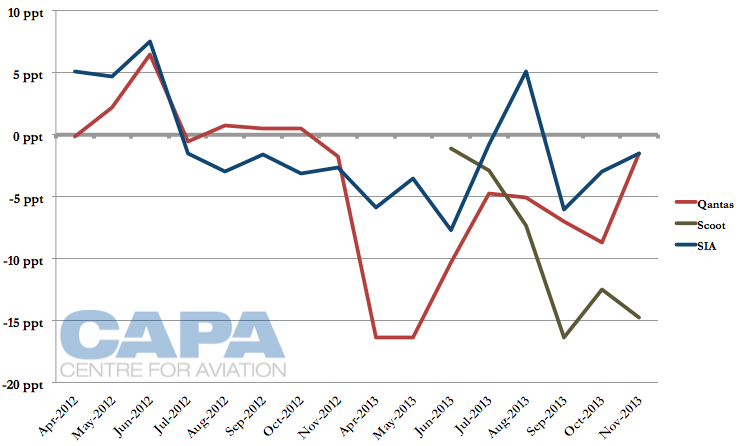 In the Australia-Singapore market, Qantas and SIA were holding relatively flat in 2012 (some improvements in early 2012 but then weakening performance later in the year) but in Apr-2013, the first month of Qantas' re-structured Asian schedule, Qantas' Singapore load factor dropped 16ppt year-over-year.
May-2013 also saw a 16ppt drop while Jul-2013 through Oct-2013 saw 5-8ppt drops. Nov-2013 showed an improving performance of a 1.5ppt drop.
Qantas Singapore-Australia load factor: Apr through Nov, 2011-2013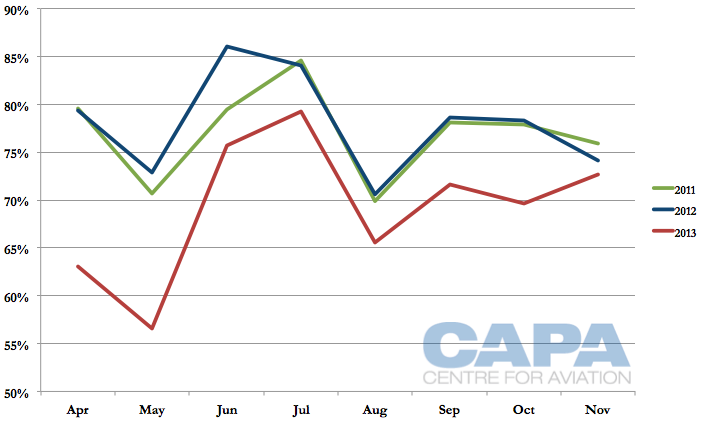 While Qantas may be improving its load, yield information is not disclosed but has likely been decreasing as Qantas discounts fares to fill seats. This approach is hindered by the amount of capacity added to the market.
The result has seen SIA's load factors decline from Apr-2013 to Nov-2013, typically by around 5ppt. An exception is Aug-2013, which saw a 5ppt gain (however, this is reduced as Aug-2012 saw a 3ppt decrease). Qantas and SIA had dovetailed in load factor performance in 2011 and 2012, but in 2013 Qantas' weakening position became evident.
Qantas and SIA Singapore-Australia load factor: Apr through Nov, 2011-2013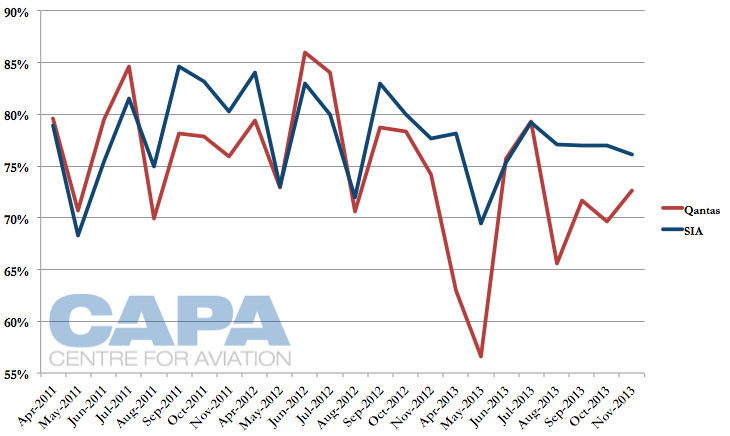 Scoot launched Australian services in Jun-2012, and its load factors in its second year of operation constantly fell. Jun-2013 through Aug-2013 saw 1-7ppt decreases, but from Sep-2013 to Nov-2013 have decreased by at least 10ppt.
Scoot Singapore-Australia load factor: Apr through Nov, 2012-2013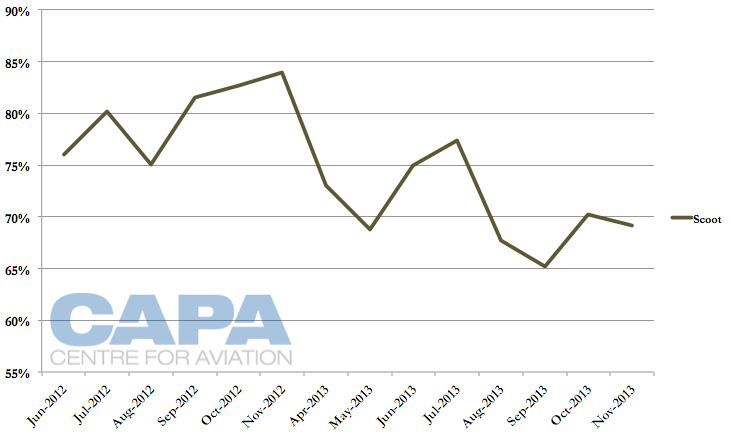 Jetstar is holding ground – but this is still a weak position
The Jetstar Group, comprised of Australia-based Jetstar Airways and Singapore-based Jetstar Asia, has not seen in 2013 the same weakening performance in the Singapore-Australia market that Qantas and Scoot especially have seen. However, capacity is being cut and load factors are generally declining, and 2012 was generally a weak year with the two Jetstar brands recording lower load factors year-on-year whereas Qantas recorded stronger load factors in 2012.
Jetstar Airways and Jetstar Asia Singapore-Australia load factor: Apr through Nov, 2011-2013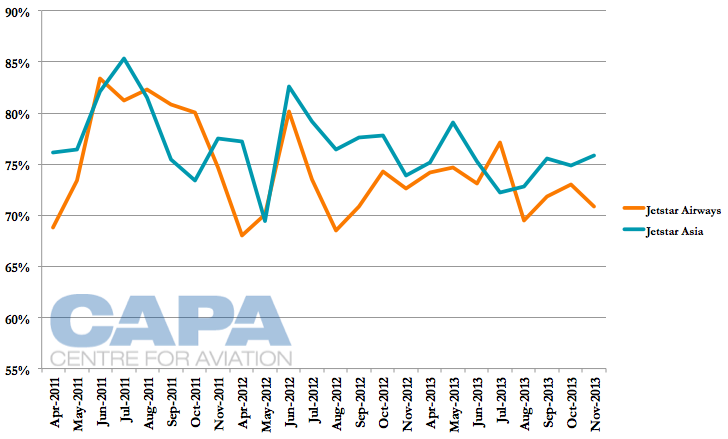 Jetstar Airways and Jetstar Asia Singapore-Australia year-over-year load factor changes: Apr through Nov, 2012-2013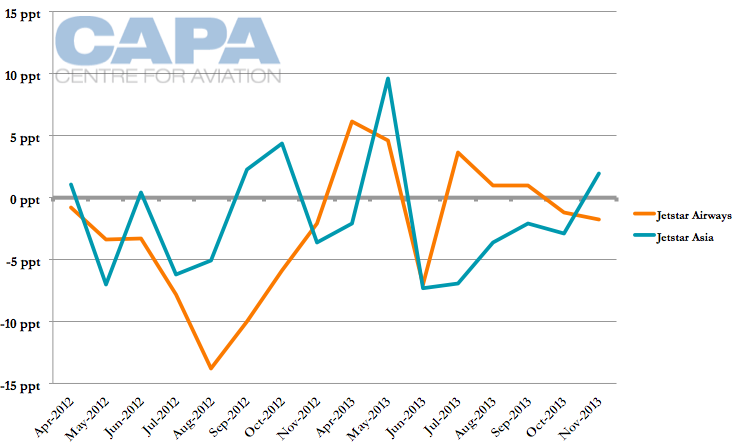 AirAsia X load factor generally holding steady in Australia
AirAsia X serves Australia from Kuala Lumpur, relatively close to Singapore and is thus able to target much of the leisure traffic that carriers in the Australia-Singapore market can. AirAsia X has a number of advantages, including a wider footprint in Australia than Scoot or Jetstar long-haul, one of the world's lowest cost bases, and a very sizeable short-haul connecting network from fellow AirAsia group carriers.
Both Jetstar and Scoot see a number of connections beyond Singapore. Jetstar has Jetstar Asia's short-haul network (and some interlines) while Scoot partners with Tigerair (partially owned by SIA) as well as SIA and SilkAir.
Again, yield information is not disclosed, but load factors indicate general growth, solid performance considering the capacity in the market and AirAsia X's own growth of additional frequencies and services. Sep-2013 through Nov-2013 recorded small year-over-year declines in load factor for the second consecutive year.
AirAsia X Australia load factor: Apr through Nov, 2011-2013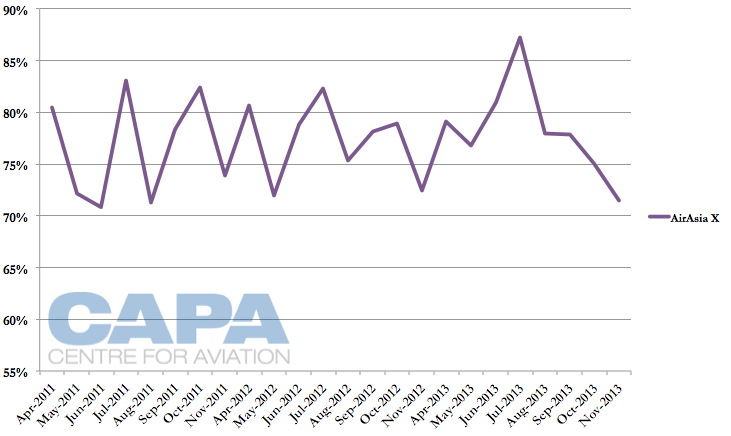 AirAsia X's performance has been more consistently positive, unlike the other LCC players in the Australia-Southeast Asia market.
AirAsia X, Jetstar Airways, Jetstar Asia and Scoot year-over-year load factor changes: Apr through Nov, 2012-2013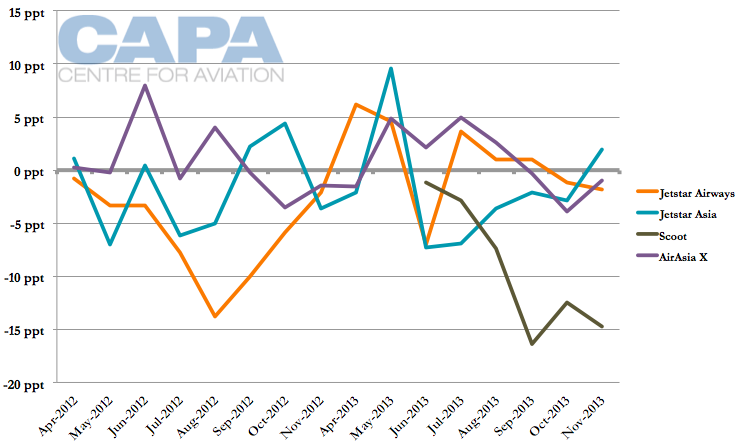 Scoot and Jetstar carrying fewer passengers
While SIA and Qantas are seeing lower load factors from increased Singapore capacity, Jetstar and Scoot are seeing both load factors and passenger/capacity numbers fall.
In the Australia-Singapore market Jetstar Group traffic from Apr-2013 to Nov-2013 was up slightly at approximately 258,000 passengers compared to the same period in 2012, which saw 253,000 passengers. However, these figures are well below the 316,000 passengers the Jetstar Group saw in the same period in 2011.
Jetstar Group between Apr-2013 to Nov-2013 compared to the period in 2011 cut Australia-Singapore capacity by 13%, but passenger volumes dropped faster at 18%. The changes are not even: Jetstar Airways has decreased flying while Jetstar Asia has increased flying. This is not due to route handovers from Jetstar Airways to lower-cost Jetstar Asia. This is the result of city-pair changes. Melbourne-Singapore has been decreased from a daily to five weekly service in conjunction with Qantas' Asia network change. That re-structure saw Qantas offering more Singapore-terminating seats whereas previously most of the seats offered to Singapore were for continuing services to Europe. The Qantas Group likely saw that a daily flight from each Qantas and Jetstar would have been excessive for the market. The Melbourne-Singapore reduction took out about 2,700 Jetstar seats a month.
Elsewhere, Jetstar Airways' Darwin capacity has been reduced with slightly less than daily frequency while the route sees all-A320 services instead of a mix of A320s and larger-capacity A321s. This is likely a result of SilkAir's entry.
See related report: Darwin grows foreign airline links, despite Jetstar's base closure. Even a hub role may evolve now
Jetstar Asia has grown with nearly a doubling of capacity between Perth and Singapore. This occurred after Qantas reduced Perth-Singapore services from two to one daily.
Jetstar Airways and Jetstar Asia Australia-Singapore passenger numbers: Apr through Nov, 2011 to 2013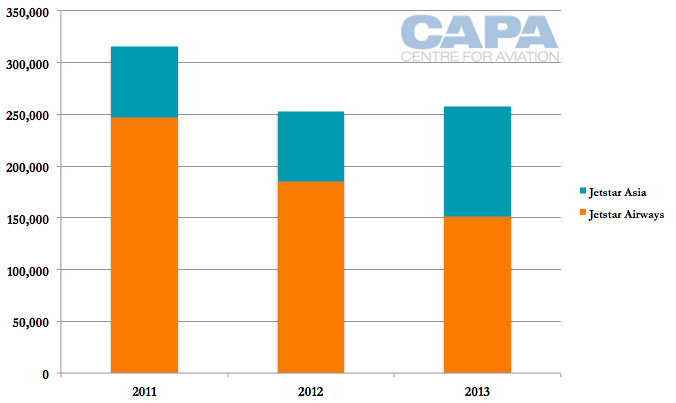 The pain of the Australia-Southeast Asia over-capacity situation is also evident at Scoot. From Jul-2013 to Nov-2013, Scoot carried fewer passengers on its Gold Coast and Sydney routes than a year prior. This is unusual as 2012 was Scoot's first year of operation, traditionally a slow ramp-up period with subsequent years seeing stronger performance.
However, Scoot's launch was exceptionally strong with load factors typically above 80% and even approaching 85%. This came at the expense of low yields and what was almost certainly an unprofitable operation. As the over-capacity situation showed no signs of improving, Scoot may have decided to be more conservative with sale fares.
Although Scoot owner SIA expects the subsidiary to eventually post a profit, SIA also sees strategic objectives, such as market share and for Scoot to prove its concept. Scoot's strong launch demonstrated its potential for when market conditions improve, so there may have been reduced pressure to achieve passenger targets.
Scoot passenger numbers on Gold Coast (OOL) and Sydney (SYD) routes: Jun-2012 through Nov-2012, Apr-2013 through Nov-2013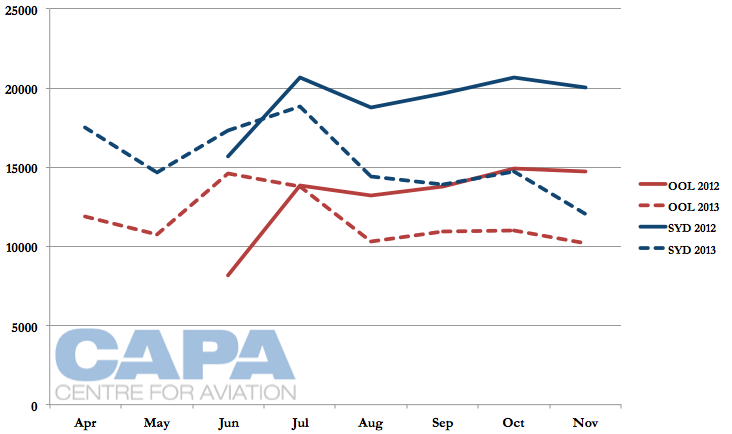 While Scoot's passenger numbers have fallen, capacity adjustment measures were not enough to correct falling load factors. In May-2013 and from Aug-2013 onwards Scoot reduced frequencies, but this resulted in depressed load factors around 70%, indicating over-capacity remained.
Scoot load factor on Gold Coast (OOL) and Sydney (SYD) routes: Jun-2012 through Nov-2012, Apr-2013 through Nov-2013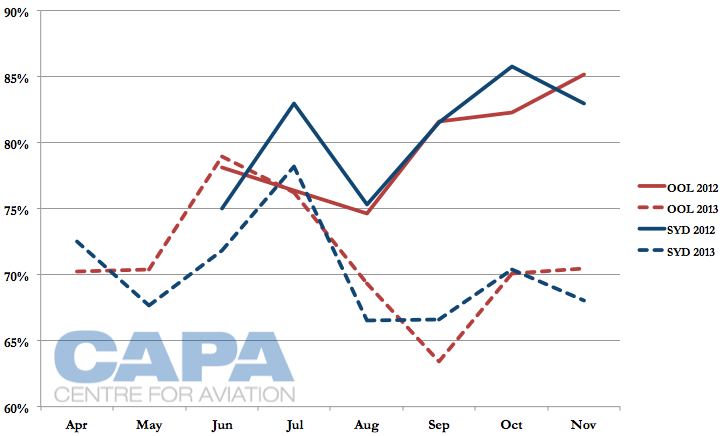 Jetstar sees weakening performance in Thailand and Indonesia; situation likely to get worse
The Singapore-Australia over-capacity situation has likely reached saturation, with corrective measures to continue. But the Australia-Thailand and Australia-Indonesia markets are likely to get worse before better.
In Indonesia, Jetstar's 2013 performance was below its showing in 2012, but still above 2011. Even then, load factor performance was around 80% and on the back of about a 5% capacity increase. This contrasts to Singapore where capacity is down and load factors are closer to 70%.
Jetstar Airways Australia-Indonesia load factors: Apr through Nov, 2011-2013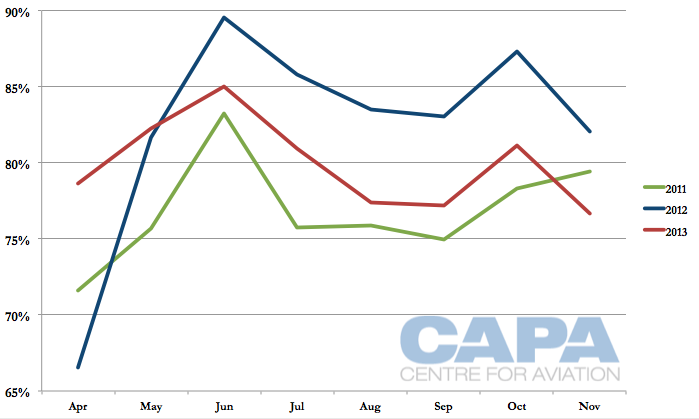 The dual-brand strategy is not at work in this market as Jetstar's capacity is mainly to the leisure destination of Denpasar (Bali). Qantas' only service to Indonesia is to the capital, Jakarta. But the larger theme of Jetstar being pressured in Southeast Asia applies, as Indonesia AirAsia X's forthcoming Denpasar base will challenge Jetstar in the Australia-Denpasar market. Other Indonesian carriers will likely follow with service from Denpasar and other Indonesian points. Denpasar has been relatively isolated from the Australia-Southeast Asia over-capacity situation as connections from Australia to Denpasar via Singapore or Kuala Lumpur are highly circuitous. But non-stop services from Indonesia will change that.
See related reports:
Jetstar's position in Thailand has shown signs of Southeast Asia-Australia over-capacity as connections to Bangkok from Kuala Lumpur or Singapore are relatively direct. 2013 load factors trail 2011 and 2012, and generally are lower than Jetstar's performance in Indonesia or Singapore. The load factors showed depressed performance prior to the current political situation in Bangkok that is impacting demand.
Jetstar Airways Australia-Thailand load factors: Apr through Nov, 2011-2013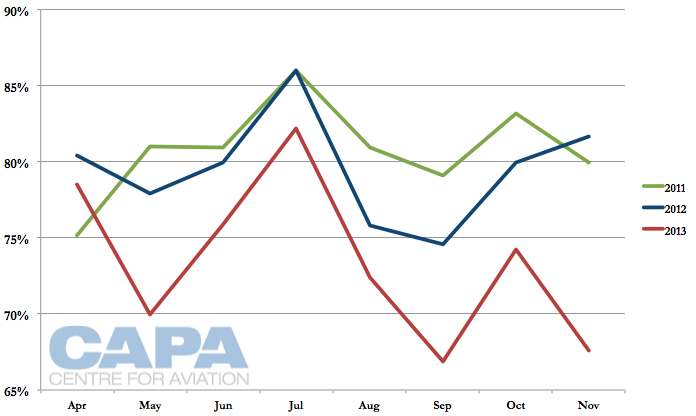 Jetstar's Thailand network comprises a three times weekly service to Bangkok from Melbourne, three weekly Sydney-Phuket and two weekly Melbourne-Phuket. AirAsia X's forthcoming Thai unit, Thai AirAsia X (launching prior to Indonesia AirAsia X) will impact Jetstar from Bangkok, where Thai AirAsia X will be based. It has said it expects to serve unspecified destinations in Australia and North Asia. Connections from Australia to Phuket from Bangkok will be slightly circuitous, but Thai AirAsia X will likely have the advantage of a more regular service, lower cost base and marketing drive in its early phases that will make longer journeys more appealing due to a likely lower ticket price.
AirAsia X will also benefit from having multiple hubs, allowing it to route passengers based on where there is availability. The multiple hubs could also allow openjaw tickets more easily than at Jetstar, which has limited scale. For example, passengers could fly into Bangkok non-stop from Australia but then return from Phuket via Kuala Lumpur.
Nok and Scoot also plan to launch a Bangkok-based long-haul unit, but do not expect it to serve Australia, focusing instead on Northeast Asia.
See related reports:
Dual-brand overlap is minimal in Thailand; Qantas' only service is a daily flight from Sydney to Bangkok. Jetstar serves Bangkok non-stop only from Melbourne while the only Thai destination from Sydney is Phuket. Pressure remains on Qantas mainline's Asian network, and this will be examined later.
Qantas and Jetstar increasingly overlap to Singapore, eroding dual-brand differentiation
One of the tenets of dual-brand strategy organisation is scheduling, with the full-service carrier flying during peak periods when business and corporate demand is high, and thus likely willing to pay a premium. Qantas and Jetstar had scheduling differences to Singapore from Perth and Melbourne, but these have been reduced, further blurring the two and losing differentiation.
Between Melbourne and Singapore Jetstar and Qantas used to have sharply different flight times, with Jetstar offering a daylight flight that enabled connections on the Jetstar Asia network, whereas Qantas' afternoon/evening service was geared for onward connections to Europe, which departed Singapore in the evening.
After Qantas ended Singapore-Europe flights, it had to focus on the local Australia-Asia market, which required an earlier arrival into Singapore to facilitate connections or an evening business dinner. The result is that in 2014 Jetstar and Qantas' Melbourne-Singapore services overlap within about 90 minutes of each other.
Jetstar and Qantas typical flight schedule Melbourne-Singapore: 2012, 2014
The return Singapore-Melbourne Jetstar and Qantas services had much closer overlap before the re-structure, and afterwards are even closer – within 15 minutes of each other.
Jetstar and Qantas typical flight schedule Singapore-Melbourne: 2012, 2014
Similar to Melbourne-Singapore, Qantas and Jetstar used to be more widely spaced on the service to Singapore, but are now much closer, departing Perth to Singapore within an hour of each other. Jetstar Asia has also picked up an additional service (three weekly) whereas Qantas has dropped one of its two daily flights.
Jetstar and Qantas typical flight schedule Perth-Singapore: 2012, 2014
On the return to Perth, Jetstar and Qantas still depart relatively closely to each other.
Jetstar and Qantas typical flight schedule Singapore-Perth: 2012, 2014
Scoot has some overlap with SIA between Singapore and Sydney, but this is partially to be expected when SIA operates four daily flights. The overlap is more noticeable between Sydney and Singapore, when Scoot is within about 90 minutes of a SIA flight. Between Singapore and Sydney Scoot is more evenly placed between SIA flights. (This is as much due to dual-brand strategy as Sydney slots and incentives.) There is no overlap to the Gold Coast as SIA does not operate there.
Scoot and SIA typical flight schedule Singapore-Sydney: Feb-2014
Scoot and SIA typical flight schedule Sydney-Singapore: Feb-2014
Outlook: Scoot is on a long leash while sirens are blaring at Qantas. Further cuts to Jetstar long-haul?
The current Southeast Asia-Australia situation is unsustainable in the short term. A number of carriers could reduce capacity. As far as the SIA-Scoot and Qantas-Jetstar dual-brand strategies are concerned, SIA has greater prospects in the Australia-Singapore market given its ability to access beyond Singapore traffic.
SIA has also put Scoot on a long leash, understanding profits at a low-cost long-haul carrier will take a few years to eventuate. Australia is an important market in the long term for Scoot. Scoot and SIA also have separate and largely un-coordinated management teams, whereas Qantas and Jetstar have an integrated strategy department that could adjust the two brands collectively.
But Qantas does not have the breathing room SIA does. The short term brings the prospect of an unprofitable domestic network that cannot sustain unprofitable long-haul flights. The long term sees Qantas continue to face feed challenges at Singapore. Jetstar Asia in recent times has reduced capacity, and its number of long-haul routes has dwindled. Further cuts would not be surprising.
The question may no longer be whether it is Jetstar or Qantas that can achieve a profit in Southeast Asia. Instead, it is a balance of which brand generates the lowest loss or highest prestige. It may be difficult to have both. Yet any decrease does not have to be an absolute loss: Qantas and Jetstar were among the early few to hybridise the LCC model, and there could be opportunity for further exploration and ultimately integration.
Part Two
A follow-up report will examine Qantas' position across Asia following the changes it has made in the past two years as it has re-structured its European network, which had stopovers in Asia. Integration with Jetstar – no easy task – may help, but it also may not be enough.