Premium traffic dives 6.9% in Oct-08 - revenues now falling
Analysis
IATA recently described the airline revenue environment as the worst in 50 years. Latest premium traffic data, showing a 6.8% reduction worldwide in Oct-08 (following an 8% fall in Sep-08) suggests that premium revenues, a key component of network airlines profitability, are now falling, according to the industry body.
IATA premium traffic by region (% change year-on-year): Oct-06 to Oct-08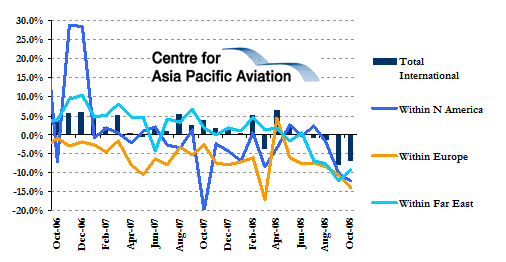 Early indications for Nov-08 point to further large declines in business travel and premium revenues, according to IATA. Along with air freight, premium travel is leading the decline in air transport demand. Travel on economy tickets is also now on a steep decline path, but, at -1.8% year-on-year, is lagging the more economy-sensitive parts of the airline business.
The industry body forecasts overall global passenger traffic (premium and economy) will fall by 3% in 2009, while a return to traffic growth above 4% is not expected until 2011.
The weakest major market for premium travel remains within-Europe, which fell over 14% in October. According to IATA, "this market has been in decline for a number of years as business travellers shift to cheaper seats on short-haul markets".
IATA premium traffic by region: Nov-07 to Oct-08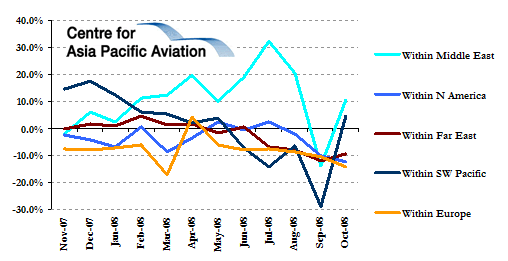 But the industry body noted that even the previously more robust long-haul premium markets are now weakening. The North Atlantic premium market is heavily influenced by financial sector business travel between London and New York, which has slumped following the turmoil in investment banking. Premium travel numbers across the North Atlantic were down 4.6% in October.
IATA premium traffic to Europe: Nov-07 to Oct-08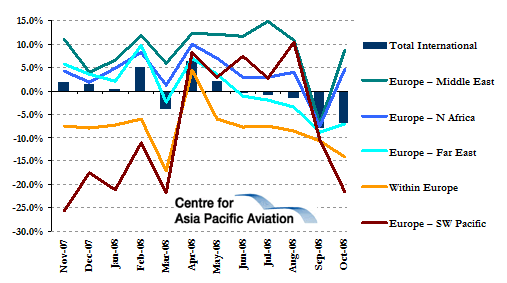 Europe to Far East premium travel had also been a strong market earlier this year, reflecting strong trade flows and business investment in booming emerging Asia. This also has changed abruptly. During the summer Olympic-related manufacturing shutdowns and visa restrictions caused a temporary slump in travel within and to China, which is now rebounding on domestic markets. However, export demand and foreign investment plans have been cut sharply and premium travel between Europe and the Far East fell 7.1% in October.
IATA premium traffic to/from Far East: Nov-07 to Oct-08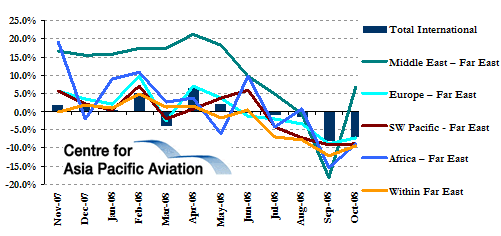 Meanwhile, across the Pacific, weakness in premium travel set in early this year as the US economy weakened. IATA stated, "with the US now entering what many expect to be the deepest recession since the early-1980s, a further decline in travel is evident with premium passenger numbers down 11.6% in Oct-08".
According to the industry body, the only bright spots are in the smaller emerging markets and these could reflect the volatility of the data rather than any new positive trend. Routes within and to Africa improved in Oct-08, as did those associated with the Middle East. However, the collapse in commodity prices will put these economies under pressure in 2009, "so the outlook for premium travel in these regions is still not good", stated IATA.
IATA premium traffic to Middle East: Nov-07 to Oct-08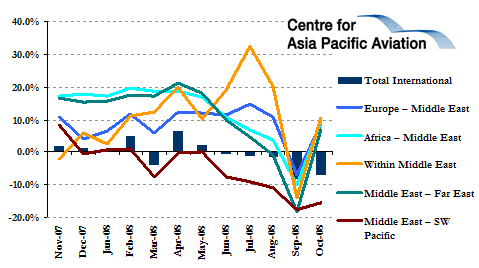 IATA concluded, "with most economic forecasts suggesting that the recession will not bottom out until the middle of next year, further sharp declines in business travel and premium revenues should be expected well into 2009".