Portland International airport enjoys steady growth despite its smaller market footprint
Analysis
Portland International Airport has logged solid growth during the last few years, driven in part by the hub role it plays for Alaska Air Group.
Although Portland's market size is much smaller than US west coast hubs in Los Angeles, San Francisco and Seattle, Portland continues to slowly expand its route offerings.

The airport has also drawn interest from international airlines during the last couple of years including Condor, Icelandair and Volaris, which have all added new service to Portland. Icelandair has already committed to add an additional frequency to part of its seasonal service to Reykjavik during 2016.

Portland's network breadth and depth will never reach the scale of the larger hubs dominated by the large global US network airlines. But its growth trends during the last few years show the airport's position within the US domestic market remains stable.
Portland serves nearly 16 million passengers in 2014, and charts solid growth in 2015
After its passenger levels fell during the recession in 2009, throughput at Portland International Airport has grown steadily, increasing 6% year-on-year in 2014 to nearly 16 million passengers.
Portland International Airport annual passenger numbers: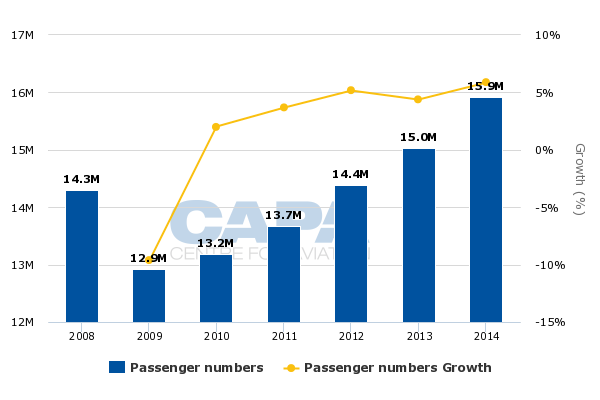 The airport has also posted passenger growth every month for the 10 months ending Oct-2015, and for that 10 month period passenger levels increased 5% to 14 million.
Portland International Airport monthly passenger numbers: 2008 to Oct-2015
The majority of Portland's operations are to US domestic markets, reflected in 97% of the airport's seats deployed on domestic routes for the week of 30-Nov-2015 to 6-Dec-2015. Its domestic passenger levels grew 5.8% year-on-year in 2014 to 15.4 million.
Portland International Airport international vs domestic capacity (% of seats): 30-Nov-2015 to 6-Nov-2015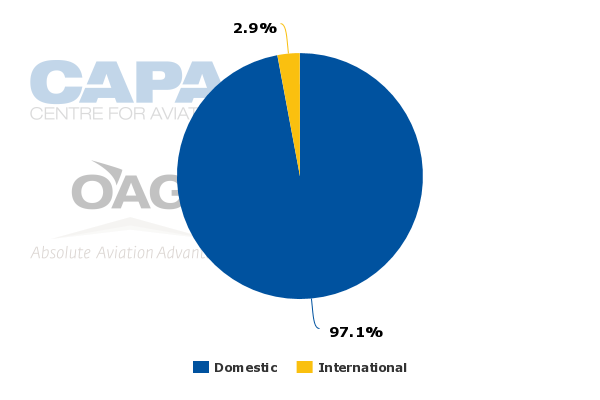 Alaska believes Portland holds potential as it adds more Embraer service to its network
Alaska Air Group is Portland's largest airline by a significant margin, representing nearly 45% of the airport's seats. Southwest is Portland's second largest airline with a 20% share.
Given that Portland's top two airlines dedicate the majority of their operations to the US domestic market, it is not surprising that Portland processes a higher level of domestic passengers.
Portland International Airport system capacity by airline (% of seats): 30-Nov-2015 to 6-Dec-2015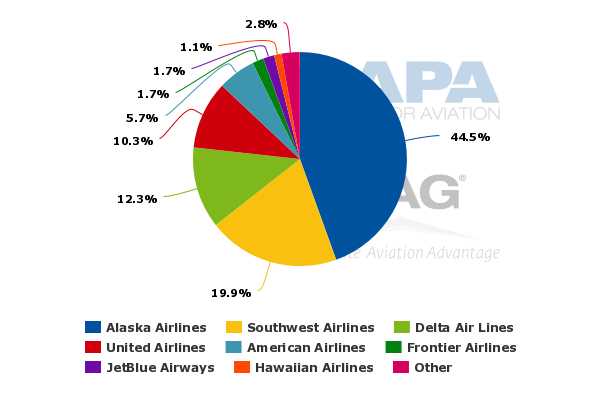 Most of Alaska's operations from Portland are concentrated on the US western region and west coast. But it does operate service to Austin, Dallas/Fort Worth, Boston and Washington Reagan from its second largest hub. United Airlines also offers service between Portland and Washington Dulles.

Alaska also serves all the large US west coast markets including San Francisco, Oakland, Los Angeles, San Diego and its largest hub in Seattle from Portland. Other large metro regions it serves from Portland include Chicago (with service to Chicago O'Hare), Salt Lake City and Phoenix.

The smaller routes Alaska and its subsidiary Horizon operate from Portland are mostly to western destinations including Boise, Idaho; Eugene, Oregon; Fresno, California; Missoula, Montana; and Spokane, Washington.

During Jul-2015 Alaska marked a new phase of growth from Portland when it launched operations from Portland to St Louis, located in the US midwest. It was one of the first routes where Alaska utilised the 76-seat Embraer 175 operated by regional partner SkyWest Airlines. Originally, the agreement with SkyWest entailed the operation of seven Embraer 175s, but the airlines added another eight aircraft to the deal in mid-2015. Those aircraft will enter service in 2016 and replace older regional jets SkyWest currently operates under the Alaska brand.

Previously, Alaska has concluded that the Embraer 175s fill a gap in its regional fleet comprised of Bombardier Q400 turboprops and CRJ700s. The Embraer jets allow Alaska to operate in long thin markets not suitable for its mainline Boeing narrowbodies.

See related report: Alaska Air Group touts its successful network evolution as 2015 growth estimates in high single digits

Alaska is deploying more Embraer 175s from Portland during 1Q2016 when it adds service to Kansas City, Minneapolis and Omaha.

Recently Alaska EVP and chief commercial officer Andrew Harrison concluded the company is "seeing an opportunity with our cost structure and new aircraft, especially the [Embraer] 175 to grow Portland". Highlighting the new regional routes debuting in 1Q2016 Mr Harrison stated: "I think you'll see us continue to grow Portland as we move forward."
Portland is just 208km from Alaska's main hub in Seattle, which obviously affects the way the airline approaches its network management of Portland. Mr Harrison stated that generally Alaska's "rule of thumb" is Portland has half the demand of Seattle, which handled 37.5 million passengers in 2014. Although Delta has been rapidly expanding its presence at the airport, Alaska remains Seattle's largest airline, holding a 52% seat share for the week of 30-Nov-2015 to 6-Dec-2015, and obviously handles the bulk of the airport's passengers. At its second largest hub in Portland, Alaska has to manage to its smaller market size.

Alaska during 2015 added some seasonal international service from Portland to Puerto Vallarta and Los Cabos Mexico, joining its other international service to Vancouver, a route also operated by Air Canada. Canada's largest airline also operates flights between Calgary and Portland.

Portland during 2014 secured new flights from foreign airlines including service to Guadalajara, Mexico operated by low cost airline Volaris, and seasonal service to Reykjavik and Frankfurt operated by Icelandair and Condor began in 2015.

Representatives from the airport told local news outlet OPB FM that Condor and Icelandair stated that a large number of passengers were either driving or flying to Seattle to connect to their respective flights to Frankfurt and Reykjavik. Portland's positioning between so many large west coast hubs results in slim chances of gaining a ton of long haul intercontinental service; but the service from smaller airlines such as Condor and Icelandair is promising, and shows that Portland could be an attractive destination for long haul, niche airlines.

Portland airport officials told OPB FM that the airport had also discussed possible seasonal service to Paris with Delta Air Lines, but had received no commitments from the airline. Delta already operates flights between Portland and Amsterdam, the hub of its trans-Atlantic joint venture partner KLM, and also operates flights from Seattle to Amsterdam.

A seasonal flight to Paris does not seem farfetched given that Delta operates flights from Pittsburgh to Paris. Pittsburgh processed roughly eight million passengers in 2014, a little more than half of Portland's throughput. In theory it seems that Portland warrants enough demand for seasonal flights to Paris, the hub of Air France.
Delta operates its trans-Atlantic joint venture with Air France-KLM, so in addition to Paris' attraction as an end point, Delta would have the ability to market numerous onward connections from Paris. Delta did receive subsidies to initially launch the seasonal Pittsburgh-Paris route; but sustained the service once the incentives expired.

Portland during 2016 is getting some expanded access to Europe when Air Canada launches flights to its Toronto hub, building on its strategy to capture sixth freedom traffic from US points that do not have a large number of long haul travel options. It is also a win for Portland, which will expand its Canadian reach to eastern Canada.

See related report: Air Canada bets big on sixth freedom traffic flows in 2016 with a new transborder push
Portland's geographical positioning makes additional Asia service a tough proposition
Delta has long-standing ties in Portland after the airport served as its Asian gateway in the mid-1980s. Although it has since merged with Northwest and built out Seattle as its major Asian gateway, Delta still serves Tokyo Narita from Portland. It has reportedly received incentives in the past to sustain the service, but now there is ample demand driving that service, according to Portland airport officials. They informed OPB that 130 Japanese companies have invested in Oregon and Southwest Washington.

However, Portland faces challenges in securing additional Asian service given that Delta, United and American are expanding their Asian gateways in Seattle, San Francisco and Los Angeles. As Portland's tourist allure grows, it could come under consideration by Asian airlines as they evaluate longer, thin routes for the Boeing 787. But many airports with market sizes larger than Portland are clamouring for flights to Asia, so service to Tokyo Narita could be the status quo for the long term.
Even with a smaller market footprint, steady growth trends should continue for Portland
Portland International airport seems to understand its place in the US market place. Its largest airline Alaska has expressed its commitment to the airport, and its passenger levels are growing at a solid rate.

The airport will never attain the passenger levels of the largest US airports; but the economy of Portland and its growing attractiveness as an end destination are positive elements to drive its steady growth trajectory for the foreseeable future.