Pinnacle posts net loss as new management focusses on restructuring
Still suffering headwinds from a combination of its new pilots' contract, last-minute schedule changes at Delta, which have also haunted SkyWest, the Mesaba integration and general cost and efficiencies, Pinnacle Airlines posted a second quarter net loss of USD2.4 million on a USD100 million increase in total operating revenues to USD320.1 million.
Wasting no time, big changes ahead for the company
It is clear that Pinnacle will be undergoing a restructuring to position it for the future, judging from newly installed CEO Sean Menke's battle plan outlined during its 2Q2011 earnings call. Even so, it will take more than in-company actions especially given the problems being caused by mainline partners, especially Delta.
Delta has played the 900-pound gorilla with its regionals which is clearly seen in how much the regional holding companies are struggling compared to their pre-recessionary levels when margins were regularly 10%. Delta has also restructured its schedule to the disadvantage of regionals which have incurred additional costs in acceding to its wishes. Former Northwest regional operations have taken the biggest hit as have Northwest's hubs.
What is interesting in the Pinnacle and SkyWest calls was the lack of any discussion on reimbursement on these Delta-caused problems. Nor did they discuss whether any reimbursement is due for integration expenses for their newly acquired subsidiaries ExpressJet in the case of SkyWest and Mesaba in the case of Pinnacle. Pinnacle incurred USD500,000 of such expenses in 2Q2011 although it gained a USD73 million boost in revenues from its acquisition of the former Delta-owned regional.
The problems are further exacerbated by pilot shortages signaling the beginnings of a much larger issue for the regional sector.
Facing obstacles for improved Delta partnership
Mr Menke faces a tough challenge in achieving his goals. Delta's definition of partner is not shared by the regionals. The immediate issue is ensuring that the money's owed Pinnacle by Delta are paid appropriately. The rate changes, airline integration and other factors may be in a contract but they are still subject to interpretation and Delta has been known to interpret provisions to the definite disadvantage of the regionals making for very lopsided relationships.
Mr Menke signaled that negotiations may be tough but one of his primary goals will be to ensure that the relationship between the regional and Delta will be an actual partnership. Comments throughout the call indicated it is facing headwinds because of partner actions. He specifically pointed to improving operational performance which cost the company USD2.5 million in the quarter. He cited pilot staffing as the primary culprit but that resulted from Delta schedule changes which, while it meant additional flying, not only caused increased penalty but also increased pilot pay, saying such problems cannot continue.
Ensuring a true partnership may be easier said than done especially given Mr Menke's freshness to the regional sector and given how heavy handed the Atlanta-based carrier is. After all, it nearly killed Mesa for standing up to the airline behemoth and given the impact of Delta's similar challenge to Pinnacle at the same time.
While Mesa took its fight to court, clearly Pinnacle's response of negotiating a settlement was the more prudent since Mesa ended in bankruptcy from which it is only now emerging. Pinnacle has historically had a tough time with Delta which has disastrously impacted its results over the past few years. This was despite the fact that it has clearly bent over backwards to accommodate its major partner.
The final insult came with Mesaba which Pinnacle recently acquired only to have Delta shut down Mesaba's Saab operation along with more than 20 cities. Delta had already begun de-hubbing Pinnacle's base at Memphis. COO Doug Shockey said Delta's network restructuring is moving it away from the Northwest hubs at Memphis, Detroit and Minneapolis in favor of the Northeast. Its proposed slot swap will give it a larger footprint at LaGuardia as well as help build its presence at Kennedy.
But the slot swap will create more headwinds for Pinnacle since earlier this year it moved capacity there at the behest of US Airways when it looked as if the slow swap would not happen. Now that final approval is nearing, that service for the Phoenix-based carrier will no longer be needed forcing it to look for new markets for those aircraft. That will probably impact results in the first half of 2012.
Judging from his comments, it certainly sounds as if Mr Menke will not pull any punches with Delta. "My goal is a very factual analytical common understanding to the methodology in putting together what is to be paid," he said. "I've already stated that I intend to be honest and candid and will share my thoughts on how we can help grow their business while understanding their pressure. But at the end of the day it does have to be a partnership. Our relationship will always be contentious but by focus will be on making it a win-win situation."
Mr Menke's principal problem, then, is the power Delta holds and the number of regional carriers remaining available to take over for Pinnacle and its subsidiaries.
Changing the fundamentals
Although it will take hard work and the completion of numerous projects, he said, "it is clear we have a profound opportunity to make Pinnacle a more dominant" carrier in the regional airline space. The changes contemplated, he said, will lead to sustained growth and profitability and set a structural foundation for the future.
His first priority is achieving better reliability impacted by pilot staffing. However, he noted getting staffing to appropriate levels will take time. Describing the corporate headquarters move as a distraction from the many issues facing the company, Mr Menke said it begins next week and run through early December.
Noting that the pilot integration was now in effect, he said it was causing a training bubble to allow pilots to transfer between the three subsidiaries.
His biggest task its the integration of the three airlines which will mean a reorganisation the organisational structure. It will also include developing common wages and benefits for non-union employees. Systems integration must also be accomplished in financial, operational and support systems. It is also working on the consolidate facilities as well as the certificate integrations, the plans for which were changed when Delta announced it was getting rid of its Saab operations.
Mesaba's jets will be moved to Pinnacle in the second half pending FAA approval. It had originally planned to merge Colgan into Mesaba but it now intends to wind down the Delta Saab operation and then transfer the US Airways Express operation at LaGuardia to Colgan. Once that has been completed, it will simultaneously terminate the Mesaba certificate and change the name of the Colgan certificate to Mesaba.
Mr Menke outlined two other initiatives including the review of all plans to realize efficiencies or, as he put it, asking whether "we are kicking the rock hard enough." Finally, he will build a unified corporate culture.
"The successful completion of these projects will lead to a solid foundation driving operating efficiencies and cost synergies which will lead to sustained profitability," he told analysts. "That sets the foundation for the company to look toward the future. The business will continue to transform and my objective is to position the company to take advantage of those opportunities that arise."
2Q results
While revenues increased, mainly on the Mesaba acquisition, total operating expenses, however, rose more than USD100 million in 2Q2011 to USD309.8 million for operating income that was USD10.3 million compared to USD19.7 million in 1Q2010. Pinnacle's block hours have also shot up by 50% since the Mesaba acquisition.
Monthly block hours for Pinnacle vs SkyWest and Republic, Jan-2008 to Jun-2011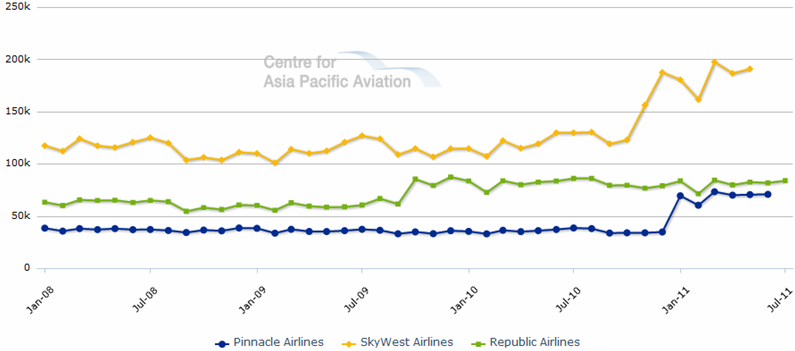 Interestingly, Pinnacle did not report the usual metrics in its 2Q2011 release, nor did it provide anything in its 10-Q. However, it did report that Colgan's pro-rate and EAS business flew 94.1 million ASMs, down 10% at a 49.8% load factor which was up 0.5 pts. Its yield was an incredible 83.86 cents, up 11% while RASM was 41.80 cents , up 12%, giving ammunition to those who would see the EAS program dead. CASM was down 18% to 17.51%, according to its 10-Q.
It is clear Pinnacle and Republic are becoming less and less transparent in their reporting.
2Q

2011

USD

Horizon*

Republic

CPA only

Pinnacle**

SkyWest***

Profit

7.4M pre tax

vs

8.2M pre tax

17.6M pre tax

vs

20.8M pre tax

(2.3M)

vs

5.8M

1.5m

vs

18.655M

Op Revenues

95.4M

vs

171.4M

273M

up

4.9%

ex fuel 245.2

up 1.7%

320.1M

vs

218.7M

933.6M

vs

659.7M

Total Expenses

83.8M

vs

158.1M

NA

309.8

vs

198.95

914.6

vs

600.4

ASMs

691M

down

17%

2.8B

up

0.6%

3B

up

65%

9.3B

up

58.1%

Load Factor

84.3%

up

2.4 pts

74%

down

4.5 pts

77%

up

3.2 pts

80.3%

down

0.4 pts

Yield cents

NA

NA

NA

12.20

down

9%

PRASM cents

25.33

up

17.8%

NA

NA

9.9

down

9.2%

CASM

cents

NA

9.03

up

5.9%

NA

10.00

down

4.8%

CASM

cents ex fuel

12.13

vs

14.84

8.06

vs

7.86

NA

NA
Its new pilot contract which became effective in Feb-2011 increased pilot expenses by USD5.7 million in the quarter. The Delta contract also included changes to pilot pay after integrating the pilot groups and the integration of Mesaba and Colgan. A one-time payment is due in mid-2012 based on labor integration and training costs over the previous 12 months thus reimbursement will not come until after that. Pinnacle estimates this payment will be between USD18-20 million with an additional USD14-17 million for the post-integration rate increases. It is also experiencing inflation-related increases in capacity-purchase rates.
Pinnacle faces same issues as SkyWest
Echoing SkyWest, Pinnacle cited scheduling changes at Delta which triggered huge cost increases in the amount of USD3.8 million in crew-related expense. For Pinnacle it was in additional pilot hiring, training and accommodation increases to address crews being out of place just as it was for SkyWest. Also like SkyWest, Pinnacle ended up paying premium pay and higher training and accommodations.
Both airlines indicated that it is dealing with the same problem at United/Continental but named only Delta during earnings call discussions.
Pinnacle said it is working with partners to evaluate more optimal network schedules and has already adjusted near-term block-hour production. It is also increasing pilot staffing as part of that program. Both SkyWest and Pinnacle reported pilot shortages have already begun in the industry.
Pinnacle is seeking cash as illustrated by the sale-leaseback of two Colgan Q400s in the quarter, paying of the notes on these aircraft and executing a 10-year lease. The company gained USD41.6 million on the transaction and netted out USD5.8 million. While it has no specific planes for more sale-leaseback transactions it is evaluating opportunities for both its Q400 and CRJ 900 fleets.
It also modified its spares financing agreement with CIT Leasing to increase it financing to USD37 million and to push back the maturity date 18 months through Dec-2015. From that the company gained USD13.4 million in net cash proceeds and 7.25% fixed with the balance at a variable 5.25%.
Operating income for its Pinnacle Airlines subsidiary declined from USD12.9 million in the 2010 quarter to USD2.9 million in 2Q-2010 while margin dropped 8.3 points to 1.8% during the same period. It was negatively impacted by its new pilot contract and changes to Delta's schedule which resulted in USD900,000 penalty paid to Delta
Operating income for Mesaba was USD1.8 million while its margin was only 2.4%. However, its results were favorably impacted by the final determination with Delta of the USD 800,000 rate reset adjustment associated with pilot and mechanic wage rates under the Saab capacity purchase agreement. However, the rate adjustment was offset by increased labor costs under the new ALPA contract.
The second quarter results illustrate that the turn around of Colgan is definitely working. It reported operating income and an operating margin of USD6.1 million and 7.4%, an improvement of USD2.2 million and 1.2 points, respectively, from the second quarter of 2010. The company cited the growth of the Q400 fleet for the increase in operating margin although that too was partially offset by increase pilot pay. Also offsetting its progress was a 35% year-on-year increase in the price per gallon on its pro-rate operations.
Net non-operating expense rose to USD11.9 million for the second quarter of 2011, as compared to net non-operating expense of USD10.0 million for the same period in 2010.
Pinnacle ended the quarter with USD88.7 million in unrestricted cash and cash equivalents after generating USD12.4 million in cash from operating activities during the second quarter. Net cash provided by investing activities during the second quarter of 2011 was USD3.4 million, primarily related to USD5.8 million received is aircraft in the sale-leaseback programme and USD1.4 million in proceeds from redemptions of call options on auction rate securities. These were partially offset by USD13.4 million in net proceeds from the amendment of the Company's spare parts loan.
Pinnacle financial highlights, 1Q2011 vs 1Q2010 and 1H2011 vs 1H2010