Philippine Airlines plans to resume domestic expansion and looks for green light from US regulators
Analysis
Philippine Airlines (PAL) is not ready to abandon the domestic market – at least not yet. The floundering flag carrier, which has seen its share of the Philippine domestic steadily slip in recent years, plans to add back some domestic capacity in 2012 as its previously-reduced A320 fleet expands again by four aircraft.
International capacity will also be up in 2012 as PAL takes its next batch of B777-300ERs. PAL is banking on the Philippines regaining next year a Category 1 safety rating from the US FAA, which is necessary for the carrier to deploy B777-300ERs on US routes as planned. Continued restrictions on US routes is one of several challenges PAL faces as the carrier also tries to overcome increasing competition from LCCs and continuing worker protests.
As CAPA reported late last month, the LCC penetration rates in the Philippine domestic market has grown since 2005 from less than 50% to about 80%, driven by a combination of rapid expansion by the country's low-cost carriers and contraction at PAL. Philippine CAB figures show PAL accounted for only 24% of domestic passengers in 2Q2011. PAL's share of the market has slipped even further since late September, when a strike was waged by ground staff employees affected by PAL's decision to outsource non-core functions including catering and call centre.
See related article: Cebu Pacific and AirPhil are main beneficiaries as Philippines domestic LCC penetration rate nears 80%
PAL's domestic operation has been pared back to only 60 daily flight since late September
Protests against the now implemented outsourcing plan continue, with striking employees having taken possession of PAL's catering facility in Manila. PAL was able to quickly resume its full international schedule, using catering services from other vendors, but has not yet fully resumed its domestic operation. PAL president Jaime Bautista told CAPA on the sidelines of last week's Association of Asia Pacific Airlines (AAPA) Assembly of Presidents in Seoul that the carrier is only operating 60 daily domestic flights, down from a pre-strike schedule of 140 flights per day.
Overall PAL is now operating 90% of its normal schedule, compared to only 20% the first day of the strike and 40% on subsequent days. The 10% of flights that remain cancelled are all domestic.
The Philippines' three domestic LCCs have been hoping that PAL sticks permanently to the reduced schedule, resulting in an even further increase in the LCC penetration rate. But Mr Bautista says PAL still intends to return its domestic schedule to the pre-strike level. He says PAL also plans to increase its domestic schedule in 2012 as it takes delivery of four additional A320s.
Mr Bautista says PAL currently has an A320 family fleet of 16 aircraft (12 A320s and four A319s), down from 22 aircraft a few years ago. The smaller fleet has resulted in dramatic domestic capacity reductions as PAL has not cut its regional international operation, which primarily uses A320s with some routes, such as Hong Kong, utilizing widebody aircraft.
PAL and AirPhil independently expand A320 fleets
PAL's A320 fleet has shrunk over the last two years as six A320s have been subleased to AirPhil Express, an LCC with the same primary owner as PAL. AirPhil has been steadily increasing its domestic operation as PAL has downsized domestically. AirPhil, which coordinates schedules and has a limited codeshare with PAL, plans to grow its A320 fleet from eight to 15 A320s by the end of 2012. But AirPhil is not sourcing any of its additional aircraft from PAL.
Mr Bautista says PAL has A320 deliveries slated for next April, June, August and November, resulting in a fleet of 20 A320 family aircraft by the end of 2012. He says about half of the additional capacity generated by this aircraft will be directed to the domestic market and half will be directed to the international market.
The resulting domestic capacity expansion will be relatively modest as all three of the country's domestic LCCs – AirPhil, Cebu Pacific and Zest Air – are also planning significant capacity increases next year. But at least PAL's expansion will keep it from continuing to rapidly lose market share and stay at or slightly above the 20% threshold domestically.
Capacity share by carrier type in Philippines domestic market (based on seats per week for 7-Nov to 13-Nov-2011)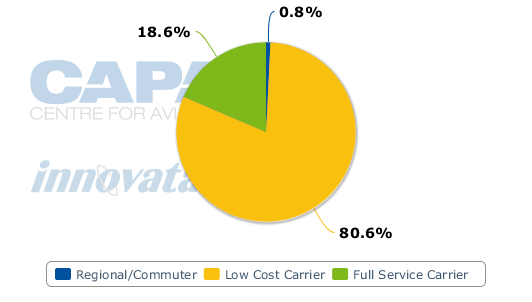 In addition to the four A320s, PAL has two B777-300ER deliveries slated for 2012. Mr Bautistia says these aircraft will be delivered in June and November. PAL currently operates two leased B777-300ERs and has four more of the type on order with Boeing.
PAL initially committed to acquiring the six B777-300ERs in early 2008, with the anticipation of using the type to replace A340s and B747s on its flights to the US and Canada. But so far PAL has only been able to use its initial fleet of two B777-300ERs on three weekly flights to Vancouver as airlines from countries with Category 2 ratings are unable to add flights to the US or change gauge on existing flights. The FAA downgraded the Philippines from Category 1 to Category 2 only a few months after PAL committed to acquiring the six B777-300ERs.
As CAPA reported in Jul-2011, PAL needs the B777-300ERs to improve its product to the US and eliminate the need for a fuel stop on westbound flights. PAL now uses its ageing B747-400 fleet to operate daily flights to Los Angeles and San Francisco. PAL uses A340-300s to operate three weekly flights to Honolulu and four weekly Manila-Vancouver-Las Vegas flights (PAL has daily flights to Vancouver but can only use B777-300ERs on the three weekly flights that do not continue to Las Vegas because PAL is unable to operate B777-300ERs to the US).
PAL took the unusual step earlier this year to pay for a US consulting firm to help Philippine civil aviation authorities raise their safety standards in an attempt to meet Category 1 requirements. Mr Bautista now says he is hopeful of an upgrade to Category 1 by November, when PAL takes its fourth B777-300ER.
PAL banking on using B777-300ERs on US flights from 4Q2012
Mr Bautista says the upgrade to Category 1 is not necessary before 4Q2012 because PAL plans to deploy its third B777-300ER on flights to Australia and Japan. If the Philippines remains in Category 2 in Nov-2012, Mr Bautista says PAL will have to use its fourth B777-300ER on Asian routes. Clearly this is not an ideal situation as the B777-300ERs are best suited for long-haul routes and are significantly more efficient than the A340s and B747s PAL now uses for its US routes. PAL has experimented with having its B777-300ERs serve Australia, but reverted back to old schedules after finding the capacity increase over A330s, its previous equipment, was too much and the market wanted daily flights.
PAL is also banking on expanding its US network following the delivery of its fifth and sixth B777-300ER in 2013. But this is similarly contingent on Philippines returns to Category 1. As PAL faces increasing competition from LCCs domestically and in the regional international market, expansion of the carrier's typically profitable US operation could be critical to its long-term term survival.
North American routes now account for 20% of PAL's weekly seats and 45% of its weekly ASKs.
PAL international capacity (ASKs) by region, for week of Nov-7-2011 to Nov-13-2011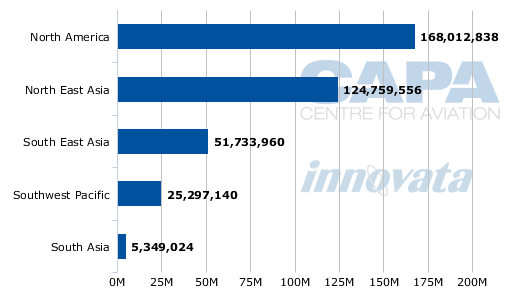 PAL looks to use AirPhil to better compete with Cebu on regional international flights
Within Asia, PAL will continue to expand in an effort to maintain its market share on regional international routes. Mr Bautista says PAL believes there is room for AirPhil, which now has a very small international operation, to expand in the regional international market without risk of cannibalizing PAL's own business. He says the idea is for AirPhil to focus on the lower end of the market, providing new competition for Cebu Pacific, while PAL focuses on the full-service sector.
The regional international LCC market is now dominated by PAL rival Cebu Pacific and to a lesser extent foreign LCCs. It is also being targeted by new local LCCs including Philippine AirAsia, which is planning to launch services in early 2012, and SEAir's Tiger-branded A319 operation.
International expansion at AirPhil will also help AirPhil increase utilization of its A320 fleet, thereby reducing costs. Cebu Pacific currently enjoys a large cost advantage over the country's smaller LCCs.
AirPhil now follows a hybrid model but Mr Bautista expects the carrier will start pursuing a purer LCC model as it strives to lower its costs. AirPhil's codeshare with PAL will continue but Mr Bautista points out that it is a one-way codeshare with PAL only selling tickets on AirPhil's turboprop flights. AirPhil took over PAL's turboprop operation in 2009, when the carrier was still known as Air Philippines and following more a legacy carrier model.
AirPhil's fleet of Dash-8 turboprops are used to serve airfields which cannot accommodate jets, including Caticlan – the gateway to popular tourist destination Boracay island. The codeshare service to Boracay and some other tourist islands is important for PAL to maintain connections to its international network, particularly for high end leisure passengers.
Mr Bautista said during the CEO panel discussion at last week's AAPA assembly that the "low cost market will continue grow in Asia-Pacific, especially the Philippines". The budget market in the Philippines remains relatively untapped because only 10% of the population currently flies.
Low costs are needed for PAL to fend off increasing competition from LCCs
As most passengers in the Philippines are budget-conscious and competition with LCCs is already fierce, PAL also has been striving to lower its cost structure. The outsourcing of non-core functions is an important step for PAL as it significantly reduces headcount, which has historically been unnecessarily high.
Mr Bautista said during last week's assembly that the continuing protests from ground worker unions is no longer having a significant financial impact on PAL, which is expected to report late this month its earnings for the quarter ending 30-Sep-2011. "What's really important is service that is provided has been downgraded in terms of catering. We are asking our passengers for their understanding," Mr Bautista says.
PAL has been forced to use alternative vendors, resulting in a decreased level of service on flights departing Manila, as it still does not have access to its catering facility. PAL is now working with government authorities to try to remove the striking employees so it can regain access to its catering facility.
Mr Bautista pointed out that PAL's plan to outsource non-core functions was approved twice by the country's labor secretary and twice by president. "The problem is even with government approvals there are many groups and institutions that are against outsourcing," Mr Bautista says. "It's unfortunate we don't get much support from our authorities."