Perth Airport's potential ownership change one of several in Australia
Analysis
The sale of Sydney Airport early in 2022 was expected to kickstart M&A activity in the airport sector globally.
It didn't do, but there has been an increase in sales activity in Australia – at least, in recent months – as shareholders at three airports have begun to investigate the benefits of disposing of their small shareholdings in airports across the country.
The reasons are complex and are mainly connected to mergers between pension funds, which control many Australian airports, and their need to rebalance their combined portfolios.
On the face of it, Perth Airport – in the far west of the country, and serving a city that is really only accessible by air from any distance – offers a good opportunity for investment, although (a) future one(s) will probably come from within that fund fraternity.
Summary
Two small shareholders are considering selling up.
The reasons are complex but are broadly concerned with fund mergers, portfolio rebalancing, and airport investments losing their appeal – despite passenger numbers returning to pre-pandemic levels.
An argument with Qantas apart, Perth Airport should be an attractive proposition to investors.
The airport has a large land area and financials are back in the black; additionally – travellers to Perth really have to fly there
Breaking News 11-Sep-2023 – KKR likely to bid for Queensland Airports.
Two small shareholders in Perth Airport considering selling up
The Infrastructure Fund (TIF), a small shareholder in Perth Airport that is managed by Macquarie, and Australian Retirement Trust (ART) have asked the financial advisor UBS to review the specifics of selling their respective 7.19% and 1.95% stakes in the airport, totalling 9.14%. The deal could be worth AUD700 million. Nearly all the other owners are investment funds and public pension funds.
Perth Airport Pty Ltd (PAPL) (previously Westralia Airports Corporation/WAC) is a wholly owned subsidiary of Perth Airport Development Group Pty Ltd (PADG). In Jul-1997 Perth Airport Pty Ltd took up a 99-year leasehold interest, with a 49-year extension option over Perth Airport from the Commonwealth Government, as part of the first phase in the privatisation of airports in Australia. Since then it has operated the airport and its 2,105 hectare estate.
Perth was one of the first airports to be privatised by the federal government – alongside Brisbane and Melbourne – and at the time it traded for AUD631 million, while Brisbane and Melbourne fetched AUD1.3 billion and AUD1.26 billion respectively.
The current shareholders of PADG include:
The Northern Trust Company (TNTC) in its capacity as custodian for Future Fund Investment Company No.3 Pty Ltd (FFIC3), a wholly owned subsidiary of The Future Fund Board of Guardians (FFBG) – 30.01%;
Gardior Pty Ltd as trustee for The Infrastructure Fund – 7.19%;
Australian Super Pty Ltd – 5.25%;
Many of Australia's airports have had this complex ownership structure (and one that consistently gets more complicated). It is one that mainly involves superannuation funds, since their privatisation began in the late 1990s for the majority of them, with the notable exception of Sydney Airport, which came later.
It is the greatest concentration of such fund investments into traded airports to be found anywhere.
Perth isn't the only airport where there might be buy/sell activity
Perth isn't the only airport where buy and sell activity is mounting in the sector, driven partly by superannuation fund mergers and partly by the Sydney Airport sale to an IFM-led consortium in 2022, one that might have kickstarted a revival in M&A activity generally across the globe but which has not done so – so far.
Other potential transactions involve Brisbane Airport (a 12.5% stake) and the Gold Coast/Townsville Airports, where deep-pocketed infrastructure investors might also replace some of the existing owners.
'Portfolio rebalancing' is order of the day
TIF's potential sell-down at Perth Airport may reflect a wider portfolio rebalance.
Almost half of TIF's assets are invested in airports and it has already decided to reduce its stake in Queensland Airport Limited, placing 40% up for grabs – which could be worth up to AUD1 billion. Clearly, although the Sydney sale had no positive impact, there it may have prompted a sell rather than buy mentality.
ART's decision may also influence potential investors. ART is a giant in the Australian superannuation world and is in the process of merging with three other superannuation funds. It currently has AUD240 billion in assets, 10-15% of it in infrastructure including ports and airports, even if its airport investments are small. Previously, in Mar-2020, it had tried to sell its stake, for AUD115 million, which was at a 20% premium to pre-pandemic valuations.
ART is believed not yet to have decided to sell, but given its previous sale effort and the selling down of the Gold Coast and Townsville airports, it is likely to join TIF.
Potentially there are more sales in the offing as airports become 'non-meaningful'
Could there be more sales still?
The AUD32 billion Sydney Airport sale to private capital buyers means more Australian super funds are sitting on more privately held domestic airport exposure than ever before, either directly or via the big fund manager IFM Investors, which is the lynchpin of that Sydney deal.
The Perth transactions could be examples of the cleaning out of funds of what are considered non-core or non-meaningful stakes, so that there can be a re-focus on a more concentrated portfolio.
It is always sad to report airports as being 'non-meaningful', but they will always have a widely disparate value to different investors at different times, one that is influenced by the likes of pandemics and anti-flying manifestos, but equally by more arcane factors associated with the investor.
Overall, it is considered to be a good time in Australia to be rolling out airport stakes, with tourism growing again following the COVID-19 pandemic, while improved passenger figures and earnings forecasts will always provide a fillip.
Indeed, in the case of ART particularly, airports could become surplus to requirements if a decision is made to reduce a very wide spread of infrastructure investment positions across the world in favour of fewer, larger and greater certainty bets.
Super Fund mergers may continue to influence M&A activity in Australia
ART is the best example of how deals and portfolio sales can be an unintended consequence of super fund mergers.
No portfolios are the same, and decisions have to be made as to how a combined portfolio can be made to work across a much larger fund.
At the present time it is unusual for three airport deals to be happening at once; and more so when it is in a single country. They are more likely to go to existing investors in the industry, which at least know just what its benefits and pitfalls are.
Perth's large land area is an attraction
Potential investors might be attracted to Perth Airport's 2,105 hectare land area and the opportunities it presents for investments, such as terminal expansion and non-aeronautical use.
The quid pro quo is that any buyer would want to know how Perth Airport's dispute with Qantas on moving terminals is going, as discussed in All not quiet on Australia's Western Front: Qantas declines to move to new Perth airport terminal, a CAPA - Centre for Aviation report from Apr-2023.
You have to fly to get there
Perth Airport is the fourth busiest in Australia after Sydney, Melbourne and Brisbane and it enjoys an enviable market positioning, with nearly 93% of travellers to and from Western Australia choosing air travel over other means of transport – owing to the vast distances involved.
In 2019 14.8 million passengers used it before the lengthy pandemic-triggered lockdowns were introduced, and demand had rebounded to 2019 levels by the early months of 2023, following 71% growth in numbers in 2022 and the same in 1H2023.
Perth Airport: annual traffic, passenger numbers/growth, 2009-2023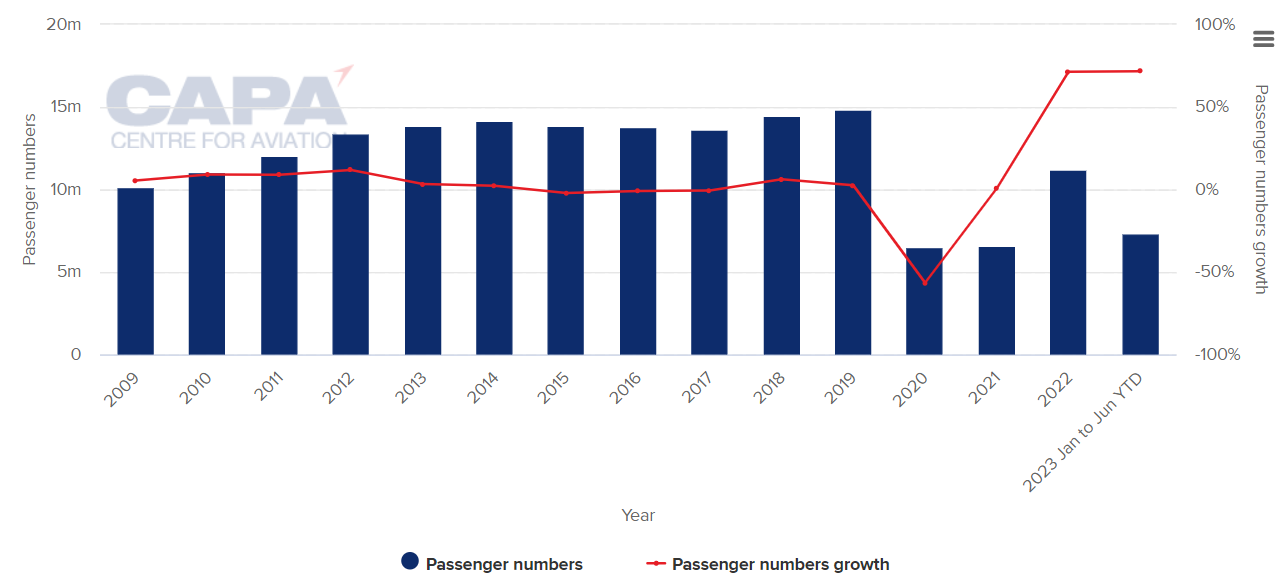 As can be seen in the chart, growth was solid through to 2014, after which there were three negative years, before two positive years again in advance of the COVID-19 pandemic.
In Australia as a whole passenger numbers increased consistently throughout that same period, but not to the same degree as in the case of Perth, so there is little to be gained from the comparison.
Perth is primarily a domestic airport, with 70% of seat capacity in that segment, compared to 62% for Australia as a whole in the week commencing 28-Aug-2023.
Qantas, Virgin Australia and Jetstar are the three main airlines, accounting for more than 73% of capacity between them.
Perth Airport: system seats for all business models, week commencing 28-Aug-2023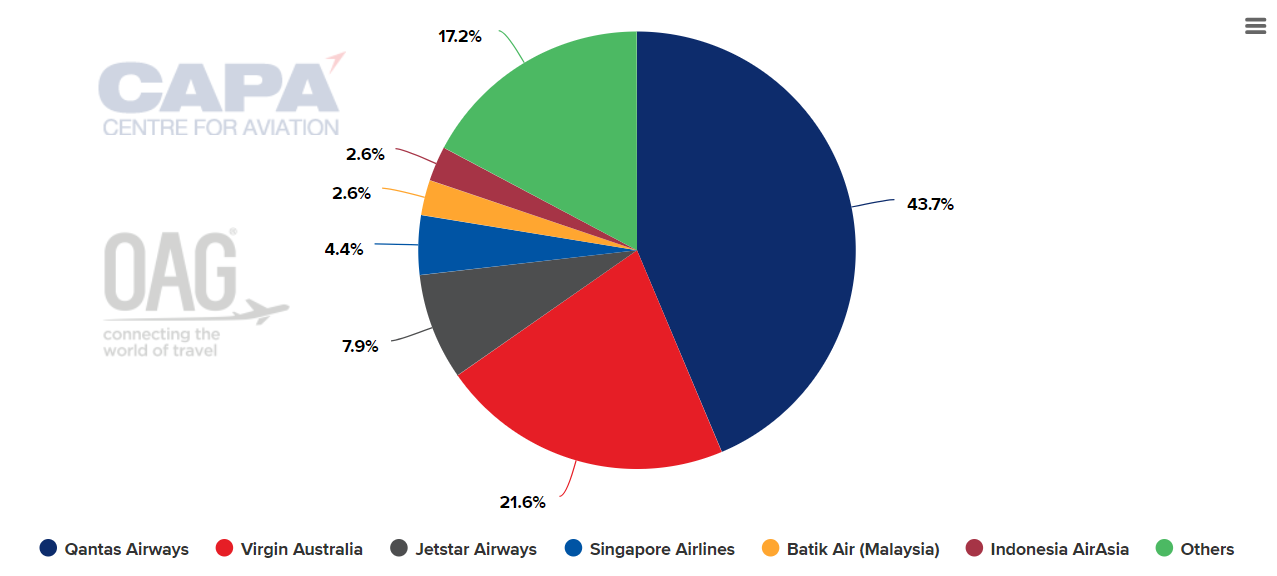 Local (Australian) airlines account for 75% of capacity, which is broadly in line with the national ratio.
Internationally, Southeast Asia routes account for the majority of the seats.
Singapore is the single route with the greatest capacity, again mirroring the national picture; but Southwest Pacific routes are not as important at Perth as they are to airports further to the east and north.
Perth Airport: international departing seats by country/territory, week commencing 28-Aug-2023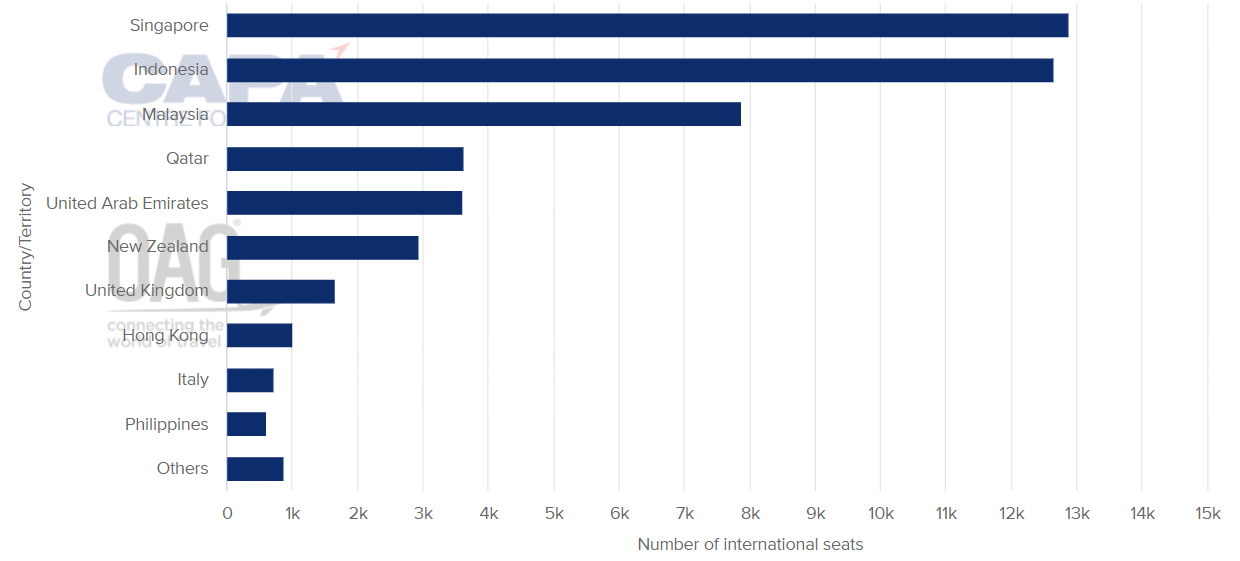 Little impact made by LCCs
Low cost carriers have not so far made as great an impact at Perth as they have done elsewhere in Australia. The seat ratio for LCCs is 15.6%, compared to the 20.4% average for Australia.
The largest alliance there is Star Alliance, which has almost half of the total capacity.
The airport is in use 24/7, but nighttime activities between 2400 and 0600 are minimal.
Back in the black
The airport posted AUD362.5 million revenue for FY2022.
It made an AUD280 million operating profit and AUD150 million net profit, according to its annual report, and the EBITDA margin was 77.3% – very close to what might have been expected before the pandemic under Australia's light-handed regulatory system.
The strong performance of the property market and the reopening of Western Australia's borders helped that return to profit.
Perth Airport: financials, 2019/2020-2021/2022

The financial impact of the coronavirus pandemic had resulted in Perth Airport recording its first ever loss of AUD64.5 million (USD42.61 million) for FY2021.
This included significant losses in the provision of aeronautical services, with the airport effectively subsidising each passenger to the tune of AUD5.98 (USD3.95).
The border reopening in Mar-2022 meant that Perth Airport almost broke even on the provision of aeronautical services in FY2022; a turnaround of more than AUD35 million (USD23.12 million) on FY2021.
The reopening also resulted in some recovery in revenue results for non-aeronautical services, such as retail and ground transport, however both remain below pre-COVID levels.
Overall, Perth Airport has recorded a net profit after tax of AUD149.6 million (USD98.95 million).
This result was largely driven by a change in fair value of investment property of AUD85.4 million (USD56.41 million) and a market adjustment of AUD104.2 million (USD68.83 million).
None of this indicates that it is time to sell for negative reasons; rather, for those that are attractive to another buyer, which would probably come from the same investor class.
Or striking while the iron is hot, to use an appropriate idiom.
Breaking News 11-Sep-2023 – KKR likely to bid for Queensland Airports
Private equity firm KKR is gearing up to bid for a 40% stake in Queensland Airport Limited, the owner of airports in Gold Coast, Townsville, Mount Isa and Longreach, which is up for sale via Barrenjoey (Barclays Bank).
KKR is expected to table a nonbinding indicative bid, but is yet to hire bankers. Its interest comes ahead of Barrenjoey officially commencing the auction in mid-Sep-2023.