Peach Aviation, Japan's first LCC, continues expansion as Japan surpasses tourism targets
Analysis
Slow and steady wins the race. That would be the message from Peach Aviation, Japan's first of the new wave of LCCs that entered the country from 2012 onwards. Although it has been said that Japan is not a market where LCCs would thrive, Peach has shown that success, with time, can be achieved. It has been profitable for two years and is building up towards a fleet of 20 A320s. Peach has been a quiet achiever, not exhibiting Jetstar Japan's aggressive growth or Vanilla Air's slower ramp up.
Over the last year Peach has focused on international growth, increasing domestic flights by 2% in Dec-2015 compared to Dec-2014 - but international by 43%. International flights now account for 35% of Peach's total network. Peach's international growth coincides with the inbound tourism influx to Japan, which expects to surpass 20 million foreign visitors in 2015, five years ahead of schedule. Japan will have added 6.6 million visitors between 2014 and 2015. In comparison, between 2005 and 2014, Japan added only 6.7 million visitors; the growth of a decade will now be achieved in a single year.
Peach's newest base will be Sendai, complementing Osaka, Okinawa and Tokyo
Peach Aviation launched in Mar-2012 from its Osaka Kansai base. Peach is now the largest carrier at Kansai, overtaking both ANA and JAL. (Both are bigger at Osaka's downtown airport, Itami.)
Peach added its second base, at Okinawa, in Sep-2013 and then Tokyo Narita in Mar-2015. Peach in 2015 also commenced international services from Tokyo Haneda.
Osaka Kansai system seat capacity by carrier: 7-Dec-2015 to 13-Dec-2015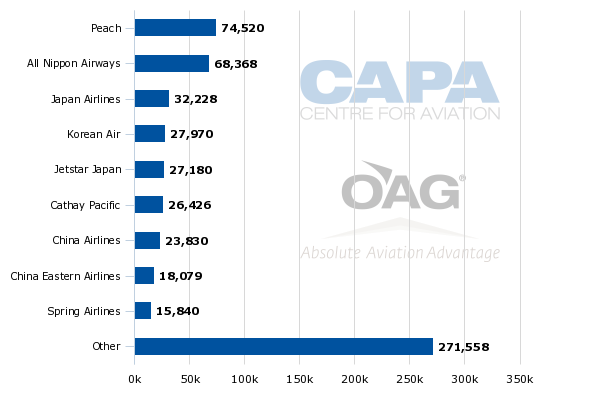 Peach has as much capacity at Fukuoka as Narita, although Fukuoka is not considered a base. Fukuoka's capacity comes from other Peach bases.
Peach top 10 hubs/bases/stations/focus cities ranked on available system seat capacity: 7-Dec-2015 to 13-Dec-2015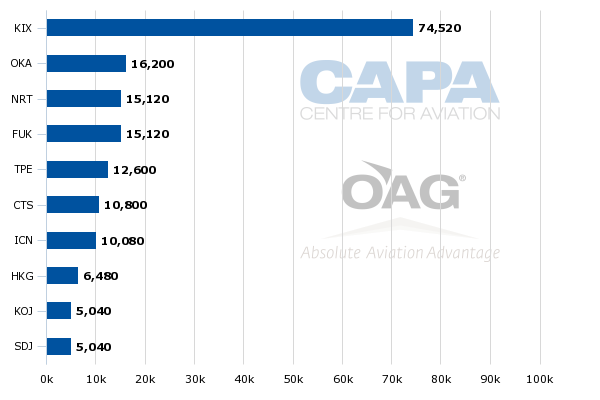 Peach in FY2017 (which commences 01-Apr-2017) plans to establish a base at Sendai. Peach is already the fifth largest carrier at Sendai, northeast of Tokyo.
Sendai Airport system seat capacity by carrier: 7-Dec-2015 to 13-Dec-2015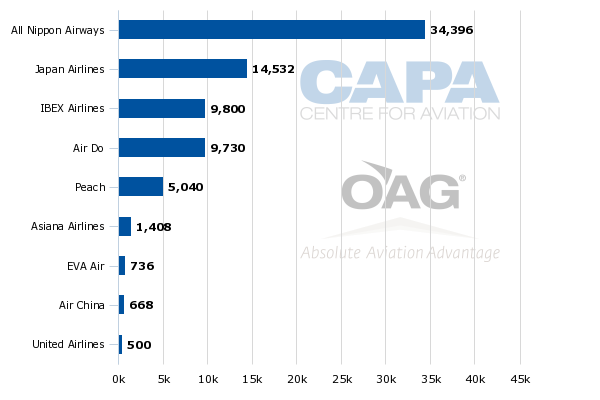 Peach is growing faster in international markets
Peach's growth over the last year has been focused on the international market. Although Peach launched with a large domestic flying programme, it expected over the long term to be more of an international airline. Comparing domestic and international flights in Dec-2015 with Dec-2014, domestic flights will be up only 2% while international flights will be up 43%. International will comprise 35% of sectors/seats, up from 28% in Dec-2014 and 30% in Dec-2013, according to OAG data.
Peach Aviation domestic and international round-trips in Dec: 2012-2015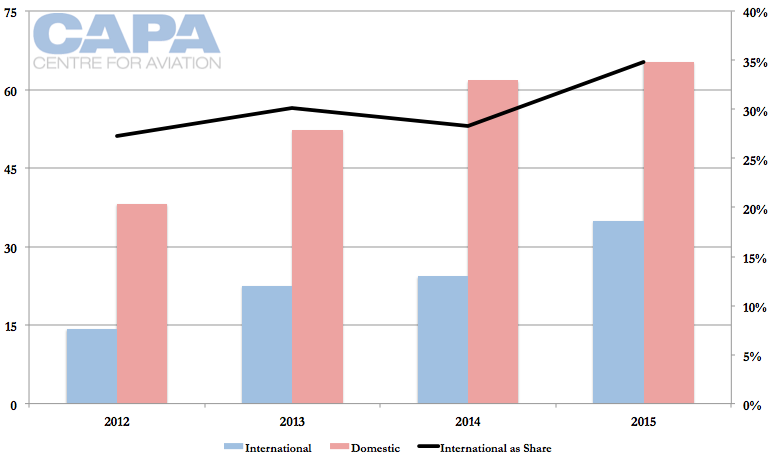 Osaka Kansai is Peach's main international hub, accounting for about three fourths of international flights. Haneda is a new international hub while Okinawa is growing. Peach in Sep-2015 launched its third international service from Okinawa Naha, to Fukuoka, adding to existing flights to Hong Kong and Taipei. Peach has long spoken about making Okinawa an international hub for Southeast Asia, as Okinawa is more south than Osaka Kansai and thus in range of Southeast Asia.
At the Okinawa-Fukuoka launch, Peach Aviation CEO Shinichi Inoue re-iterated in a statement that "from Naha, we eventually want to fly to Ho Chi Minh City, Hanoi, Bangkok, Kuala Lumpur, and Singapore."
Domestic growth has focused on Tokyo Narita, in line with Peach opening a hub there. Osaka Kansai services have actually seen some decreases in Dec-2015 compared to Dec-2014, but are still up from Dec-2013.
Peach Aviation one-way domestic flights from existing and future bases in Dec: 2012-2015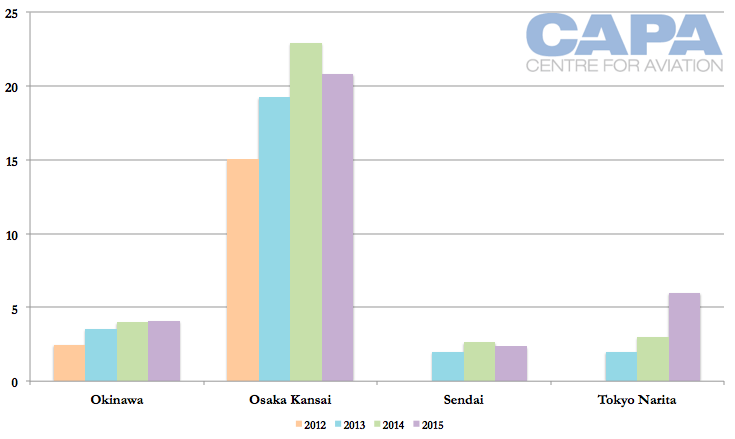 Mr Inoue at CAPA's recent Asia Aviation Summit in Singapore discussed Peach's hub evolution and what is next for the LCC.
Peach CEO Shinichi Inoue discusses Peach's next phase of growth: Nov-2015
Peach profitable for two years
At CAPA's Asia Aviation Summit in Singapore in Nov-2015, Peach Aviation was named the CAPA Asia Pacific Low Cost Airline of the Year. As the award announcement noted: Peach was selected by the judging panel for quickly establishing itself as a leader in the emerging Japanese LCC sector. "Peach became the first pure LCC in Japan when it launched operations in 2012.
In a challenging and increasingly crowded marketplace it has differentiated itself through product and strategic innovations," CAPA Chairman Peter Harbison said. "It has now been profitable for two consecutive years and, most importantly, has proven the LCC model can be successful in the Japanese market."
Peach's profits stand out in a market where LCCs were "said" not to work, and competitors have experienced losses, although the situation is improving. Peach's financials were met with strong operational indicators: including Japan's highest completion rate (the opposite of cancellation rate) at 99.1%, highest load factor (85.9%) and fastest carrier to reach 11 million net passengers (achieved in Oct-2015).
Peach Aviation financials: FY2013-FY2014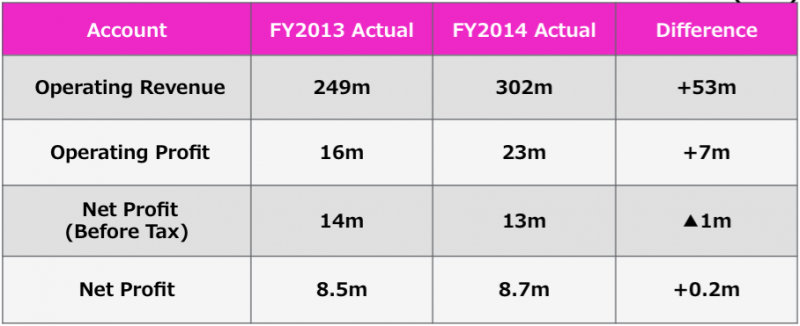 See related report: Peach Aviation profits overshadowed by Jetstar Japan & Skymark losses in Japan's changing market
"Peach has often kept a low profile and has pursued steady growth, but this has delivered results – financially, strategically and from market perception," the award commentary stated.
See CAPA news: SIA's Goh Choon Phong and Lion Group's Rusdi Kirana honoured at 2015 CAPA Asia Pacific awards dinner
Peach CEO Shinichi Inoue at CAPA awards ceremony discusses Peach's growth: Nov-2015
Peach has not only expanded from Tokyo Narita but has become the first Japanese LCC to operate internationally from Tokyo Haneda. By Mar-2016 it will be the third largest LCC at Haneda behind AirAsia X and HK Express. Peach will serve Seoul Incheon and Taipei Taoyuan (each with less than daily service) using midnight slots. Daytime slots for domestic or international services are not available.
For an Osaka carrier to be the first Japanese LCC to not only fly from Haneda but to introduce international services is a bold move over Tokyo's LCCs, Jetstar Japan, Vanilla Air and Spring Airlines Japan.
Tokyo Haneda international LCC seat capacity by carrier: 29-Feb-2016 to 6-Mar-2016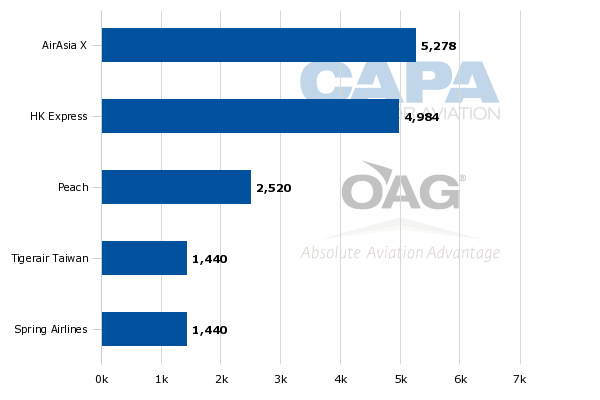 See related report: Peach Aviation solidifies Japanese network with Tokyo base while Spring Japan re-capitalises
Peach Aviation route map: Feb-2016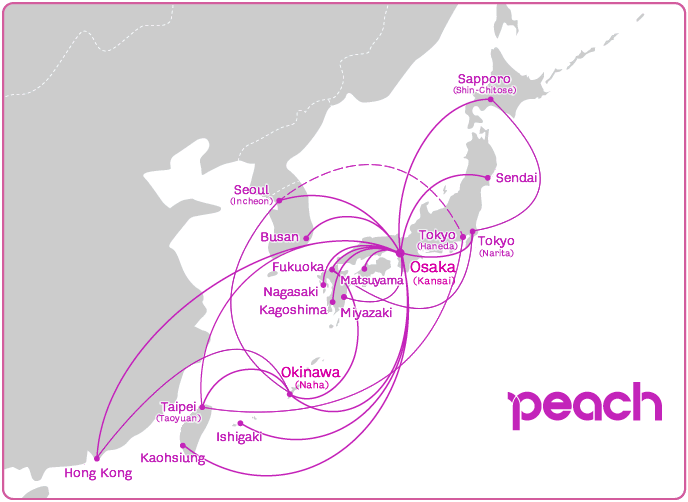 Peach will have 20 A320s in 2017. Jetstar Japan already operates 20. Vanilla plans 16+ by 2018
As of Dec-2015, Peach operates an all-A320 fleet numbering 17. Peach in Jun-2015 placed a direct order with Airbus for three A320s, its first direct purchase. Peach will have a fleet of 20 A320s by the start of FY2017, which commences 01-Apr-2017. Jetstar Japan has been operating 20 A320s (but until recently under-utilised) with none on further order. Vanilla Air has eight A320s with plans to grow beyond 16 A320s by 2018 (and perhaps also introduce widebody aircraft).
See related report: Vanilla Air's potential dual brand operation with parent ANA, as widebodies and new base considered
In Feb-2015, Peach investor First Eastern Investment Group chairman Victor Chu said Peach was planning its medium term plan (next 7-8 years) with a conservative estimate to purchase 25-30 additional aircraft, some of which will be used to replace current fleet. Peach's in-service fleet is all leased and as of Dec-2015 has an average fleet age of 2.4 years. Mr Chu said Peach could see a capital increase from existing investors or have an IPO.
Peach has said after its 21st aircraft delivery it will consider taking other aircraft types, perhaps a hint at expanding beyond short haul markets.
Peach on government advisory for tourism. Inbound visitors exceed target
Japan had set out to grow inbound visitors from 10 million in 2013 to 20 million in 2020 and then 30 million in 2030. Although it seemed ambitious at the time to double visitor arrivals in seven years, Japan's high yen and visa barriers precluded much growth. This has been made clear with the yen's depreciation and Japan's liberalisation of visas, especially from Southeast Asia.
As a result, Japan is expected to exceed 20 million visitors in 2015, five years ahead of schedule. (Visitors in 10M2015 have already exceeded all of 2014.) Reaching 20 million inbound visitors in 2015 would be 6.6 million additional visitors compared to 2014. This 6.6 million visitor growth in one year is about the same as the 6.7 million additional visitors Japan gained between 2005 and 2014; the visitor growth of a decade will be achieved in a single year.
Japan inbound tourism: 1990-2015F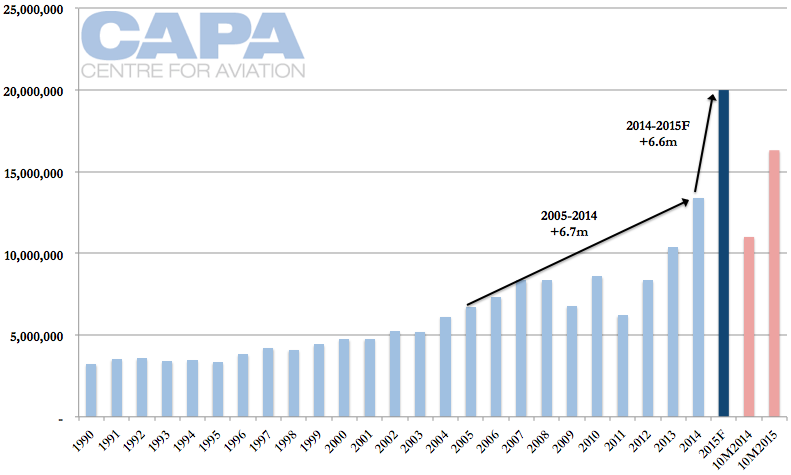 As a result of exceeding initial projections (which CAPA argued at the time were too conservative) Japan has drawn up a panel to advise Prime Minister Shinzo Abe on a midterm revision. 2020's target could be lifted to 40 million, which would mean visitor numbers quadrupled in seven years. A 40 million target would require an additional 4 million visitors a year from 2016 to 2020, which could also prove conservative given a nearly 7 million increase between 2005 and 2014.
The tourism figure is largely within Japan's control: how much further liberalisation of visas it permits (air service agreements, outside Tokyo Haneda, are generally favourable) and how much tourism infrastructure Japan can develop. A worry is that Tokyo is being saturated, while the rest of Japan does not receive the benefits. The main external threat to achieving a higher target is an increase in fuel prices. Japan will need to rely on China as a source market, but there are no indications outbound tourism will be dented from any change in the Chinese economy.
See related report: Japan relaxes Chinese visas to stimulate visitor & airline growth, following Southeast Asia success
Mr Inoue sits on the panel as one of seven outside advisors. He is the only airline representative (ANA and JAL are not present); others come from businesses such as hotels and railways.
Inbound visitor growth has taken a central stage in Japan as tourism is one of the key projects of Chief Cabinet Secretary Yoshihide Suga, often described as the right hand man to the Prime Minister.
Peach is by far the largest Japanese LCC with international seat capacity; it is twice the size of Vanilla Air.
But it is the foreign LCCs that have been the bigger growth stories. Shanghai-based Spring Airlines is a hair behind Peach and will overtake Peach soon. Spring has set a medium term ambition of having 100 weekly flights just to Osaka Kansai.
Spring in Dec-2015 has 92 weekly flights from Japan while Peach has 94. Spring is already a larger contributor of inbound visitors: almost all of its passengers are Chinese visiting Japan whereas international visitors account for 60% of Peach's international flights (at Vanilla Air, it is closer to 70%).
Spring and other airlines are well placed to capture China-Japan traffic while Japanese LCCs remain conservative about the large but challenging market. Chinese visitors now account for approximately 28% of visitor spending.
See related report: Japanese LCCs could tackle booming Chinese market as AirAsia Japan launches and Spring Japan expands
Japan international seat capacity from LCCs: 7-Dec-2015 to 13-Dec-2015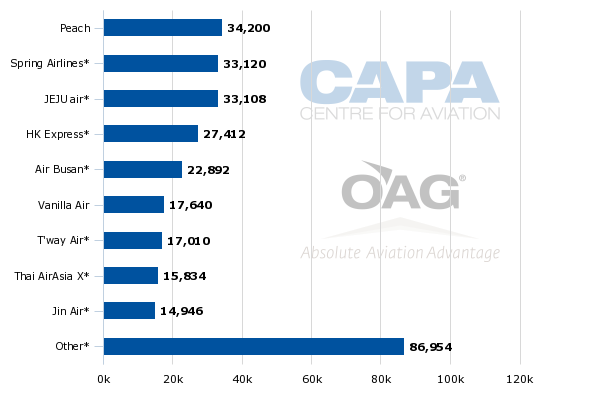 The LCCs, however, are small compared to the international capacity from full service airlines. However, they (excluding Japanese and Chinese carriers) tend to be more pessimistic about growth in Japan compared to LCCs.
Japan international seat capacity from all carriers: 7-Dec-2015 to 13-Dec-2015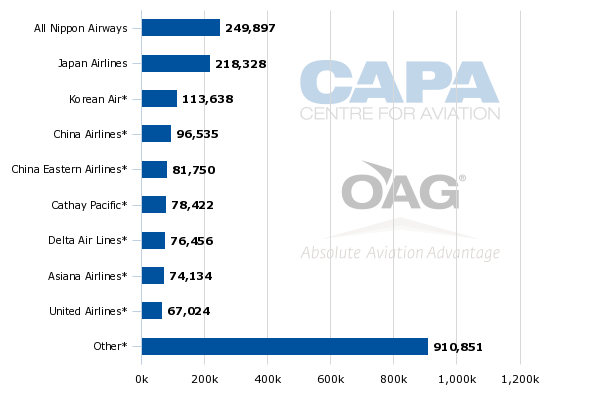 Peach has had steady growth but may need to manage a complicated Vanilla Air integration
Japan's three main LCCs – Peach, Jetstar Japan and Vanilla – are heading towards a convergence point. Jetstar Japan grew too quickly and has stopped aircraft growth (but increased utilisation) while Vanilla Air will double its size and Peach remains on a steady course. They will be similar in fleet size in a few years based on published fleet plans.
Both Peach and Vanilla are considering future fleet plans, and whether other aircraft – such as widebodies – are needed. First, however, it might make sense for the two to integrate. There are lost synergies and opportunities between them, and they need to bring greater competition to Jetstar Japan while contending with AirAsia Japan. Spring Airlines Japan for now is not in overlapping markets.
See related report: Vanilla Air's potential dual brand operation with parent ANA, as widebodies and new base considered
Peach talks about wanting to be a platform to bridge Asia, seen not as a Japanese brand but a pan-Asian one, possibly later with foreign bases. If Peach is to bridge multiple and complex Asian cultures, it may first need to demonstrate it can take in, or take over, Vanilla Air.