Olympics over. Let the games begin
As the athletes, officials and visitors stream out of Beijing this week, the world is left to reflect on the seamless and spectacular Games of the 29th Olympiad. China excelled in its hospitality and organisation, as well as on the sporting field. Beijing is left with a legacy of world-class infrastructure and an enhanced standing on the world stage.
But as the aura of a magnificent Games fades, officials in Beijing will soon have to come to terms with an airline sector that is in serious financial straits, with a legacy of rising inefficiency and heightened costs.
How quickly Beijing tackles its airline woes depends much on the direction of global oil prices, currency markets and the (much hoped-for) post-Games recovery of air travel markets. If the recent depreciation of the yuan (that started in Aug-08) becomes entrenched, the last pillar of support for airline earnings in China will fall and Mainland airlines could be deeply in the red in the second half of the year.
Chinese Yuan to US Dollar exchange rate: 19-Aug-07 to 18-Aug-08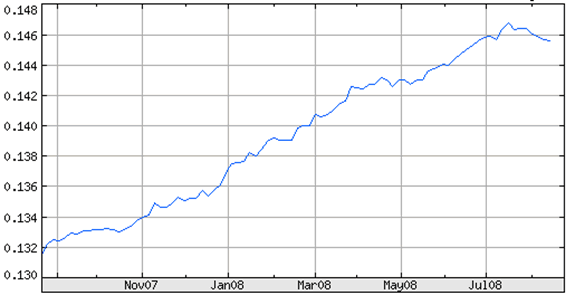 The outlook for air travel demand is the other big question. Domestic and international traffic has been weak all year and fell sharply again in Jul-08. China Eastern Airlines, for example, reported a remarkable 29% reduction in international passenger numbers in Jul-08. It trimmed capacity (ASKs) by 22% that month (following a 19% reduction in Jun-08), but it was not enough to stem a 5.9 ppts fall in load factor to 66.1%. (The less China Eastern flies internationally, the less money it loses, but maintaining its network in the face of rising competition will be important for the Shanghai-based airline).
China Eastern is set to report its first half financial results tomorrow (26-Aug-08). The operating result is likely to be poor, but the bottom line should be reasonably good, aided by yuan appreciation. With its crippling debts (close to 100% of assets), China Eastern is living on borrowed time and the results announcement will raise inevitable questions and speculation about the next steps for the Shanghai carrier. Now that the Olympics preoccupation is over, Beijing will be ready for action.
China Eastern will most likely reiterate its plans to involve Singapore Airlines (SIA) as a long-term financial and strategic partner, but whether SIA is prepared for another pursuit is unclear.
SIA is more likely to stand on the sidelines until the operational and financial environment in post-Games China becomes clearer, and to see whether Beijing needs to intervene to steady the ship should conditions worsen. Regardless, government officials will already be contemplating the next round of structural change in China. Actions could involve more cash for the struggling airlines (as suggested by China Southern), another round of consolidation, or the opening of the sector to greater foreign investment - or some combination.
World-class though the Games may have been, bringing its airlines to a similar level is now the challenge for Beijing.