Norwegian Air: 1Q results continue improving trend thanks to lower fuel. Long haul strategy develops
Analysis
The Norwegian Air Shuttle group is enjoying a period of good news. It narrowed its underlying operating loss for the seasonally weak first quarter, after returning to full-year profit in 2015 following a loss in 2014. Its 1Q2016 results demonstrate that this improving trend is continuing. Norwegian's 1Q results came soon after the US Department of Transportation (DoT) had given tentative approval of a US foreign carrier permit to Norwegian's Irish-registered subsidiary, NAI.
However, this is not the time for Norwegian to sit back and relax. Its improved profitability is in no small measure due to lower fuel prices, while ex fuel unit cost increased in 1Q2016. In addition, contracts for the leasing out of Norwegian's first A320neo deliveries have been temporarily delayed, highlighting the added challenge of running this new and growing line of business. Moreover, until the DoT approval is final, there may be some nervousness surrounding it.
Meanwhile, Norwegian is growing NAI at its new Rome Fiumicino base, which joins Madrid and Barcelona as major NAI airports with no Norwegian intercontinental routes. As it pursues 40% pa ASK growth over the next several years, these are likely candidates to be its next long haul bases.
Norwegian's underlying operating loss was halved in 1Q2016
In 1Q2016, Norwegian reported a net loss of NOK800 million (EUR84 million), which was 49% bigger than the loss of the same period a year earlier. However, this result was adversely affected by a net negative NOK528 million of other losses/gains, which included foreign currency contracts, fuel hedging contracts and movements in working capital in foreign currency, in addition to an increase in interest costs as a result of higher debt.
The 1Q2016 operating result (before other losses/gains) – which better reflects the underlying performance of the business – was also a loss, but it narrowed by 49% to NOK367 million (EUR39 million) from a loss of NOK725 million a year earlier. Revenue grew by 23% to NOK4,961 million (EUR521 million) and the operating margin improved by 10.6ppts to -7.4%.
Norwegian Air Shuttle financial and operating highlights, 1Q2016
| NOK million except where stated | 1Q2015 | 1Q2016 | Change |
| --- | --- | --- | --- |
| Revenue | 4,034 | 4,961 | 23% |
| EBIT | -722 | -895 | -172 |
| Operating profit excl, other gains/(losses) | -725 | -367 | -49% |
| Operating margin | -18.0% | -7.4% | +10.6ppts |
| Net profit | -538 | -800 | 49% |
| ASK million | 10,056 | 11,803 | 17.4% |
| Passenger load factor % | 83.0 | 85.1 | +2.2ppts |
| RASK* NOK | 0.40 | 0.42 | 4.8% |
| CASK** NOK | 0.47 | 0.45 | -4.6% |
| CASK** ex fuel NOK | 0.37 | 0.38 | 1.9% |
ASKs were up 17%, after single-digit growth in 2015
Norwegian's ASKs increased by 17.4%, while passenger numbers increased by 17.3% year-on-year to 5.8 million in 1Q2016. This compares with single digit growth in 1Q2015 and FY2015.
See related report: Norwegian Air back in profit, signals aggressive long haul expansion. DoT help would be welcome
RPK growth outpaced passenger growth with an increase of 20.4%, reflecting the increased weight of the long haul network in Norwegian's traffic data. Average sector length grew by 4%.
Norway accounted for only 35% of Norwegian's passengers, while 40% of passengers were booking from outside Scandinavia in 1Q2016. The strongest growth came from the USA, with an increase of more than 50%.
Norwegian Air Shuttle 1Q2016 traffic data

Improving load factor trend continues
As a result of faster RPK growth compared with ASK growth, passenger load factor gained 2.2ppts to reach 85.1%. This continued the improving load factor trend that led to Norwegian breaking out of its previous 75% to 77% range in 1Q2015. Norwegian has consistently achieved a load factor of approximately 85% or more in each of the past four quarters.
Norwegian reached 90.7% in 3Q2015, the peak seasonal quarter, and its FY2015 load factor was 86.2%. If it can maintain the improvement of 1Q2016 through the rest of the year it should further close the gap on the industry leaders easyJet and Ryanair, who are posting load factors in the 90%-plus region.
Norwegian Air Shuttle ASKs and passenger load factor, 1Q2007 to 1Q2016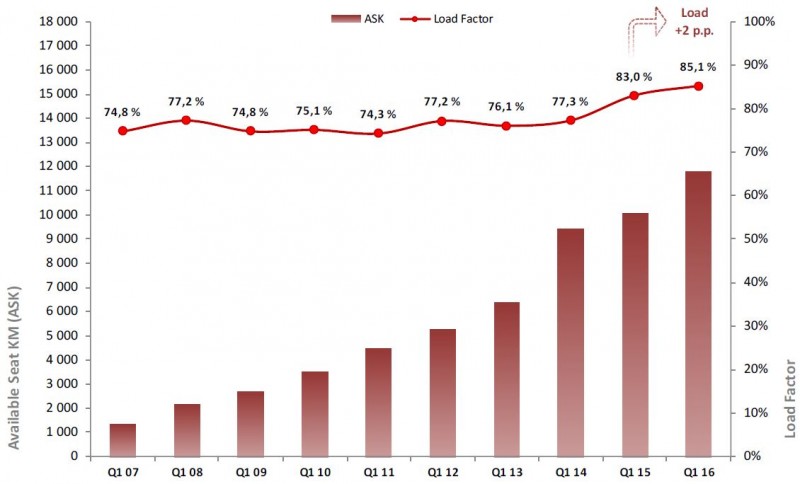 Norwegian's revenue grew 23%
Revenue growth of 23.0% was faster than ASK growth of 17.4%. Passenger revenue increased by 23.3%, while ancillary revenue growth was 18.5%. Ancillary revenue per passenger grew by 1% to NOK138, but this was slower than the increase in average sector length.
Growth in ancillary revenue per passenger was driven by an increase in bundled sales, reflecting increased long haul traffic, partly offset by a reduction in baggage fees.
Norwegian Air Shuttle 1Q2016 revenue by activity
| NOK million | 1Q2015 | 1Q2016 | Change | % of 1Q2016 total |
| --- | --- | --- | --- | --- |
| Passenger | 3,221 | 3,971 | 23.3% | 80% |
| Ancillary | 676 | 802 | 18.5% | 16% |
| Other | 137 | 188 | 37.1% | 4% |
| Total | 4,034 | 4,961 | 23.0% | 100% |
Norwegian's international revenue, up by 25.5% in 1Q2016, continued its trend of growing faster than the domestic revenue, which increased by 15.1%. This reflects not only long haul expansion, but also Norwegian's growth in European bases outside Norway, including in Spain and London Gatwick.
International revenue accounted for 77% of Norwegian's total in 1Q2016, compared with 64% in 1Q2013 (before it launched long haul routes).
Norwegian Air Shuttle 1Q2016 revenue by region
| NOK million | 1Q2014 | 1Q2016 | Change | % of 1Q2016 total |
| --- | --- | --- | --- | --- |
| Domestic | 981 | 1,130 | 15.1% | 23% |
| International | 3,053 | 3,831 | 25.5% | 77% |
| Total | 4,034 | 4,961 | 23.0% | 100% |
RASK up 5%, boosted by currency movements
Both total revenue per ASK (RASK) and passenger revenue per ASK (PRASK) increased by 5% year-on-year in 1Q2016. This was the result of the improvement in load factor and also the yield growth of 2%.
However, the yield growth was due to currency movements, rather than an underlying favourable pricing environment. The NOK weakened against the GBP and USD compared with a year earlier, which meant that revenue generated in these currencies boosted Norwegian's revenue when translated into NOK.
According to CAPA calculations, Norwegian's RASK when translated into EUR at the average exchange rates for the relevant periods fell by 4% in 1Q2016, compared with 1Q2015.
Norwegian Air Shuttle unit revenue development (NOK), 1Q2016 versus 1Q2015
| NOK | 1Q2015 | 1Q2016 | Change |
| --- | --- | --- | --- |
| PRASK* | 0.32 | 0.34 | 5.0% |
| RASK** | 0.40 | 0.42 | 4.8% |
Costs rise 12%, while CASK fell 5%
Excluding other losses/gains, Norwegian's operating costs grew by 11.9%, slower than ASK growth (but the increase was 23.1% if other losses/gains are included). Fuel costs fell by 16.0%, reflecting lower fuel prices, while ex fuel costs grew by 19.6% (more quickly than ASKs).
If fuel costs had increased in line with ASK growth, Norwegian's fuel bill would have been NOK342 million higher than was reported in 1Q2016, according to CAPA calculations. This saving from lower fuel prices almost equals the NOK358 million improvement in Norwegian's underlying operating result.
There was particularly rapid increase in sales/distribution costs (+46.6%), depreciation (+30.9%) and airport/ATC charges (+20.0%). These increases reflect higher costs in connection with credit card commissions and travel agents, the weakness of the NOK, long haul expansion and increased fees. Labour costs increased by 16.0%, less than the rate of capacity growth, but faster than the 7% increase in full-time equivalents due to pay rises and NOK weakness.
Operating cost per ASK, excluding other losses/gains, fell by 4.6% according to CAPA calculations. This fall was due to a 28.4% drop in fuel cost per ASK, while ex fuel CASK increased by 1.9%. Currency movements also boosted ex fuel CASK, which fell by 6% if translated into EUR.
Norwegian's 2016 target for overall CASK in 2016 is 12% lower than its 2015 level, thanks to lower fuel prices.
Norwegian Air Shuttle 1Q2016 operating costs
| NOK million | 1Q2015 | 1Q2016 | Change |
| --- | --- | --- | --- |
| Personnel | 797 | 924 | 16.0% |
| Sales/distribution | 136 | 199 | 46.6% |
| Fuel | 1,025 | 861 | -16.0% |
| Airport & ATC | 571 | 685 | 20.0% |
| Handling | 512 | 600 | 17.2% |
| Maintenance | 365 | 408 | 11.7% |
| Other expenses | 564 | 694 | 22.9% |
| Other losses/(gains) | -3 | 528 | nm |
| Leasing | 570 | 669 | 17.2% |
| Depreciation | 220 | 288 | 30.9% |
| Total operating costs | 4,757 | 5,855 | 23.1% |
| Total costs excl other losses/gains | 4,759 | 5,327 | 11.9% |
| Total costs excl other losses/gains ex fuel | 3,735 | 4,467 | 19.6% |
Norwegian has enjoyed five successive quarters of improvement in underlying operating result
Norwegian's underlying operating result and operating margin improved in 1Q2016 because RASK increased and CASK decreased (thanks to lower fuel prices). The seasonally weak first quarter, together with the fourth quarter, remain loss making, but the trend is encouraging.
The quarter provided Norwegian with its fifth successive year-on-year improvement in its quarterly operating result. After every quarter of 2014 suffered a drop in operating profit, increases have been achieved in every quarter since 1Q2015.
Norwegian Air Shuttle operating profit by quarter (NOK million) 1Q2013 to 1Q2016

This improving track record of quarterly operating profit is, of course, welcome. It helps to dispel doubts about the financial success of Norwegian's long haul network, whose launch coincided with the beginning of a period of deteriorating profit.
Nevertheless, the return to profit growth has coincided with lower fuel prices, which may flatter the apparent performance of the long haul operation. In the absence of separately disclosed data about the financial performance of Norwegian's long haul network it is difficult to assess its underlying contribution to profitability. At least the long haul business no longer appears to be weighing on the group's results.
The FY2016 outlook is unchanged
Norwegian's outlook for FY2016 is essentially unchanged from when it announced FY2015 results in Feb-2016. It still plans total ASK growth of 18%, with a 12% increase in short haul growth and 40% on long haul.
It has some concerns over the soft macroeconomic environment and the introduction of passenger taxes in Norway, as well as the strong competitive backdrop in Denmark, which is putting pressure on yield. Nevertheless, it describes other markets as stable.
Norwegian has 25 aircraft deliveries scheduled for 2016, of which 17 are Boeing 737-800s (partly offset by the return to lessors of four leased 737-800s), four are 787-9s and four are A320neos to be leased out to third parties since Norwegian has decided that they are surplus to its requirements.
Contracts for the leasing out of A320s have been temporarily delayed
Although customers have been lined up for the four A320s, the CEO Bjorn Kjos told analysts at a presentation to discuss the 1Q2016 results that the contracts have not yet been signed due to engine-related delays.
Although this is not expected to be an ongoing problem, it does give a glimpse into some of the additional complexities associated with acting as an aircraft lessor, which is a different business from being an aircraft operator.
Norwegian has a further 12 A320neo deliveries due in 2017 and should expect further challenges in managing this growing part of its business.
Presence of NAI at Rome, Madrid and Barcelona could indicate future long haul bases
As previously announced, Norwegian has established a new base at Rome Fiumicino with two 737-800 aircraft. It is switching its Rome to Stockholm, Copenhagen, London Gatwick and Helsinki services to its Norwegian Air International subsidiary, which is also now operating on Rome to Oslo alongside the parent airline Norwegian Air Shuttle. The parent airline also operates from Rome to Bergen and Gothenburg.
The establishment of the Irish-registered NAI at Rome on routes to Norwegian's European long haul hubs gives Norwegian increased flexibility to launch long haul routes from the base.
Other large airports with NAI operations, but where Norwegian does not currently operate long haul routes, include Madrid and Barcelona. These could also become future long haul bases for Norwegian.
NAI, which recently received tentative approval for a US foreign air carrier permit, will have the same traffic rights as other EU airlines, both to Asia and to the US, assuming that the tentative approval becomes final.
New US routes from Paris will contribute towards 2016 long haul growth
Norwegian has still not given full details of how it will achieve the planned 40% increase in long haul ASKs in 2016.
Three planned additional new route launches this summer are: Paris CDG to New York, Los Angeles and Fort Lauderdale, starting in Jul-2016. These are in addition to the previously announced launch of Boston services from Copenhagen, Oslo and London Gatwick and a Gatwick-Oakland service in May-2016.
Longer term long haul expansion to be helped by NAI's US permit
The tentative approval for NAI's US permit increases the prospects of its planned service from Cork to Boston coming to fruition, although this will need to await final approval.
As CAPA's analysis has noted, the US Department of Transportation's tentative decision to approve NAI's application will increase Norwegian's flexibility to achieve its planned long haul ASK growth rate of 40%; not only in 2016, but in every year to 2020.
See related report: Norwegian Air's NAI gets tentative US rights as common sense prevails. Objectors: time to move on