Negative labour sentiment overshadows Southwest's positive outlook and favourable financials
Analysis
Southwest Airlines remains reasonably positive about the demand environment in early 2016. But similarly to nearly every other US airline, Southwest is citing softness in yields as low oil prices appear to be making it difficult to gain sustained pricing traction in the US market. One unique factor for Southwest in 2016 is that the number of markets under development this year will be markedly lower than 2015, providing some level of stability in its network.

The airline's capacity in 2016 is dropping back to an expansion of 5% to 6%, from a 7% increase in 2015. But the the capacity increase planned for 2016 is still higher than the annual growth rates that Southwest recorded from 2012 to 2014. At the end of 2015, Southwest opted to adjust its order book, swapping out some Boeing 737-700 orders for higher density -800s, and placing an order for additional -800s. The company has also decided to accelerate the retirement of its 737 Classic fleet to simplify operations and improve its pre-tax operating performance.

For Southwest one hangover in 2016 is shaky relations with some of its labour groups. Its pilots recently picketed over drawn-out negotiations after rejecting a tentative deal in late 2015. Flight attendants at Southwest also rejected a deal in 2015, after two years of bargaining. Negotiations with both work groups are set to resume in early 2016, and it is not clear how long the latest round of talks with pilots and flight attendants will last.
Low fuel buoys Southwest's overall financial performance as yields remain soft
Buoyed by fuel costs that fell nearly 32% year on year, Southwest delivered an approximately 67% jump in profits to USD2.4 billion in 2015 . Its pre-tax return on invested capital, excluding special items, was 32.7%.

Southwest posted a 3.4% drop year on year in passenger unit revenue (PRASM) for 2015, which placed the company just behind Delta in terms of the lowest decrease among the four largest US airlines. JetBlue had the best performance among most US airlines, with 0.7% growth.
Passenger unit revenue performance (PRASM) of selected US airlines for full year 2015
See related report: JetBlue offers little visibility into its revenue outlook as US domestic capacity continues to grow

In Jan-2016 Southwest management's position was that demand remained strong, and yields were soft, but stable. Spirit Airlines, which was challenged by deep discounting in the US domestic market during 2015, recently said that pricing has been reasonably stable since Oct-2015 but overall fares remain low, and the pricing environment remains competitive.

See related report: Spirit's new CEO hints at nuanced changes rather than an overhaul. Operations are a key focus

Southwest is projecting flat unit revenue growth in 1Q2016, which includes a USD110 million benefit from a new branded credit card deal that the company reached with Chase in 2015. (The company is only offering RASM guidance, not PRASM projections)

See related report: Southwest Airlines has a more upbeat view on the domestic market than its rivals

During 2015, unit revenue growth in new markets under development for Southwest was as high as 20%, but had tapered down to 12% by 4Q2015. Most of the new routes originated at Southwest's headquarters in Dallas Love Field. Restrictions prohibiting certain long haul domestic flights were lifted in late 2014, and Southwest undertook a massive expansion from the airport. That expansion has now concluded, and the airline has estimated that the development of new markets was affecting its 1Q2016 unit revenue forecast by less than a point.

Southwest is one of three commercial airlines serving Love Field, and represents 92% of the seats deployed at the airport (8-Feb-2016 to 14-Feb-2016). Virgin America holds a 7% share and Delta' seat share is 2%.

The magnitude of Southwest's expansion from Love Field is reflected in the airport's passenger growth of 54% year on year in 2015. Between 2011 and 2014 the airport's annual average passenger growth was 4.3%.
Dallas Love Field annual passenger numbers: 2011 to 2015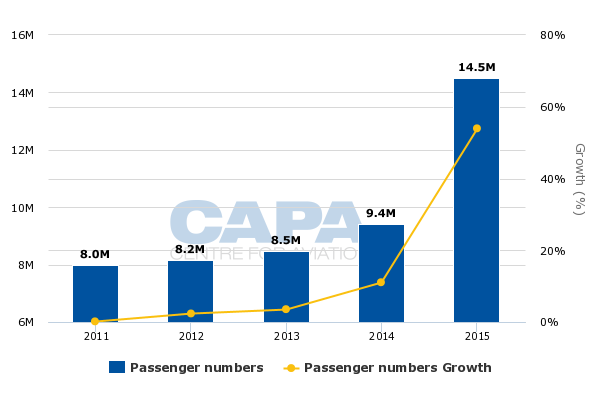 Southwest shuffles its order book and accelerates the planned retirement of Boeing Classics
At the end of 2015, Southwest opted to make some changes in its fleet that included accelerating the retirement of its Classic Boeing 737-300s/500s. It may seem like a counterintuitive move with fuel prices remaining low for the foreseeable future, but the older aircraft are less efficient and require more maintenance.

CAPA's fleet database shows that Southwest currently operates a total of 130 737-300s/500s, and the airline now plans to shed those older aircraft by YE2018 instead of 2021. The company has estimated that the accelerated retiring of the Classics should provide an EBIT improvement of USD200 million during the period in which those aircraft exit its fleet.
Other fleet changes under way at Southwest include converting 25 orders for -700s to higher gauge -800s and ordering another 33 -800s. The airline's -700s are configured in a single class configuration of 143 seats and the -800s feature 175 seats. Deliveries of the 33 -800s are scheduled for 2016 through 2018.

The airline took great care to stress that with the fleet changes Southwest's capacity plans for the next few years remain unchanged. It is planning capacity growth of 5% to 6% in 2016, down from 7% in 2015. Its growth in 2016 is still markedly higher than in previous years. Southwest's capacity was essentially flat year on year in 2012, increasing 1.7% in 2013, and 0.5% again in 2014.
Southwest Airlines annual passenger numbers: 2011 to 2015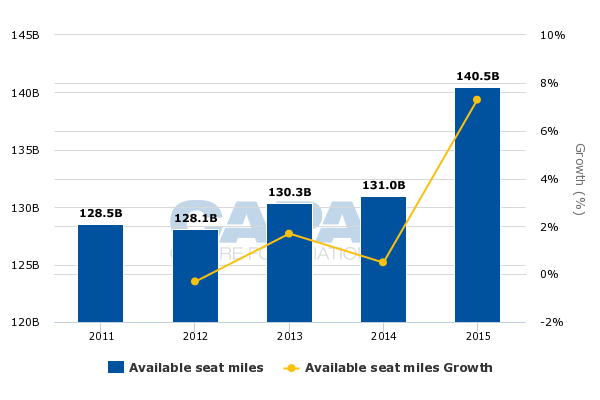 Southwest CEO Gary Kelly stated in early 2016 that Southwest's outlook for the year was more conservative than originally anticipated in 2015. He explained that Southwest would examine its options if travel demand weakened. For now, however, it seems the airline is comfortable with its current growth targets.

Impasses with labour groups overshadow Southwest's solid financial results
In early 2016 Southwest pilots opted to picket to show their frustration over the approximately four year duration of negotiations between management and the Southwest Airlines Pilots Association. A tentative deal reached in late 2015 that included a 17.6% pay raise was rejected by the wider pilot group. The union's board of directors did not reject or endorse the deal, and union negotiators were subsequently replaced.

Labour contracts are naturally complex, with work rules, pay, profit-sharing formulas and retirement benefits ranking among the most difficult issues to negotiate. For the years that Southwest has been in negotiations with its pilots and flight attendants, the message from management has been fairly consistent – Southwest needs to maintain its low cost edge.

Unadjusted for stage length, Southwest's unit costs excluding fuel and profit share and special items for the full year 2015 were approximately in line with the low cost hybrid airlines Alaska and JetBlue, in the USD8 cent range. American's nearly 4% rise was driven by new labour contracts it reached with pilots and flight attendants.
Unit costs of select US airlines: 2015, excluding fuel, profit share and special items
| | | |
| --- | --- | --- |
| | Unit Cost | Change |
| Delta | USD9.17 cents | 0.1% increase |
| American | USD9.77 cents | 3.9% increase |
| United | USD9.54 cents | 0.7% decrease |
| Southwest | USD7.9 cents | 2% decrease |
| Alaska | USD8.30 cents | 0.7% decrease |
| JetBlue | USD7.51 cents | o.4% increase |
| Spirit | USD5.50 cents | 6.5% decrease |
Southwest's pilots walked away from a fairly significant raise, which indicates that there are other issues beyond pay that are driving their discontent with the last offer from management. During 2015 Delta's pilots rejected a deal that included pay raises, but also featured a formula that essentially reduced profit sharing.

See related report: Delta, United and Southwest Airlines navigate vital labour talks as profits surge

It is tough to predict whether Southwest can reach new labour deals with two of is largest work groups in 2016, but the airline plans to pay USD620 million in profit sharing for 2015. However, that payout will likely have little relevance as collective bargaining resumes.
Southwest and its labour groups need to work towards new agreements in 2016
Southwest's favourable financial performance during the last couple of years has in some ways been overshadowed by the drawn-out negotiations that have produced two rejected deals by its largest labour groups. The lack of agreements with pilots and flight attendants makes it difficult to assess the effect of new contracts on its overall cost base, and the years-long bargaining has added some tarnish to Southwest's historically favourable labour relations.

As bargaining restarts with pilots and flight attendants, time is of the essence for Southwest to reach agreements that restore labour's confidence in management and allow the company to compete effectively on costs with its peers – it is a tall order, but one that it is necessary to complete in 2016.